Zahra Savannah Rock is an American celebrity kid famous for being the daughter of Chris Rock and Malaak Compton. She got her fame from her father Chris Rock, who is a renowned comedian and one of the richest in the industry.
Zahra Savannah Rock is the youngest biological daughter of her parents, who sadly have parted ways in what has been tagged as one of the most expensive divorce cases. The slim ebony beauty enjoys horseback riding and music and has been spotted severally alongside her father attending balls, concerts, and award shows.
Zahra Savannah Rock's Biography Summary 
Full name:

Zahra Savannah Christopher Rock

Gender:

Female

Date of birth:

22 May 2004

Zahra's Age:

18 years old

Ethnicity: 

African American

Nationality:

American

Sexual Orientation:

Straight

Religion: 

Christianity

Marital Status: 

Single

Zahra Savannah's Parents: 

Chris Rock and Malaak Compton-Rock

Siblings: 

Lola Simone Rock and Ntombi Malaak Compton-Rock

Famous for: 

Daughter of Chris Rock

Zahra's Instagram:

zahra.rock
How old is Zahra Savannah Rock?
Born on the 22nd day of May in 2004, the 18 year old equestrian whose father is from Andrews, South Carolina, was, however, born in Alpines, New Jersey where are parents once lived. Zahra's Parents are of the African American ethnicity or what many people refer to as Black Americans today.
The Black American teenager whose name is gotten from the Arabic and Spanish language to mean 'Flower' and a 'Treeless plain' respectively, is the second child of the family and equally gets both parent's attention, love and care. She, as well, is in good tune with her parents and they find time to do hangouts as family.
Zahra's Father Chris Rock

Gained His Popularity As A Comedian and the Host Of Saturday Night Live
Zahra Savannah's father Chris Rock as a comedian gained prominence when he was given the role as a cast of the popular TV show Saturday Night Live, from 1990-to 1993. Saturday Night Live is an American late-night live TV short comedy and variety show on the NBC network. The show was first premiered and hosted by George Carlin on October 11, 1975, and was originally titled NBC's Saturday Night.
The critically acclaimed 'Bring the Pain', the second of Chris Rock's five HBO comedy specials, catapulted him into a mainstream celebrity in 1996. 'Bigger & Blacker, 'Never Scared', and 'Kill the Messenger' are among his other HBO comedy specials. His talk show, The 'Chris Rock Show', was also broadcast on HBO, and received wide acceptance for Rock's conversations with celebrities and politicians.
Chris Rock: Tamborine, his most recent comedy special, was published on Netflix in 2018. Asides from being a stand-up comedian Zahra Savannah's father, Chris Rock, is also a prolific actor, writer, producer, and film director. He has featured in movies like Down to Earth, Head of State, The Longest Yard, the Madagascar film series, Grown Ups, its sequel Grown Ups II, Top Five, and Saw: The Spiral, all playing leading roles.
Zahra Savannah's mother' Malaak Compton-Rock is an internationally Acclaimed Humanitarian 
Zahra Savannah's mother, Malaak Compton-Rock, was born on the 13th of June 1969 in Oakland, California, in the United States of America. She is a graduate of the prestigious Howard University Washington DC where she bagged a degree in Art Management. Malaak Compton spent part of her early days in Brooklyn, New York, and subsequently moved to New Jersey.
She is an accomplished businesswoman who has gained experience over the years working as a PR executive with Non-profit making organizations, supporting several humanitarian causes, and is also the founder of Styles Works, a non-profit salon that provides free services for women who are leaving the welfare program and would want to be self-sufficient.
Asides from being a humanitarian, Malaak Compton is also a reality TV personality and has appeared on popular TV shows like The Oprah Winfrey Show, Entertainment Tonight, and CNN Presents Black in America 2. She is also a writer and is the author of the book titled 'If It Takes A Village, Build One. She has two daughters from her marriage with Chris Rock and adopted a third in South Africa while on one of her humanitarian mission.
Zahra's Parents were Married For Close to Two Decades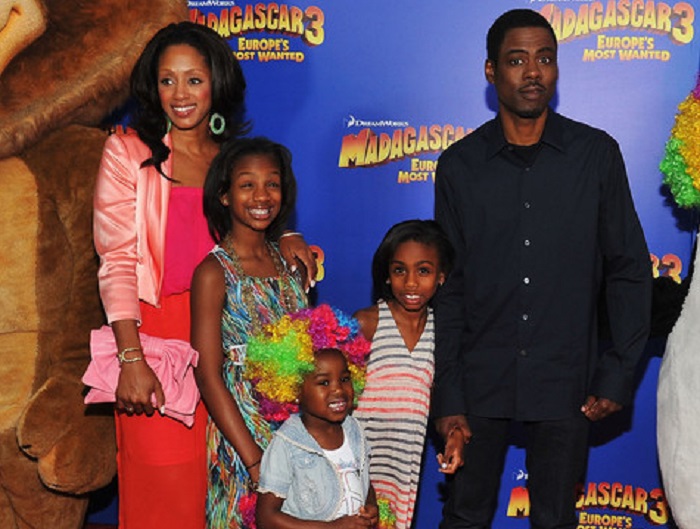 Zahra's parents, Chris and Malaak both found each other at a social gathering in 1996 during the Essence Awards, they went on to start seeing each other afterward. Their relationship became serious so fast that before the year ran out, they both were exchanging marital vows and promising each other to live forever till death do them apart.
For Zarha's estranged parents, "together forever" was cut short due to allegations of infidelity and extramarital affairs. Chris and Malaak got separated in 2014 after 18 years of marriage after he filed for divorce which was later granted in 2016 two years later.
The divorce trial which ran for two years saw both parties enduring a lengthy period filled with a battle of child custody child support, alimony, equitable distribution, counsel fees, medical insurance, life insurance, and many other court battles. In the year that followed, Chris Rock would later admit to losing everything he had to his ex-wife and the upkeep of his two daughters and his ex-wife's adopted daughter Tombi.
Although Zahra's father had initially denied the allegations of being unfaithful to her mother, Malaak Compton, events that followed two years later, would see her father admitting to being unfaithful to his wife and kids in an interview he granted the media. Chris admitted he had cheated on his wife and kids stating that he had extra-marital affairs with three different women at three different times while still being married.
Her Parent's Separation Happened When She was About 10 Years Old
Zahra Savannah was 10 years old when her parents first decided that they were going to live separately. Probably too young to understand what the outcome would mean to her, however, her parents in their different statements to confirm the divorce process, had made a plea with the public and their fans for understanding stating that they would love to keep the whole ordeal private and away from their kids.
At the age of 12, she witnessed the official divorce of her parents and she was to be in full custody of her mother. While growing up, Zahra had been very close with her parents living together, most especially closer with her father Chris Rock, as they have been spotted together often.
The divorce will mean that less time is spent with both of them together as a family, and even less time with each of them privately. Albeit, her parents still spend a lot of time with her when they are not performing on stage, producing shows and movies, or helping fewer privileged people.
Zahra Savannah Rock, unlike some kids her age whose parents are famous, spends her time doing profitable ventures and activities. Her parents have done well in keeping her growing up away from the public. Her horse riding skills weren't fully disclosed until when her mother Malaak Compton took to her Instagram account to post pictures of her competing and winning the first position in an equestrian competition.
How Many Siblings Does Zahra Savannah Rock Have?
The young Zahra Savannah isn't the only child of her parents. She is the middle child of her mother. Zahra's two sisters are Lola Simone Rock and Ntombi Compton-Rock whom her mother adopted when she was at a younger age. Zahra's elder sister Lola Simone Rock was given birth on the 22nd of June 2002, in New York City, and she attends her college in Europe, France to be precise.
Although multiple reports claimed that Zahra's younger sister Ntombi was adopted and joined the family at a very tender age, her position in the family caused some controversies during the divorce trial. There were claims and counter-claims from both counsel questioning and solidifying her rights to the Rocks family membership.
The debate ignited further investigation in South Africa regarding the child's adoption and it was found out that she wasn't adopted. At the end of it all, Chris Rock claims that he was not part of the idea of bringing the child to America, and Malaak ended up adopting Ntombi on her own.
Is Zahra Savannah Rock on Instagram?
Zahra has an Instagram presence and goes by the username zahra.rock, although it is not specifically reported if she has other social media accounts other than Instagram. She follows both her parents' Instagram accounts and her siblings as well.
Children whose parents are celebrities like Zahra's would jump on the opportunities they find themselves in. They would use the influence attached to their parents' statuses to build a huge fanbase or followings and probably make some cash while at it. Albeit, Zahra has social media accounts, she is not a social media enthusiast. She tries to maintain a private life and uses her Instagram account to serve humanity.
Although she spends more time with her father Chris Rock, Zahra Savannah also takes after the humanitarian spirit her mother has. Zahra once used her Instagram account to support the Murphslife foundation, by placing the site's link on her Instagram page. Funds are raised through donations and contributions. Her account currently hosts the Rise Up For Abortin Rights movement. 
Horse riding is something she does as her extra-curricula activity. Zahra Savannah received her high school education in The Spence School, an American all-girls private school in New York City where she is a senior student there. About July last year, her mother posted a photo of her on Instagram celebrating how fast it has been despite COVID-19 interrupting her 10th and 11th grade. At the moment, the 34 year old is focused on her education.