An apparently calm and easygoing person, Stacie Zabka is an American woman who is famous for being the wife of popular American actor, William Zabka. Without a doubt, there are many ways to find fame and become well-known individuals in today's world. While some people find popularity through their art by being actors and artists, others are famous for being politicians and successful businessmen. And yet others are thrown into the spotlight after becoming romantically attached to another famous person. Stacie Zabka falls in this last category.
Stacie and her husband William Zabka have been married for more than a decade and are still going strong as there are no indications of any strife in their union so far. Over the years, they have stayed far away from controversies, indicating how mature and loving they are dedicated to becoming. They are parents to two children and are known to be supportive of each other. Apart from being Williams Zabka's wife, Stacie Zabka also does her own thing; she is a financial analyst.
Stacie Zabka's Profile Summary
Full Name: Stacie Zabka
Gender: Female
Date of Birth: 1974
Nationality: American
Sexual Orientation: Straight
Religion: Christianity
Marital Status: Married
Stacie Zabka's Husband: Married to William Zabka
Stacie Zabka's Children: 2
Famous for: Being William Zabka's wife
Stacie Zabka Was Born In 1974
Unlike her celebrity husband who is always in the news, Stacie Zabka has always loved staying away from the spotlight. She rarely grants interviews and is only normally seen by her husband's side on red carpets. Because of this, many details about her life remain unknown to the public.
However, we know that she was born in the year 1974. But, the exact day and month of her birth remain unclear and have been debated over time. Some reports claim that she was born on the 17th day of May, however, other reports claim that this is not correct and that the woman's date of birth has not been disclosed yet. The only certain information about Stacie Zabka's age is that she was born in 1974. It also means that she is about 9 years younger than her husband who was born in 1965.
We know that Stacie Zabka was born in the United States of America and is thus an American citizen. However, it is also not clear exactly where she was born in the USA. The general lack of information on her life is mainly due to the withdrawn and private life that she prefers to live.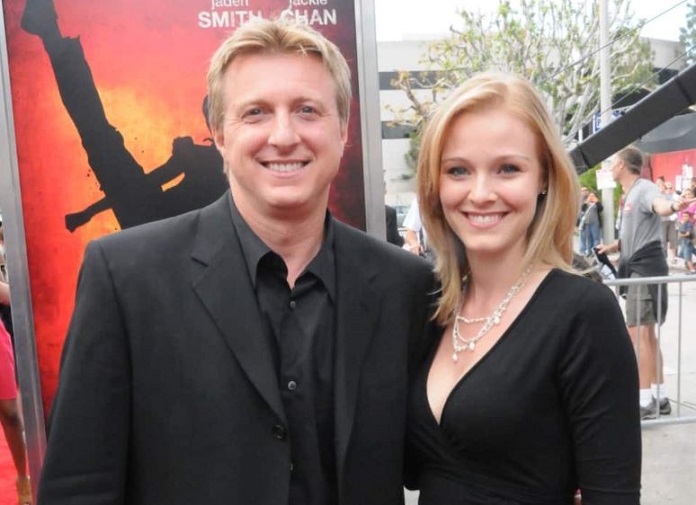 Stacie Zabka's Family
Our investigation shows that Stacie Zabka's maiden name is actually Stacie Lyn Dos. This is the clue we used to decipher what name her parents go by. We understand that she was born to Mr. and Mrs. Dos in 1974. However, this is all there is to know about them as what they did for a living remains unclear at the moment.
Also, there is no information on whether or not she is an only child of her parents. We also do not know if she is close to them or if they are still alive. We however do know that she is adored by her husband's parents Stanley Zabka and Nancy Zabka. This is according to several sources.
Stacie Zabka Met Her Husband, William Zabka, In The Early 2000s
Details about the exact time Stacie Zabka met her husband William Zabka are not clear. However, different sources have claimed that the couple met each other in the early 2000s. By this time, William Zabka who started his acting career in 1982, had already become a popular figure in America after starring in the 1984 blockbuster The Karate Kid, and the follow-up film The Karate Kid Part II in 1986. On the other hand, Stacie was a regular young woman going about their business.
The two got together in the early 2000s and began to talk. Apparently, they found each other's tastes very appealing and started dating. From the information that we gathered from sources, the couple dated for quite some time before they decided to settle down in holy matrimony and become husband and wife.
Their Wedding Was Very Private
After being together for quite some time, starting from the early 2000s, Stacie and William Zabka decided to tie the knot and walk down the aisle. Their wedding was held in 2008 and it was a private affair. Only a few very close friends and family members were in attendance when the couple exchanged their vows.
The decision to make their wedding a very private affair also indicates that William Zabka is as much a private person as his wife is and their decision aligns with each other.  A quick look through his Instagram page shows he rarely posts photos of his family and only posts about work-related matters, apparently trying hard to keep his private out of the spotlight. On her own part, Stacie Zabka is not even on social media at all.
Despite their effort to keep things private, it did not stop the media from knowing that William Zabka had married Stacie. Once word got out about the wedding, all eyes turned on Stacie to know who she is. And so, Stacie, who had not been used to having things written about her in the press, became a subject of interest among the paparazzi and the media. She had become a public figure as well because of her relationship with William Zabka.
Since their marriage in 2008, Stacie Zabka and her husband have not been mentioned in any controversies and have stayed largely out of the public eye. They have been spotted occasionally on the red carpet and in other places together. They have been together now for more than a decade and there is no report of friction between them at all.
Stacie Zabka and Her Husband Have Two Children
The marriage between Stacie Zabka and William Zabka has been fruitful and has produced two children so far. As expected, the couple has also become very private with their children as they have been with their lives. As a matter of fact, details about who the kids are have remained out of public space because neither Stacie Zabka nor William Zabka would share them.
The Zabkas have even decided to keep their kids protected from the media. Because of this, they rarely share photos of the children on social media. In fact, they rarely even take the two kids to certain events where they could be photographed by the looming paparazzi. The couple has refused to reveal their kids' names to the public and it is not certain when they were born. What we do know for certain is that Stacie and William Zabka have two kids together.
Some time ago in June 2015, William Zabka posted a rare photo of himself standing in the ocean while holding his two children in his arms on Father's Day. However, he made sure that their faces were concealed so that his followers would not see them. On a close look, however, it appeared that both kids have blond hair just like their father.
Perhaps, with time, the children will be allowed by their parents to be seen by the public.
Stacie Zabka Is Her Own Woman
Stacie Zabka is mainly known to be the wife of the popular American actor, William Zabka. However, it is noteworthy that this is not all that she is. She is also her own woman who has a career. According to different sources, Stacie Zabka is actually a businesswoman who combines running the home with running her business.
It is not very clear what kind of business she does, but some sources say she is a financial analyst and is doing very well for herself.