Robert Noah is a European who is said to be the proprietor of the first integrated restaurant opened in South Africa during the period of apartheid rule. He is however popularly known for being the biological father of Trevor Noah, one of South Africa's most successful celebrities and the current host of The Daily Show.
Robert Noah lived a quiet life away from the pry of the media until the sudden fame of his son who had mentioned him in one of his shows saying his father was a Swiss and German. Robert's life has since become a subject of interest.
Summary of Robert Noah's Biography
Full name: Robert Floyd
Nickname: Robert Noah
Gender: Male
Ethnicity: European
Nationality: Swiss-German
Sexual Orientation: Straight
Religion: Christianity
Marital Status: Single
Robert's Wife: Patricia Noah (Ex-Girlfriend)
Robert's Children: Trevor Noah
Famous for: Biological Father of Trevor Noah
Robert Noah Came to South Africa From Europe in the 1980s
Robert Noah whose real name is reported to be Robert Llyod is from Europe, and he has a Swiss-German nationality. There are no specific details regarding his date of birth and where he was born, but it is however reported that he was born in the mid-1930s. He came to live and work in South Africa in the early 1980s which was the period the apartheid rule was in full swing.
Details of Robert's early background that has to do with the information regarding his parents and siblings are also not available to the public. His early life could have been in either Switzerland or Germany, however, there are no details of his early childhood, educational background, educational qualification, known associates, or friends.
One known fact about Robert is that he was not in tune with the then political situation in South Africa. Robert hated the apartheid regime, and could not understand why the whites hated and oppressed the black South Africans in their own country. He was said to be compassionate towards them and did a lot of activities to help them
Trevor Noah's Father Worked for Several Years in New York City and Canada as a Chef
At the time of his meeting with Trevor Noah's mother, Robert was a professional chef. This is the most known career information about him. He was a renowned chef in New York and Canada and owned a restaurant in Johannesburg, South Africa where he employs black South Africans as members of his kitchen.
Robert, who is said to do a lot of traveling, opened his first restaurant, allowing black and white South Africans to integrate together. Though it was not a good time to invest in a venture such as that, Robert however did it in protest of the treatment meted on black South Africans during the period of apartheid rule.
Robert's integrated restaurant was opened through a special license which was distributed by the government out of necessity. The restaurant was a success as it got White people who were curious about black people to get to know more about them, and in a like manner, it also got black people who were also inquisitive about what the white people wanted from them.
Many white people then were not happy with the idea behind Robert's establishment, and they sought to bring him down through several petitions. First, they had the restaurant petitioned for unhealthy practices and environmental violations. That was not admissible as Robert was known to be anything but unclean. Then, they asked that a separate toilet be made available for each race, which also was not an option for Robert who closed the business eventually.
Is Robert Noah Married?
Robert Noah is not married to the best of our knowledge. However, he had a relationship with an ambitious black South African lady named Patricia Noah. She is famous for being the mother of Trevor Noah. His relationship with Patricia Noah resulted in the birth of their son Trevor Noah in a period when black and white people could be sentenced to over five years in jail if seen together.
Robert met Patricia in Johannesburg, she had just moved into a town called Hillbrow which is known to be relatively liberal and home to many whites who didn't approve or cared about the apartheid regime.
Patricia had a moderate level of education and skills which many of her kind were denied having in that period. She got a white-collar job that paid her reasonably well and was able to rent an apartment where Robert lived.
Robert took to liking Patricia, and they became friends. Since they lived on the same floor they both discreetly started spending time with each other. It was a crime for black women to live in Johannesburg at that period. There was always a constant check by the police in many neighborhoods. Residents were encouraged to report on one another, but Robert who already liked Patricia looked the other way and didn't report to the authorities then.
Robert was almost twice Patricia's age, and their relationship was more friendship than lovers. However, one night, she brought up to him the idea of having a child. Robert knew that having with Patricia was a form of resistance for her, but he didn't want to get her into more trouble with the authorities so he declined.
Patricia who was relentless continued to pressure him until he gave in to her demands and she got pregnant for him.
Robert's Involvement in the Birth and Upbringing of Trevor Almost Landed Him Into Trouble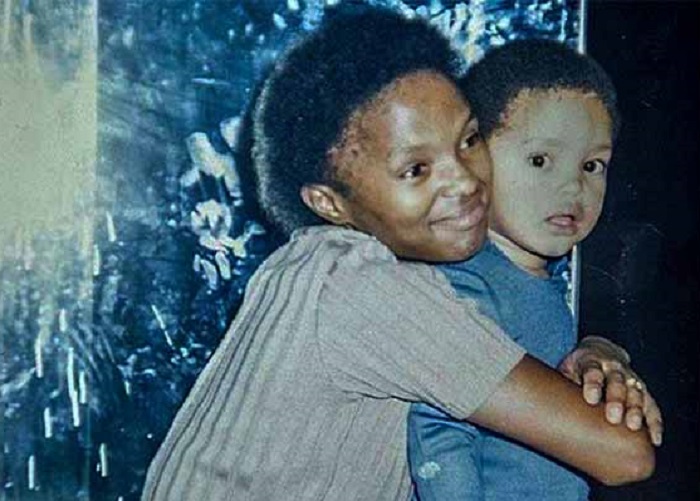 Patricia gave birth to Trevor Noah, Robert's first son, on February 20, 1984. The baby was of mixed color and because it was a crime to have an interracial baby at that time, she had to lie to the doctors that the father was from a different country to explain Trevor's complexion.
If they were caught, Patricia could go to jail for 5 years and the baby would be taken away from her and placed in an orphanage home. In a bid to keep the baby safe from the authorities at that period, Patricia decided to move away from where Robert was staying in order to avoid suspicions from other neighbors and hence being reported.
So Patricia found a new apartment in a nearby neighborhood. This would ensure that Robert had less involvement with the child's upbringing. At first, Robert did not want to have anything to do with the child, but he somehow had a change of mind and began searching for Patricia and Trevor.
Robert found out where Patricia was staying and made it known to her that he wanted to be a part of the child's life, so they had to create a way that will work for both parties without putting the baby or mother in danger.
Since seeing the baby together with both parents would raise questions, Patricia would take Noah to a park, and Robert would join them at a safe distance. This worked most of the time, but it became risky when the baby began getting used to having the father around and was referring to him as his "Daddy". This made them resort to having Robert visit them at home only.
Does Robert Noah Have a Relationship with Trevor Noah?
Robert has a fatherly relationship with his son Trevor Noah. Be that as it may, the situation was not like that throughout Trevor Noah's growth and development. The octogenarian is said to have lost contact with his son around his 13th birthday.
As time passersby, the frequency by which he sees his son began to reduce from daily to weekly, and from weekly to monthly, until it became difficult for both to see again. This happened for a number of reasons which are; one, his son had become a typical teenager and had started to reduce the time he spends with his parents.
The second reason was that Patricia had gotten married and her then-husband was not happy with her keeping in touch with her ex who had a foul temper and was territorial as well.
Robert moved to Cape Town and then left South Africa to continue in his ventures, although his moves were regrettable, there wasn't much he could do to keep the father and son relationship going. He had no idea what his son thought about him moving, and with no contact, it would be easier to conclude that Trevor had moved on.
However, he still tried to keep up with any development, especially when his son started becoming famous. Ten years later, after he left South Africa, Robert got a letter from his son Trevor through the Swiss Embassy. Apparently, his son, following his mother Patricia's advice, has been trying to contact him, so he made a trip back to Cape Town to meet with him.
Robert Reunited with His Son Trevor Noah and Also Reassured Him of His Love For Him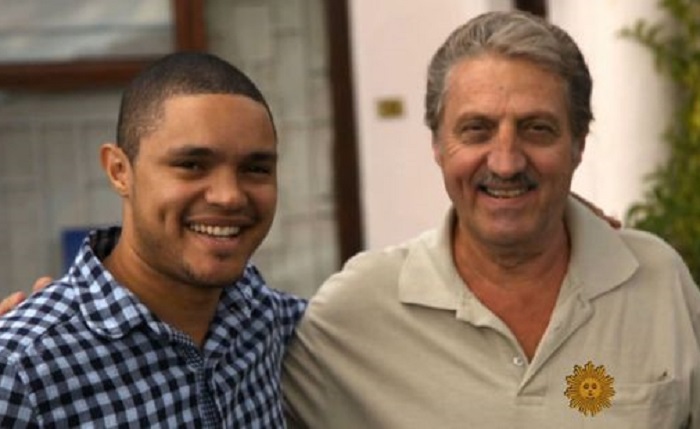 The meeting was a bit awkward but nevertheless went well. Robert hasn't seen his son for the past 10 years, and he wasn't sure what to make of the situation at hand. Although Robert has been following his child's development and how he rose to fame, the 10 years of vacuum between them made it feel like his son knew nothing about him. They had dinner together and started to talk about everything
Robert's son started searching for answers to the many questions he had, which has to do with why his father didn't care to look for him afterward. Robert had a lot of explaining to do, and so he gradually took Trevor through how difficult it was for them to live as a family during the period of his childhood and stated that the decision to distance himself from Trevor's life was for his safe keeping.
Robert also got to know that Trevor was on the brink of totally forgetting about him as his father, but it was the wisdom of Patricia who made it known to him that it was important to show Robert who he had become and also to learn about him.
Patricia didn't want her son to go through life having resentment toward his father without knowing why he didn't care to search for him, which could probably be untrue. Robert was able to close the gap between himself and his son in a short time. Robert bought all of Noah's favorite foods from the last time he saw him when Noah was 13.
He also brought out a photo album he had made containing an update of every clip from the start of Noah's career. This made Trevor very happy and reassured him that his father has always been there even in his 10-year absence.
Where is Robert Noah now?
Robert's current location is unknown. His last known location however was in Cape Town when he was spotted with his son during their reunion. The meeting happened sometime around 2008 when Robert met and spent time with his son doing catch-ups to time they have both lost together as father and son.
Before he made the trip back to Cape Town for the reunion, it was reported that he was living in New York City, and mostly shuttles between Canada, New York, and Western Europe where he conducts his businesses. Robert is a private man, and most information concerning his life is unavailable to the media or the public.
He also has no social media presence; no Instagram, no Facebook or Twitter accounts on which he shares information and doesn't seem to care about it. There are also no known social media accounts affiliated with him. And his son Trevor has not hinted to the public about Robert in any of his recent stand-up comedy performances, as it seems to be the avenue the public gets information about him.
Robert may have chosen to live a private life and as well have a ghost presence on social media, be that as it may, his widely acclaimed television host son Trevor Noah currently lives in New York City where he hosts The Daily Show, an American satirical news program on Comedy Central.