Rhett Broderick is the youngest son of Betty and Daniel Broderick, who was born on 7th February 1979. Rhett's life has been closely intertwined with the infamous case of his mother murdering his father, and his wife, after their divorce.
Rhett, along with his siblings, was caught in the middle of this contentious divorce and ultimately witnessed the tragic outcome of their parents' bitter feud. In the years since the murders, Rhett has partially stayed out of the public eye, choosing to live a private life away from the media attention that surrounded his family's tragedy. Here, we will be looking at everything there is to know about Rhett Broderick.
Summary of Rhett Broderick's Bio
Full name

: Rhett Broderick

Nickname

: Rhett Broderick

Gender

: Male

Date of birth

: February 7, 1979

Rhett Broderick's Age

: 44 years old

Ethnicity

: White

Nationality

: American 

Zodiac Sign

: Aquarius 

Sexual Orientation

: Straight 

Religion

: Catholicism 

Marital Status

: Married

Rhett Broderick's husband (wife)

: Veronica Noffke

Rhett Broderick's Children

: Two Daughters 

Rhett Broderick's Parents

: Daniel and Betty Broderick

Siblings

: Kim (brother), Lee (sister), and Daniel Jr. (brother).

Famous for

: The Family's Story
Rhett Broderick is the Son of Betty and Dan Broderick
Rhett Broderick was born in Idaho and is of white ethnicity, as both of his parents are of European descent. Betty and Dan Broderick were married in 1969, and their marriage lasted for 16 years before they got divorced in 1985. The couple had four children together, including Rhett who was born on February 7, 1979. Growing up, Rhett and his siblings had a privileged upbringing in San Diego, California, with their successful lawyer father providing the luxury he can afford for them. 
The reasons for his parent's divorce were attributed to several factors, including Dan's extramarital affair with his assistant, Linda Kolkena. At the time of their divorce, Rhett was only 10 years old. In the divorce settlement, Betty was granted custody of their four children, including Rhett. Dan was however allowed visitation rights, but the couple's acrimonious relationship made it difficult for him to see the children.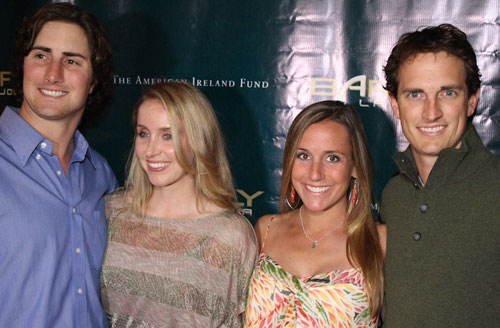 His Mum Murdered His Father and Step-Mother in 1989
After the divorce, Rhett and his siblings lived with their mother, Betty, in the family home in La Jolla, California. Betty struggled to raise the children on her own and was plagued by financial difficulties. Meanwhile, Dan married Linda Kolkena, and they started a family of their own.
Over time, Betty's mental state deteriorated as well, and she became increasingly bitter and angry toward her ex-husband and his new wife. Then, in 1989, she shot and killed Dan and Linda in their bedroom. The events leading up to the murders have been widely discussed and analyzed, with many speculating that Betty's actions were a result of years of emotional and mental abuse by her ex-husband. 
Her killing of her ex-husband and his new wife led to her arrest, trial, and conviction for double murder. Following her conviction, Rhett and his siblings were raised by their maternal grandparents. Rhett has largely stayed out of the public eye and has not spoken publicly about his family's tragedy except on a few occasions.
Rhett Broderick was Later Raised by his Maternal Aunt
Rhett was only 11 years old when his father and stepmother were murdered by his mum in 1989. After his mother's conviction for the murders, Rhett and his older brother, Kim, were placed in the custody of their mother's sister, Kathy Lee, and her husband, Michael.
Rhett reportedly had a difficult time coping with the loss of his father and the incarceration of his mother. This fact was revealed during his interview with Oprah Winfrey. His father's death and his mother being the murderer and being incarcerated for her crime were major shocks to him.
Rhett Broderick Studied Communications and is now a Realtor
Rhett attended the same private schools in California as his older brother Dan, including Bishop's School in La Jolla and La Jolla Country Day School. He went on to attend the University of California, Santa Barbara, where he earned a Bachelor of Arts degree in Communication Studies in 1993.
After college, Rhett pursued a career in real estate and became a successful agent in the San Diego area. He specializes in luxury properties and has been recognized as one of the top agents in the region. As of now, Rhett is still based in San Diego and continues to work in real estate.
With regard to his father's real estate, it remains unclear whether Rhett inherited his father's estate. However, it is known that after the murder of his parents, the estate was tied up in legal battles for many years.
Was Rhett Broderick Involved In the "Dirty John" Movie?
Rhett was not directly involved in the production of the "Dirty John" movie. The 2018 movie is based on the true story of Betty Broderick, a San Diego socialite who was convicted of killing her ex-husband and his new wife in 1989. While Rhett was not involved in the movie, he did participate in a documentary series about his mother's case called "A Deadly Divorce," produced by Oxygen Network.
In the documentary, Rhett spoke about his relationship with his mother and the events leading up to the murders. It is unclear whether Rhett was compensated for his participation in the documentary. The "Dirty John" series, which aired on Bravo in 2018, was a dramatized version of the true story, and Rhett's character did appear in the series.
However, Rhett's character wasn't prominent in the show, and it is unclear whether Rhett received any compensation for the use of his likeness or story. For Dirty John's main characters, Amanda Peet and Christian Slater played Betty and Dan Broderick respectively.
Where is Rhett Broderick Today?
Rhett Broderick remained out of the public eye until 2020 when he was invited to an interview with Oprah Winfrey. In the interview, he commented on the state of his relationship with his mother, Betty Broderick. Earlier in a 2019 interview, Rhett's elder brother Dan stated that he has not had contact with his mother in over 20 years and believes that Rhett has also chosen to distance himself from her. This however turned out to be untrue as Rhett revealed in his Oprah interview that he often visited his mother in prison.
Rhett Broderick has a family of his own now. Luckily, he and his siblings started a family of their own and have lived happily since then. Rhett and his siblings are all married with children, and surprisingly, their children are all girls. Rhett Broderick is married to an elementary school teacher named Veronica Noffke, and the two were blessed with two daughters whose names are yet to be revealed.