Mike Epps has six children; five daughters and a son from two marriages and two previous relationships. The mother of his kids includes his first and ex-wife Mechelle McCain, his current wife Kyra Robinson, and two baby mamas whose identities remain unknown.
Mike Epps is an established American stand-up comedian and actor famous for his roles in Resident Evil: Apocalypse, Resident Evil: Extinction, The Upshaw, and Uncle Buck. What's more, Mike Epps wears many hats. He is not only a respected actor, famous comedian, and producer, but most significantly, his most valued role of all is the one that identifies him as a father. In this article, we have covered everything primarily about his previous relationships, marriages, and all his children.
Meet Mike Epps Children
Mike Epps' children are six in number, consisting of five daughters and a son. Their names are Bria, Makayla, Mariah, Maddie, Indiana, and Mike Jr. Before the comic had his first and only son, Mike Jr, all of his children were only girls, which made his fans fondly refer to him as a girl dad.
Indiana Rose Epps
Date of Birth: 2nd March 2020
Age: 3 years old
Mother: Kyra Robinson Epps
Occupation: Undetermined
Indiana Rose is the fifth child of Mike Epps, and the first child he had with his second and current wife Kyra Robinson. She was born on the 2nd of March 2020 and weighed 9 pounds and 12 ounces at the time of her birth. Currently 3 years old, India was named after her father's hometown.
Upon arrival, Mike took to Instagram to introduce his daughter to the world, and from what is obvious, the little princess brought a lot of joy and happiness into the couple's life. Considering that she is a toddler, there are yet not many facts about Indiana, including the names of the schools she attends. We are yet to see what the future holds for her.
In March 2022, during her 2nd birthday, her parents individually posted her photos on Instagram and showered her with a lot of good wishes.
Mike Jr. Epps
Date of Birth: October 2021
Age: 1 years old
Mother: Kyra Robinson Epps
Occupation: Undetermined
Mike Jr. is the first and only son of Mike Epps, as well as his sixth and last child whom he had with Kyra. The comedian had always wanted to have a son and was excited when he finally had one. Kyra shared the good news of their son's arrival alongside a photo of herself snuggling with the new baby. "Son, we prayed for you!!! You have officially rocked our world", she captioned the post.
While speaking to PEOPLE back in 2016, Mike Epps said "I wish I had a son". He said this after revealing that his mother had eight sons and only one girl. "I think the gene pool switched up. I had all the girls that she wanted!", he jokingly added. While announcing her second pregnancy, Kyra mentioned that it was important for her to give baby Indy a baby sister/brother she could be close to and grow up with just as she was close with her own siblings.
Meanwhile, Epps had earlier announced his wife's pregnancy in June with a photo of her growing baby bump. "God bless My beautiful wife 💝 we prayin' 4 a son", he captioned the photo. Mike Jr. is still just a baby and still has much growing up to do. Hence, apart from the fact that he is growing up under the care and guidance of his parents, nothing much is yet going on in his life.
Mariah Epps
Date of Birth: 2005
Age: 18 years old
Occupation: Undetermined
Mother: McCain Mechelle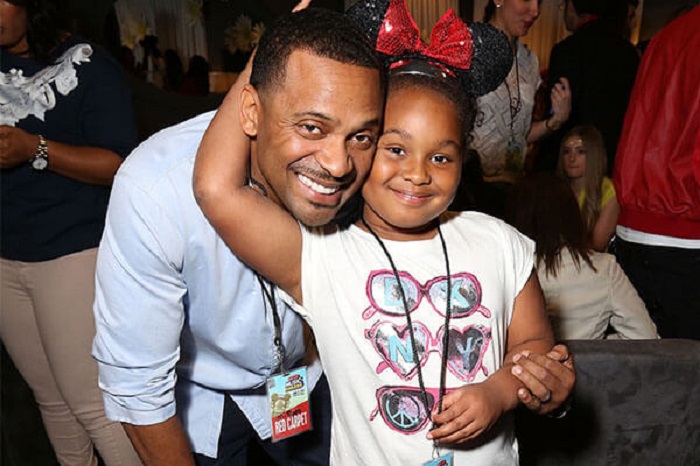 Mariah Epps is the third daughter of the famous stand-up comedian born to him by his ex-wife Mechelle McCain. She was born in 2007 and is now 18 years old. Mariah has only one biological sister Maddie and three half-sisters Bria, Makayla, and Indiana Rose.
From what we can see, Mariah had a close bond with her father while she was younger as she is described as the daddy's girl. She was mostly seen with her father either on a short trip, hanging out, or just spending time together. Mariah is cute and has a beautiful smile, and in fact, everyone in her family is fond of her and not only her father.
It is somewhat difficult to stay up with the latest in Mariah's life because she is not found anywhere on social media. However, we guess that she might still be receiving her high school education or has already gained entrance into a university. Whichever one, it is apparent that Mike Epp's third daughter is not caught up with social media life for now.
Maddie Epps
Date of Birth: 2007
Age: 16 years old
Occupation: Undetermined
Mother: Mechelle McCain
Maddie Epps came into the spotlight for being the daughter of the popular entertainer Mike Epps. Mike and his first wife Mechelle McCain welcomed Maddie in the year 2007 making her 16 years old now. It is not yet clear when she celebrates her birthday. Maddie is the younger biological sister to Mariah and has three half-sisters as well.
There is yet not many facts about Maddie except that she is still a young girl who prioritizes her education more than any other thing now. She also doesn't have a presence on any social media platform but one of her passion seems to be basketball. She plays for her high school and also makes out time to train outside the school environment as well. She obviously loves the sport and may very well play it in college and even professionally.
Bria Epps
Date of Birth: 9th May 1993
Age: 29 years old
Occupation: Professional Makeup Artist, Screenplay Writer (aspiring)
Mother: Unidentified
Bria Epps is the oldest child of Mike Epps. She was born on 9th May 1993 in the United States and is presently 29 years old. Just a scroll through her social media pages, you would find out that Bria is not just a beautiful lady with a pleasant personality, but also one that is industrious and puts in hard work and interest in her career.
Bria Epps is a professional makeup artist and is looking forward to building a career in the movie industry as a screenplay writer. Bria is a very active social media user who not only posts her gorgeous photos and lifestyles but more significantly showcases her talent and skill in her makeup career. Her Instagram page is literally filled with her adorable makeup shots and works.
Bria made her father a grandfather after she gave birth to her own child; a daughter named Skylar born on 7th November 2012. However, nothing is known about her relationship/romantic life, and there is no public information regarding the identity of her baby's father. She is singlehandedly raising her daughter with support from her father.
Meanwhile, it is surprising to many people that Bria has never said anything about her mother, making it very difficult to lay hands on any facts about the woman. Bria has a close relationship with his father Mike and that actor is also very proud of her. Celebrating his 27th birthday in May 2020, Mike took to his Instagram with photos they took together and penned a lot of good wishes for her.
Makayla Epps
Year of Birth: 1999
Age: 23 years old
Occupation: Singer, Model
Mother: Undetermined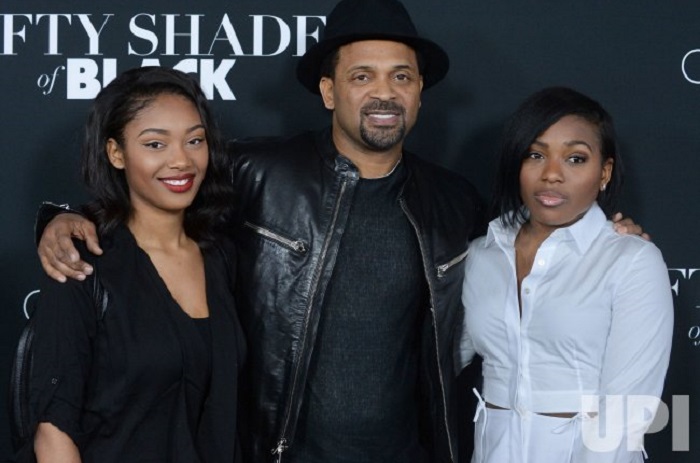 Makayla is the second daughter of Mike Epps born in the year 1999. As of 2023, she is 24 years old although it is not known exactly when she celebrates her birthday. Just like her half-older sister Bria, Makayla has not yet spoken anything about who her mother is, so there is no information in that regard. However, we know that her father Mike had her from his previous relationship before he got married.
Makayla Epps is an up-and-coming singer and model. Following the path of her father in the entertainment industry, Makayla is very passionate about singing and is hoping to fully pursue a career in music. The young talent has a self-titled YouTube channel where she uploads her cover songs which gather a lot of views. She has covered the songs of some well-known artists in the music industry such as Cardi B.
Makayla hasn't disclosed anything about being in a romantic relationship although we know she would definitely have some admirers. She seems to be focusing now on building a sustainable career path for herself.
Mike Epps Has a Very Cordial and Close Bond with all His Children
Significant to note is that Mike Epps does not play favorites when it comes to his children. In no doubt, his children are all growing in comfort and love. The entertainer knows how well to raise his daughters and provide them with good education, all essential things, as well as the support they need. "They're all No. 1 in my eyes, they're all really good girls and really, really smart. I've been blessed", Epps revealed while speaking to PEOPLE.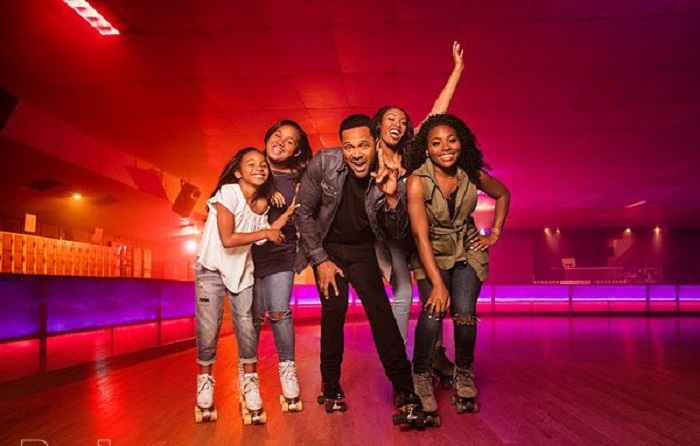 Mike Epps' love for his children is apparent as he frequently talks about them and shares their photos at any opportunity he has. Bria and all her half-siblings live a lavish lifestyle with all the luxury facilities a child could ever need to have a good life.
Meet Mike Epps' Wives and Baby Mamas
The entertainer who started his career with stand-up comedy is a proud father to six children and has been married two times. Besides that, he has previously had relationships with a couple of women before he got married. With all these women; both the ones he married and the ones he did not marry, Mike Epps had his children; five daughters and a son. Meet the women below.
Mechelle McCain was Mike Epps' First Wife
Mike Epps got married for the first time in July 2006 to Mechelle McCain, an American actress, producer, Instagram personality, and philanthropist. Mechelle was born on 27th November 1985 and is from Houston, Texas. She is mostly known for her roles in Next Friday, Friday After Next, The Hangover, Open Season 2, Resident Evil, etc.
Epps and Mechelle McCain met on the set of The Fighting Temptations wherein McCain had a minor, non-speaking role as Epps' character's girlfriend. They would after the movie fall in love and later got married in July 2006. Their marriage produced two daughters; Mariah and Maddie. After 11 years, their marriage ended in divorce, officially in mid-2017.
Epps is the one that filed for divorce citing "irreconcilable differences" as the reason. Mechelle who didn't walk away from the marriage without drama stated that they actually separated in February 2016 while Mike in his filing stated that they had been apart since June 2015. In any way, the two officially got the divorce papers in June 2017 and went their separate ways.
McCain demanded spousal support and full legal custody of their two daughters but that was not granted by the court. On the heels of their divorce, Mechelle McCain severally called out Epps on social media for some reasons including cutting out her access to funds to make her accept a lower settlement. However, it seemed the two has settled their scores and moved on with their lives peacefully.
Kyra Robinson is Currently Mike Epps' Wife
Shortly after he separated from his first wife and in fact the same year they finalized their divorce, Mike Epps found love again in the arms of Kyra Robinson, an American TV host, producer, and social media personality. Kyra, 38 is a successful woman in her own right, known for producing some of the best TV series.
Kyra Robinson Epps presently works as an executive producer on the Oprah Winfrey Network (OWN). She launched her talk show Kyra Ave in 2012 but subsequently stopped it. Kyra is a recipient of the NAACP Image Award. Although her popularity immensely increased following her marriage to Mike Epps, Kyra Robinson had before then built sustainability in her career.
Mike and Kyra met in 2017 at the airport. They started a relationship and in the spring of 2018, the entertainer proposed to her. A year later, precisely in June 2019, they exchanged marital vows in a private wedding ceremony at Pelican Hills Resort in Newport Beach, California.
The couple has remained together ever since then and living happily. Their marriage has so far been blessed with a daughter and a son; Indiana and Mike Jr. Mike Epps never ceases to express how grateful he is for his wife and does not hesitate to post her photos and shower her with a lot of praises each time an opportunity calls.
Mike has not said anything about his previous relationships which birthed Bria and Makayla, so, there is no information about the identities of the women. But, one thing that is certain is that he did not officially marry them.