Kendu Isaacs is the ex-husband of Mary J. Blige, an American multiple Grammy Award-winning singer, songwriter, and actress. Kendu Isaacs was born on 14th August 1968 and is currently 55 years old. Isaacs and Blige got married in December 2003 and divorced after 15 years in June 2018.
Kendu Isaacs was launched into fame due to his marriage to Mary J. Blige. However, in his own right, he is a music manager and record producer. He has worked in several movies, such as Betty and Coretta. Here are answers to many questions about his failed marriage to the Queen of Hip-Hop Soul, what actually went wrong, and more about his personal life and career.
Summary of Kendu Isaacs' Bio
Full name: Kendu Isaacs
Gender: Male
Date of birth: 14th August 1968
Kendu Isaacs' Age: 55 years old
Ethnicity: African-American
Nationality: American
Zodiac Sign: Leo
Sexual Orientation: Straight
Religion: Christianity
Marital Status: Single
Kendu Isaacs' Ex-wife: Mary J. Blige
Kendu Isaacs' Children: Three;
Kendu Isaacs' Parents: Martin Isaacs and Barbara Isaacs
Kendu Isaacs' Height in Inches: 5 feet 8 inches
Kendu Isaacs' Height in Centimetres: 173 cm
Kendu Isaacs' Weight: 75 kg
Kendu Isaacs' Net worth:$4.5 million
Famous for: Being the ex-husband of Mary J. Blige
Kendu Isaacs' Instagram: @kendu_isaacs
How Old Is Kendu Isaac?
Mary J. Blige's ex-husband, Kendu Isaac, was born on the 14th of August 1968, making him 55 years old at the moment. His birth sign is Leo. Kendu is three years older than his famous ex-wife, who was born on 11th January 1971. He was born and raised in a Christian home in Manhattan, New York, United States of America.
Kendu holds American nationality and belongs to the African-American ethnic background. The names of his parents are Martin Isaacs (father) and Barbara Isaacs (mother). Other than this, there is no further available information about Kendu's parents, and it is also not known whether he has a sibling or not. Similarly, Kendu has not disclosed anything in regard to his academic background.
Kendu Isaac's Net Worth
Kendu Isaacs has a net worth estimated between $4 million and $5 million. He accrued his wealth primarily from his career as a talent manager and record producer. Isaacs is a professional talent manager and has been the manager of K.I. Productions Artist Management Company since January 2001.
He was previously signed to Matriarch Entertainment, his ex-wife's record label, where he worked as her director and secretary. Between January 2008 and July 2011, he worked as Mary J. Blige's assistant and manager at the New York-based Matriarch Entertainment Company. In addition to his talent management career, Kendu Isaacs is also a music producer.
In 2013, he was the executive producer of the drama film Betty and Coretta, which also featured his ex-wife Mary J. Blige. Kendu appeared in a few talk shows and as a guest on the comedy talk show Ellen: The Ellen DeGeneres.
Kendu Isaacs Was Mary J. Blige's Wife For 15 Years
Kendu Isaacs and Mary J. Blige used to be a married couple. Their marriage lasted from December 2003 to June 2018. The ex-couple met in 2000 somewhere in the United States. There are not many details about their relationship, but it is recorded that they dated for about two years before deciding to take things to a higher level by getting married.
They eventually tied the knot on the 7th of December 2003 in a private wedding ceremony held at Mary J. Blige's mansion in Saddle River, New Jersey. After being together for one and a half decades, Isaacs and his wife Blige called their marriage quits, with the latter being the one who filed for divorce.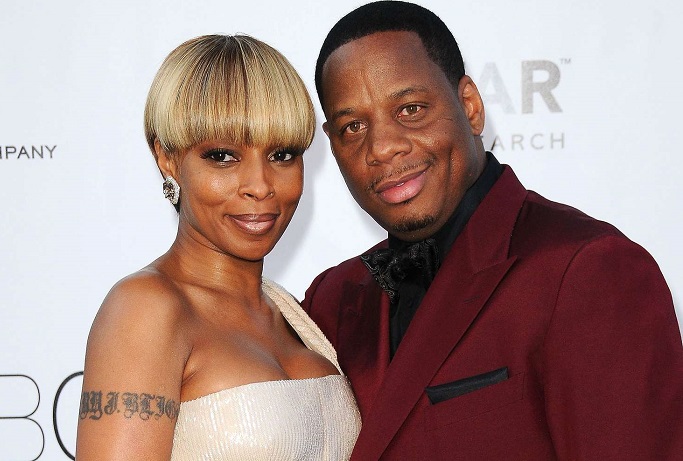 Although she officially cited "irreconcilable differences", it was later revealed that their marriage ended due to infidelity on the side of Isaacs. According to a court document derived in May 2017 by People Magazine, the Queen of R&B accused Kendu of having an affair with another woman while they were married.
He cheated on her with an American singer, Starshell, who was also signed to the Matriarch Entertainment label. Not only that, but the singer also added that her husband spent over $420,000 during their marriage on travel expenses with his girlfriend Starshell. While they were married, Kendu received 10% of her wife's gross income.
On his own side, the record producer questioned the sexual preferences of her wife and also accused her of infidelity. Mary ultimately filed for divorce in July 2016, and they went their separate ways. However, their divorce was finalized two years later, in June 2018. Their marriage did not produce any children.
How Many Children Does Kendu Isaac Have?
Kendu Isaac has a total of three children: two daughters and a son. Before he met and married Mary, Kendu was married to a woman known as Maurine, with whom he had two children: a son and a daughter named Nas and Jordan. This was his first marriage, lasting for eight years, from 1991 to 1999.
Kendu Isaac also had another child, a daughter named Briana Latrise. As a matter of fact, Briana, born on 3rd August 1986, is his first child whom he had in his teenage years with an unknown woman. Briana is now an actress and screenwriter known for her appearance in the TV show Growing up Hip Hop. She is also a professional photographer and blogger.
Moreover, Kendu Isaacs is a grandfather. His daughter Briana has a son named Mercury Turner, whom she had in 2013. But it is not clear whether she is married or not. There is a scarcity of information about Kendu's two children from his first marriage, including when they were born and what they are currently up to.
Kendu Isaacs Settlement: How Much Does He Get in Spousal Support?
Because the duo spent as long as 15 years in marriage, it became almost clear that their divorce wouldn't be that cheap. Following the divorce, and after a long dragging in court, Kendu Isaacs was awarded $30,000 monthly as temporary spousal support. Mary found this amount to be outrageous and much higher than what she would have willingly given to him.
Also, after they parted ways, news had it that Kendu kept on keeping in his custody Blige's possessions without her consent. Some of these things include her Grammy awards, her cars, which she was reportedly leasing, and other prestigious accolades. Mary J. Blige once revealed that she had to start going on tour to make money to pay alimony to her ex-husband.
The former love birds have, since their divorce, remained unmarried. Mary chooses to keep her love life very private, and it is not known whom she has dated afterward. Meanwhile, in December 2020, she said in an interview that she was not yet ready to start dating. Whereas Kendu has dated and been linked with a few women, including some in the entertainment industry.