Mrs. Assassin is the wife of Dr. Disrespect, an American video game streamer popularly known for playing battle royale games on Twitch. Mrs. Assassin is a painter and online gamer, just like her husband.
Although Mrs. Assassin prefers to keep her life away from the public, her marriage to Dr. Disrespect has plunged her from obscurity into the limelight. The two have been married for 10 years and have one daughter. Because Mrs. Assassin leads a more private life than her husband, many people want to know more about her personal life.
Summary of Mrs. Assassin's Bio
Full name: Mrs. Assassin
Gender: Female
Place of Birth: United States of America
Ethnicity: Mixed
Nationality: American
Sexual Orientation: Straight
Religion: Christianity
Marital Status: Married
Mrs. Assassin's Husband: Herschel "Guy" Beahm IV, aka Dr. Disrespect
Mrs. Assassin's Children: A daughter, Alana
Mrs. Assassin's Height in Inches: 5 feet 5 inches
Mrs. Assassin's Height in Centimetres: 165 cm
Mrs. Assassin's Weight: 55 kg
Body Measurements in Inches: 36-28-38
Mrs. Assassin's Net worth: $500,000
Famous for: Being the wife of Dr. Disrespect
Mrs. Assassin's Instagram: @mrsassassin
What is Mrs. Assassin's Real Name and Age?
Dr. Disrespect's wife is casually known by the public as Mrs. Assassin. Although it is evident that this is her moniker, the celebrity wife is yet to reveal her real name to the public. She only came to public recognition after she married Dr. Disrespect and had already begun her career, making it difficult to get certain facts about her early life which include her birth name.
Similarly, information about her birth details is also nowhere to be found except that she was born in the United States of America. She is assumed to be in her late 30s as of 2023, but there is no verified record of that. Meanwhile, her husband, Dr. Disprespect, was born on 10th March 1982 and is now 41 years old. For all we know, Mrs. Assassin is an American citizen with Filipino roots.
It is said that her family has roots in Malamawi, the City of Isabela in the Philippines. She currently resides in California, United States, with her family. Mrs. Assassin stands at 5 feet and 5 inches tall which is equivalent to 165 cm. She is an inch taller that an average American woman. Her husband, on the other hand, stands at a staggering height of 6 feet 8 inches (203 cm).
Mrs. Assassin is an adorable-looking and petite woman with blonde hair and dark brown eyes. Her body measurements are 36-28-38, which are bust-waist-hip. Mrs. Assassin attended a local high school in her neighborhood, after which she enrolled at the prestigious Rhode Island School of Design. The certificate she obtained from the institution is not known, but she used the period to hone and develop her art skills and unique styles.
What Does Dr. Disrespect's Wife Do For a Living?
Dr. Disrespect's wife, Mrs. Assassin, is an online gamer, just like her husband, although she is not close to as popular as he is. Even before she finished her studies, Mrs. Assassin had started earlier to dabble in arts as she knew what she wanted to pursue as a career. She and her husband have worked on Twitch for many years as long as they have been married
Although details of her achievements and endeavors in the gaming field are not well recognized, Mrs. Assasin is the biggest fan of her husband as she largely supports and promotes his works. Much more than that, Mrs. Assassin is a skilled painter. Her artworks occasionally feature her husband in different settings, including his black and iconic red outfit.
She does exceptional and intriguing works, which also provide a glimpse into the life of the famous gamer. Moreover, her work has been showcased on various high-profile websites, and her husband also regularly posts her artwork on his social media pages. Mrs. Assassin has a decent Instagram presence which she mostly uses to promote her husband's career.
Her net worth is estimated at $500,000, and she made the money majorly from her painting career. As a matter of fact, Mrs. Assassin came into the limelight following her husband's fame. However, despite all the fame that comes with being a celebrity wife, she has chosen the path of privacy and keeping most information about her life out of the public eye.
She takes pride in identifying herself as the wife of Dr. Disrespect. According to her Instagram bio, she is a "deadly wife to the most ruthless competitor in the gaming industry." She is better known to be family-oriented than career-oriented.
Mrs. Assassin and Dr. Disrespect Have Been Married For 10 Years and Have a Daughter Together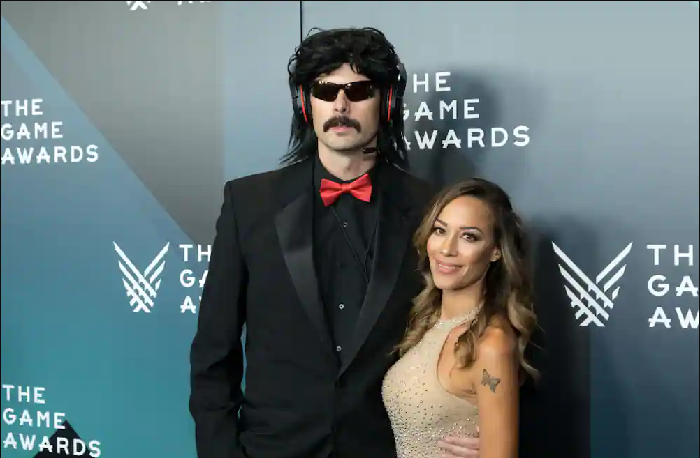 Mrs. Assassin and Dr. Disprespect got married in 2013, making it their 10 years of marriage now. The couple met for the first time at the Rhode Island School of Design. Then Dr. Disrespect was completing his master's degree in Creative Writing at the University of Rhode Island School of Design. They dated for a short time and got married in 2013.
The couple welcomed their one and only child; a daughter named Alana Beahm, in 2014. Sadly, Mrs. Assassin reportedly lost her second pregnancy via miscarriage in 2018. Dr. Disrespect calls his daughter Baby Disrespect, and she occasionally appears in his live streams.
Meanwhile, Mrs. Assassain and her husband have faced an infidelity challenge in their marriage. In December 2017, Dr. Disrespect publicly confessed that he had once cheated on his wife, though he didn't reveal the identity of the person. He cited the reason for his cheating as the demands of his career, as he would scarcely find time to spend with his wife.
In a bid to make amends for the scandal, the streamer took a break from his game streaming in December 2017 and returned in February 2018. Meanwhile, following the revelation, many people began to think and speculate that his wife would leave him, but that was not the case. The couple has since remained together, and instead of separating, their love is going stronger every day.
FAQs About Mrs. Assassin
Who Did Dr. Disrespect Cheat on His Wife With?
Dr. Disrespect did not reveal the identity of the woman he cheated on his wife with.
How Old is Dr. Disrespect's Wife?
Dr. Disrespect's wife has not revealed her year, month, and date of birth, so it is hard to determine her exact age. However, a few unverified sources have assumed she is in her late 30s as of 2023.
How Tall is Dr. Disrespect's Wife?
Dr. Disrespect's wife is 5 feet 5 inches tall, while her husband is 6 feet 8 inches tall.