David Muir does not have a partner but was once rumored to be in a relationship with his male co-worker, Gio Benitez. This has naturally led to insinuations that David Muir is gay, but he has never confirmed nor denied it. Moreover, David Muir has no wife and has never been married.
David Muir is an American journalist famous for anchoring ABC World News Tonight. Besides his professional career, fans and the general public are interested to know more about his personal life. However, he keeps a tight lid on that, which has attracted many questions, curiosity, and speculations about his sexuality and love life.
Who Is David Muir's Partner?
David Muir does not have any partner, at least publicly. The award-winning journalist may be dating someone privately, but he has never shared that information with the public. This is not a new pattern. Muir has a history of protecting his personal and love life from the public, making it extremely difficult to know who he is dating.
It has also led to rumors, and going by them, David Muir's partner in past times is Gio Benitez, his fellow journalist on ABC News and colleague. David Muir was rumored to be in a long-term relationship with Gio Benitez in 2015.
The two journalists were used to spending a lot of time together and sharing their photos on social media. Hence, fans began to read more meaning into their closeness and assumed that they were in a romantic relationship, more because Gio is openly gay. The speculations were never validated as neither party confirmed or denied the report.
The whole matter was finally laid to rest on 17th September 2015 when Gio got married to his boyfriend, Tommy DiDario, in a small ceremony in Miami, Florida. This promptly ended the words on the street about David and Gio being a pair.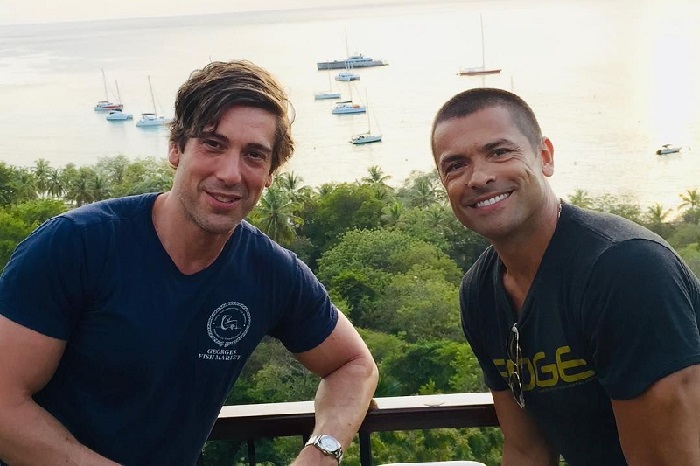 Is David Muir Gay?
One cannot say for certain whether David Muir is gay or not. The renowned journalist has never come out to confirm his sexuality, and as such, everything remains in the realm of speculation. There have been rumors that David Muir is gay, and this is based on some reasons. For instance, he is 49 years old, has a thriving career, and is handsome but has no record of any romantic relationship with a woman. In other words, he is possibly gay but has yet to come public with it.
Furthermore, David Muir has been linked to a couple of men with whom he has mostly been seen. The speculations of him being gay began after being allegedly spotted multiple times at gay bars. Then, sometime in 2015, he was alleged to be in a relationship with a male colleague named Gio Benitez.
Also, Muir was recently linked to a mystery man only identified as Sean. The man is said to be the founder and Managing Director of aussieBum, a swimwear brand. However, just like his other alleged relationships, Muir did not care to address this speculation. Hence, there is no proof of it.
All these sightings have led to insinuations that David Muir is gay, but the man in question is not perturbed. Being a journalist, David seems to have understood that the best way to handle such issues is by ignoring them. To date, he has never for once commented on whether he is gay or not but has left anyone who is inquisitive about his sexuality and love life to believe whatever they hear or want to believe in that regard.
Has David Muir Ever Been Married?
Despite all the uncertainties about his love life and sexuality, one thing that is for sure is that David  Muir is not married. He does not have a wife and has never been married before. He is much more committed to his professional career, which is demanding.
A native of Syracuse, New York, David Muir was born on 8th November 1973 and is 49 years old. David grew up with an insatiable desire to know the world around him. Thus, he spent most of his evenings watching the news and aimed to become an anchor just like the people he was watching on the screen then. Today, David Muir has become very successful in his field, winning many awards.
Nevertheless, David Muir did not just stumble upon success but thoroughly laid the foundation from his childhood. At 12, he started an internship at the local TV station. Also, he took up the announcer role during high school, delivering morning news during assembly and interviewing teachers.
After that, he enrolled at the Ithaca College, New York, where he studied Journalism. He also acquired additional qualifications from the University of Salamanca, Spain, and Georgetown University.
A Look at David Muir's Rumored Relationships
In 2015, rumors spread that David Muir was dating Kate Dries. Dries is a fellow American journalist who has worked as a deputy editor at WEBZ, BuzzFeed, and Jezebel. She currently works as Editorial Director at features at VICE. On the 10th of September 2015, Kate, in an article titled 'Report Indicates My Boyfriend David Muir is a Monster', declared that she was David's boyfriend.
In the article published on Jezebel, Dries spoke slightly about their first date and courtship. She also added some of David's photos claiming that she took them herself. However, a read throughout the piece would literally tell that the writer intended to be satiric. Kate emphasized the perceived attractiveness of David as a romantic partner to report on a toxic relationship with his fellow workers.
Many people seemingly misunderstood the piece, which sparked rumors that they were lovers. But this is not the case. David neither debunked nor confirmed the claims, and Kate also never spoke about it again. Thus, it was not long before it died, though fans assumed they broke up as they have since not been linked to each other again.
Besides that, David Muir is known to have a close relationship with Kelly Ripa, an American actress, and media personality. He usually shares their photos on social media, and his captions show how much they love and care for each other. Normally, netizens began to speculate that there must be more between them.
This rumor, however, did not gain much traction because Ripa has been married to her actor husband, Mark Consuelos, since 1996. So for all that is publicly known, Kelly and David aren't partners but are only good friends.
Apart from the alleged relationships with Kate Dries and Gio Benitez, nothing else has been heard about David Muir's romantic life with women over the years. The ABC journalist seems not to be perturbed by the rumors surrounding his personal life but pays more attention to his career, which is his lifelong passion and dream. David Muir also does not have any children of his own.