Carolyn Chambers (born on 17th April 1971) is a 51-year-old American real estate broker and notary signing agent popular for being the ex-wife of Deion Sanders, an American football coach and former player.
Apart from her ex-husband's fame, Carolyn Chambers has, over time, grown to become a well-known personality in her own right. She is also a social media influencer, author, and tax specialist. Here are interesting details about her life and career, including the reason for the crash of her marriage with Deion Sanders and what she's up to since the divorce.
Summary of Carolyn Chambers' Bio
Full name: Carolyn Chambers
Gender: Female
Date of birth: 17th April 1971
Carolyn Chambers' Age: 51 years old
Ethnicity: Mixed (African-American ancestry)
Nationality: American
Zodiac Sign: Aries
Sexual Orientation: Straight
Religion: Christianity
Marital Status: Married
Carolyn Chambers' ex-Husband: Deion Sanders
Carolyn Chambers' Current Husband: Erick Strickland
Carolyn Chambers' Children: 2 (Deiondra Sanders and Deion Sanders Jr)
Siblings: 1 (Sherri Nichelson)
Carolyn Chambers' Height in Inches: 5 feet 8 inches
Carolyn Chambers'Height in Centimetres: 173 cm
Carolyn Chambers' Weight: 68 kg
Carolyn Chambers' Net worth: $2 million
Famous for: Being Deion Sanders' Ex-wife
Carolyn Chambers' Instagram: @carolynecsandersrealtor
Who is Carolyn Chambers?
She was born Carolyn Chambers on the 17th of April 1971 in Texas, United States of America. She is currently 51 years old. Carolyn barely shares stories of her parents; thus, very little is known about her family background and upbringing. Nevertheless, records have it that she grew up in Texas alongside her parents and sister, named Sherri Nichelson.
Having spent her early years with her birth family in Texas, it is believed that Carolyn received her basic education there. It is not known where she acquired her first degree, but Carolyn later attended a Historically Black College and University (HBCU) in the US and acquired a Master's Degree in Business Administration in Tax and Specialization.
Carolyn is an ardent follower of Christ and likes to share gospel messages/posts across her social media platforms. She strongly believes that Jesus Christ and God are everything.
Her Professional Career as a Real Estate Broker and Notary Public
Carolyn Chambers first came into the spotlight following her marriage to NFL star Deion Sanders. However, before then, she already had a career as a real estate broker and Notary Public. She currently works as a notary signing agent in the US, where she signs loan documents for clients and engages in other legal activities such as taking Affidavits, Declarations & Depositions.
Additionally, the former Mrs. Sanders is a licensed stockbroker who assists her clients in their financial planning. She is also a tax specialist and author, and one of her notable published books is "Sins, Secrets, and Success." The book tells the story of three friends, Amber, Candice, and Toi, who journey through life's temptations and uncertainties.
Carolyn Chambers and Deion Sanders Got Married in 1989
Carolyn Chambers was the first wife of Deion Sanders, a former American football player from Fort Myers, Florida, USA. Sanders is currently the head coach at Jackson State Tigers. He was a baseball outfielder for nine seasons and also played in the National Football League (NFL) for 14 seasons.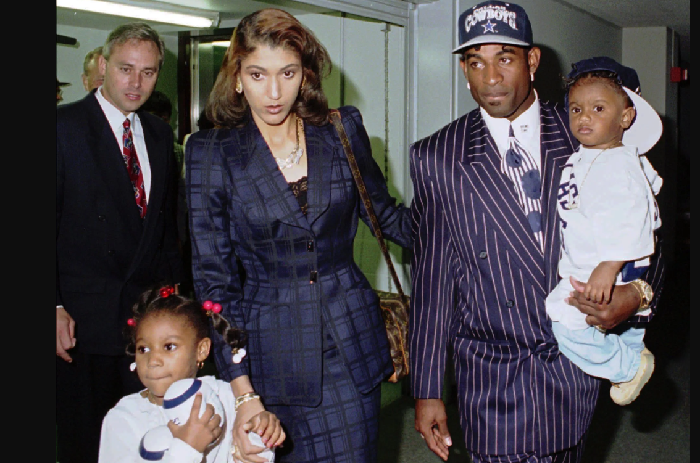 Full details of where Carolyn and Deion met remain undisclosed, but the duo reportedly started dating in 1988. In no time, the relationship grew stronger, and they got married the following year, in September 1989. Their wedding was not a public ceremony but was attended by only their family and close friends.
She was Deion Sanders' Wife for Nine Years
For undisclosed reasons, Carolyn and Sanders went their separate ways and subsequently got divorced barely a decade after they said "I do" to each other. It is obvious that the ex-couple chose to keep out of the media the actual reason their marriage hit the rocks, as none of them has ever spoken about it.
Their union lasted throughout the time Sanders was having a thriving career with the Atlanta Falcons. As long as it lasted, however, the celebrity couple shared lovely and memorable times together, as seen by the public. They filed for divorce in 1998. While the ex-couple is yet to speak about the differences that led to their divorce, some sources cited "unresolved issues" as the reason.
Carolyn Chambers is Currently Married to Erick Strickland
Carolyn Chambers is currently in her second marriage with Erick Strickland, a popular American professional basketball player. The marriage has not produced any child yet, and Carolyn does not share information about Erick's personal life with the public, not even their photos together.
Details of when they met and the kind of wedding ceremony they had are not disclosed. Meanwhile, in 1999 a year after he divorced Carolyn, Deion Sanders got married to Pilar Biggers, but they also divorced in 2013. Currently, Sanders is reportedly dating Tracey Edmunds, an American TV personality and producer.
Carolyn Chambers Has Two Children With Her Ex-Husband
Carolyn Chambers's nine-year marriage with Deion Sanders produced two children; a daughter named Deiondra Sanders and a son named Deion Sanders Jr. Following the divorce, Carolyn got custody of their children, and as per the court order, Sanders is free to meet his children whenever he wanted.
Carolyn shares a very cordial relationship with her two children and does not hesitate to share their pictures on her social media pages. Meanwhile, Sanders told a story of how he once attempted suicide because he didn't handle losing custody of his children very well back then.
Deiondra Sanders
Her first and only daughter, Deiondra, was born on 17th April 1992 in Texas. Deiondra is a reality TV star and model. Apart from the fame she enjoys as the NFL star's daughter, she is well known for her appearance in the reality TV show Deion's Family Playbook, which aired on Oprah Winfrey Network, and her appearance in Deion & Pilar Sanders: Prime Time Love.
Moreover, Deiondra is an entrepreneur. She is the founder of the hair extension line, Love Me Extensions and the co-owner of an online shoe store, House of Sole. Deiondra has an impressive social media presence. She once had a feud with her ex-stepmother Pilar Biggers, and the drama was quite a hot topic that made headlines, especially on Twitter.
Deion Sanders Jr.
Currently 29 years old, Deion Sanders Jr was born on 1st December 1993 and is the only son of Carolyn Chambers. Deion Jr is following in his father's footsteps as a football player. He attended Atlanta Sports Academy and was a 3-star collegiate recruit. During his time at the academy, he was also involved in both football and track.
Deion Sanders Jr was a wide receiver and cornerback for the Southern Methodist University Mustangs football team. In 2014, he was named kick returner to the 2nd team All-American Conference and in the following year, he set a record with 203 kick return yards in a game. Deion Jr also has a stint in music and has released a couple of songs, including Money and Girls.
Additionally, Deion Jr runs a clothing brand dubbed "Well Off." Just like his sister, he is an active social media user and consistently shares videos and pictures of his brands, gameplay, and football activities.
Carolyn Chambers Has an Active Social Media Presence
Carolyn is an active social media user. Although she does not have as many followers as her ex-husband, she has since leveraged the fame she earned as a celebrity wife to build her social media following. She is more active on Instagram, where she mostly shares photos of her children, family, and friends, as well as her other career engagements.
Although her net worth is not yet verified, Carolyn Chambers has made quite a success in her career as a real estate broker and notary signing agent, which are her primary sources of income. According to records, her net worth is estimated between $1 million and $2 million. Chambers is also a is a fitness enthusiast and philanthropist; she founded a non-profit organization in Dallas, Texas, USA.