Annie Agar (born on 12th April 1996) is a 27-year-old American digital content creator, sports correspondent, and social media influencer. Although her current relationship status is not certain, Anna does not have a husband and has never been married before.
Annie Agar gained public recognition in America for working at Bally Sports as a sports correspondent. She has built her career to success and made several accomplishments in the field. Agar further took advantage of various social media platforms to sustain her career and also made money from them. Here's all to know about her personal and professional life.
Summary of Annie Agar's Bio
Full name: Annie Agar
Gender: Female
Date of birth: 12th April 1996
Annie Agar's Age: 27 years old
Ethnicity: White
Nationality: American
Zodiac Sign: Aries
Sexual Orientation: Straight
Religion: Christianity
Marital Status: Single
Annie Agar's Children: None
Annie Agar's Parents: Mr. and Mrs. Jeff Agar
Siblings: Johnny and Gracy
Annie Agar's Height in Inches: 5 feet, 6 inches
Annie Agar's Height in Centimetres: 167 cm
Annie Agar's Weight: 58 kg
Body measurements in inches: 34-24-36 inches
Annie Agar's Net worth: $3- $4 million
Famous for: Being a Sports Reporter, Social Media Influencer
Annie Agar's Instagram: @annieagar5
Twitter: @AnnieAgar
Facebook: Annie Agar
YouTube: @annieagar7434
Annie Agar is the Daughter of Minor League Pitcher, Jeff Agar
Annie Agar is 27 years old at the moment. She was born on the 12th of April 1996 in Grand Rapids, Michigan, United States of America. Her birth sign is Aries and she follows the Christianity religion. She is an American national with a White ethnic background. Annie is the eldest in a family of three children; she has a brother named Johnny and a sister Gracy, a social media influencer.
From what is seen, Annie Agar got her passion for sports from her father. While her mother is a homemaker, her father Jeff Agar played as a minor league pitcher in the Detroit Tigers farm system for several years. Annie also gets her love from her brother named Johnny. Johnny was born with cerebral palsy and she has a very close bond with him.
Johnny is also a sports enthusiast and Annie likes to spend a lot of time with him discussing sports. She showers her brother with much love which helps him to function in his daily life. Annie generally has a close relationship with her family and is fond of sharing photos with them on her social media platforms.
She Studied Sports Broadcasting at Grand Valley State University
Annie Agar initially got into sports as a way to bond with her dad as well as her brother but she later found that she genuinely loved it. She, therefore, tailored her career toward that direction and worked hard to bring her dreams to fruition.
Annie Agar completed her elementary and high school education at a local private school in her neighborhood where she took part in several sports activities. After high school, she proceeded to Grand Valley State University, and in 2014, she earned a bachelor's degree in the field of Pre Law/ Sports Broadcasting. This was the beginning of her sports reporting career.
She is now a Broadcast and Online Sports Journalist
At 26, Annie Agar has successfully created her identity in her career. After getting her degree in sports broadcasting, she started working at a local news station where she spent two years. That was the time the COVID-19 pandemic hit. Consequently, she lost her job because everything that she covered especially sports was no longer happening.
She was 24 then and moved back in with her parent, spending much of her time thinking about what to do next with her life. Then, on Mother's Day 2020, she came up with an idea to do a Big Ten Zoom meeting and also show it in a video. So she shot the video on Mother's Day and just within a day, her phone was already blowing up as the video went so viral.
Annie definitely knows that people were missing out on the laughter in sports and used the opportunity to bring them out of the dark cloud of Covid, and, today, she has made a job out of it and become a leading sports content creator. She partnered with some companies with whom she shares her content and they together make money off it.
Annie said that she shoots her videos on TikTok because it is effortless for her to edit on the platform. In addition to creating sports content, Annie Agar works as a reporter at WOOD TV8 and as an Administrative Assistant at Davidson Plyforms Inc. Moreso, She is a full-time correspondent at Bally Sports, a position that makes the bedrock of the fame and huge fan following she enjoys today.
According to her LinkedIn profile, Annie's professional sports reporting career started in November 2017 after she joined Grand Rapids Drive. She worked there for two years and in 2019 moved to West Michigan Whitecaps where she worked as an on-field host for five months. Her career has seen her interview several top celebrities like Kirk Cousins and Peyton Manning.
What's more, Annie Agar is well-known as a TikTok star. She became famous on the platform for posting lip-syncing videos and her sports content. She also has a self-titled YouTube channel which has gathered over 3.5k subscribers, where she mostly posts her NFL-related content. Annie is also known for frequently sharing reels on her Instagram account.
Annie endorses some notable brands which she promotes on her social media pages. Agar earns a good income from her profession as a sports correspondent and digital content creator. Her net worth is estimated between $3-$4 million which she made primarily from her sports reporting career and content on different social media platforms.
Does Annie Agar Have a Husband or Boyfriend?
Well, as much as it is publicly known, Annie Agar does not have a husband and has never been married. Also, Annie Agar currently does not have a boyfriend and is supposedly not in any relationship. The 27-year-old sports journalist was previously in a relationship with Zach Harig, but they are no longer together.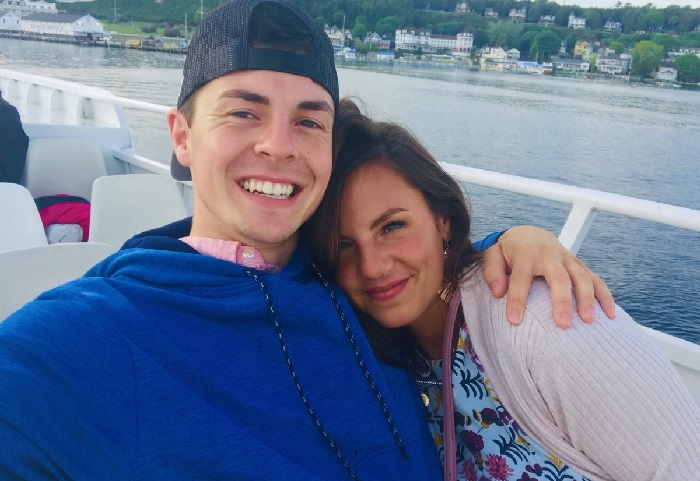 Zach Harig is an American journalist currently serving as a sports reporter and anchor at WXMI-TV Fox 17 in Grand Rapids, Michigan, United States. He also works as a Community Relations Coordinator at Gun Lake Casino. The timeline of Zach Harig and Annie Agar's relationship is not accessible in the media, but many online sources show that the duo was together for a long time.
The time frame is not stated either, and there is also no information in regard to why they split. Since their separation, Agar has not disclosed anything about her love life or relationship status. But, all we know is that the celebrity sports correspondent is putting quite a lot of her time into building a sustainable career for herself, and also spending a good part with her family.