Daphne Oz's religion is Christianity. She is the first child and daughter of Dr. Oz, an American television personality, author, and professor emeritus of cardiothoracic surgery at Columbia University, whom he had with his wife, Lisa Lemole.
Daphne Oz is a 37-year-old American TV host, food writer, and chef born on 17th February 1986. The multitalented career woman who has found success in various career endeavors and is also a mother and wife. Here are more details about her personal life, career, marriage life, and relationship with her celebrity father, Dr. Oz.
What Religion Does Dapne OZ Practice?
Daphne Oz is a Christian, although her father, Dr. Oz, identifies as a "secular Muslim". She is married to her husband, who is also Christian, and together, they follow the teachings of Christianity and are raising their family likewise. Her father admitted that the teachings of Emanuel Swedborg and the Sufi mysticism of central Turkey influenced him.
Some sources have reported that Daphne is a Muslim, but there is no truth to this. Although she has not come out to particularly declare her religion, it is pretty evident from her lifestyle and activities. The TV star lives a high-profile family life with her husband, John Jovanovic with whom he shares four lovely children.
The mother of four does not hesitate to share her life with her family on her social media pages. Daphne Oz marks all celebrations with her family from birthdays to Halloween, Easter, Christmas, and every other Christian holiday celebration. Her wedding ceremony was held at Serbian Saints Church in Portland by Rev. Prescott Rogers of the Swedenborgian Church.
Meanwhile, Dr. Oz himself, while speaking to CBN News sometime in 2022, stated that his wife and children are all Christians. He further noted that his father strictly practiced Islam while his mother was a secular Kemalist.
Is Daphne Oz Related to Dr. Oz?
Daphne Oz is the daughter of Dr. Oz. Due to their same last name, some people are confused and wonder if Daphne Oz and Dr. Oz are the same people or are related. Dr. Oz, whose real name is Mehmet Cengiz Öz, gained popularity as a TV star and health professional on the famous Oprah Winfrey Show. Moreover, Dr. Oz is a cardiothoracic surgeon and university professor.
His wife, Lisa Oz, who is Daphne's mother, is an author and a radio/TV personality who cohosts The Dr. Oz Show. Out of their four children, which include three daughters and a son, Daphne is the oldest. The couple, both actors, has been married since 1985 and is still going strong. Apart from Daphne, they have three other children; two daughters and a son named Oliver Mustafa, Arabella, and Zoe.
Although born in Pennsylvania, Daphne and her siblings grew up in Cliffside Park, New Jersey. She attended Dwight-Englewood High School in New Jersey, after which she proceeded to Princeton University, New Jersey, graduating in 2008 with a degree in Near Eastern Studies. She would later obtain a culinary degree from The Natural Gourmet Institute.
Daphne Oz is Following in Her Father's Footsteps
Daphne Oz has followed in her father's footsteps in many ways, but his religion. The American celebrity has had a successful career across various fields in her own right. Upon graduating from Princeton University, Daphne took off as a journalist, author, and TV personality. She has authored several publications in nutrition and is also a public speaker.
Today, she and her father have a lot to be proud of regarding her career. Her notable books include The Dorm Room Diet, Relish, and The Happy Cook. As a television host, Daphne Oz was a significant part of the ABC show, The Chew. For six seasons, she was one of the five hosts of the cooking-themed talk show, which aired on ABC for seven seasons.
The Chew earned her a Daytime Emmy Award in 2015 for Outstanding Informative Talk Show Host. However, Daphne left the show after its sixth season, and since then, she has appeared in numerous other TV shows. These include The Dish, Good Day New York, Good Morning America, The View, MasterChef Junior, Dayside, Beat Bobby Flay, The $100,000 Pyramid, Fox & Friends, and her father's show, The Dr. Oz.
Her publications and career as a TV show have been a steady income stream for her and made a significant part of her estimated $15 million net worth. As a public speaker, Daphne has been seen on various platforms, mainly speaking on food, wellness, and motherhood. Being a celebrity daughter regardless, Daphne Oz has long broken off from the shadows of her father's popularity to make a name for herself.
She Has a Close Bond With Her Father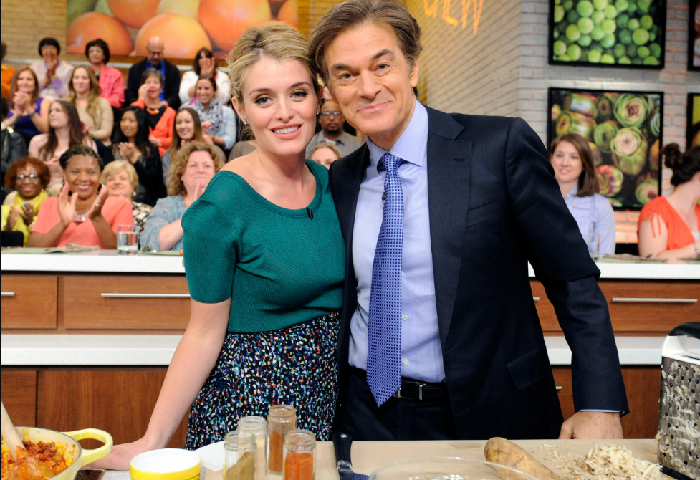 From what is evident, Daphne Oz and her father, Dr. Oz, share a close relationship. Although she is now married, the father and daughter are occasionally seen attending events together and posing for the cameras. On her wedding day, her father walked her down the aisle.
Meanwhile, describing her early and growing-up years, Daphne said that her family has always been a close-knit one. They severally embarked on family trips where they played wild games of cards, picnics on the beach, or Oz family football. "I always felt very lucky to have such a big, supportive, loving family", she said.
The father and daughter seem intentional about supporting each other in their respective careers. In an interview he granted with Exclusive, the TV doctor said that seeing her daughter Daphne pass along to her children the values he and his wife gave her is the best part of being a grandpa.
Is Daphne Oz Married?
Daphne Oz is married to her husband John Jovanovic, an American investment fund analyst. She and her husband are both graduates of Princeton University, and that was where they met and started dating. They got married on 26th August 2010 at the Municipal Marriage Bureau in Manhattan.
Their marriage has been blessed with four adorable children; a son and three daughters named Jovan Jr, Philomena Bijou, Domenica Celine, and Giovanna "Gigi" Ines. They live together happily in their home in Palm Beach, Florida.