Betty Broderick's net worth was previously $1.5 million but is currently estimated to be $0 due to her conviction for murder in 1991. She is still currently serving her time in jail.
Betty Broderick was sentenced to prison for the murder of her ex-husband, Daniel T. Broderick III, and his second wife, Linda Kolkena Broderick, in 1989. She is currently serving a sentence of 32 years to life and her story has been made into several movies and docu-series. Has she received any money from these productions? Read on and find out.
Betty Broderick's Net Worth of $1.5 Million Came Solely from Dan Broderick
At the time of their marriage, Betty Broderick's net worth was unknown as she did not have significant wealth or assets of her own. Thus, she is believed to have gathered her previous net worth from her late husband Dan Broderick. Before his death, Daniel Broderick was a successful attorney and businessman in San Diego, California.
He was a partner in a law firm that specialized in medical malpractice cases and was well-known in the local community. According to court documents, at the time of his death in 1989, Daniel Broderick was estimated to be worth around $6 million. Betty previously had a share in this but after Daniel Broderick's death, his estate was divided between his children from his first marriage and his second wife, Linda Kolkena, whom he married in 1985.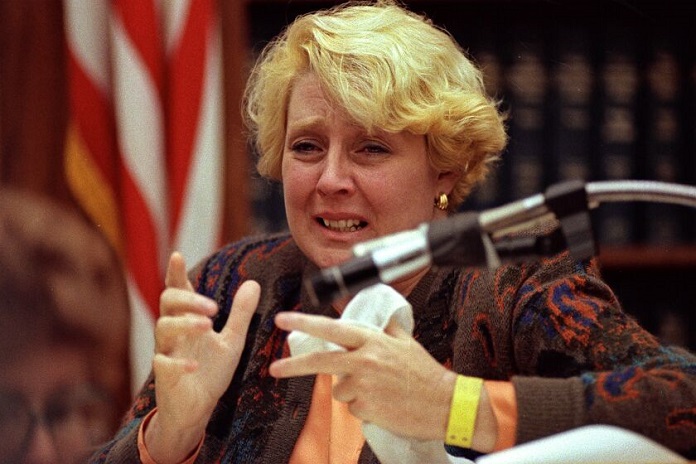 Betty Jettisoned Her Education and Career to Support Dan's Career and Raise Their Kids
During their marriage, Betty put her education and career on hold to support Dan's career and raise their four children. However, after 16 years of marriage, Dan filed for divorce and eventually married his much younger assistant, Linda Kolkena.
Betty Broderick was devastated by the divorce and felt that Dan's success was due in part to her support and sacrifices. She began a campaign of harassment against Dan and Linda, which included vandalizing their property, making threatening phone calls, and even breaking into their home.
Betty's financial situation after her divorce was quite difficult. She struggled to find work and support herself and her children and was eventually evicted from her home for failing to pay rent. Her legal troubles and incarceration also added to her financial difficulties.
She Lost Her Entitlement to Dan Broderick's Wealth Because She Killed Him
In 1989, Betty broke into Dan and Linda's home and shot them both to death while they slept. Betty Broderick was convicted of the second-degree murder of her ex-husband, Daniel T. Broderick III, and was sentenced to 32 years to life in prison, which included a consecutive term of two years for the illegal use of a firearm. Broderick has served more than 30 years of her sentence.
Due to the nature of the crime, Betty was not entitled to any inheritance from Dan's estate. Dan's estate was left to his four children, who were minors at the time of his death and Betty's attempts to contest the will were unsuccessful. She is been incarcerated at the California Institution for Women in Chino, California, since then.
Did Betty Broderick Make Money From Netflix's Dirty John: The Betty Broderick Story?
Betty Broderick was not involved  or compensated for the use of her life story in the movie "Dirty John." In fact, the film was based on a podcast and subsequent television series, which did not require her consent or compensation.
It is also highly unlikely that Betty Broderick has any significant source of income while in prison, as inmates are not allowed to engage in regular paid employment. However, she has access to some limited funds from her personal savings or investments before her incarceration. She could also earn small stipends from doing some work in the prison.
Where Is Betty Broderick Now?
Betty Broderick is presently at the California Institution for Women, a female prison located in Chino, San Bernadino County, California. She has made several attempts for parole which have been unsuccessful. In 2021, the parole board found that she still posed a threat to society and was not yet suitable for release. Broderick's next parole hearing is scheduled for 2024.