Since he began his career, Mickey Rourke's face has inflated, deflated, and been stretched to its extremes, making him look totally different from when he started out. The actor has had six plastic surgery procedures that account for the change in his looks and he has been very open about them. This notwithstanding, the change in his looks as he aged has caused quite a stir.
When his career initially kickstarted, Mickey Rourke became one of the most talked-about names in Hollywood not just because of his superb acting skills but also because of how good he looked. However, as the years passed, his face began to change, which caused a lot of curiosity among fans as to why the actor's appearances became very different. The speculation about what happened to Mickey Rourke's face has also helped spark renewed public interest in his life and career.
What Happened to Mickey Rourke's Face Over the Years?
Mickey Rourke's face has undergone extreme changes since he rose to fame. At the start of his career, the actor was hailed as one of the most handsome men in Hollywood. Fans were drawn to the mysterious aura he presented with his handsome fame and a closed-mouthed smile. He would often smile with his mouth closed because he had lost some teeth as a youngster.
He eventually became a professional boxer and did pretty well because he went unbeaten in all his fights as he won some and drew others. However, he endured a lot of beating and suffered severe injuries to his face. Some of these injuries to his face were so severe that they threatened to ruin his good looks. Mickey had to make amends using plastic surgery to fix his face.
Unfortunately, the doctors he met to help him fix his face ended up ruining it. His face became very different from what fans had known it to be. Anytime he stepped out and the paparazzi captured his face, his photos made headlines because of how different he looked. The actor kept undergoing different cosmetic surgeries to correct his face, and so his face kept changing, sparking renewed public interest in his private life.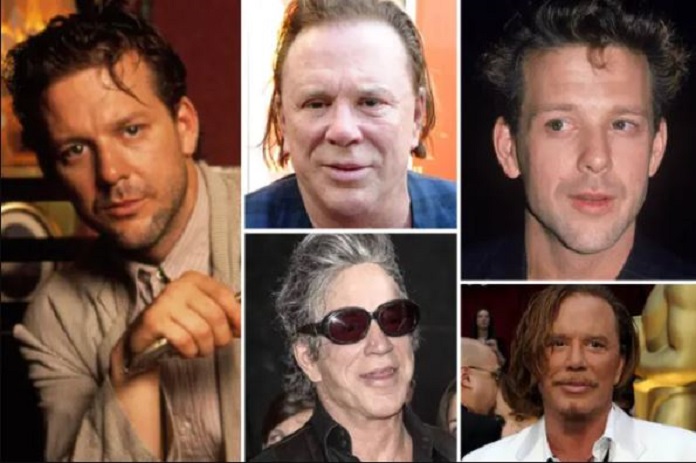 It is noteworthy that before beginning his professional boxing career where he got the injuries that eventually affected his face, Mickey Rourke first got into Hollywood and became one of the famous names in the American film industry. His story has been an intriguing one. Let's take a look at how his life has panned out.
Mickey Rourke Face, Plastic Surgeries, and Body Transformation
Initial Appearance
Hailed as one of the most handsome men in Hollywood at the beginning of his career.
Reasons for Facial Changes
Injuries from professional boxing and multiple plastic surgeries to correct the injuries.
Professional Boxing Injuries
Broken nose (twice), broken ribs, split tongue, broken toe, compressed cheekbone, and short-term memory loss.
Plastic Surgery Details

Six surgeries confirmed by Mickey Rourke.
Five surgeries on the nose.
One on the smashed cheekbone.

Comments on Surgeries
Rourke felt the surgeries changed his face due to going to the wrong doctor.
Appearance Descriptions

Initially: Strongly defined cheekbones, closed-mouthed smile due to lost teeth.
After surgeries: Notable changes in cheek and forehead appearance.

Effect on Career
Initial diminished acting roles due to change in appearance, but later regained prominence in Hollywood.
Major Career Highlights
Roles in "Sin City" and "The Wrestler" marked significant comebacks.
Initial Acting Debut
1976 in "Love in the Hamptons".
Boxing Career
Started as an amateur boxer; went professional in 1991, recorded no losses (six wins and two draws).
Mickey Rourke Began His Acting Career In 1976
Mickey Rourke kickstarted his acting career in 1976 with a role in the short drama film Love in the Hamptons. Three years later, in 1979, he eventually made his feature film debut with a small role in 1941, a period war comedy film. The following year, in 1980, Rourke landed several years, signifying that he had begun to establish his relevance.
That year, he starred in the TV movie, City in Fear, where he portrayed Tony Pate. He was also cast to play Joseph Cybulkowski in Act of Love, another TV movie. He portrayed Richie in Fade to Black, a Horror/Slasher movie. He then played John Rideout in Rape and Marriage: The Rideout Case, a TV movie, all in 1980.
He First Gained Wide Attention With 'Body Heat'
In 1981, about five years after he made his acting debut, Mickey Rourke finally began to get some attention with his acting. That year, he was cast to portray an arsonist in Body Heat, an American neo-noir erotic thriller film. The movie became a commercial success and gave Rourke his first significant attention. He was praised for his acting and was hailed as the next big thing by many critics. He was ecstatic.
In 1982, Rourke, who was banking on his success in Body Heat, starred in Diner, a bromantic comedy film where he played the suave compulsive gambler "Boogie" Sheftell. The movie also gave him further critical accolades. Soon after, the National Society of Film Critics named him Best Supporting Actor that year. It was clear that Mickey Rourke was becoming a huge star in Hollywood at this point.
During the mid-1980s, Mickey Rourke landed some more leading roles. In 1983, he played Aurelio D'Amato in Eureka and The Motorcycle Boy in Rumble Fish. In 1984, he caught the attention of critics again with his performance in The Pope of Greenwich Village, a crime dark comedy film. The following year in 1985, he starred in Year of the Dragon, playing the role of Stanley White. He gained critical praise for his work in Year of the Dragon.
How He Gained Sex Symbol Status In Hollywood
During the early years of his acting career, Mickey Rourke was very popular for his perfect looks. He was considered among the most handsome Hollywood actors and had many females as fans. It was not long before he became a sex symbol. He attained the sex symbol status after he starred in the erotic drama film called 9½ Weeks in 1986 alongside Kim Basinger, an American actress, singer, and former fashion model.
When the movie was released, it was considered too sexually explicit by its American distributor and was, therefore, edited heavily for release in the United States. However, the unedited version was released internally, and because of this, the film became a huge success internationally, especially in countries like Canada, Australia, France, Germany, and the United Kingdom, making $100 million worldwide. The film earned a cult following and projected Mickey Rourke as a sex symbol.
The actor continued to do exploits in Hollywood and boost his sex symbol status. In 1987 he received critical praise from different quarters after he starred in the Romance/Dark comedy film playing the role of the alcoholic writer Henry Chinaski (the literary alter ego of Charles Bukowski, a popular German-American writer). The same year, he was in A Prayer for the Dying and Angel Heart.
Mickey Rourke Became A Professional Boxer At Age 39
After making appearances in other romance movies, including Wild Orchid in 1989, Mickey Rourke decided to slow on his acting career and return to the ring as a boxer. Recall that Rourke had been an amateur boxer as a teenager. When he was little, he wanted to become a professional boxer. When he won his first boxing match, the actor was just 12 years old. He continued his boxing training at the famed 5th Street Gym in Miami Beach, Florida, and did well in those amateur days.
However, even though he did well fighting as an amateur boxer, he did not turn pro because he received concussions during fights. He received his first concussion when he was sparring with former World Welterweight Champion Luis Rodríguez, who was the number one–rated middleweight boxer in the world at the time. Mickey Rourke was sparing with Rodríguez as part of his training for his boxing match with world champion Nino Benvenuti. After suffering the concussion, he took some time to recover before entering the ring again.
Mickey Rourke suffered his second concussion in 1971 when he was fighting at the Golden Gloves, an annual competition for amateur boxers in Florida. After that, his doctors advised him to take some time off from boxing because it was doing him some damage. Eventually, Rourke decided to listen to the doctors and temporarily retired from the ring in 1973. Before retiring, Rourke has recorded an impressive 27 wins in his amateur boxing career.
After retiring from boxing, Mickey Rourke turned his attention to acting fully. Starting from 1976, the actor featured in several movies that earned him a place as a movie star of note. However, in 1991, he decided to return to the ring and become a professional boxer. Mickey Rourke, who was born on September 16, 1952, was about 39 years old at the time. Many thought he was a bit too old to become a professional boxer at the time, but Rourke did not let anyone stop him.
According to Mickey Rourke, he returned to the ring because he did not feel very fulfilled as an actor. He explained that he felt he "was self-destructing" and "had no respect for [himself as] an actor." So, he had to return to the ring to find that excitement again. During most of his boxing career, his trainer was Chuck Zito, an American actor and celebrity bodyguard.
Rourke Never Lost A Fight But Suffered Horrific Injuries As A Boxer
Interestingly, when Mickey Rourke returned to the ring as a professional boxer, he recorded no losses. He fought eight professional bouts and won six of them (four by knockout). He then recorded two draws. The actor fought internationally in different countries, including Germany, Spain, and Japan.
Rourke won his first two fights against Steve Powell and Darrell Miller. He then drew the third fight against Francisco Harris. After this, he went on a winning spree, beating his next four opponents, including Terry Jesmer, Tom Bentley, Bubba Stotts, and Thomas McCay. His final fight against Sean Gibbons ended in a draw.
But, even though Mickey Rourke was quite impressive during his professional boxing career, he ended up suffering several horrific injuries in the process. The boxer took severe punishment from his opponents before beating them. Some of the injuries that Mickey Rourke suffered included a broken nose, broken ribs, and a broken toe. He also suffered a split tongue and a compressed cheekbone.
Apart from all these injuries, Rourke also suffered from short-term memory loss, probably due to the blows he received to his head. The actor eventually retired from boxing in 1994 after about three years as an amateur boxer.
Mickey Rourke's Plastic Surgery History
Mickey Rourke has undergone six plastic surgery procedures. Some people have claimed that the actor has had dozens of surgeries. However, while confirming that he indeed had surgeries on his face, the actor cleared the air about the number of operations he has had. In 2009, Mickey Rourke told the Daily Mail that he had had six surgeries in his life.
He explained that he broke his nose twice while he was boxing. So, he had five operations on his nose. He also said he had one other surgery on his smashed cheekbone, making it six in total. He revealed he had only broken his nose twice but had gone under the knife five times for rhinoplasty in his effort to fix the damage. He also had his cheekbones reconstructed after it was shattered in a fight. This accounts for the major change in his looks because even though he got a new cheekbone, it was nothing like what he had before.
While reacting to how much his face has changed, the actor blamed everything on the doctors he went to. According to him, he went to the wrong guy to put his face together after his boxing injuries, and it resulted in his face taking a different shape from what people used to know.
Mickey Rourke Before and After: What He Looked Like Then and Now
When the public initially noticed Mickey Rourke's new face after his surgeries, they were stunned. Some reports described his face as "appallingly disfigured." There was a lot of interest in knowing what had happened to him. Experts and doctors soon weighed into the matter.
An Aesthetic doctor and hair transplant surgeon, Hala Elgmati, while speaking to Mirror UK, explained that years of using Botox have potentially affected Rourke's face and forehead. She said it had affected the actor's forehead to the point where his muscles could be in an almost permanent state of paralysis. She also believes that his cheeks have been enhanced by injecting fat into them or with traditional dermal fillers.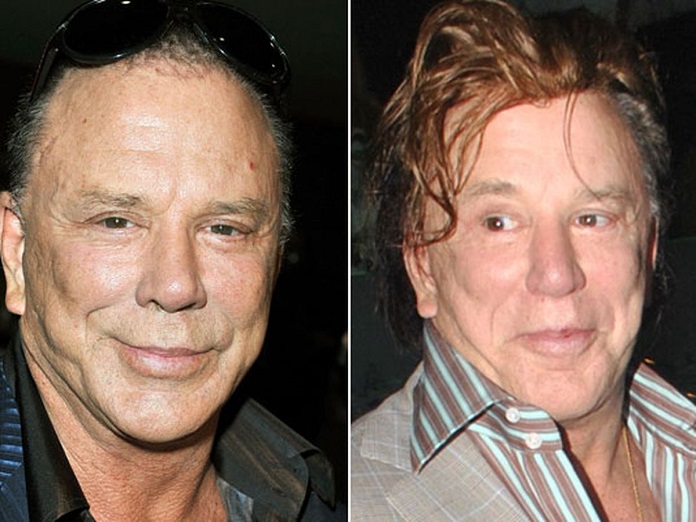 It is noteworthy, however, that he has started to look as awesome as before in recent times. Recent photos of the superstar show lots of improvement in his looks. While out and about in Beverly Hills, it was noticed that his face looked tanned and toned. It was also seen that he had added definition to his chin with a small goatee, while a mustache added some shape to his top lip.
How Did Mickey Rourke's Change In Appearance Affect His Career?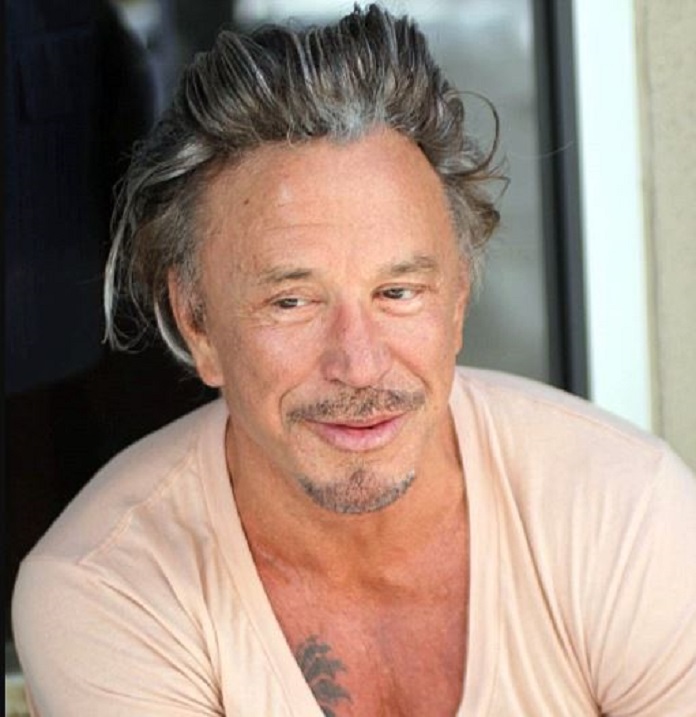 After becoming a professional boxer, Mickey Rourke went silent for a while on the acting scene. When he eventually quit boxing and returned to acting fully again, his face got him even more buzz than his acting skills. However, he failed to emulate his previous success before he took to boxing. Some reports say that his new looks kept him away from Hollywood's 'upper echelon.'
He ended the '90s playing minor roles that failed to capture how magnificent he had been onscreen before his boxing adventure. Mickey Rourke has often expressed his bitterness over that period of his career. According to him, he began to consider himself as a "has-been" and lived in "a state of shame" for some time because of how things were with him.
How He Staged A Comeback
Even though things were not very good with him career-wise in the late '90s, Mickey Rourke began to witness a turnaround at the turn of the century. The actor eventually made his comeback in mainstream Hollywood circles when he was cast to play the lead role as Marv in Sin City, an American neo-noir crime anthology film. The film was successful, and Rourke's role received lots of praise.
Rourke clinched awards from the Chicago Film Critics Association, the IFTA, and the Online Film Critics Society. He also won the Man of the Year from Total Film magazine that year. After starring in Sin City, Rourke went on to star in Domino, an action crime film, playing the role of a bounty hunter called Ed Moseby.
In 2008, Mickey Rourke portrayed an aging wrestler called Randy' The Ram' Robinson in the sports drama film The Wrestler. The movie became very successful and cemented Rourke's relevance. For his performance in the movie, Rourke emerged as the winner of the Golden Globe Award and BAFTA Award for Best Actor.
He also received a nomination for the Academy Award for Best Actor. Over the years, Mickey Rourke has starred in several other commercially successful films, including Iron Man 2 and The Expendables in 2010, and Immortals in 2011.