Thomas Doig is an American chattered quantity surveyor who is better known as the husband of American actress Josie Bissett. Doig's wife is famous for her role as Jane Mancini in Melrose Place. She has starred in over 40 movies and TV series, including some blockbusters.
Doig shot into the limelight when he got married to Josie Bissett because of the huge buzz that surrounded the wedding due to Josie's widespread popularity. However, it is noteworthy that he has also built a sterling career for himself as a quantity surveyor. In fact, he had risen to the top of his chosen field of work even before meeting Josie.
Summary of Thomas Doig's Biography 
Full name: Thomas Doig
Gender: Male
Nationality: American
Sexual Orientation: Straight
Religion: Christianity
Marital Status: Married
Thomas Doig's Wife: Josie Bissett
Famous for: Being Josie Bissett's husband
Thomas Doig was Born in the USA
Thomas Doig is an American born in the United States. However, details about the exact city or town in which he was born remain undisclosed at the moment. This is mainly because the man has always been a very private person who was completely unknown by the general public bef0pre his marital affiliation with Josie Bissett.
Doig is so private that even his real date of birth is not certain. Some reports have claimed he was born in 1971 and others have claimed he was born in 1972 meaning he is either 51 or 50 years old. However, it is noteworthy that neither of these dates has been independently confirmed.
Not much is known about Doig's background and family history. For instance, the identity of his parents remains unknown. It is also not clear if he has any siblings or if he was an only child while growing up in the USA. His early experiences including those that may have inspired his later accomplishments and career have never been revealed to the general public.
He Schooled in the United Kingdom
Despite the dearth of information about his early days, we have found out that Thomas Doig did have his tertiary education in the United Kingdom. According to our findings, after Doig had finished his elementary and high school, he proceeded to attend the University of Greenwich, a public university located in London and Kent, United Kingdom.
Different reports have shown that Thomas Doig majored in Quantity Surveying at the University of Greenwich. Our findings show that Doing enrolled at the University of Greenwich in 1990 and graduated in 1994. However, it is not clear what grade he passed out with. Thomas Doig would later become a member of the Royal Institute of Chartered Surveyors in London.
Thomas Doig's Exploits in the Real Estate World
After graduating from the university, Thomas Doig set out to find work to do. It is not clear how his career began or what his first job was. However, we know that one of the earliest places where he worked was the prestigious PCL Construction, a group of independent general contracting construction companies spread across Canada, the United States, Australia, and the Caribbean.
Thomas Doig joined PCL Construction in December 2007 and worked in the US District of the company for about 9 years during which time he rose to become a District Manager and Vice President. According to our findings, Doig was appointed Vice President and District Manager in 2013.
Following this, he effectively oversaw district operations in The Pacific Northwest. He is also reported to have served as operations manager for the South East region. During his time at PCL Construction, Doig reportedly became one of the highly admired figures in the company, serving in different senior leadership positions in PCL's US industrial and commercial buildings business sectors.
The quantity surveyor is reported to have had immense success in leading multiple teams to deliver a diverse portfolio of projects across a wide geographic area. After spending over 9 years with PCL Construction, Thomas Doig finally left the company and joined DALI Development USA, a real estate development company, based in Seattle, Washington.
He became part of the company in December 2018 and remained with the company for about two years. Doig joined the DALI Development USA as the Executive Vice President of the company and was greatly respected, having had an incredible experience with PCL Construction.
As the Executive Vice President of DALI Development USA, Thomas Doig was in charge of developing, designing as well as constructing Commercial Office, Residential and Hospitality projects for the US subsidiary of Dali Development in the Greater Seattle Area. After working with DALI Development for about two years, Doig left the company in November 2020.
In May 2021, several months after leaving DALI Development USA, Thomas Doig joined McCarthy Building Companies, a Construction engineering company based in Atlanta, Georgia, USA. According to our findings, he joined the company as the Vice President, bringing his incredible wealth of experience to the board. He worked there for about 9 months before leaving the company in January 2022.
Just days after leaving McCarthy Building Companies, Thomas Doig joined Meta, the American multinational technology conglomerate to assume the role of Site Lead – Construction Manager. Doig is reported to still be working with Meta at the moment.
It is apparent that Thomas Doig has done very well for himself and has risen to the top of his career and, from all indications, is not done yet as more exploits are in the works for the chartered quantity surveyor.
Thomas Doig and Josie Bissett First Met on a Blind Date
Thomas Doig and Josie Bissett first met each other in a rather interesting way; on a blind date! It is not exactly clear how the blind date was set up between the couple but some reports claim a mutual of Doig and Bissett set them up on the blind date.
The story was that in June 2015, Josie Bissett's home got destroyed in a horrific fire outbreak. The destruction was so enormous and mind-shattering that she had to move out of the house to another complex while her home got rebuilt. It was during this time that a friend of hers who happened to be an old colleague of Thomas Doig saw her and decided to set them up on a blind date.
The plan worked as both Doig and Bissett agreed to go on the date. Interestingly, Doig also lived in the same condo complex that she moved into. When they eventually saw each other on the blind date, Doig and Bissett got talking and soon realized they had some things in common. They eventually started dating.
According to some reports, they began dating around 2015 and became quite inseparable during this time. It was clear that they were very much in love because they soon moved in together as a couple. Bissett would later acknowledge that the silver living in her house being destroyed by the fire outbreak was that it led to her meeting Doig.
Doig Became Josie Bissett's Husband When She was 46 Years Old
After dating for some time, Thomas Doig and Josie Bissett decided to get married. It is not clear when Doig proposed to Bissett but she apparently agreed to marry him when he did. The couple tied the knot on the 4th of July 2017. The actress was 46 years old at the of Doig married her. It was a few months before her 47th birthday.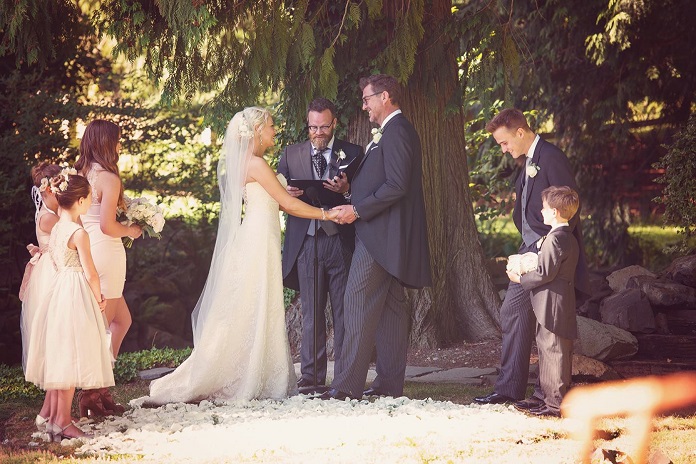 The wedding took place in an intimate ceremony that was held at the DeLille Cellars Chateau, a winery in Redmond, Washington. It was quite a small event but it was attended by close friends and family members who came to witness the couple exchange vows.
The elated bride later shared pictures from the wedding on social media, telling her followers she was extremely happy and shared a promise to live "happily ever after" with her new husband. As expected, the wedding made several headlines around the world considering how popular the actress already was at the time.
Who is Thomas Doig's Wife Josie Bissett?
Full name: Jolyn Christine Heutmaker
Gender: Female
Date of Birth: 5 October 1970
Josie Bissett's Age: 51 years old
Nationality: American
Zodiac Sign: Libra
Sexual Orientation: Straight
Religion: Christianity
Marital Status: Married
Josie Bissett's Husband: Thomas Doig
Josie Bissett's Children: Maya Rose Estes and Mason True Estes
Josie Bissett's Parents: Linda Bissett
Siblings: Jenny Gibbs
Josie Bissett's Height in Inches: 5 feet 5 inches
Josie Bissett's Height in Centimetres: 167 cm
Josie Bissett's Weight: 56 kg
Body measurements in inches: 33-25-35 inches
Body measurements in Centimetres: 84-63-89 cm
Josie Bissett's Net Worth: $3 million
Famous for: Being an American actress
Josie Bissett's Instagram: Josie Bissett
Twitter: Josie Bissett
Facebook: Josie Bissett
Josie Bissett, whose real name is Jolyn Christine Heutmaker, is a famous American actress who is adored by millions around the USA and beyond. The actress, who started her career in the later 1980s, has now spent over three decades in Hollywood and is still going strong. She has starred in over 40 movies and TV series, becoming a household name.
Bissett actually began her career in front of the camera very early, becoming a model in print advertisements and television commercials when she was just 12 years old. She then made her acting debut in Hitcher in the Dark, the 1989 Italian-American-produced horror film. She quickly began getting more roles starting from the early 1990s.
After playing a recurring role on the sitcom The Hogan Family for two seasons in 1990, Bissett eventually got her big break in 1992 when she was cast to play the role of fashion designer Jane Andrews-Mancini on Melrose Place, the American prime-time television soap.
The role brought her into the limelight, making her one of the very visible faces in the USA in the 1990s. The actress played the role on Melrose Place for about five-and-a-half seasons until halfway through the 1996–97 season when she suffered a real-life miscarriage.
Because of this, Bissett took some time off from the series before returning to the show in 1998 for its final season. Altogether, she starred in 172 episodes. Bissett has also starred in several other blockbusters, including The Secret Life of the American Teenager from 2008 to 2013, Christmas with Tucker in 2013, Battle for Incheon: Operation Chromite in 2016, The Wedding March in 2016, When Calls the Heart (from 2017 to 2018), and Fantasy Island in 2021 among many others.
Apart from being an actress, Josie Bissett has also hosted television series discussing the sensitive topic of parenting. She hosted the TV program Parenting & Beyond, a show that tried to help parents get creative solutions to everyday problems, among other shows. She is also an author who published a children's book called "Tickle Monster" in April 2008.
The actress has appeared on several magazine covers, including Rolling Stone, TV Guide, Entertainment Weekly, and others. She has also been the face of several national commercial campaigns.
How Long Has Thomas Doig's Marriage to Josie Bissett Lasted?
Thomas Doig and Josie Bissett have now been married for 5 years, having tied the knot on the 4th of July 2017. Interestingly, the couple has tenaciously kept their marriage from the limelight since they got married. In fact, they are rarely seen together outdoors and do not talk much about each other even in interviews, preferring to keep their private details away from outsiders.
Because of this, it is very difficult to understand exactly how much bliss there is in their marriage at the moment. What we do know is that the couple has never been enshrouded in any controversy or scandal since they became husband and wife. It is noteworthy that the couple does not have any children together.
Is Thomas Doig Josie Bissett's First Husband?
Thomas Doig is not the first man that Josie Bissett will be marrying. Before she met and married Doig, she was married to Rob Estes, an American actor. Bissett and Rob Estes first met in 1991 at the casting call of the short TV movie, 'Halfway House' and started dating. They then got married on May 1, 1992.
The couple welcomed two children during their marriage; a son called Mason True who was born on July 21, 1999, and a daughter called Maya Rose who was born on April 14, 2002. For some time, everything seemed to be going really well for the couple. However, things fell apart when they announced their divorce in 2006.
Josie Bissett waited for about a decade before marrying Thomas Doig in 2017. On his own part, it is very difficult to tell if Doig was previously married before he met and married Josie Bissett. This is because of the kind of private life he has been living.