Mary Lou Mellace (Born October 17, 1947; Age 75 years old) is an American actress and the romantic partner of Virginia Wade, a former British tennis player. Mary co-wrote the autobiography of her partner titled Courting Triumph, which was originally published in 1978. 
While Mary Lou Mellace identifies as an actress, she has not done much work in that regard. Her filmography only boasts a couple of roles, and since 2012, nothing new has come from her. Mary Lou and Virginia are presumed to be enjoying their retirement as they are both in their 70s.
Summary of Mary Lou Mellace's Bio
Full name: Mary Lou Mellace
Gender: Female
Date of birth: October 17, 1947
Mary Lou Mellace's Age: 75 years old
Ethnicity: Caucasian
Nationality: American
Zodiac Sign: Libra
Sexual Orientation: Gay
Marital Status: Single
Mary Lou Mellace's Partner: Virginia Wade
Famous for: being the partner of Virginia Wade
Who Exactly is Virginia Wade's Partner Mary Lou Mellace?
While Virginia Wade is British, her partner Mary Lou Mellace is an American woman. She was born on October 17, 1947, in the United States of America but her exact place of birth is not public knowledge.
Born under the Libra Zodiac sign, Mellace has not shared a lot of details about her early years. Therefore, there is no information out there about the identities of her parents and any siblings she may have grown up with. Meanwhile, Virginia Wade is older than Mary Lou by two years as she was born on July 10, 1945.
Talking about her educational background, including the schools she attended and the qualifications acquired, such information about Mary Lou has not made it to the public space. Her accomplishments in the entertainment industry, however, suggest she honed her skills in the craft, but that career path didn't last long enough for her to become a known screen star.
Career Timeline of Mary Lou Mellace
Mary Lou Mellace carved a career path as an actress, but the career didn't really take off. The first time she was on TV was on The Tonight Show Starring Johnny Carson in 1971. She appeared on the TV show as herself in just one episode.
It took almost three decades for Mary Lou to land another role on TV. This time, she joined the cast of the long-standing TV series Law & Order as a guest star, where she played Judge Anthonia Mellon from 1999 to 2006. During her time on the show, she played her role in a total of nine episodes.
The last acting credit under her name is in the movie titled Not Fade Away. She appeared as Aunt Louise in the 2012 movie, and since then, the former actress seems to have taken her final bow. She has not resurfaced in the movie industry, and it doesn't seem like she has any such plans to act again. Thus, it is safe to say that Mary Lou Mellace's filmography is made up of just three credits.
In addition to her works as an actress, Mary Lou Mellace is also a contributor to the autobiography of her partner titled Courting Triumph. The book chronicles the career and personal life of Virginia Wade. So far, Mary Louise has no social media presence, which makes it difficult to keep tabs on her to get fresh updates about her life and career.
Is Virginia Wade Gay?
Virginia Wade is definitely gay. She is the longtime partner of former actress Mary Lou Mellace. The details of their relationship, including how and when they met, are not known. However, they seem to be lifelong partners as they have apparently been together for decades.
The fact that they teamed up to write Virginia's biography – Courting Triumph, which was published on September 1, 1978, makes it safe to say they have been together for the better part of their adult lives.
Is Virginia Wade Married to Mary Lou Mellace?
The retired British tennis player is obviously in a committed relationship with Mary Lou, but they are not yet married. Virginia and Mary Lou seem to be happy with the way things are between them, and they are making the most of what they share with each other.
Virginia Wade doesn't have any children as well. There is no history of any past relationship with a man. Growing up, she found her passion in tennis and carved a very successful career out of it. She has always maintained a privacy policy on her love life, keeping the spotlight focused on her career. For this season, many didn't know about her relationship with Mary Lou until recent years.
According to the former tennis player, the pace at which her career progressed affected her personal life in many ways. She said, "If I'd done better earlier, and my career had been at its peak earlier and I'd faded, I would probably have had a totally different life."
Considering the time she met her partner, same-sex marriages were frowned upon, and this may have affected their relationship. All in all, Virginia Wade has never been married and now lives mostly in New York, as well as her residence in Chelsea, London.
A Look at Virginia Wade's Career Journey
Mary Lou's partner Virginia Wade is a legend in the sporting world as she made a name for herself as a tennis player. Born on July 10, 1945, in Bournemouth, England, United Kingdom, to the archdeacon of Durban.
Wade spent her childhood and adolescence age in South Africa, where she learned how to play tennis. The family moved back home to England when she was fifteen, and she was part of the 1961 tennis team of Wimbledon County Girls' Grammar School.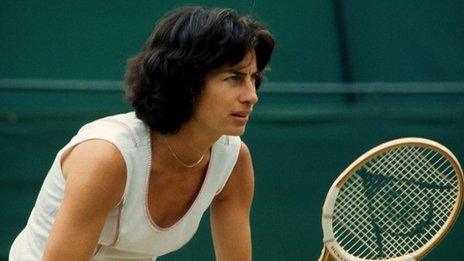 As a newcomer, she won the women's singles championship at the first US Open the same year she turned pro. Wade defeated Billie Jean King in the final to clinch the prize money of $6,000. During the course of her illustrious career, Virginia Wade won three Major tennis singles championships and four major doubles championships.
In addition to her numerous titles, she also made history as the only British woman who won titles in all four majors as a tennis player. Before her retirement, Wade was ranked as high as No. 2 in the world in singles and No. 1 in the world in doubles. Since she stopped playing, she has gone from coaching aspiring tennis stars to pitching her tent as a tennis commentator and game analyst for the BBC and Eurosport in the UK and CBS in the U.S.