Rose Madden is the ex-wife of Zach Bryan, a former naval officer and musician. She also works in the US Navy as a Naval Aviator.
Rose Madden and Zach Bryan met during his days in the Navy and they started dating immediately after their first meeting. They went on to tie the nuptial knot in 2021 and stayed together for barely one year before calling it quits on their relationship. Since their split, nothing has been heard from Rose but her ex, Zach has dated another woman.
Summary of Rose Madden's Biography
Full Name: Rose Madden
Gender: Female
Ethnicity: White
Nationality: American
Sexual Orientation: Straight
Religion: Christianity
Marital Status: Divorced
Rose Madden's Husband: Zach Madden
Famous For: Being the ex-wife of Zach Bryan
Rose Madden is an Alum of Arizona State University
Before Rose Madden went to work with the US Navy, she was a student at Arizona State University. She spent her days at the prestigious college majoring in anthropology and biological sciences as a minor.
Rose had her high school experience at Lancaster High School. Following her graduation, she proceeded to Ohio University where she did a course in general studies before moving over to Arizona.
With that said, nothing else is known about Madden's early life and family background. It's only known that she was born in the United States, is an American by nationality, and of White ethnicity.
What is Rose Madden's Line of Work?
Perhaps because she has never been a mainstream celebrity, Rose Madden's professional life has never drawn public attention. However, she was working in the US Navy when she met Zach Bryan and she has also been listed as a photographer and golf enthusiast.
When she started working with the Naval Air Station, Whidbey Island, Madden filled the position of a Naval Aviator. Her LinkedIn profile reveals that she was a direct supervisor in seven safety programs, including Hearing Conservation Program, Fall Prevention, Aircrew Survival Equipment, Motorcycle Safety, Electrostatic Discharge Control, CPR, and Laser Hazard Control Program. She has been with Patrol Squadron 46 as its Ground Safety Petty Officer for a long while.
Additionally, Rose Madden loves the beauty that radiates only from flowers and she prides herself as a florist. This led her to become a professional in all kinds of floral designs.
How Rose Madden and Zach Bryan Met
Both Rose Madden and Zach Bryan were serving in the United States Navy when they met for the first time. Born on April 1996, Zach spent his early years in Oologah, Oklahoma. He served for many years in the US Navy before going to concentrate on building his music career. His best-known tracks are "Something in the Orange" and "The Good I'll Do."
The circumstances surrounding the couple's first meeting are unknown, but it's said that they felt an instant attraction to each other and commenced dating immediately. At that point in Zach's life, he was already nurturing his music career and dropping some rough-cut, DIY tracks. Though it was a huge struggle, Rose encouraged Ryan to go on and gave him all the support he needed to survive.
Rose Madden sang background vocals in several of his early tracks and recorded appearances in a few of his videos. Zach eventually dedicated a song to his woman entitled, "Rest, Rose" which dropped on October 2019. Twitting about the track, the Naval officer- turned-musician said "…Thank God for the bullets I've dodged and for a woman who accepts me regardless."
Rose Madden Was Zach Bryan's Wife For One Year
Rose Madden and Zach Bryan exchanged wedding vows on July 2020 and the wedding ceremony was hosted in Washington, precisely at Colchuck Lake.
Rose Madden was quite beautiful on her big day. She was decked out in a beautiful backless white lace gown and her bountiful bouquet came from "safe way flowers."
The groom complimented his beautiful bride's looks by appearing in a dark suit with a white shirt. He completed his attire with a cream-colored tie. The couple reportedly had an engagement session. This bit was revealed by the photographer, Brady Bates, who covered their wedding ceremony; Bates said he instantly knew the couple was meant to be together when he covered their engagement ceremony.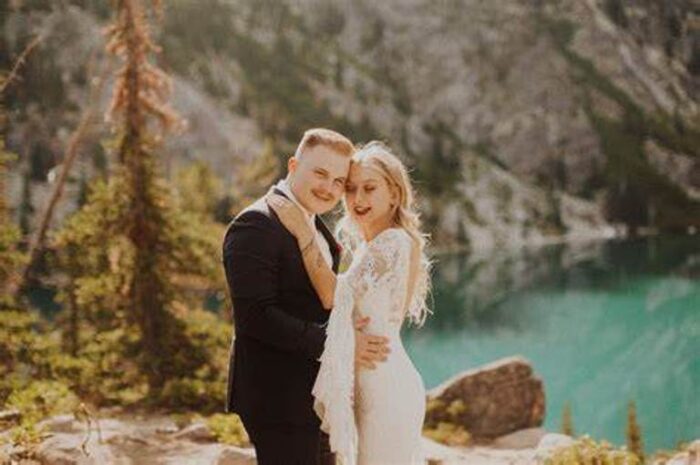 Following their nuptials, Zach and Rose didn't bother to update fans about their wedding until August 18th, 2020, when one of Zach's followers asked him for new merch. In his response, Bryan said he got busy with something more important. It was at this point that he revealed his new relationship status. Zach's tweet about getting married triggered a lot of responses as fans and the general public poured in their congratulations.
Sadly, Rose Madden and Zach Bryan Divorced after One Year
Rose Madden and Bryan's union was barely one year old when it came crashing earlier in 2021. Fans felt that something had gone wrong with the couple's relationship when Rose suddenly started deleting all traces of Zach and their wedding from her social media handles.
Needless to say, Rose's actions were reciprocated by Zach and soon, they successfully cleaned out stuff about each other from their socials. Following this, Rose left the public scene for a while but returned to Instagram sometime in July 2021 with a solo post captioned "she's ba—ack ;-),"
Did Zach Bryan Cheat On His Wife?
The real reason behind Rose and Zach's split has never been mentioned, but after their divorce was finalized, many of the American musician's fans took to social media to accuse him of cheating on Rose with another woman.
One particular tweep said Zach started seeing another woman when his wife was at work in the Navy and it is hard to believe he could do that after dedicating a song to her. To date, neither Zach nor Rose has bothered to set the records straight and we cannot categorically say that the cheating rumors were true.
Who Is Zach Bryan's Girlfriend Now?
Zach Bryan appears to be single right now but following his divorce from Rose Madden, he started going steady with an education program coordinator called Debra Peifer. Debbie works with the company HawkGrips in Philadelphia.
The duo was really enjoying their relationship and appearing on each other's handles on social media. Zach was full of praise for his girlfriend and took to Twitter to let the world know that she is his right-hand lady. In one of his tweets, he thanked his love interest for loving the man he is and begged her not to ever change. Bryan also disclosed how happy he was to be alive and even did a song about their relationship, asking the almighty to bless and keep them.
Despite all their lovey-dovey displays on social media, the couple's relationship eventually came to an end in May 2023. It was Zach that announced their split via Twitter on the 31st of May. The duo wasted no time in erasing each other's images and videos from their respective socials.
For transparency and with respect I am letting everyone know Debra and me went our separate ways about a week and a half ago. Things are mutual between us, we're leaving with plenty memories and good times.
I beg so much that everyone respects her and my privacy through a hard…

— Zach Bryan (@zachlanebryan) May 31, 2023