Lovely Peaches is a 22-year-old American singer, TikTok star, Instagram Influencer, and online content creator born on the 24th of January 2001.
Peaches, whose real name is Brittany Johnson, is popularly known for her controversial photos, videos, and opinions on diverse issues across several social media platforms. Since she rose to social media fame, Lovely has had several of her accounts banned due to policy violations. Find out more about her and her journey to fame.
Summary of Lovely Peaches' Bio
Full name: Brittany Johnson
Nickname: Lovely Peaches
Gender: Female
Date of birth: 24th January 2001
Lovely Peaches' Age: 22 years old
Ethnicity: Black
Nationality: American
Zodiac Sign: Capricorn
Sexual Orientation: Straight
Religion: Christianity
Marital Status: In a relationship
Lovely Peaches' Boyfriend: Diego Martir
Lovely Peaches' Children: Caro Miracle
Lovely Peaches' Height in Inches: 5 feet 5 inches
Height in Centimetres: 165 cm
Lovely Peaches' Weight: 90 kg (198 pounds)
Body measurements in inches: 34-26-35 inches
Lovely Peaches' Net Worth: $5 million (est.)
Famous for: Being a controversial singer and content creator
Lovely Peaches' Instagram: @lovelypeachespopsinger100
TikTok: lovely peaches
Twitter: @LovelyPeach2001
YouTube: LovelyPeaches
Facebook: Lovely Peaches
Who is Lovely Peaches?
Lovely Peaches is an African-American lady who became popular for her online content-creating career. Lovely was born Brittany Johnson on the 24th of January 2001 and is now 22 years old. Her birth place is New Orleans, Louisiana, United States of America.
There is no record of who her parents are, whether she has any siblings or not, and further details of her upbringing and early life. Also, Lovely has not revealed any information regarding her academic background.
She is a Popular Content Creator and Singer
Peaches started her career when she was an adolescent by creating accounts on various social media platforms where she posted controversial content, which, over time, earned her massive followers. She first rose to fame via TikTok and Instagram. One of her first controversial content came in 2020 when she allegedly posted a video showing her intimate with an elderly man.
However, the said video was shortly pulled down from her social media platforms and later transferred to an adult content site. As earlier mentioned, Peaches has had her social media accounts banned due to her continual use of vulgar content that goes against the rules. In July 2020, her TikTok account was banned for repeated community code violations.
After her TikTok account was banned, her YouTube account was also shut down, followed by her Instagram account, all due to the reason of rule violation. Most of these times, she opened a new account and continued with her online drama. She also has a YouTube account where she uploads her singing and dance videos.
Peaches is also a singer and has released some music on Spotify. She dropped her debut single, Aww, in December 2017. She started featuring in Baby Doll Records in 2018. Some of her other popular tracks include Sneaky Links, Choose, Walk It Like a Boss, Burnin' N' Itching, and Treat (ft. Ayesha), among others.
What is Lovely Peaches' Net Worth?
Peaches' net worth is currently estimated at $5 million. The major part of her wealth comes from TikTok and YouTube. Peaches has amassed sizable followings across her social media accounts and significantly earns money from them. She was among the first people to reach 20 million followers on TikTok
Meet Lovely Peaches' Daughter?
Peaches has a daughter named Cora Miracle. There once circulated a rumor that she had sold Cora to a child trafficking gang. Following that, another rumor ensued that the TikTok star had killed her child. However, all of these rumors were eventually found to be false, as the child is still alive to date.
Why Did Lovely Peaches Get Her Daughter Taken Away?
Away from the rumors, Peaches sometime in the past recorded and posted a video where she is seen detailing how she abuses her daughter Cora, and the abuse includes verbal abuse, molestation, and inflicting physical harm. The video caught the attention of many people who showed concern, prompting the police to act.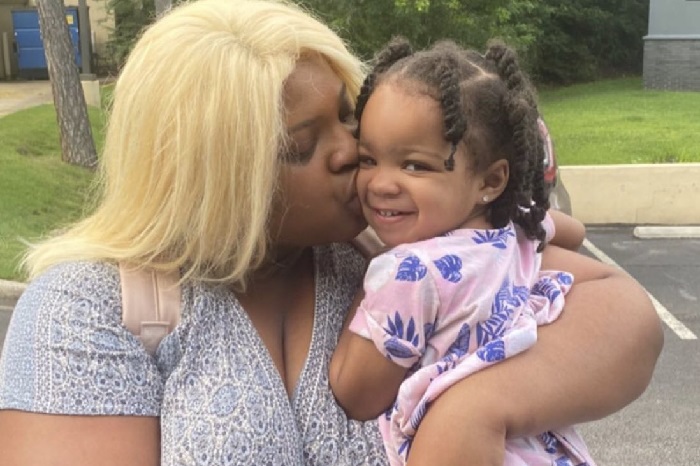 Shortly, a child activist group known as Children Riot reported that Cora had been taken away from Lovely and placed under her grandmother's care but was later returned to her mother for a short while. However, Lovely ultimately lost custody of her daughter, although it is not disclosed where she is currently.
Some of the Controversies Lovely Peaches Has Courted
Peaches has, over time, been quite familiar with controversy and does not ever shy away from setting the internet ablaze. After she just started her online content-creating career, she publicly stated that she hired someone to assault Charli D'Amelio, an American social media personality and one of the most popular TikTokers.
She also posted a disturbing clip of herself eating dirty stuff, a habit she claimed to have stopped after she had her daughter. In late 2020, Peaches was arrested after she posted a series of disturbing photos and videos of her dog. In the videos, she was seen holding her pet dog by the neck and spraying perfume on its face.
She allegedly broke the dog's legs, and after the post, she was arrested and charged with animal cruelty. The Animal Service Department later took the dog away from her. Not only that but she was also banned from owning or taking care of any animal until the investigation was concluded. The veterinarian examined her pet dog, after which Lovely voluntarily signed over custody to them.
Where is Lovely Peaches Now?
Following her arrest in 2020, Peaches was sentenced to two years in jail. She was released in 2022 after serving her sentence. After that, she became conspicuously absent from social media to the extent that rumors began to spread that she had passed on. However, the rumors were completely false as the singer is still very much alive and is now back to social media and her content-creating career.
After she got out of jail, Lovely stated that her arrest and imprisonment were well-orchestrated by her haters who never wished to see her prosper in her career. As of now, Lovely Peaches reportedly resides in New Orleans, Louisiana, USA. Meanwhile, she is reportedly dating a man named Diego Martir, but details of their relationship are not publicized.
Frequently Asked Questions
How Old is Lovely Peaches?
Lovely Peaches is presently 22 years old. She was born on 24 January 2001 in New Orleans, Louisiana, United States.
What is Lovely Peaches' Real Name?
Peaches' real name is Brittany Johnson.
What Happened To Lovely Peaches?
Lovely is still alive, and nothing happened to her. She only served a two-year jail term from 2020 to 2022 after she was charged with animal cruelty.