Leanne Goggins was a Canadian-American businesswoman and former wife of Walton Goggins. She was born in 1967 and died on November 12, 2004, in Los Angeles, California, after committing suicide.
An animal lover, Goggins had a dog walking business and was married to a Hollywood movie star for a few years. In the eyes of many, this was a perfect life, but the late Leanne wasn't happy with her life. To her, celebrity life wasn't all that fancy and definitely not what she had hoped for; thus, she had bouts of depression. She eventually took her own life three years after divorcing her movie star husband.
Summary of Leanne Goggins's Bio
Full name: Leanne Knight Goggins's
Gender: Female
Date of Birth: 1967
Leanne Goggins's Age at Death: 37 years
Ethnicity: White
Nationality: Canadian-American
Sexual Orientation: Straight
Marital Status: Divorced
Leanne Goggins's Ex-Husband: Walton Goggins
Leanne Goggins's Parents: Peggy and Arnold Kaun
Siblings: Jay
Famous for: Being Walton Goggins's first wife
Leanne Goggins was Born in Canada to American Parents
The first wife of Walton Goggins, Leanne Goggins, was born in 1967 in Canada. Her parents are American residents in Canada, and she was their only daughter. She grew up in a family of four that included Arnold Kaun (father), Peggy Kaun (mother), and a brother named Jay. The family lived in Canada together until Leanne fell in love and married into the glitz and glam of Hollywood, leaving her birth country for the United States.
As a child, Leanne suffered from a series of diseases that could be traced to her earlier battle with jaundice. This affected her body system, altering her eating habits and immune system. She also battled viral diseases as a result of the effect of the health challenge. The tumultuous childhood didn't just cause health problems for her. It also stalled her educational progress and drained her parents' pockets in the process.
Nevertheless, Leanne found a way to conquer her challenges at the time and somehow made it through school. Though the names of the institutions she attended have not been revealed, she reportedly finished both elementary and high school before going ahead to acquire a college degree.
She Founded a Dog Walking Business in Hollywood Hills
Growing up, Leanne Goggins had a passion for caring for animals, especially dogs. Her challenges, however, restricted her from keeping her own pets at the time, but she took solace in showering all her love on other people's pets until she recovered fully.
Upon her relocation to the United States, Leanne leveraged her love for animals to start a business. She was already an adult at the time and was free from all the health challenges that made her childhood unbearable.
Subsequently, she set up a business for walking dogs for clients. The business was based in the Laurel Canyon neighborhood, Hollywood Hills, Los Angeles, with many clients enjoying their services. Her natural ability to connect with dogs was helpful in running her business. She enjoyed fun times with the pets, including going for a swim, hiking, and more.
Aside from her business which she managed until she died, Leanne Goggins was also the first adviser of Canyon News. Despite her personal endeavors, she only rose to fame following her relationship and eventual marriage to a movie star named Walton Goggins.
Leanne Goggins Met Walton in Canada in 1999, and they Got Married in 2001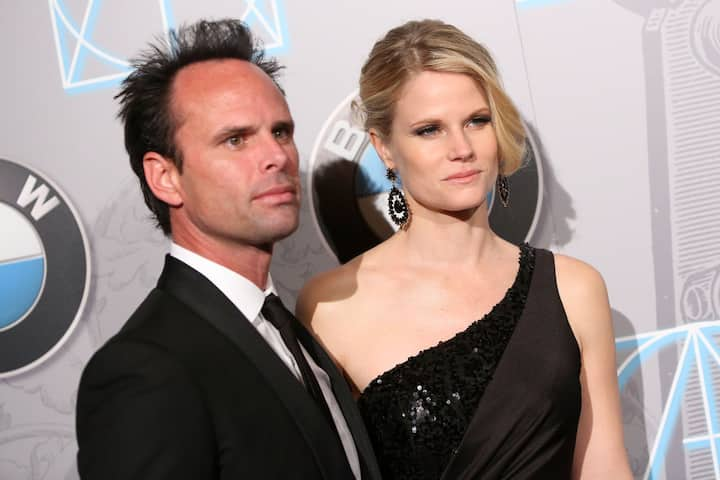 The marriage between Leanne and Walton was made possible following their meeting in 1999. The two met while Walton Goggins and fellow Shanghai Noon costars Jackie Chan and Owen Wilson were in Canada for the filming of the movie. They fell for each other and began dating, which lasted for about a year before they tied the knot
Leanne got married to Walton Goggins in 2001, but the details of their wedding are not public knowledge. Her marriage to the American movie star prompted her move to the United States of America. She settled down in Los Angeles with her husband, and they were the envy of many until they couldn't continue staying married.
The marriage produced no children, and Walton has moved on after 5 years of divorcing his first wife and is now married to Nadia Conners, a filmmaker. Walton and Nadia got married in August 2011, and they are now parents to a son named Augustus (born in February 2011).
Why Did Leanne Goggins and Walton Goggins Divorce?
People have often wondered why a couple that looked perfect together could opt for a divorce, but the answer is not a straightforward one. Their marriage served couple's goals for about three years before things started to crumble. Subsequently, Leanne filed for a divorce, putting an end to her marriage in 2004.
It has been deduced that celebrity life overwhelmed Leanne as it was not what she envisioned. The glamourous life of the Hollywood circle she joined did not fit into her reserved lifestyle. Thus, she was mostly sad and alone and wished so much to be back home in Canada. Her husband's busy schedule didn't help matters, as he often left her lonely and depressed.
The foregoing and perhaps the fact that her husband was just too busy to try and make things work between them led to the decision to pull the plug on their marriage. Sadly, ending her marriage didn't stop the depression, which ultimately led to her death later the same year she separated from Walton Goggins.
How Did Walton Goggins' Wife Die?
Leanne Goggins jumped to her death. The former wife of Walton Goggins committed suicide on November 12, 2004, when she jumped from the 17th floor of a high-rise office block in Los Angeles. However, she didn't die instantly but succumbed to the severe injuries she sustained after being rushed to a nearby hospital.
Leanne sustained serious head injuries and internal bleeding that she couldn't recover from, or perhaps she had no will to come back to life as her death was ruled as a suicide after any foul play was ruled out. She was reportedly battling chronic depression.
While she was depressed as the wife of a movie star whose busy schedule didn't allow him to have time for her, Leanne's condition got even worse after the divorce. She became more depressed and lonely and decided to end it all. She was 37 years old at the time of her death and didn't have any children known to the public in her lifetime.