Brittney Griner is a lesbian and not transgender. The American basketball player was born as a woman and is presently 32 years old.
It was on 11th February 2013 in an interview with SI.com that Brittney Griner opened up about her sexual identity and publicly accepted she is gay for the first time. Since then, her story has become an interesting one for fans to read.
Before then, however, the basketball star has been in the limelight for her great achievements in the world of basketball. She currently plays for the Phoenix Mercury of the Women's National Basketball Association (WNBA). She is a six-time WNBA All-Star and a two-time Olympic gold medalist with the U.S. women's national basketball team.
Is Brittney Griner Trans?
Regardless of many suggestive clues, Brittney Griner is not transgender nor was she born a man. She is instead a woman whose sexual orientation is lesbian. Her intimidating body build and unusual physic are compared to that of a male player than her female counterparts.
Actually, it is not surprising to see female basketball players who stand 6 feet tall, but Brittney's height of 6 feet and 9 inches (205cm) makes her one of the tallest female basketball players in America. Not only that, but she has an arm span of 87.5 in (222 cm) and also wears size 17 shoes, which are usually men's.
Brittney Griner Was Born as a Female Child
Brittney was born Brittney Yevette Griner as a woman on the 18th of October 1990 in Houston Texas. She is of black ethnicity and holds American citizenship. She is the youngest of her parent's four children, including Decarlo, Shkera, and Pier. Her mother, Sandra Griner, is a stay-at-home mom while her father, Raymond Griner, is a Harris County deputy sheriff and Vietnam war veteran.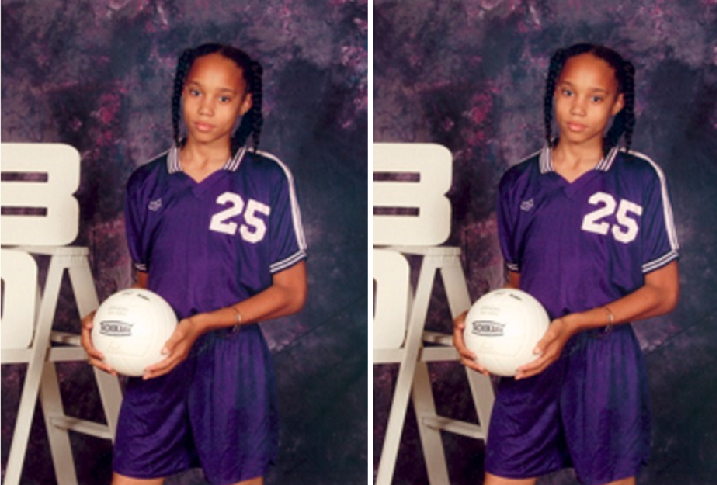 Griner had a normal childhood and upbringing as a girl child alongside her parents and three siblings. However, things began to take a different turn after she got into Nimitz High School, Houston. Her body started changing and her height and signature masculine voice made her the subject of teasing in the entire school. She was head and shoulders above all her classmates.
Speaking with Aljazeera America in 2014, Brittney said that she was called a freak for being different and that was her worst nightmare because she actually wanted to fit in. Her high school friend, Kimberly Barnes, also confirmed what she went through in high school because she was there.
According to Kimberly, Brittney was born and remains a woman irrespective of how anyone chooses to look at it but unfortunately, no one wanted to hear that. "I really felt for her, because I know somewhere deep inside it hurts her", she said.
It is also recorded that the taunting became so hard on Brittney that she got tired of living and once considered ending her life via suicide. However, she was able to go through that phase of life and come out stronger. "Looking back, I don't know how I did it on my own", Brittney said.
Brittney Griner Came Out as Lesbian in 2013
All along, Brittney had kept her sexual orientation under wraps until February 2013 when she decided to open up about it. Although she first came out to her mother in her first year in high school, it was in an interview with SI.com that she publicly declared herself a lesbian. She was asked to tell how hard it was for her to come open with her sexuality considering that she is a famous athlete, and she answered that it was not too difficult.
"I wouldn't say I was hiding or anything like that, it wasn't hard at all," she explained. The athlete further said that the fact that she was able to come out and still be fine should help the younger generation of gay people who are still considering coming open with their sexuality to understand that it is okay to come out and they will be fine afterward.
While her mother accepted her just the way she is, Brittney's father threw her out when he learned about it. Even though she once described herself as a daddy's girl, Brittney initially could not open up to father about her sexuality, but hid it from him until her senior year in school.
Sadly, when he eventually found out, he sent her out of the house and she had to move in with her assistant coach where she lived for about six weeks. Speaking further about the experience, Brittney said it made her the tough person that she is today.
"It made me just have a hard outer shell. He definitely prepared me for life because people aren't always nice", she reiterated. The father and daughter now share a cordial relationship.
A Look at Brittney's Love Life and Marriages
Brittney Grinner has been married two times, While she is currently married to Cherelle Griner, her first marriage was to Glory Johnson, a fellow basketball player. Griner first announced her engagement to Glory on 14th August 2014. Eight months later, both women got involved in a bitter fight in their home in Phoenix, Arizona.
The event notwithstanding, the couple tied the knot on 8th May 2015 in Phoenix. Shockingly, the next day, they announced that they were expecting twins. More surprisingly, the following day, Brittney filed for divorce and cited fraud and duress, but, she was denied.
After all, the divorce was finalized in June 2016 and Griner was ordered to be paying child support for their twin daughters. Glory Johnson gave birth to their twin girls who were conceived with Johnson's eggs through IVF on 12th October 2015.
Currently, Brittney Griner is in her second marriage with Cherelle Griner (nee Watson). After graduating from Baylor University, Texas, 30-year-old Cherelle enrolled in North Carolina Central University School of Law and graduated in May 2022. She and Brittney met for the first time as undergraduates at Baylor University.
However, they lost contact since then and only reconnected years later after Britney's marriage with Glory Johnson crashed. Speaking on how they reconnected, the WNBA star took to her Instagram in June 2020 and wrote, "I will never forget the day I met you at Baylor in the sub-area! You tapped me on my shoulder and told me I took your milkshake (still up for debate, lol), and I was immediately blown away at your beauty!…"
The ladies started dating in 2018 and got married on 18th June 2019. They have since then remained together.