Hopie Carlson is a young American celebrity kid who is popular for being the daughter of Tucker Carlson, the TV personality and political analyst. Although she is yet to build a successful career for herself, Hopie is constantly in the news for her filial ties with the prolific Fox News Host.
Hopie Carlson's Biography Summary
Full Name: Hopie Carlson
Gender: Female
Date of Birth: 1999
Hopie Carlson's Age: 24 years old
Birthplace: Virginia, United States.
Ethnicity: Caucasian
Nationality: American
Hopie Carlson's sexual Orientation: Straight
Hopie Carlson's Relationship Status: Single
Religion: Christian
Hopie Carlson's Parents: Tucker Carlson & Susan Andrews
Hopie Carlson's Siblings: Lillie Carlson, Buckley Carlson & Dorothy Carlson
Hopie Carlson's Height in Inches: 5 feet 9 inches
Hopie Carlson's Height in Centimeters: 178cm
Hopie Carlson's Weight: 57 kg
Body Measurements in Inches: 37-31-36
Hopie Carlson's Education: St. Patrick's Episcopal Day School, St. George's School, Rhode Island & Virginia University
Occupation: Student
Famous as: Tucker Carlson's Daughter
Hopie Carlson's Instagram: hopie.01
How Old is Hopie Carlson Now?
Hopie was born in 1999 in Virginia, United States of America. She is a very private person and does not readily share details of her personal life with the media. As such, we were unable to get verifiable information on the exact day and month of her birth. Given her year of birth, we can place her current age to be 24 years old. Hopie is a Caucasian with American citizenship.
Her parents are popular American talk show host Tucker Carlson and his wife, Susan Andrews. Her mother was formerly a manager at various hospitality agencies but is now focused on spending quality time with her children. Her father is a very successful television journalist and author with over two decades of active professional service in the media. He currently hosts his program Tucker Carlson Tonight on Fox News, a role he assumed in 2016.
Her parents met years ago at St. George High School where they were both enrolled under the headmastership of Susan's father. The fifteen-year-old teenagers fell madly in love and exclusively dated each other for years, maintaining their relationship even after Tucker left for college. Six months after they graduated from college, the lovebirds officially tied the knot in 1991, in a private ceremony at their high school chapel where they met. They have remained happily married ever since.
She Attended Elite Schools Given Her Father's Celebrity Status
Growing up, Hopie Tucker attended the best schools, given her father's status as a celebrity. She attended St. Patrick's Episcopal Day School before proceeding to St. George School, the very same high school her parents attended. While in high school, Hopie developed an interest in several sporting activities, including swimming and athletics. As a high school prefect, Hopie competed in some breaststroke events where she did fairly well for herself.
Following her graduation from high school, Hopie got enrolled at Virginia University where her siblings also attend. She currently studies there, although we could not verify her exact course of study or year of enrollment.
Unsurprisingly, Hopie Carlson Gained Popularity For Being the Daughter of Tucker Carlson
Hopie has always been in the news for her blood relations with the celebrity television host and political analyst, Tucker Carlson. We found no elaborate details of Hopie's professional life as she has not revealed such to the media.
Therefore, it is not out of place to assume that she is known globally only for her father-daughter relationship with Tucker. Hopie is still a student at Virginia University and we are optimistic that when she is finally ready to pursue a career, she will tow the path of her celebrity dad and grace the big screens.
What is Hopie Carlson's Net Worth?
Since Hopie has no verifiable career, there are no details on her current or estimated net worth. However, her father's net worth of $30 Million has given her the necessary skill, education, and exposure with which to build a successful career.
Who are Hopie Carlson's Three Other Siblings?
Hopie Tucker is the third child of Celebrity TV personality Tucker Carlson. She has three other siblings with whom she has a very close relationship. Find out more about her siblings and what they are currently up to below:
Lillie Carlson
Date of birth: November 22, 1994
Age: 28 Years Old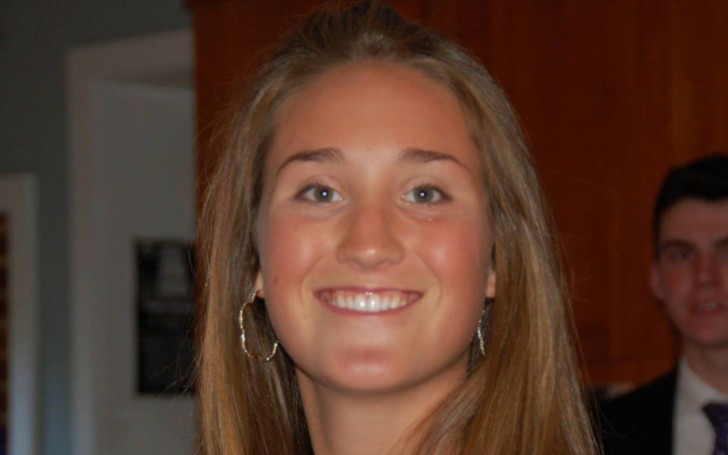 Lillie  Carlson is the first child of Tucker Carlson and Susan Andrews. She was born on November 22, 1994, in the United States of America. The 28-year-old celebrity kid graduated from the University of Virginia but just like her sister, Hopie, she does not disclose details of her private life to the media. As a result, we could not find verifiable information about her career, place of residence, or any romantic relationships she has had.
Buckley Carlson
Date of birth: 1997
Age: 26 Years Old
Buckley is the second child and only son of Celebrity TV host Tucker Carlson. He was born in 1997, although the exact day and month of his birth are unknown. The young man graduated in 2019 with a degree in Government and Political science from the University of Virginia. He currently works as a Communications Director for US Congressman, Jim Banks.
Dorothy Carlson
Date of birth: 2002
Age: 21 Years Old
Dorothy is the youngest sibling of Hopie Tucker. She was born in 2002 in Virginia, United States, and is currently 20 years old. There is virtually nothing known about her educational history or any activities she is engaged in.
Hopie is Keeping Quiet on What Goes On in Her Personal Life
Although Hopie Tucker is active on her Instagram page @hopie.01, her page is set to private; thereby restricting the number of people who follow her and keeping her posts away from media scrutiny. This inclination to privacy has made it difficult for us to find verifiable information on any lady or man Hopie has ever dated or is currently romantically entwined with.
She has also not officially revealed if she has any other social media accounts on other platforms, so we can safely assume that aside from the Instagram account given above, any other account bearing her name or displaying her pictures is most likely fake.