Holger Rune's parents, Aneke Rune and Anders Nødskov, are two people whose names keep appearing in tennis circles over the last few years. This is understandably so because they happen to be the parents of one of the fastest-rising and most successful Danish tennis players in contemporary times. 
Since he turned a professional tennis player in 2020 when he was still a teenager, Holger Rune has recorded some really incredible wins on the tennis court and is now regarded as one of the most exciting stars in the world, having risen to become the highest-ranked Danish singles male tennis player in the ATP Rankings. Throughout his career, Holger Rune's parents have been by his side and have helped guide him to the huge success he has now found.
Who are Holger Rune's Parents, Aneke Rune and Anders Nødskov?
Holger Rune's parents, Aneke Rune and Anders Nødskov, are two of the most constantly present figures in his life. They are often credited with helping the tennis star get to the very peak of his powers as a world tennis phenomenon.
But, apart from being their son's inspiration and guide, are Holger Rune's parents into anything else? Let's take a look at their lives.
Meet Aneke Rune, Holger Rune's Mother
Aneke Rune is Holger Rune's mother. Very little is known is about her early life. However, different reports say she was born in Denmark and grew up there. It is not certain when exactly she was born, but some reports say she is now in her 50s.
It is not clear who her parents were or what she did in her days as a child. However, our findings show that Aneke's father died of cancer when she was about ten years old, and this affected her a lot, even though she was so young at the time.
Aneke had two siblings; a sister and a brother whose identities are not very clear at this moment. After their father died of cancer, they were left in the care of their mother, who had the very difficult job of raising them alone. Even more difficult was the fact that their mother was also quite young at the time too.
Aneke revealed that her mother wasn't able to support them emotionally because her life collapsed right after her husband died. She apparently depressed and suffered some hard times. She eventually passed away too, leaving Aneke and her siblings in great distress. They were raised by family members and eventually turned out great.
Aneke explains that the fact that she and her siblings lost their parents in their early days helped them bond even better as siblings, and today, she has a great relationship with them. This has also taught her to teach her kids the importance of being close to each other and having a great relationship.
It is not clear what schools Aneke Rune attended while growing up. However, it is believed that she did have good education especially considering the way she speaks and carries herself today as she goes about supporting her superstar son.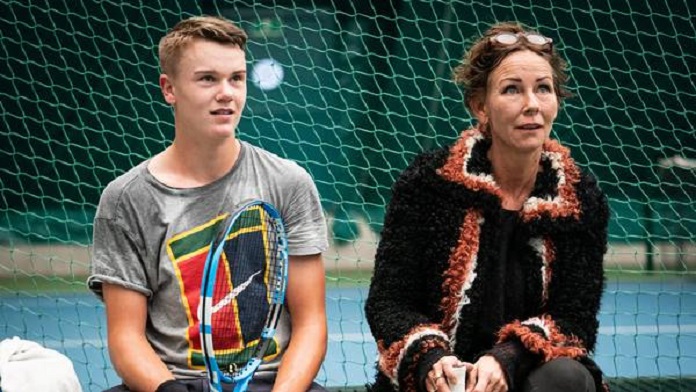 Despite suffering some really horrific tragedies in her childhood, Aneke Rune has since gone on to make a great life for herself, especially in business. She is now the CEO and founder of Waterpoint and Minicooler, a Danish company that specializes in supplying and advising on drinking water coolers. She has been able to build the company to enviable standards over the years.
Supporting Her Son is Her Biggest Priority
Aneke Rune has been a very constant presence in her son, Holger Rune's life and has been an integral part of his transition from a tiny, aspiring tennis star to the huge global star that he now is. She is credited with being his biggest inspiration, and Holger Rune himself has admitted that she is his big inspiration and a massive influence.
Aneke sensed that Holger Rune had great talent since he was a little child, and so she decided to ensure that she gave him everything he needed to succeed. When asked how she was able to combine being there for her son and also being a businesswoman, she explained that because she owns her own company, things are easier for her because it means she can plan her time and be where she wants to be.
She also revealed that sometimes, she had to stay up very late to finish up tasks and projects so that she could effectively support her son during the day at his games and tournaments. According to her, in the beginning, doing this was very stressful, but she later found a way of being able to do both.
Today, she is found present at nearly all the games that he plays to support him and cheer him up. She also appears very frequently at his training sessions and is often seen offering him words of advice as the training goes on. Aneke Rune has been hailed variously as one of the best examples of how parents can support their children's careers. Holger Rune himself has described her as a mental coach for him.
Who is Anders Nødskov, Holger Rune's Father?
Anders Nødskov is Holger Rune's father. Not much is known about his early life except that he was born and raised in Denmark, just like his wife, Aneke Rune. It is not certain when he was born, but it is widely believed that he is now in his 50s. It is not clear who his parents were or what his early life experiences were like that may have shaped him into what he eventually became.
Information about the schools he attended is not in public space, but it is generally believed that he has extensive educational qualifications considering what he has been able to do with his life so far. According to our findings, Anders has since gone into doing business, just like his wife, and is doing very well for himself.
He is now the CEO and founder of YachtZap, a boat rental service in Charlottenlund, Denmark. The business has become a popular one in Charlottenlund and is making Anders quite a fortune. Apart from YachtZap, Anders has also been involved in other business ventures.
As a matter of fact, Anders Nødskov was the Managing Director of TR Shipping Denmark ApS, a shipping company in Charlottenlund, Denmark. He also worked as an Advisory Council Member of AYSS Superyacht Agents, a global collective of the best superyacht agents.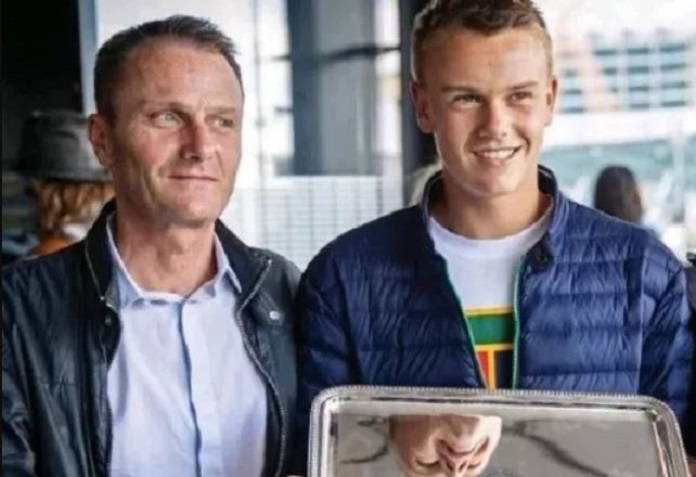 Anders Nødskov Has Been Heavily Involved in His Son's Success
Without a doubt, Anders Nødskov is a very proud father today, considering what his son has been able to achieve over the years. He has also been a central figure in his son's success story, just like his wife has been. According to some reports, Anders used to love tennis and actually used to play it in his heydays.
He is credited with helping his son, Holger Rune, take an interest in tennis, having watched his father play. Anders also worked hard to help his son get good facilities for practice, something he did alongside his wife. As expected, his son soon caught on and kept growing up into a spectacular tennis player.
Today, Anders Nødskov has remained very supportive of his son and is seen at some of the games Holger plays. However, he is not as active as his wife, Aneke. Aneke is majorly the one traveling with her son to all his games and tournaments as his guide. Anders, on the other hand, focuses on his business and takes time off sometimes to come to watch his son in action. Holger Rune understands this and is okay with one of his parents being at his side always.
Aneke once revealed that the family often meets to celebrate their individual and collective wins as a family. Sometimes, they make plans to meet up abroad, and sometimes they meet at home to enjoy some time together.
Holger Rune's Parents Had Him 20 Years Ago
Holger Rune was born born to his parents, Anders Nødskov and Aneke Rune, on the 29th of April 2003. This means he is 20 at the moment. It is not clear how and where Anders Nødskov and Aneke Rune first met and fell in love or how their love story progressed.
What we do know is that their relationship got strong enough that they eventually got married to each other. The exact date of their marriage is not clear but some reports say they got married in the late 1990s. This means they have been married for over two decades. And their marriage is still going very strong at the moment.
Is Holger Rune an Only Child?
No! Holger Rune is not an only child. As a matter of fact, he has an older sister called Alma Rune. The exact date of birth of Alma's birth is not known, so her age is unclear at the moment. But different reports say she is older than Holger by three or four years. Apparently, Alma and Holger grew up together, and Holger has learned a lot from his sister.
As a matter of fact, our findings show that Alma also influenced Holger's decision to play tennis professionally because she used to play tennis when she was little, and Holger saw this while growing up and decided to join her. Their mother, Aneke, once revealed that Holger used to come along to the courts with his sister Alma, who played tennis at the time, to watch her. He would take a chair, place it right in front of the court, and watch the match from start to finish.
After watching Alma's match, he would find another interesting match to watch, moving his chair to that court. This was how intrigued he was with tennis as a child. Eventually, she stopped playing tennis, but Holger continued, rising to become a superstar. Both Alma and Holger have developed a very strong bond over the years.
In fact, Alma, who is very supportive of her brother, is often seen at Holger's games and tournaments, where she shows him much-needed support. Alma and her mother, Aneke, are two constant faces at his games. It was at one of such games that she broke out into stardom.
What happened was that in mid-2022, during the fourth round of the French Open tennis tournament, Holger Rune was playing against the fourth-seeded Stefanos Tsitsipas, a Greek tennis player, in a battle to clinch a spot in the quarter-finals. During the game, which was held at the Stade Roland Garros tennis complex, the cameras kept panning at Alma and kept displaying her face on television.
Alma Rune watching the match #RolandGarros2022 between her little brother Holger Rune and Stefanos Tsitsipas#holgerrune pic.twitter.com/ZjgKwjMeLG

— 8sergeypit8 (@8sergeypit8) May 30, 2022
The cameras kept panning at her so much that she caught the attention of social media and became an instant sensation because of her beauty. In fact, she was named a breakout star of the tournament by the media even though she was not even a tennis player.
Alma is now a model who is signed to Scoop Models, a modeling agency in Copenhagen, Denmark. Holger Rune's parents definitely have every reason to be very proud.
How His Fame Skyrocketed Holger Rune's Family To The Limelight
Holger Rune has become a huge tennis sensation and is now one of the most Danish sportsmen in the world. Because of this, his entire life, including his family, has become a subject of discussion in the media. Holger Rune's entire family is now in the spotlight because of him.
Every now and then, topics about who Holger Rune's parents are, as well as what his sister does for a living, are being asked. Any time he plays on tennis courts around the world, cameras are always panning towards his family members who sit among the audience to watch him play and support him.
Why Did Holger Rune Yell At His Mom?
Apart from making headlines for achieving incredible feats on the tennis court, Holger Rune has also made headlines for some controversial occurrences. In 2022, during the French Open, Holger Rune made headlines after he was heard shouting 'leave!' during his match with Casper Ruud, a Norwegian professional tennis player at the quarter-final.
While the match was ongoing, Holger, who was frustrated that things were not going his way, suddenly started shouting, 'leave!'. His words appeared to be directed at someone sitting in the box where his mother was also present. Shortly after, his mother, who was there in the stadium as usual to support him, left her seat and went outside.
This bizarre occurrence caught the attention of so many people, and a video of the tennis star yelling soon went viral on social media. Holger Rune soon came under immense fire because so many believed he actually yelled at his mother to leave the stadium. Some people called out Holger for disrespecting his mother, who has given so much to support and guide him in his career.
However, Holger Rune eventually spoke about the incident and explained that he never yelled at his mother and never asked her to leave her seat. According to him, he was talking to someone else in the stadium and not his mother. Holger admitted that he was under immense pressure during the game and so had yelled at someone to leave his side and that some people misinterpreted that to mean he was yelling at his mother.
Despite this, the development has caused Holger Rune to come under serious criticism, even from professional athletes. Àlex Corretja, a former Spanish professional tennis player, criticized Holger's public outburst and said he needs to control his emotions better. Hopefully, this becomes the case as Holger keeps advancing in his stellar career.