Fauzia Mubarak Ali (born 24, March 1958) is a 65-year-old human rights activist, and founder of the Human Rights Advocates Association (HRAA), which works to see that social justice become a regular occurrence in Pakistan. She is, however, best known as the wife of Cat Steven, the legendary folk music icon
Steven Demetre Georgiou, who now goes by the name Yusuf Islam commonly known by his stage names Cat Stevens, is a British singer-songwriter and multi-instrumentalist. Fauzia, who is 10 years younger than her husband, has been the pillar behind his faith and most of his humanitarian activities. However, she lives a quiet and private life, with many not knowing what she is always up to. Here is more about her.
Summary of Fauzia Mubarak Ali's Biography
Full name: Fauzia Mubarak Ali
Gender: Female
Date of birth: march 24, 1958
Fauzia Mubarak Ali's Age:

65 years old

Ethnicity: Arab
Nationality: Pakistani British
Sexual Orientation: Straight
Religion: Islam
Marital Status: Married
Fauzia Mubarak's Husband: Cat Steven
Fauzia Mubarak's Children: Hassana Islam, Asmaa Eve Georgiou Islam, Maymanah Islam, Muhammad Islam aka Yoriyos Adamos, and Amina Yusuf.
Famous for: Being the wife of Cat Steven
Fauzia Mubarak Ali Grew Up in Karachi, Pakistan
Fauzia Mubarak Ali was born on march 24, 1958 in Karachi Pakistan. She is currently 65 years old. Although she is married to a very popular British music star, not much information is available regarding her parent's identity. She prefers to keep information regarding her personal life and identity away from the public.
Be that as it may, the 65-year-old activist is widely known to be an Arab woman which could also be her immediate family's ethnicity. It is also unclear if she has other family members including any living sibling as none of them has ever been mentioned before.
Fauzia spent her early childhood years with her family in Karachi, Pakistan, which is her birthplace and hometown. Not much information has been revealed to the public about her early life also, including details of her early educational background before her university level.
She attended Kinnaird College for Women, Lahore, Pakistan, and graduated with a Bachelor's degree in Urdu Literature. She left Pakistan for the United States where she furthered her education and obtained a Master's Degree in Comparative Literature from the University of Columbia
How Long Has Fauzia Mubarak Been Cat Stevens' Wife?
Fauzia Mubarak Ali's marriage to Cat Steven has so far lasted up to 43 years. The Human rights activist got married to her rock and roll singing husband, Cat Steven, on 07 September 1979. They are still happily married and are living together as husband and wife in London
It was widely reported that they first met through a marriage arrangement as it was a common practice in the Islamic world. Many claimed that it was Stevens's late mother, Ingrid Wickman (1915–1989), that chose Fauzia for her son to get married to.
However, on
his 
website, 
Steven 
has 
refuted 
the 
claims, 
saying
that 
all 
he 
did 
was 
show
his 
mother a
variety 
of 
women he liked
and 
ask 
her 
opinion 
on 
each 
one of them. The final decision on which of them would eventually become his wife was his
,
and 
that 
is 
how 
he picked Fauzia to become his wife.
The two got married at the regent's Park Mosque in London shortly after he chose her as his wife. At the time they got wedded, Steven had just built a couple of Muslim schools in London and made the city their abode.
How Many Children Does Fauzia Mubarak Have WIth Cat Stevens?
Fauzia Mubarak's marriage with Cat Stevens is blessed with five beautiful children. The couple has had a total of six children altogether; four females and two males, however, they lost one of their male children at infancy. Fauzia's five children are; Hassana Islam, Asmaa Eve Georgiou Islam, Maymanah Islam, Muhammad Islam aka Yoriyos Adamos, and Amina Yusuf.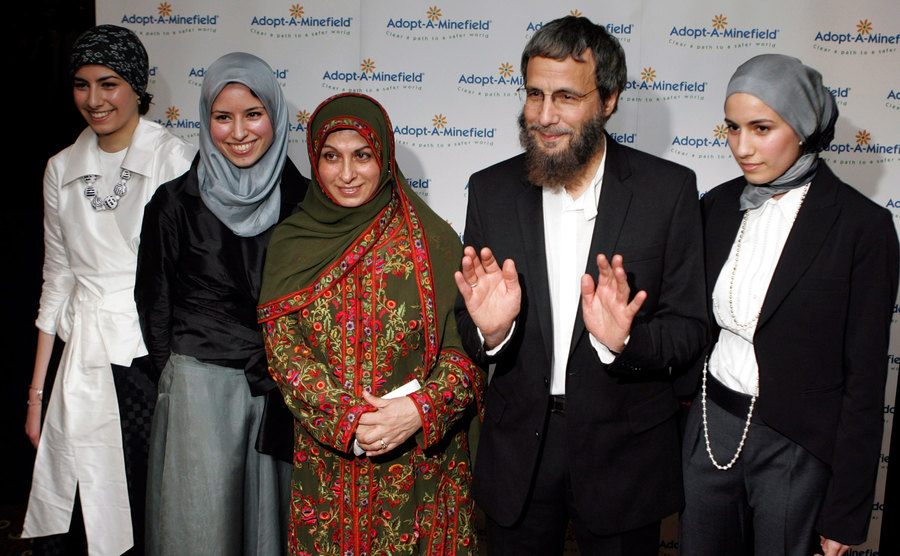 Hassana Islam is her first child and daughter. She was born in the month of July 1980. Hassana grew up in the city of London with her parents and is said to be highly educated. She is a director in several of Fauzia's husband's companies and currently lives in the United Arab Emirates with her husband and kids.
Asmaa Eve, Fauzia's second child, also a daughter, was born in 1981 and shares the same birth month with her older sibling. Also bred in the city of London, Asmaa is a practicing solicitor and currently resides in London with her family where she works and lives.
Fauzia's third child, Maymanah Islam, is a daughter too and she is 40 years old. She lives and works as a charity worker in London. She is a professional photographer.
Muhammad Islam, popularly known by his stage name Yoriyos, is Fauzia's fourth and first male child. He was born in April 1985 in the city of London. Although Muhammad grew up at the time his father took a break from music, he somehow found a way to get influenced and pick up music as a profession.
Fauzia's fifth and last female child is Amina Yusuf. Born in February 1988 in London, she is also a photographer.
What Does Fauzia Mubarak Do For a Living?
Fauzia Mubarak Ali is a human rights activist who has been campaigning for women's rights, social discrimination, democracy, and peace in Pakistan and countries around the middle east. Her organization's main goal is to encourage people to work for social justice in Pakistan.
Her marriage to her husband didn't completely stop her passion for trying to effect a significant change in her environment. Fauzia was more determined than ever to stop the spread of terrorism because she left the US shortly after the terrorist attack on US soil on September 11, 2001.
And so, she and her husband co-established a charity organization called Small Kindness Charity. The primary aim of the organization is to combat terrorism and its effects. While her husband uses his songs to make the world better, Fauzia focuses on fighting for the rights of women in her home country as well as promoting the benefits of education both at home and in the UK.
Details of Fauzia's personal life away from her work in charity and as a human rights activist are not public knowledge. With no Instagram or social media handle, Fauzia Mubarak Ali evidently prefers to keep her personal life and affairs private.
Fauzia Pushes For Social Justice For Women In Pakistan
After over 40 years of marriage with five children, and nine grandkids, the 65-year-old may not be as active as she would like to be, but she still has the same passion for ensuring that women and children in her own country experience social justice on a daily basis.
Asides from co-founding Small Kindness Charity with her husband, she is also a part of many other charity organizations Cat has under operation. Fauzia is an active supporter of her husband in his desire and pursuit of world peace.
Blessed with a kind and humble personality, Fauzia has no personal awards or global recognitions, She, however, shares in her husband's recognitions being his number one supporter as well as pillar. Some of his awards for his humanitarian works are;
2003- world social awards for humanitarian relief work helping children and victims of war
2004- man of peace awards at the world summit of Nobel Peace Laureates for his dedication to promoting peace, reconciling people, and condemning terrorism
Did Fauzia Mubarak Influence Cat Steven's Conversion to Islam?
Fauzia Mubarak Ali did not influence her husband, Cat Steven's conversion to Islam. However, she is a strong force that has helped him remain a devout Muslim to date. Although many would want to believe that she was the reason her husband converted to Islam, reports have it that Cat Steven was already a Muslim before he met and married his wife.
Her husband's decision to become a religious person after gaining so much fame and affluence from his musical career was the path he took on a self-discovery. It was reported that on two different occasions, Steve had encounters with death. The first diagnosis and treatment of tuberculosis.
and the second was his near drowning experience while swimming at the Malibu beach. It was on this occasion that Steve, while struggling with death, vowed to God that he will serve him for the rest of his life if he will be saved. With his prayers answered, Steve survived and he sought to get closer to God. His older brother led him to the path of Islam.