Ummi Rahab (Real Name: Rahab Saleh Ahmed, born 7th April 2004; Age: 19 years old) is a fast-rising Kannywood actress famous for her role in the 2014 movie Kin Zamo Takwara Ummi.
Ummi Rahab started acting at the age of 10 but gained significant fame in 2018. Her amazing and unique skills in interpreting roles have earned her a good spot in the Kannywood industry.
She has also made considerable wealth for herself as a rising artist, having gathered a net worth estimated at N103 million. The beautiful actress has continued to capture the hearts of many with the exceptional ways in which she dishes out her roles on set.
Ummi Rahab's Biography Summary
Full name: Rahab Saleh Ahmed
Nickname: Ummi Rahab
Gender: Female
Date of birth: 7th April 2004
Ummi Rahab's Age: 19 years old
Place of Birth: Saudi Arabia
Ethnicity: Hausa
Nationality: Nigerian
Zodiac Sign: Aries
Sexual Orientation: Straight
Religion: Islamic
Marital Status: Married
Husband: Lilin Baba
Ummi Rahab's Parents: Mr. and Mrs. Ahmed
Ummi Rahab's Height in Inches: 5 feet 6 inches
Rahab's Height in Centimetres: 164 cm
Ummi Rahab's Weight: 65 kg
Ummi Rahab's Net worth: N103 Million
Famous for: Kin Zamo Takwara Ummi
Ummi Rahab's Instagram: @ummirahaboficial
Ummi Rahab Hails From Kaduna State
She was born Rahab Saleh Ahmed on 7th April 2014, in Saudi Arabia, into a Muslim Hausa family. Currently 19 years, Ummi originally hails from Kaduna State, where she grew up alongside her parents and siblings. For her education, Ummi Rahab attended primary and secondary schools in Kaduna State. No record shows if she is pursuing higher education or not.
Who Are Ummi Rahab's Parents?
According to records, Ummi's parents met and got married in Saudi Arabia, where they resided until after the birth of the actress. However, not long after her birth, they came back to Nigeria. Her father is said to be late. Asides from this, there are no further details about them as the actress does not bring her family life to the public.
Ummi Rahab Family Pictures
As we mentioned, Ummi does not usually disclose information regarding her family on the internet. But below is the only photo of her mother she once shared on social media when she reunited with her.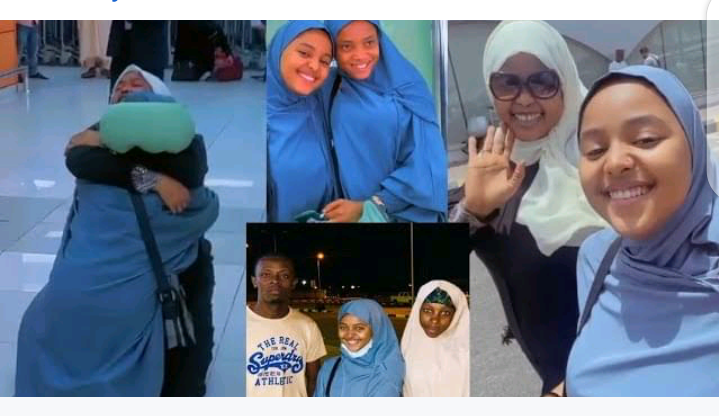 She Started her Professional Acting Career at Age 12
Ummi Rahab is one of the actresses that grew a passion for acting from a very tender age. She was so passionate about acting, and luckily for her, she met with the famous actor, director, and film producer, Adam Zango, who would later introduce her to Kannywood, the Hausa film industry.
At first, Ummi wanted to leave her studies to fully concentrate on acting, but her mother reportedly kicked against that. So she managed to focus and complete her secondary school.
Meanwhile, she participated in some of her school's drama presentations and bagged minor movie roles. During those times, Ummi was building up her skills in acting, and that made it easier for her to perfect immediately after she fully delved into the movie industry.
Her Rise to Stardom
Ummi rose to prominence in 2018 with her debut appearance in the movie Kin Zamo Takwara Ummi. This was the movie wherein she earned the name Ummi. She featured in the movie alongside veteran actors like Adam Zango, Jamila Nagudu, and others.
In the movie, she played the character of Adam Zango's daughter, after which the internet went agog with speculations of them being in a relationship. The actress, however, addressed that alongside being her boss, Adam Zango is like a father to her in the industry.
Also, actress Ummi was featured in Farin Wata, and the movie launched her to another level of stardom. This is a series sitcom produced and directed by Adam Zango. The movie earned her massive recognition as an actress; since then, she has not slowed down in bagging more major roles. Ummi Rehab has established herself as a delectable actress in the Hausa film industry.
Ummi has shared screens with some notable artists in the industry. Some of her other popular movies include Labarin Zuciya, Farin Wata, Wuff, and Tsaka Mai Wuya. She featured in Adam Zango's music video, Komai Daga Allah ne, and after a brief appearance in his YouTube series video Farin Wata Sha Kallo, was cut from the movie for unknown reasons.
Talking about beauty, the Hausa actress is one of the most beautiful actresses in the industry, and her good looks, alongside her talents, also earn her movie roles. She has won the hearts of Kannywood fans with her awesome acting skills and talents. She is one of Kannywood's most attractive upcoming actresses, undoubtedly making waves in the entertainment industry.
Is Ummi Rahab Married?
Actress Ummi Rahab got married to Lilin Baba on the 18th of June 2022. Shu'aibu Ahmed Abbas, professionally known as Lilin Baba, is a Nigerian singer, Kannywood actor, record producer, and entrepreneur. According to the actress, her marriage to the actor was a dream come true.
However, it is unknown exactly when the two knew or started dating. The actress took to all her social media platforms to share the bride price and wedding photos. She could not contain her joy for making the best choice for herself.
Ummi Rahab's Relationship Saga with Adam Zango
Recall that the actress dismissed the rumor of being in a relationship with her boss Adam Zango. She had an altercation with the producer. Adam A Zango is a Kannywood actor known as a loverboy who has married six times.
Having known this already, Ummi Rahab bluntly rejected him when he came up with a marriage proposal. This led to their clash, and he removed her from his sitcom Farin Wata. According to the actress, she sees Adam as a father figure and does not want to fall into his marriage traps.
She further stated that she does not want Adam to steal her youth in the name of marriage and shortly divorce her. Everyone supported the actress in making the best decision as it is already known that Adam Zango never had a lasting relationship. Ummi Rahab refused to be turned into a divorcee at a very tender age.
What is Ummi Rahab's Net Worth?
Though still an upcoming actress, Ummi Rahab has not only been building up fame for herself but also wealth. As of 2022, her net worth is estimated to be N103 million, which is quite commendable for a rising actress.
It is a fact that acting is her known major source of income yet. However, she once mentioned that some companies had chosen her as their brand ambassador, but she did not reveal their names. So, the actress earns a chunk of her wealth from endorsement deals. She also has a clothing line, Ummi Rahab Collection, where she is the CEO.
Her three major sources of income include
Acting
Clothing line
Endorsement deals