Tolani Otedola (Real Name: Tolani Otedola, born 21 April 1986) is a Nigerian Afro beats singer, songwriter, and entertainer who became prominent in the Nigerian music industry in 2017.
Meek confident and talent-driven Tolani is the the first daughter of the highly popular Nigerian oil mogul, billionaire, and philanthropist Femi Otedola. That notwithstanding, she has kept a low profile as she never attracted media attention until her stint in the music industry began. Tolani is not widely recognized as Otedola's daughter, mainly because she does not share the same mother with Femi Otedola's children DJ Cuppy and Temi, whom he had with his wife, Nana Otedola.
Summary of Tolani Otedola's Biography
Full name: Olawunmi Christy Otedola
Nickname: Tolani Otedola
Gender: Female
Date of birth: 21 April 1986
Birth Place: Lagos
Tolani Otedola's Age: Use Age Shortcode
State Of Origin: Oyo State
Ethnicity: Yoruba
Nationality: Nigerian
Zodiac Sign: Taurus
Sexual Orientation: Straight
Marital Status: Single
Tolani Otedola's Parents: Femi Otedola and Olayinka Odukoya
Siblings: Florence (DJ Cuppy), Temi Otedola, Fewa Otedola
Occupation: Singer-Songwriter
Famous for: Her music career
Tolani Otedola's Instagram: tolani
Twitter: @shestolani
Facebook: Tolaní
Tolani

is the Daughter of Femi Otedola and

Olayinka

Odukoya
Olawunmi Christy Otedola, best known as Tolani, was born on April 21, 1986, in Lagos state Nigeria, Femi Otedola, the renowned Nigerian billionaire, and Olayinka Odukoya her mother. However, she did not grow up under the caring arms of her mother due to an unresolved issue bordering on the religious affiliation of Tolani's mother, who is a Muslim.
It is said that Femi's mother felt that Tolani's mother, who was from low social status, was not a befitting wife for her son. As a result, she marred the one-time romantic relationship between Femi, her son, and his lover Olayinka. Additionally, Femi Otedola's mother went a step further by barring Tolani's mother from having access to her daughter, thereby forcefully taking custody of her daughter and using her status and influence to achieve that.
Being at the receiving end, the ill-treatment Olayinka got from the Otedola family left her quite devastated and created a deep fear for men due to her experience with Otedola. This could be seen in the fact that she has since then not been able to get married to any man and even to the father of her second daughter Eniola, whom she later dated after her experience with the billionaire Otedola.
Regarding her education, Tolani attended her primary and secondary school education at Lagos. But for her tertiary education, she went overseas to study at the University of St. Andrews, Scotland, where she majored in psychology and earned her first degree. To this end, one could see clearly from her composure that her educational attainment has positively impacted her later musical career, going by the uniqueness and deep thoughts her music often provokes.
How

Involved

I

s Femi

O

tedola

I

n

Tolani's Upbringing

?
The fact that Tolani did not grow up under the care of her biological mother, Olayinka, indicates that her father, Femi Otedola, has been very much involved in her upbringing. Tolani, who grew up completely under his watch and his family, spent her childhood years without an actual relationship with her mother. Unlike other kids who tend to be too fond of their mothers, Tolani, on her part, was rather very fond of her father. This is because her mother was literarily banned from coming closer to her by her grandmother, who is popularly known as Lady Doja.
Be that as it may, Tolani was not lonely as she has always been in the company of her other half-siblings; Florence  Ifeoluwa  Otedola (DJ Cuppy), Temi Elizabeth Otedola, and Fewa Otedola, the only son of the Billionaire who has autism. What's more heartwarming is that the siblings share a deep bond, even though they are given birth to by different mothers, contrary to the stereotyped perception that step-sisters never get along.
Tolani Is Living Her Childhood Dreams Of Becoming A Musician
The Nigerian music diva Tolani has always taken delight in singing. From a young age, she began singing in the church choir. She started music officially in 2017 when she released her debut single, Tenderoni, featuring Skales, which put her in the spotlight. Tolani landed a big milestone in her career after releasing her hit single, Ba mi lo, featuring Reekado Banks, which became a massive hit, raking in over 2 million streams on YouTube.
Due to Tolani's closeness with Nigerian Music star Reekado Banks, rumors have been making rounds that Tolani may have been in a romantic relationship with Banks. The singer and songwriter also dropped a single bad man in 2020, and it was also a massive success.
So far, the Afrobeats sensation has five hit singles credited to her, and she seems to be doing quite well in the music industry. Tolani is now quite popular both in Nigeria and in the diaspora. She performed in the Palmwine Music Festival held in London in 2019.
List of Tolani Otedola's Non-album Singles So Far
2017 – Tenderoni ft. Skales
2019 – Ba Mi Lo ft. Reekado Banks
2019 – Liar
2019 – Maybe Baby
2020 – Badman
How

Successful Is

Tolani

Otedola

C

ompared

t

o Her Sisters?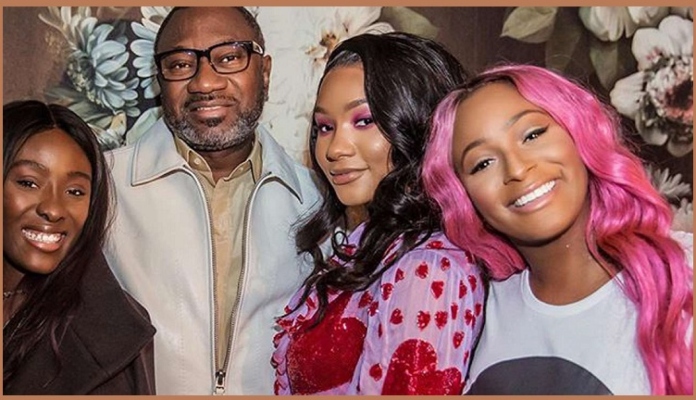 Tolani has secured a spot for herself in the Nigerian music industry and has attained significant fame with her talent. On the other hand, her sister DJ Cuppy has been a little more popular in the industry. Let's look at how she measures up with her other sisters.
DJ Cuppy is the Most Prominent of the Otedola Sisters
Going by logic, it can be said that Cuppy's more prominent presence is connected to the fact she has been in the industry and the media spotlight for quite a while before the emergence of Tolani into the music scene. DJ Cuppy's name loudly rings a bell as far as the Nigerian music and entertainment industry is concerned.
Florence Ifeoluwa, also known as DJ Cuppy, is Tolani's younger sibling and half-sister and is popularly known as a Nigerian Afrobeats singer, Disc Jockey, and philanthropist who has since been in the music scene and has been making waves long before Tolani's arrival into the industry. This has helped her gained more experience and recognition in the industry.
She has also bagged some awards; notable among them is the award for the Best African DJ (video) at the AFRIMMA award 2020, making her the first woman ever to win that award. It is still quite tactical to measure the actual popularity of the half celebrity sisters in the industry, as they are both famous and dominate the different genres of music they are known for.
Her Yonger SIster Temi is Also Successful In Her Own Right
Temiloluwa Elizabeth Otedola, also a younger sister to Tolani, is an actress and blogger. Temi made her acting debut in the 2020 film Citation, directed by Kunle Afolayan. Gaining the tag 'actress' after an outstanding performance, Temi bagged the award for Best Actress at Ghana Movie Awards. Temi looks forward to featuring in more movies and working with more prominent names in the movie industry. Her strides in blogging include JTO Fashion, a popular blog, which she started in 2014.