Nigerian music star, Davido and his estranged girlfriend and third baby mama Chioma Avril Rowland might still be together. Although the duo unofficially broke up in 2020 and unfollowed each other on Instagram, since October 2021, they have been seen spending time on different occasions.
Interestingly, after the much-hinted buzz about the Nigerian singer breaking up with Chioma, Davido reportedly moved on with an American model named Mya Yafai. The news of his relationship with the model made headlines after their photos with the duo holding hands while stepping out of a club in the USA were posted on the internet.
Despite that, Davido flew Chioma and their son Ifeanyi in his private jet to his concert at the O2 Arena in London in March 2022. However, it remains unclear if they are still active in a romantic relationship, as they have left fans wondering exactly what their current relationship status is.
Is Davido Still With Chioma?
Davido and his estranged fiancee Chioma Avril Rowland have again got the internet back and talking about a possible reunion. The fresh speculations making waves about their rekindled love and romance hit the media following some recent events involving the two.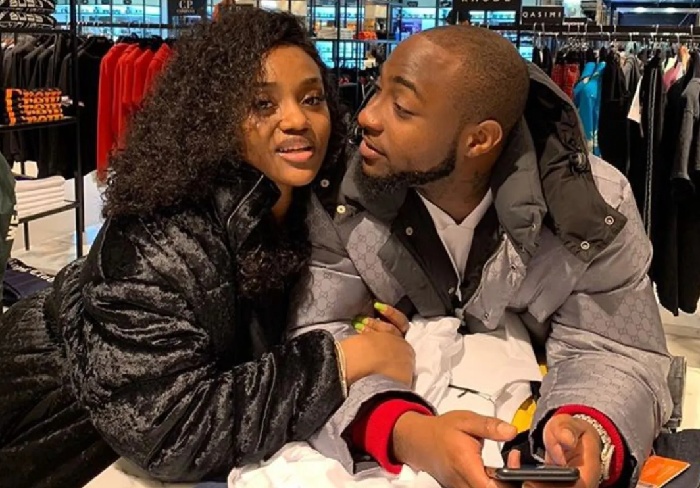 For one, on 23rd October 2021, Davido reunited with Chioma in a bid to celebrate their son, Ifeanyi's second birthday. This made the first time the duo was seen together after the news of their breakup circulated. Both had a nice time at the birthday party and posed for the cameras together.
Again, during Davido's O2 arena concert in London in March 2022, he flew Chioma and their son Ifeanyi in his private jet a day before to attend the show. They were subsequently seen together some weeks after the show ended. Furthermore, the duo who unfollowed themselves on social media after their distressed separation is now following each other.
Hence, fans are only on the lookout with fingers crossed to see and know what is next for the one-time love birds. Some have even turned into prayer warriors on their behalf to ensure that they make it back together permanently.
What Happened To Davido and Chioma?
Even though it was initially portrayed that Davido and Chioma were inseparable, the once beautiful relationship at some point turned sour. Davido and Chioma's relationship was one that many Nigerians developed so much interest in.
However, a few years down the line, the story turned to a different side for the two love birds. Their relationship fizzled out, and fans and admirers who thought that the love would soon lead them to the altar are now wondering what is going on.
They Met and Started as Friends in 2013
Davido and Chioma reportedly met for the first time in 2013. According to the famous singer, the beautiful lady was introduced to him by his manager, Lati. Having attended the same university – Babcock University, Davido and Chioma started talking as friends. They continued being just friends for some time, but the duo began to get used to each other as time went on.
The Couple Started Dating Two Years Later in 2015
Davido and Chioma did not start dating until 2015 but did not go public until the following year, 2016. Given the fondness they had grown for each other within the space of two years, they decided to go a little deeper and take the friendship to another level.
According to Davido, he grew more fond of Chioma after he learned about her incredible culinary skills. When news about their dating emerged, many people were eager to know how the big African star managed to fall head over heels with such a young and beautiful lady whose identity is more or less unknown to the public.
The media was not so sure about them being an item until December 2017, when Davido took her along to Dubai for a vacation. In January 2018, it became well-known that the two were dating. Chioma was seen in the company of Davido at a family function.
During the same period, Davido took her on one of his tours around the world, and at this point, there is no other better reason to make conclusions about their relationship. Subsequently, they made further trips to Senegal and Barbados and are seen all over the media having a great time together.
The Lovebirds Publicly Professed Love For Each Other
In April 2018, Davido was spotted in a video while in a club with Chioma publicly declaring that he was in love. Unlike some of the music stars who hide their love interests, Davido's case was different as he was very open with his while confessing his deep admiration for Chioma.
Then it became apparent that Davido, who already had two kids from two different women, is madly in love with another and is now ready to abandon his flirty lifestyle but cling to this one. The couple often professes love for each other on social media and has stunned fans with how well they get along with themselves. During that time, fans often referred to them as "couple goals."
Chioma Had to Skip School For the Sake of their Relationship
Before they officially began dating, reports claimed that Chioma had abandoned her studies to be with Davido. As a celebrated star who always has events and shows to attend, Davido always travels and would have Chioma be with him. As a result, her education suffered.
According to a Vanguard report in 2018, Chioma skipped a whole academic session and even deferred her studies because she was traveling around the world with her artist lover on different tours. The report stirred up many reactions from fans at that time because it brought a feud in Chioma's family.
According to reports, Chioma's parents are ardent Seventh Day Adventists, and they were totally in disagreement with their daughter's relationship with the singer to the extent of abandoning her studies. Shortly, Chioma reacted to these reports, and in her reaction, she told people to shut up if they didn't have facts to a story.
Davido's 2018 Song, Assurance, Cemented Their Relationship
Davido and Chioma's relationship became the most talked-about love story in the entertainment scene in April 2018 following the release of one of his biggest hits, Assurance. The song was dedicated to Chioma as Davido featured her in its music video. He released Assurance on the 30th of April, which is Chioma's birthday.
The media went agog by this song as Davido confessed his love for someone so special to him. Assurance made waves within and across the country, became a national anthem, and significantly drew much attention to Chioma, who had lesser media attention before then.
More so, Davido did not stop at dedicating a song to the love of his life but went further to draw massive media attention by presenting her with a mouthwatering birthday gift. On the evening of the same 30th, being Chioma's birthday, the superstar singer presented Chioma with a Porsche car that is reportedly worth about N45 million. Davido's presentation of this exotic birthday gift to Chioma caused a bigger stir on social media, and this gesture established their relationship in the public eye.
An Engagement Ceremony Followed Suit in 2019
A year later, in September 2019, Davido, alongside some notable members of his family, went to meet with Chioma's family for an official and proper introduction as culture and tradition demand. Similarly, the introduction ceremony caused another level of stir and was highly publicized on the media after the singer uploaded photos from it on his Instagram page.
Millions of fans sent in their congratulatory message to the couple, and the perception of the wedding was all over the air. Not long after the introduction ceremony, Davido popped the big question to Chiom, and of course, she said a big Yes! According to reports, the couple went on a dinner date in a costly restaurant in London, and there was where he proposed to her.
Davido and Chioma Welcomed a Son, David Adeleke Ifeanyi Adedeji Jr., in October 2019
Davido and Chioma are not yet married, but they have a son together. The couple welcomed their son, David Adeleke Ifeanyi Adedeji Jr., on the 20th of October 2019. Davido was elated about his son's arrival and quickly took to social media to announce the news to all his fans. In his post to that effect, he called Chioma a powerful woman and referred to her as his "wife."
David Ifeanyi Adeleke Jr is the singer's first and only son, as he already had two daughters from different women in the past. According to Davido, the birth of their son made him gain a lot more respect for Chioma, given that he was there with her in the labor room and witnessed all that she had to go through to bring their son into this world.
Davido acknowledged that she made a huge sacrifice for both of them, taking their love to a different level. The music star, on many occasions, openly demonstrates the love he has for his son, and there is no doubt about the unbreakable bond that exists between the father and son.
In portraying his fondness for his son, Davido made the young boy the face of his fourth studio album titled A Better Time. Davido held his son tightly on the album cover with his face buried into his son's back while Ifeanyi stared into space.
Their Relationship Has Faced a Lot of Controversies
As beautiful as Chioma and Davido's relationship seemed to be initially, it has got its fair share of controversy. People had continued to go back and forth that they had broken up, and after some time, they would be seen together again. One of the straws that broke the camel's back happened in June 2020 when rumors began to spread like wildfire that the couple had a huge fight and, as a result, had fallen out completely.
A report about their separation was released by a popular Nigerian blogger Stella Dimorko Korkus. According to Stella, insiders told her that Davido and Chioma had a big physical fight over some differences, and Chioma packed out of his house. The blogger claimed that an insider reliably told her that Davido beat up Chioma, and in the process, they gave each other wounds.
She also claimed that Chioma was beaten so badly that she got some marks from Davido's punches and had to go into hiding for some time to keep it out of public knowledge. Furthermore, another rumor of cracks in their relationship made rounds in December when the music star hosted an American model Mya Yafai in Lagos.
The alleged romance took to a new level when they traveled to Ghana for a vacation in early 2021. This led to many speculations, and it became apparent that things might have taken a different turn between the celebrity couple. More credence was given to these speculations in the following month after photos of Davido and Yafai locking lips made it to the internet.
As if that was not enough, it was realized that Chioma had stopped wearing the engagement ring Davido gave to her. For many, this was simply the end of his relationship with Chioma. But, just like every celebrity relationship, there is always unconfirmed news about them.
Yet, another trouble had its way into paradise when a rumor started spreading that Davido had welcomed a fourth child with another woman. Even though the rumor was never confirmed, it caused an uproar on social media as people dragged the singer for not being loyal to Chioma.
Why Davido Unfollowed Chioma on Instagram
Amid speculations and allegations trailing their relationship, Davido took to his Instagram and unfollowed everyone, including Chioma. He added salt to injury with this move as it caused a big stir on social media. Most people concluded that by unfollowing Chioma on Instagram, their ship has capsized.
Fans immediately went all out on the media, pleading with the duo to fix their relationship regardless of what could have gone wrong between them. However, some people did not take Davido's actions seriously but saw that he was only trying to chase clout to get public attention.
Chioma's Reaction
In all of this chaos and rumors of a breakup, Chioma kept her peace but later decided to address the matter. The young lady took to her Instagram and released a statement wherein she debunked the stories that they went through some domestic violence.
She clearly stated that Davido had not for a time raised a finger on her and that she also did not attempt to push him. Chioma concluded by saying that all of those are only unverified news that should immediately stop circulating.