It is sweet to think that opposites attract, but the likelihood of a Nollywood celebrity and a non-celebrity getting together seemed like a better fit for a story that unfolds on the big screen. However, sometimes these romances don't last. Nollywood actress Chika Ike and her ex-husband are among the many celebrities whose magical romances never lasted.
When Chika Ike and Tony Eberiri exchanged marriage vows over a decade ago, they were major news items on every social media platform with many of their devoted fans hoping to have their love lives just as hers'. But years down the line, what appeared to be a match made in heaven turned notoriously rocky. While Zsa Zsa Gabor and his ex-wife Felipe de Alba may keep the trophy as the couple with the shortest marriage, the romance between the Nollywood actress and her partner endured for a couple of years before it finally crashed.
How Chike Met Tony Eberiri
There have been lots of mysteries surrounding the nature in which Chika Ike and Tony Eberiri met. The ex-spouses did not date for long and rumors have it that they met while Chika was still studying to get her degree from Unilag. The pair got married in 2006, just a year after Chika Ike started her acting career. During the time of their marriage, Ike was only 21 years old.
Not much is known about Tony, information such as his date of birth, family, education, and more are not available. However, at the time of their marriage, he was said to be a banker but the name of the bank and the position he held is not known.
Before his marriage to the star actress, Tony Eberiri was not popular. He only became famous when he got married to Chika Ike. He continued to enjoy that fame during the period they were married and a few years after their divorce came public. Since the end of his marriage to Chika and the dramas that surrounded their divorce died down, Tony has gone back to living his life away from the spotlight.
Since her divorce to Tony, many have criticized Chika Ike for not marrying for love as they believed she got married for the money because her ex-husband was seemingly a wealthy man. 
Why Chika Ike's Marriage With Tony Eberiri Crashed
It is almost a common occurrence to have celebrity marriages crash. Sometimes the experience of being rich, famous, and adored inexorably makes them seem so unlike non-celebrities; more godlike than human. Yet despite this, they suffer from many of the same problems common to people. However, one would ask, because there are always the watching eyes of the public, why do celebrities allow their marriages to crash? Well, Chika Ike's reasons for separating from Eberiri are not far from the kinds we are familiar with.
Chika was 21 when she got married to Tony Eberiri. Aside from blaming her naivety and inability to understand several things as part of the reasons why her marriage crashed, Chika and her ex-husband's love story was continuously marred by several controversies.
It was almost like these pair could not keep away from the headlines every week. If these headlines were positive ones, it would have been exciting, but the couple continually made the headlines for all the wrong reasons.
From Chika's point of view, she was domestically abused on several occasions. She has since revealed that the actions from her ex-spouse began shortly after they became one. She stated that the ugly behavior from Tony continued until the end of their marriage. She also revealed that she endured it when it first happened because he did not do such or exhibit such traits before their marriage and she hoped and pray for him to change.
Despite the hopes of Tony turning to a new leaf, it never happened. According to the actress, it only got worse. She revealed that the domestic violence made her lose her mind, her pride as a woman and it caused her to have very low self-confidence. She stated that she never realized how serious her situation was and for five years she hoped to see her man change for the better. It dawned on her to run for her life during a heated argument when Tony threw a glass jug at her face. Luckily, she dogged it and it shattered on the wall. She also claimed to have had a miscarriage as a result of his abusive acts on her. 
Meanwhile, Tony did rubbish Chika's claims of domestic violence as initially. He stated that she was the cause of their divorce and had warned her against dragging his name in the mud. He stressed that all the claims made by his ex-wife were false and were a way of shifting the blame to him. He stated that as a result of being less famous compared to his ex-wife, the public would be fast in taking to account things she said in interviews and posts on her social media accounts.
The Union Officially Ended in 2013
With Chika Ike beginning to make waves in Nollywood and the couple not able to stand each other anymore, Chika filed for divorce in 2013 and their marriage was nullified at a high court sitting in Abuja in July 2013.

Before filing for the divorce, sources had it that Chika was no longer living in her matrimonial home. Upon getting divorced, the actress finally became free and she expressed her relief from escaping an abusive home by sharing the news of her divorce to Tony Eberiri on her Facebook page.
It should be noted that during the period Chika and Tony were married, they had no kids together. Although Chika got pregnant once, unfortunately, she lost the pregnancy.
Who Has Chika Ike Dated Since Her Divorce To Tony Eberiri?
Chika Ike is a very private person and does not share her relationships with the public. But that notwithstanding, it would be hard to believe that since her divorce to Tony Eberiri in 2013, she has not dated anyone and remained celibate.
Chika Ike is rumored to have been romantically involved with a certain politician and member of the House of Representative from Anioma in Delta State, Nigeria but his name remains unknown. The actress was also said to have almost married a second time with a young name whose name was not made public. There were rumors of her engagement to the unknown man who is based in the UK and that they started dating shortly after her divorce. Many years later, she is yet to get married and talks about her love life has since died down except for recent rumors of her involvement with a popular Nigerian billionaire, Ned Nwoko.
Is Chika Ike Ned Nwoko's Proposed 7th Wife?
A certain blogger made mention of Regina Daniel's mum Rita Daniels warning Chika Ike to stay away from her son-in-law, and from there onward, there have been rumors of Ned Nwoko and Chika Ike having an affair. According to reports, Rita Daniels made this known through a video she posted on Instagram.
Chika Ike was however quick to dismiss any of such rumors, stating that she is not having an affair with Regina Daniels' billionaire husband Ned Nwoko and she is not willing to be anyone's 7th wife.
When the Nigerian business mogul and lawyer was questioned about his involvement with Chika Ike, he revealed that they are just friends and had not seen each other for quite a long time.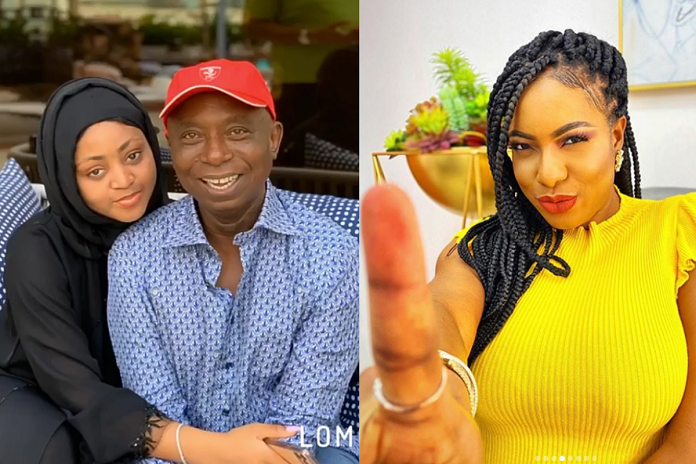 Meanwhile, after a thorough investigation, it has been revealed that the alleged video Rita Daniels made was false. When asked about making a video where she accused Chika Ike of having an affair with Ned Nwoko, Rita Daniels denied ever making such a video and stated that she had nothing against Chika Ike.