Just like Amazon, Aliexpress, and eBay, there abound numerous online shopping stores in Nigeria. Nigerians no longer need to worry about the high exchange rate of the dollar, as these local shops trade in naira and render services relatively okay.
Although transacting with some online shopping stores in Nigeria could be risky, due to poor/delayed delivery services, poor customer service, fake fashion/designers items and unethical practices, it is quite convenient to shop online than to visit an actual market.
According to an online shopping report by Philips Consulting, online shopping in Nigeria records about ₦ 1.3 billion worth of transactions monthly and not less than 500 orders are placed in a day with each retailer nationwide.
Also, it has been reported that within the last two years, investors put in a whopping sum of over ₦ 205 billion into the eCommerce industry in Nigeria.
Looking at how lucrative this business is, a lot more online stores are springing up every day, but not all of them have great standards and are reliable to shop with. There are currently over a hundred online stores in Nigeria today but unfortunately, 90% of online shoppers patronize only a tiny segment of these stores and according to Phillips consulting, 38% of Nigerians actually prefer online shopping to the traditional in-store shopping.
This list was put together based on the following criteria: the activities on each stores' social media community, the number of visitors to its website, review by customers, professionalism, website design and usability, quality of products on display and quality of the actual product, reliability, delivery speed and other factors.
Top Online Shopping Stores In Nigeria
20. Buyam.com.ng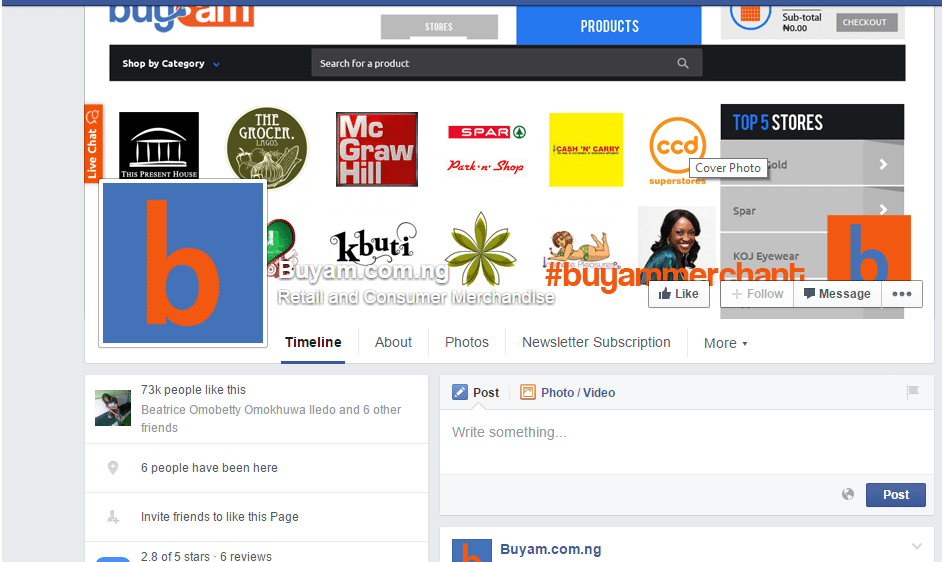 Buyam.com.ng is not a conventional online store as they do not have a professional website. Buyam.com.ng does its business on Facebook. They act as an intermediary between buyers and the buyer's favourite offline store. Their job is to fill in the gap of convenience in the buying process as buyers buy from their favourite offline shop through Buyam.com.ng.
At Buyam.com.ng, you will see products of Ajeh Clothing and Da Viva and you can have your goods delivered to your doorstep. Although customers have complained that the integrity of the shop is being compromised, the shop has been able to drive over 8,000 Facebook fans and 206 twitter followers.
19. Adibba.com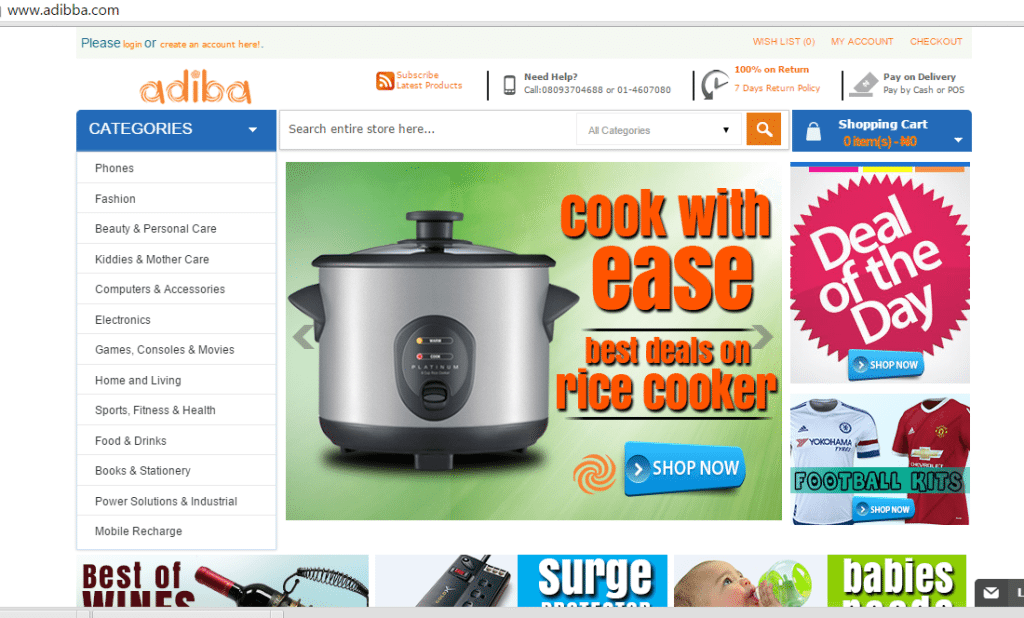 Adibba offers an ever-growing variety of product categories ranging from Power Solutions, electronics, apparel, home appliances, kid's items and even recharge cards. Their slogan is "The one place to get all", and they strive to satisfy their growing community of sophisticated shoppers by making shopping as easy as it can be. They have a pay on delivery policy and a 7-day return policy. Payment is made on delivery without stress by sliding your debit card through their POS.
18. Ojashop.com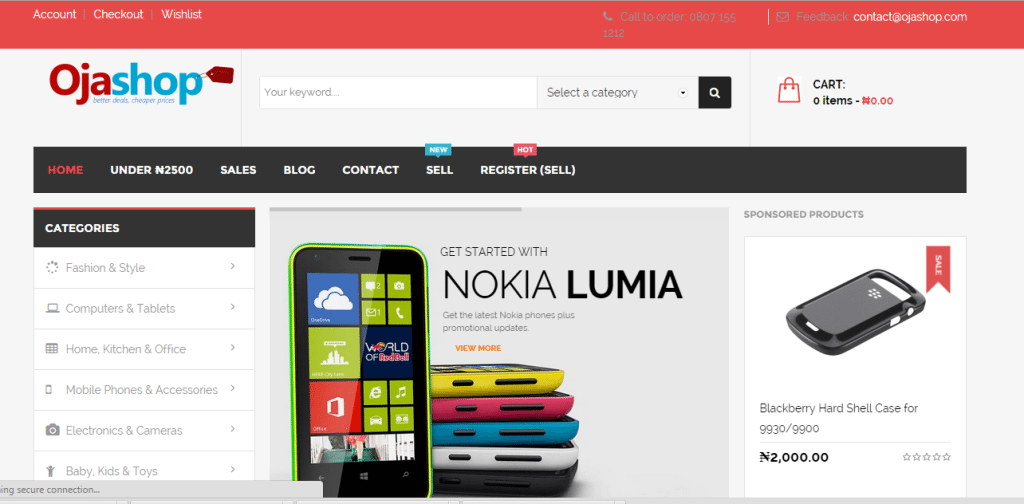 Oja shop is one of Nigeria's fastest growing online shop. It was launched in September 2014 and is located in Ibadan. With orders of over ₦10,000, Oja.shop can have your products delivered to your doorstep for free if you live in Lagos or Ibadan. In less than a year, the online shop is gaining massive popularity and has gained about 16,000 Facebook likes. Some customers commented that the fashion products are good but can be improved.
17. Mystore.com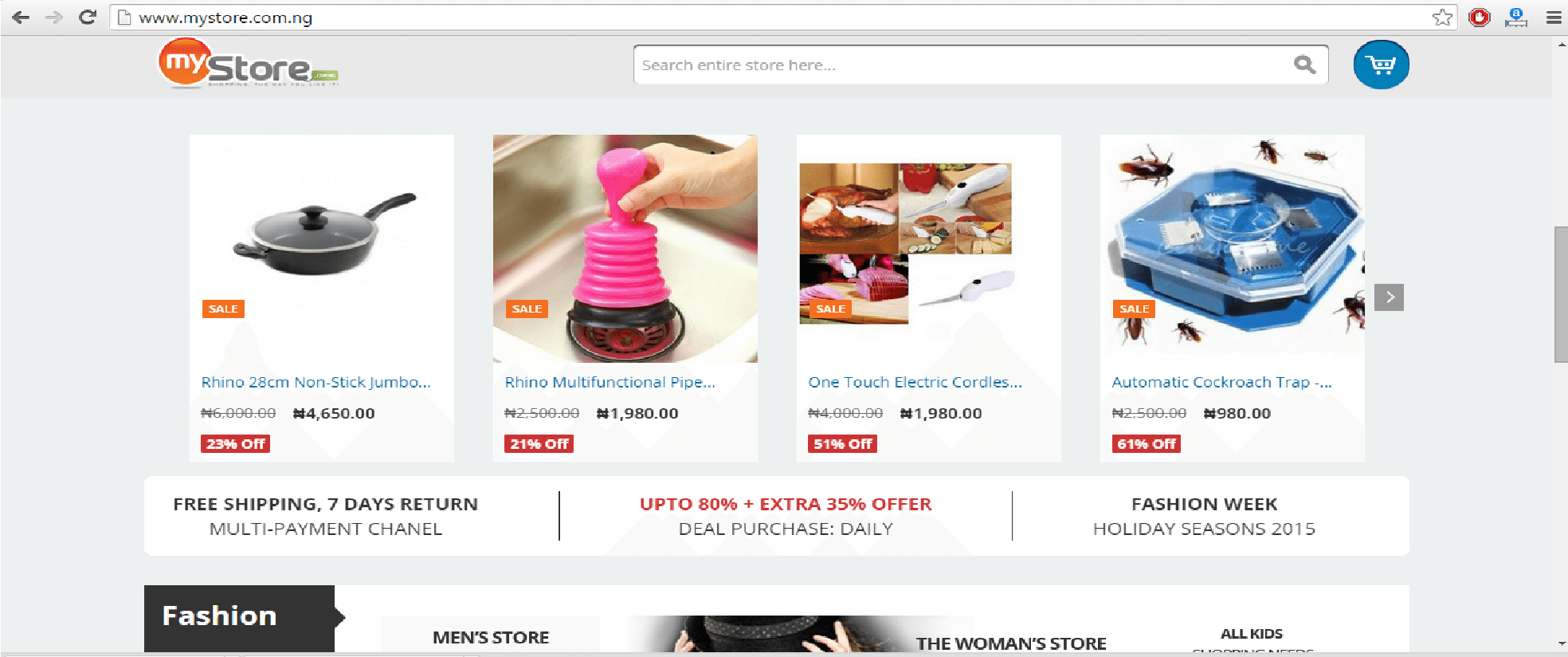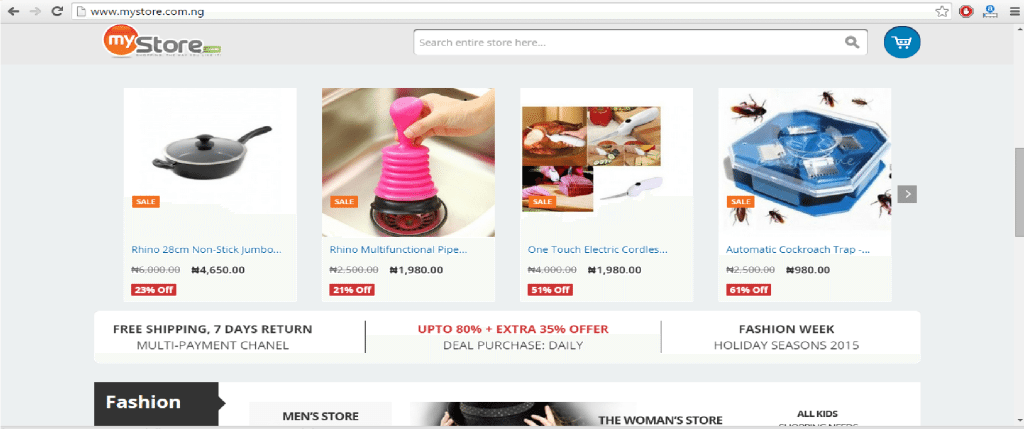 At Mystore, you can get a variety of items ranging from clothes, kitchen utensils, phones, and electronics. Currently, the website is experiencing some changes, as the literature in some of the pages of the site are not written in the English language.
16. Regalbuyer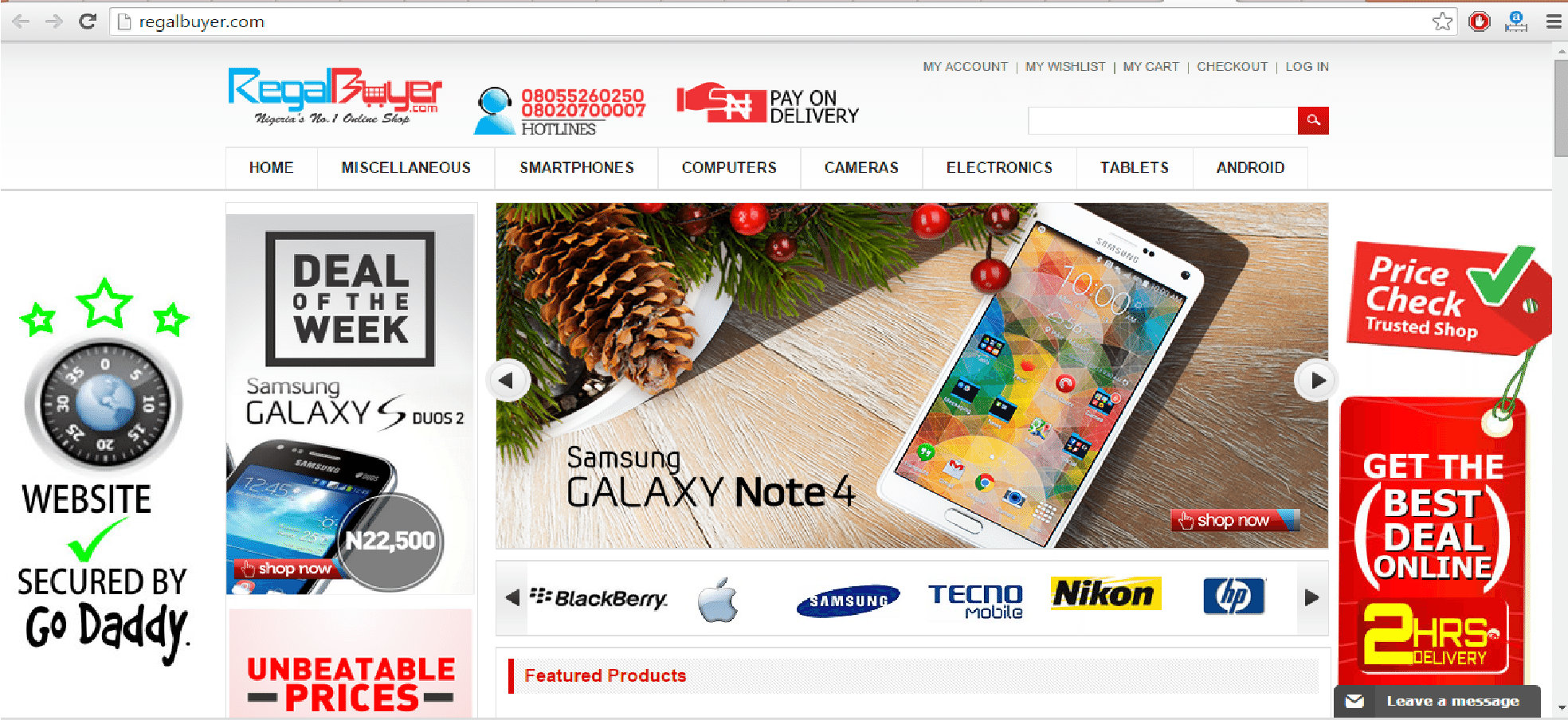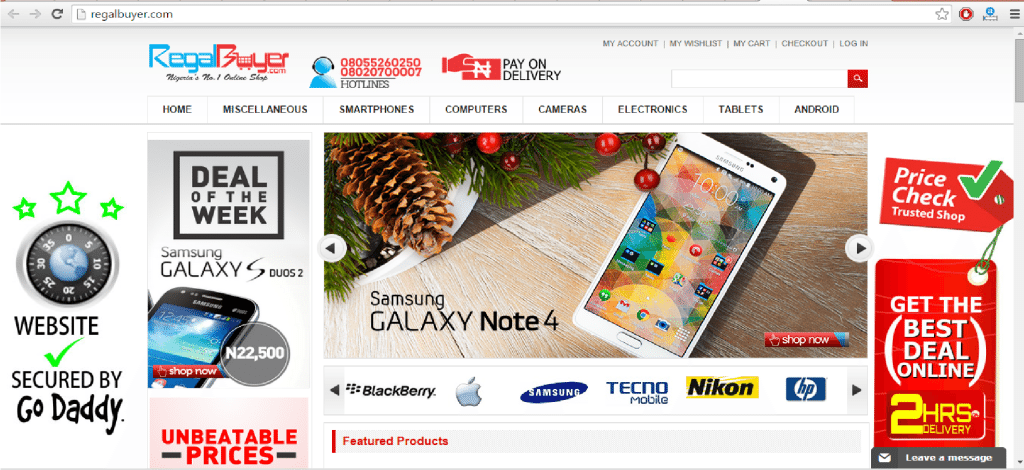 RegalBuyer deals with Mobile Phones, computers, cameras, tablets, Ipads, electronics and a few apparels. RegalBuyer.com does nationwide delivery and is a Preferred Partner and Distributor to Major Nigerian Leading Brands such as Nokia, HP, Dell, Samsung, Sony, Tecno, Blackberry etc.
15. Fouani.com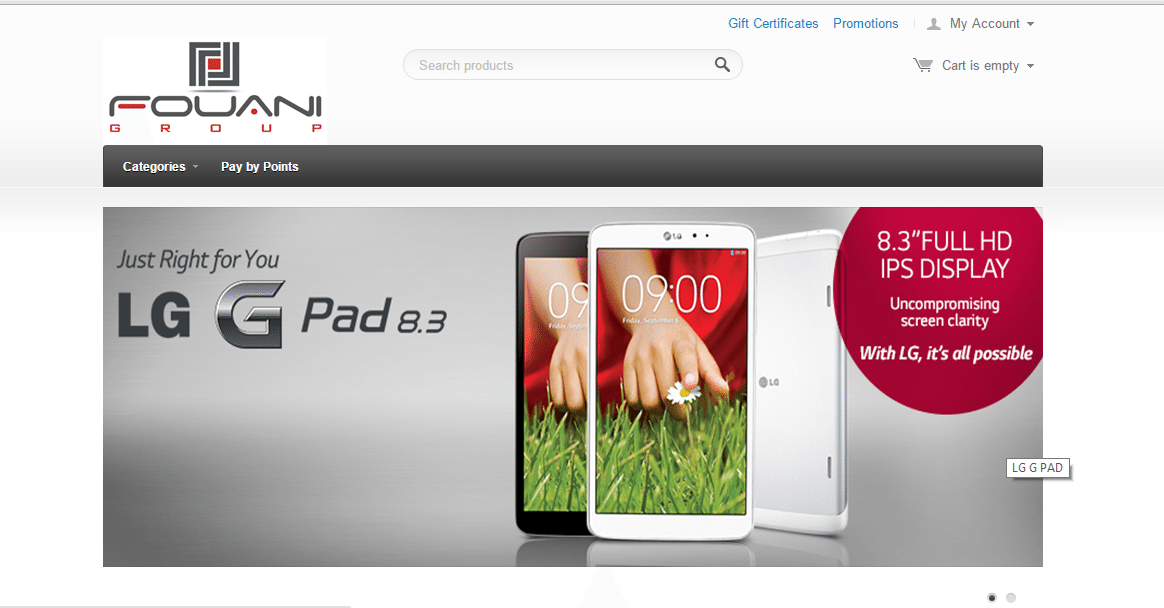 Fouani Nigeria Ltd is one of the major distributors of LG products in Nigeria. They started the online shop in 2011 and since then have been working hard to carve a niche for themselves to become a household name in Nigeria.
They do not have a problem delivering their products to different parts of the country as they have numerous showrooms across Nigeria.
Aside from selling their products, Fouani.com displays Google paid ads on the "product details" pages of their website as a way to generate a little more income from the site.
14. Gloo.ng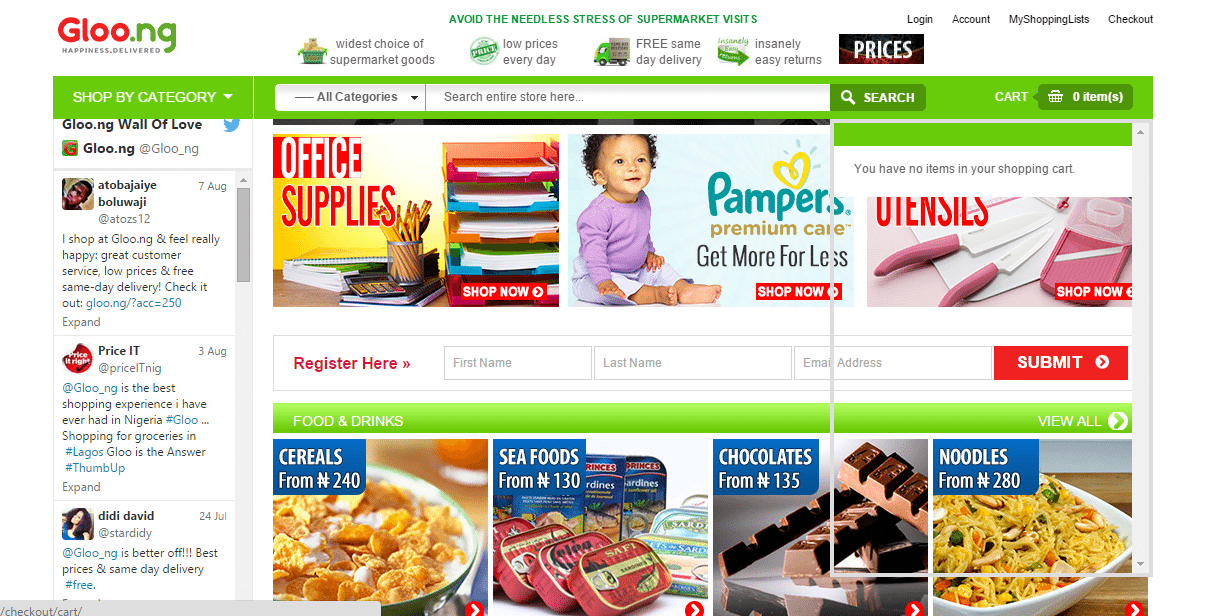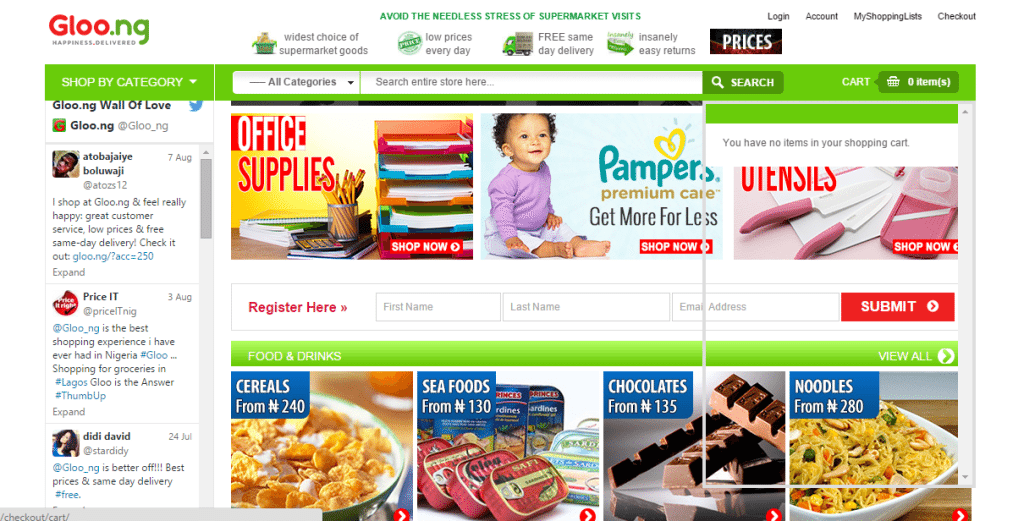 Gloo.ng specializes in selling household and supermarket items online, from frozen food, cereals, snacks, canned goods, dairy products, fresh foods, and beverages to home appliances, home decor items and beauty/ healthcare products. Gloo.ng provides the widest range of market goods online and offers a same-day delivery service.
13. Gidimall.com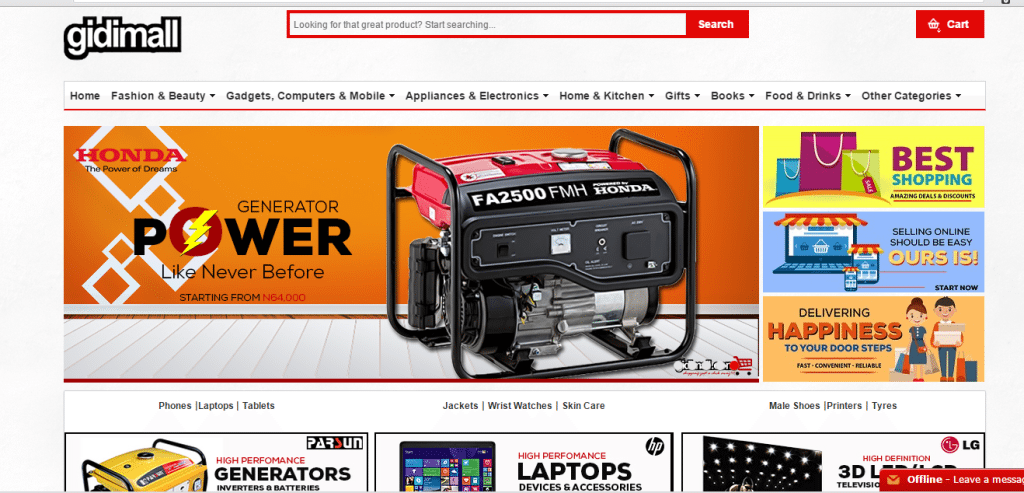 Gidimall was launched in 2012 and has been growing slowly but steadily. At Gidimall.com you can buy fashion products, electronics, phones, computers, food, and beverages. The website template is modern and professional, it is also easy to navigate. But some shoppers of the site commented that Gidimall's services are due for upgrading in order to meet the expectations of its customers.
12. Kara.com.ng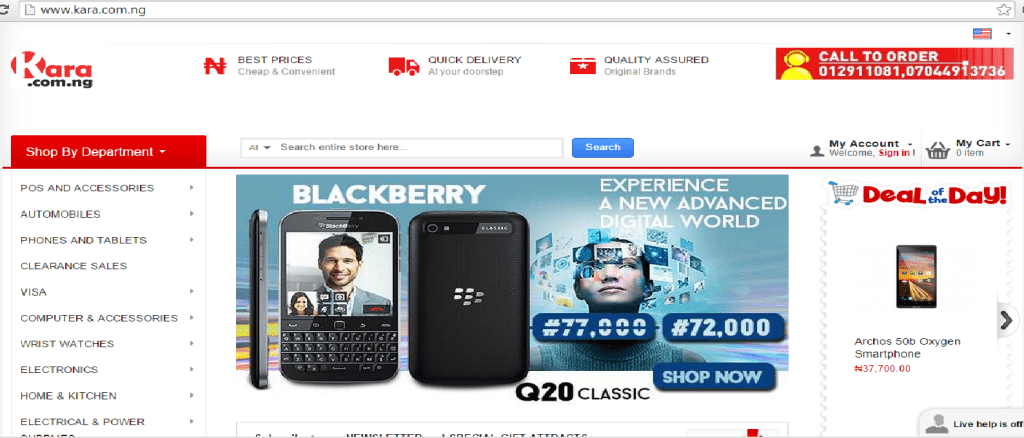 Kara.com.ng was created in 2012 and sells mainly automobile products, power/electrical products, phones and computer products. An online review of the shop suggested that Kara.com.ng is a good and affordable place to shop online.
Recently, Kara upgraded its website design to a more matured template, where everything is well placed and organized. They also stepped up the photography and graphic design content of the website.
11. Supermart.ng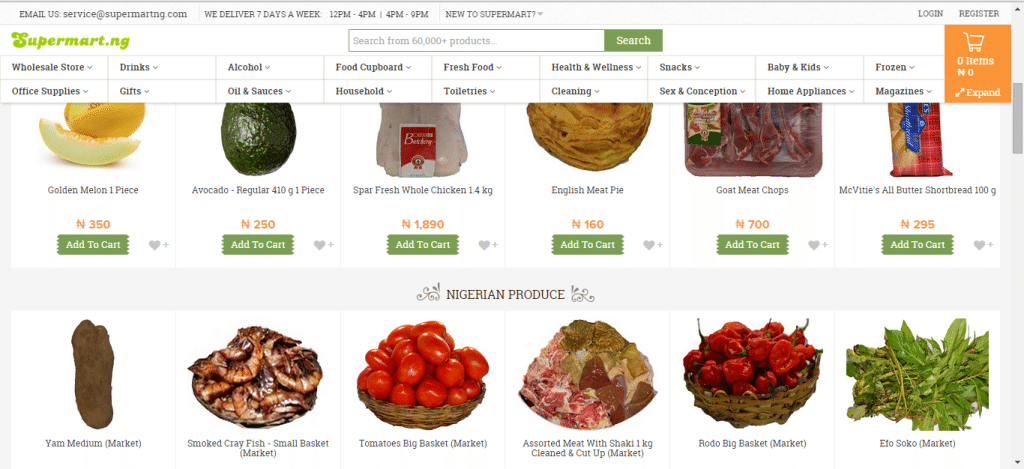 Selling groceries online is not really the safest business to do in Nigeria, but Supermart.ng has managed to convince Nigerians that buying meat and crayfish online is not a bad idea after all.
10. Yudala.com.ng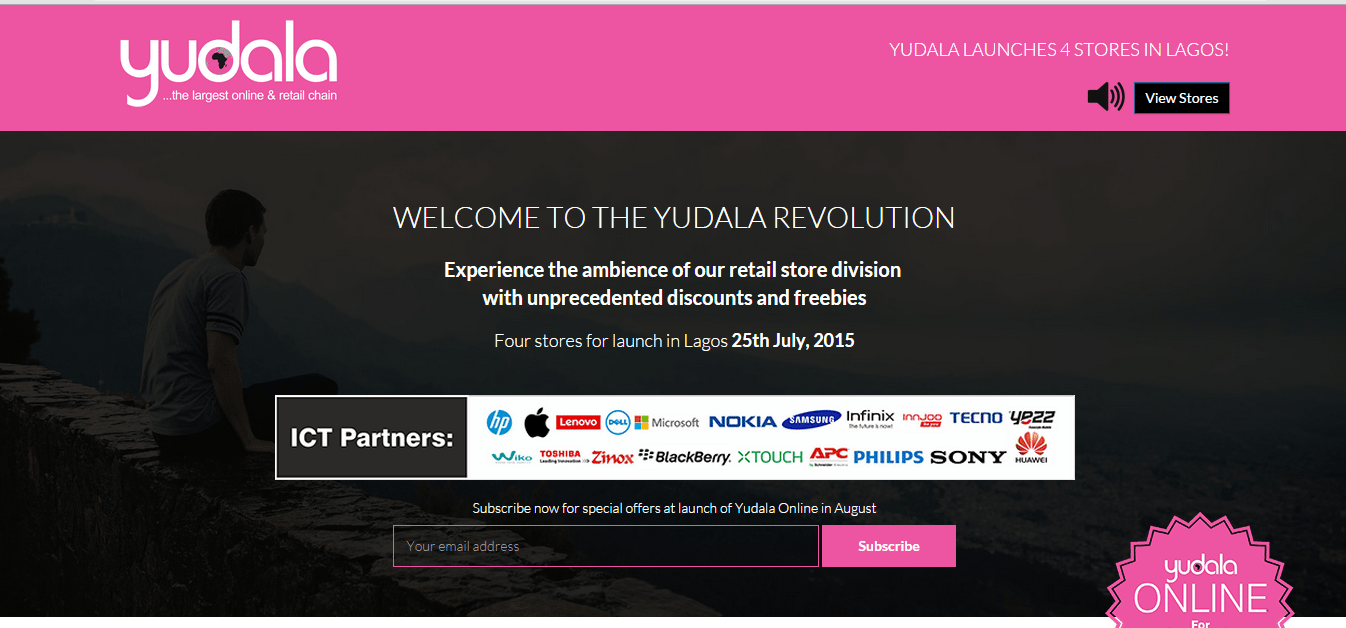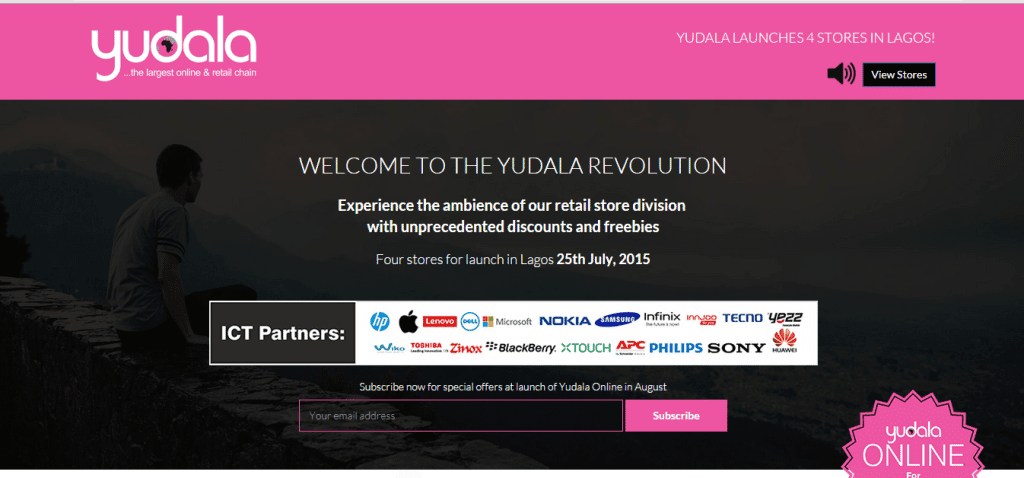 Yudala.com is the newest online store on this list. It started as a retail chain store with four branches across Lagos. Yudala has just launched its online shopping services in August 2015.
Read Also: 20 Successful Businesses You Can Do For Quick Profit In Nigeria
9. Jiji.ng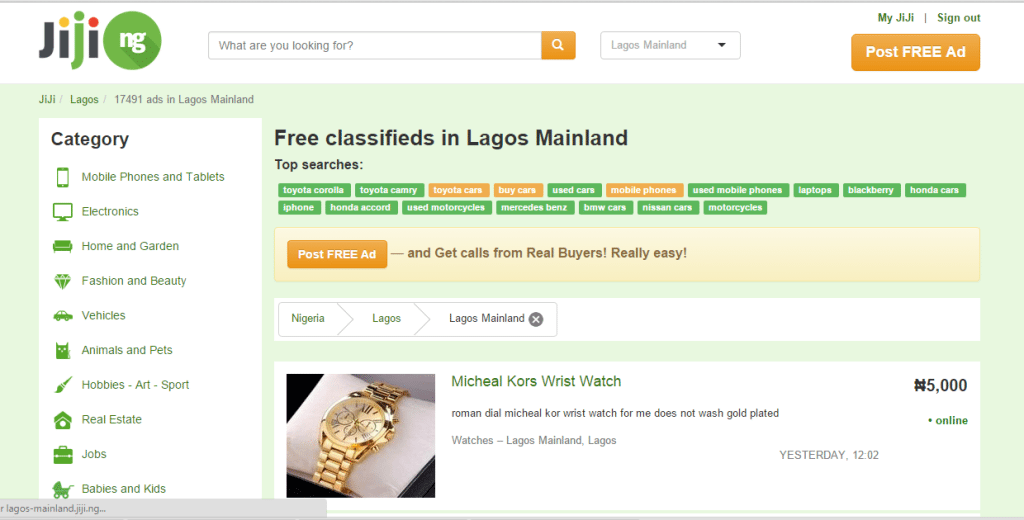 Jiji.ng is a fast-growing Nigerian free online market where buyers and sellers meet to transact. They provide a platform to sell and buy almost anything without hassle under a friendly and safe environment. As a seller, you can register with Jiji.com, post an advert of your product and get contacted by an interested buyer. As a buyer you can browse the various categories on the site for anything you want, contact the buyer and meet with them to finish the transaction.
8. Parktelonline.com
Parktel international limited has been a mobile phone distributor in Nigeria for over a decade with a shop located at Computer Village Ikeja Lagos. They began an online store two years ago and it specializes in the sales of mobile devices, computers and its accessories. Parktelonline offers free next day delivery to their customers in Lagos and Abuja, and they have an average of 11,000 daily visitors on the website.
7. Kaymu
Kaymu.com offers a wide variety of products for sale. They have their own products as well as products from other sellers who use the platform to trade. Just like Jiji.com, you can sign up at Kaymu as a buyer or a seller.
6. Dealdey.com

DealDey was launched in March 2011 and features a daily deal on the best things to do, see, eat, and buy in Nigeria. At DealDey, local businesses are supported and in return, they support consumers with good savings. According to the site administrators, they want to create a "Win-Win" scenario every day for local merchants who want to attract new customers, and for consumers who want to save money and take advantage of great services and activities in their own city.
Check This Out: Safest Cities To Live In Nigeria
5. Coliseum/Taafoo.com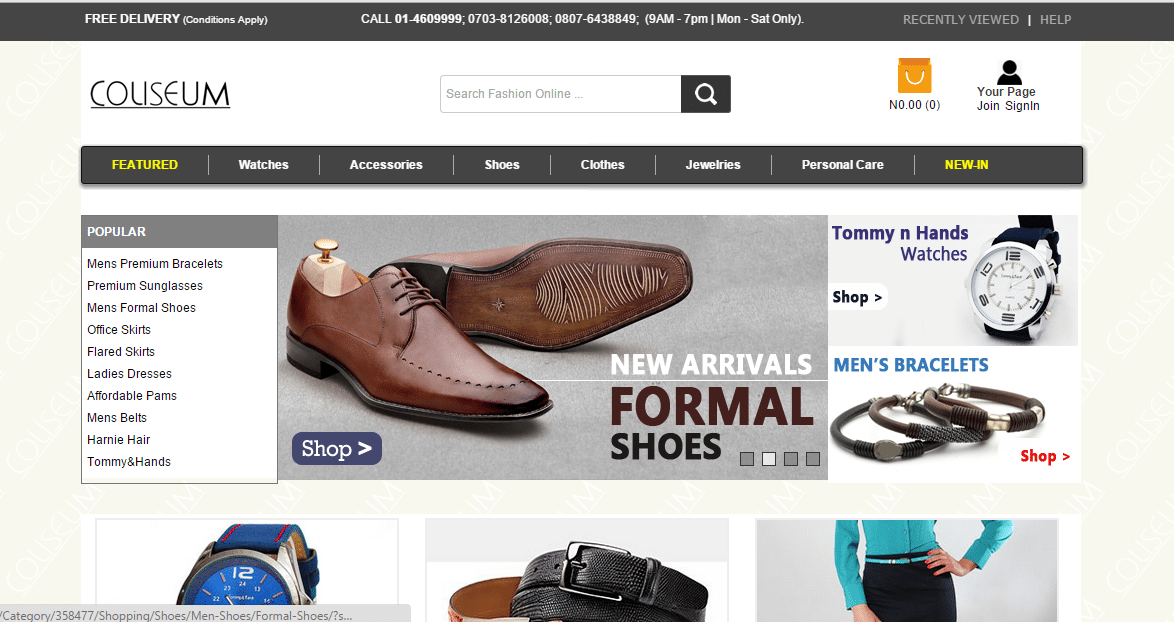 It started as Taafoo.com but migrated to Coliseum. For customers who are not aware of this movement, they need not worry because the taafoo.com URL leads the site visitor to coliseum.com. This online shop started as an online social messaging platform for Nigerian celebrities in 2009 before they ventured into sales of fashion products. Taafoo offers free delivery services within Lagos to customers with a minimum purchase of N5,000, they also operate an offline fashion mall in Oregun, Ikeja, Lagos.
4. OLX.com.ng

Olx.com was once advertised almost every minute on DSTV. It gained a lot of popularity due to that advertising strategy and is now one of the most used websites for people who want to buy or sell anything within the country. It has similar features with jiji.com, and Kaymu.com, although OLX is more preferred by most Nigerians because of its simple and user-friendly website.
3. Slot.ng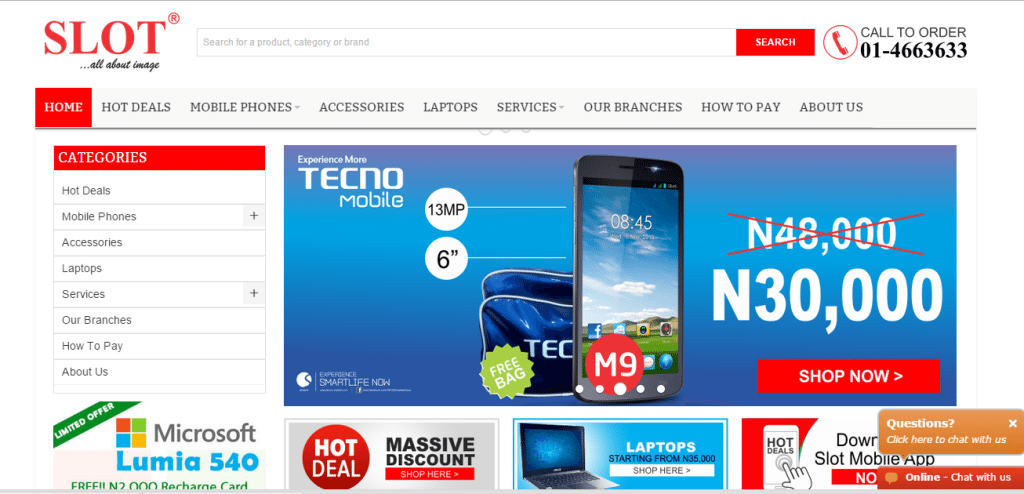 Slot is the biggest offline phones, computer and gadget retailer in the country today and they are the top 3 online retailers in Nigeria. They are the most reliable when it comes to getting gadgets online.
They have offline shops in various major cities in the country and that makes it easier for customers to get their products faster than they would have received from other online shops. Delivery is free for customers in Lagos and Abuja, and they also offer credit facilities to customers with the help of their partnership scheme with Diamond Bank and First Bank.
2. Konga.com

Konga is said to be the 8th most visited website in Nigeria beating popular news websites like vanguard, punch and lindaikeji.blogspot.com. Konga's growth in the eCommerce industry in Nigeria is quite amazing being the only Nigerian owned online store that has been able to come that close to Jumia which is partly run internationally.
With Konga, you don't need to join any queue at Shoprite or Games to buy anything as Konga has it all and at a lower price. Konga operates on a pay on the delivery system, either with cash or with the use of debit card. You can also make use of KongaPay as a more convenient and secure payment method to shop. This website also offers an amazing discount on a seasonal basis and if you are lucky to visit them at such time you might get a product at half the original price.
Read Also: Top 10 Designers Of Nigerian Clothing
1. Jumia.com.ng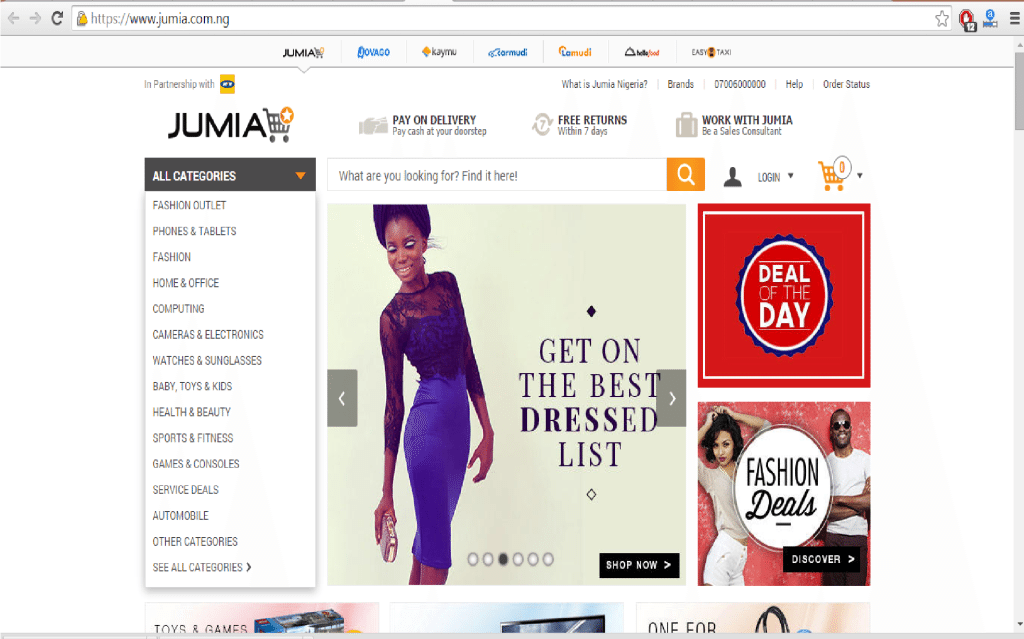 Almost everybody knows how to sing Jumia advert song because of its viral advertising campaign. Jumia is reported to have secured about ₦8 billion in funding since its launch in 2012. According to Jumia, orders placed on their site in 2014 alone, when stacked on top of each other, will be 220 times the height of the tallest building in the world (Burj Khalifa).
This shows that they make massive sales on the site. Jumia is the most reputable online website in Nigeria, and for those people who are still being sceptical about patronising online shopping stores in Nigeria, trust Jumia not to fail you.
Philips consulting's survey's statistics have it that 15% of all Nigeria's online shoppers prefer DealDey, 25% prefer Konga and 38% prefer Jumia. Jumia attracts 377,000 visitors daily. On its Facebook page, it has over a million likes and 44,000 followers on Twitter. Just like other Nigerian online stores, Jumia sometimes experiences slow delivery and integrity issue as regards displaying out-of-stock items, nevertheless, you can never be wrong patronising online shopping stores in Nigeria like Jumia which leads the rest.