Toke Makinwa's net worth is estimated at $2 million. Alongside her on-air career, which undoubtedly stands as her major source of income, Toke is a serial businesswoman, and her chain of businesses indeed earns her the good life.
A total definition of class and brain, Toke Makinwa is one of Nigeria's most popular media personalities. She is a radio personality, TV host, author, actress, vlogger, brand influencer, lifestyle entrepreneur, and social media star. Her flourishing career in the media and business world has earned her massive recognition and a fortune.
Toke Makinwa's Net Worth is Estimated At $2 million
It will be safe to say that with Toke Makinwa's impressive net worth, the media star has made a fortune for herself. Toke, who started her media career in 2010, has remained very active and relevant in the field and diversified into other areas of endeavors. Here are all the sources through which she made her wealth.
Toke Makinwa's Biggest Source of Income Comes From the Media
Thanks to her successful on-air career, it is arguable that the bulk of Toke Makinwa's net worth came from the media world. After graduating with a degree in English and literature, Toke Makinwa began her career as a radio and TV host in 2010. She started by co-hosting The Morning Drive show on 93.7FM. She has featured as a host and co-host in numerous TV and talk shows, reality shows, beauty pageants, awards events, etc.
Having a strong passion for her career, Toke launched a late-night talk show dubbed Rhythms of the Night. She has remained active in the industry for over a decade, raking in much fortune. Also, she has a Youtube Vlog series, Toke Moments which she premiered in 2012.
With the series, Toke has won the hearts of Nigerians as she talks about everything ranging from relationships, motivation, health, and other random talks that benefit society. Since its debut, the series has recorded more than 80,000 viewers, wherein guests are invited to discuss any topic of their choice. The Youtube Vlog keeps her fans on what she is up to at a time.
Endorsement Contracts Bolstered Toke Makinwa's Net Worth
Even though her major source of income comes from her on-air career, Toke Makinwa's net worth was unarguably obtainable due to the endorsement contracts she continually signs. Given her consistent successes, Toke has gained jaw-dropping recognition from various notable brands both within and outside the shores of the country.
She became an ambassador of the United Africa Company of Nigeria in 2013. In 2014, she signed a multi-million naira contract with Nestlé Nigeria to become the face of Maggi. In 2016, she bagged a deal as the brand ambassador of Mecran Cosmetics. She is also the brand ambassador of Payporte and Ciroc.
Further, she has a contract with a mobile telecommunication company, Oppo, in 2019. Her most recent endorsement contract was the one she signed in 2021 with Showmax Naija as the host for BBN season 6.
She Has 3 Major Businesses Running
Toke Makinwa has since expanded her horizon into the business world. In 2021, New York Finance named her one of the Top Entrepreneurs to Follow, alongside other global entrepreneurs like Grant Cardone, Hannah Roper, Tai Lopez, and six others.
In describing the popular young businesswoman, the New York Finance wrote: "…Toke does so much because she didn't want to be just another media personality; she wanted to do more for herself and others. This year, she is focusing on her businesses even more hoping to expand them throughout the rest of this year as well as working on pan-African collaborations." Her efforts in the media space have done her handsomely in terms of money.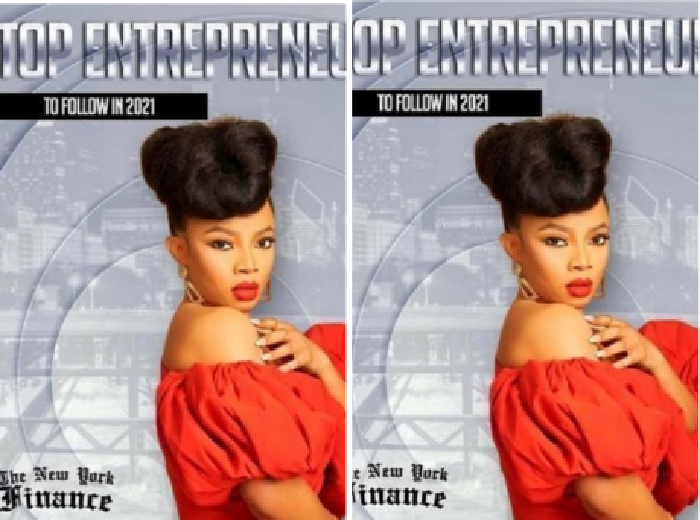 Here are her other known businesses that admirably rounded up her fortune to the tune of $2 million.
Handbag Line
The TV personality launched a handbag line in 2017 under her eponymous name Toke Makinwa Luxury (TM Luxury). The specially designed bags come in different colors and sizes and are made from original crocodile hides. A Toke Makinwa bag reportedly sells for the price of ₦55,000, and they are made to serve its clients' different purposes.
Skincare Product
The chic OAP owns a line of luxury skincare products dubbed Glow by TM. She partnered with Buluwa Inc, a beauty developer based in the US, to launch the skin-lightening product in 2018. The partnership deal was worth about $2 million. Glow by TM is made for ladies, suits all skin types, and gives perfect skin results without side effects.
A lifestyle Beauty Brand
Toke is simply an established businesswoman. She owns a beauty line, Toke Makinwa Beauty Brand. The beauty brand deals in mascara, different lip gloss colors, faux mix eyelashes, eyeliner, and makeup accessories.
Toke Has a Career in Acting
Toke Makinwa has proven to be an all-around personality in the entertainment industry. She has featured in some Nigerian high-rated movies such as Sugar Rush, Love is War Blood Sisters, Glamour Girls, Omo Ghetto: The Saga, The Smart Money Woman, Therapy, and others. She made her debut in the film industry in 2019 with the movie Makate Must Sell.
Toke Makinwa is also an Author
The radio queen is the author of On Becoming, a book that exposed everything she passed through at her different stages of life, starting from childhood to when she met her ex-husband Maje. Her marriage chronicles with him and what led to their divorce.
The book, which was released in November 2016, was rated the best-selling book of the year and attracted millions of buyers. It sold out on amazon in the first week of its release and got one million+ readers and 4.7 ratings.
Recap of Toke Makinwa's Net Worth Sources
Media; radio and TV host
Vlog, YouTube
Toke Makinwa Luxury (TM Luxury)
Glow by TM
Endorsement contracts
Writing
Acting
Toke Makinwa Beauty Brand
Where is Toke Makinwa's House Located?
Toke Makinwa has invested a good part of her wealth in acquiring houses in her choice locations in the country. Though she could have a number of them, the one that is well known to the public is her Ikoyi mansion. The property is located on the Ikoyi axis of Lagos Island. Toke often shares pictures of herself chilling in her beautiful crib.
Sometime in 2020, rumors made rounds that the property was gifted to her by a billionaire businessman, Chief Festus Fadeyi. But Toke wasted no time refuting such claims and clearly stated that the property was fully registered in her name, and she paid for it by herself.
Meanwhile, in July 2020, the rumor mill came up with the news that Toke bought a house in Banana Island, Lagos. But from verifications, the media mogul does not own any property in the highbrow area and has never lived there. She also publicly debunked the claims by herself.
Toke Makinwa's Cars
The very conversant car Toke is mostly seen with is a Range Rover Sport which is said to be worth between ₦23.5 million to ₦40.1 million. The media star announced the car's arrival in June 2017 via her Instagram page. This is her favorite car as she is mainly seen around with it.
Another expensive luxury car found in Toke Makinwa's garage is a Bentley Continental GT. Some of its unique features include a pre-programmed sequence of exterior lighting, a high test of quality and luxury, lighting strips, etc.
In addition, Toke has been spotted beside a hot Lamborghini supercar. Even though we do not know exactly if she owns it or not, it will not be a surprise that she does as her net worth can comfortably afford it.