Tiwa Savage's net worth is $9 million, earning her a spot as one of the richest female musicians in Nigeria. With her huge net worth, the Queen of Afrobeats has been able to splash herself with enough luxury, which is evident in her mansion and opulent rides.
Tiwa Savage is one of the Nigerian musicians that has used her music to keep the positive vibes of people going. The Queen of Afrobeats began singing in 1996, but she rose to prominence in 2012 after signing with Mavin Records and appearing on their compilation album Solar Plexus.
She has carved a niche for herself in the entertainment industry and released songs in Pidgin, English, and Yoruba. Apart from her massive income from music, she has also earned from her numerous brand endorsement deals and businesses.
How Tiwa Savage's Net Worth Was Accrued
Tiwa Savage started her journey into music at the age of 11 after moving to London with her parents to continue her education. During her secondary school days, she played the trombone for the school's orchestra and also took part in voicing. Having developed herself in her secondary school days, she started working as a backup singer for many legendary artists before her big step into music.
The Bulk of Tiwa Savage's Net Worth Came Through Music
After Tiwa Savage developed herself in her secondary school days, she moved on to bag her first step into professional music. After secondary school, she went to Barklee College of Music to perfect her skills. Tiwa Savage started as a backup singer for the late British singer George Michael.
The Queen of Afrobeats moved on to lend her voice to other musicians like Chaka Khan, Emma Bunton, Ms. Dynamite, Kelly Clarkson, Andrea Bocelli, and Mary J. Blige. She worked with several other musicians before moving back to Nigeria to kick off her solo career. Tiwa joined the Mavins record in 2012, marking the rise of her fame in the music industry.
She Has A Special Style Of Music
Since Tiwa Savage started her solo music career, she has embraced a special style of music and sings in English, Pidgin, and Yoruba. Despite her eclectic musical tastes, she continues to pique the interest of fans in Nigeria and worldwide. She usually sends strong love messages to her fans through her music.
The Queen of Afrobeats also sings in various genres like R&B, Afrobeats, hip hop, pop, and soul. She is seen to have attained much success and fame with her special style of music.
Tiwa Savage Rose To The Limelight After Joining Mavin Records In 2012
After Tiwa Savage's stint with Sony/ATV music publishing, she moved back to Nigeria to start her solo career. Though she was successful in her songwriting career, she still wanted to make a name for herself on her own. After she followed the trend of Afrobeats in Nigeria and saw how successful it was, she moved back to Nigeria in 2010.
On her return, she released her first debut single, Kele Kele Love, in November 2010, which turned out to be a chart-topper and was well received by Nigerians and Africans. Her debut single became a huge success and earned her awards and nominations. Seeing the success of her first single, she released the second single, Love Me (3x).
The success of the second single earned her more awards and nominations. After the release of the two singles, Tiwa Savage became a hot deal as many record labels were out to sign her. In 2012, she struck a deal with Don Jazzy under the Mavin Record Label.
The deal came in handy as the record label was on its new journey to growth after separating from its defunct Mohits Records. Together with many other artists like Korede Bello, Reekado Banks, Di'ja, D'Prince, Dr. Sid, Iyanya, Wande Coal, and Tiwa Savage, they launched the label into success.
In 2013, she launched her debut album, Once Upon a Time, under the record label. The album consists of seven singles: Kele Kele Love, Love Me (3x), Without My Heart, Ife Wa Gbona, Folarin, Olorun Mi, and Eminado. The album became a success and earned her various awards.
The Queen of Afrobeats Has Three Albums and Two EPs
Tiwa Savage has released three albums, including her first album, Once Upon a Time, and two EPs since her big step into music. On December 19, 2015, the singer released her second album, R.E.D, which stands for Romance, Expression, and Dance. It included two singles, My Darling and Standing Ovation.
The album was produced by Don Jazzy and featured artistes like Reekado Banks, 2Baba, Dr. Sid, Olamide, D'Prince, Iceberg Slim, and Busy Signal. On December 21, 2015, R.E.D was made available for free streaming on MTN Music and was promoted through i-am-red.com. Tiwa Savage released her debut EP titled Sugarcane on September 22, 2017.
With the release of the EP, which featured guest artists like Wizkid, Maleek Berry, Spellz, P2J, and Baby Fresh. The EP became an instant hit and gained recognition. The Queen of Afrobeats released her third album, Cilia, on August 27, 2020. Cilia, which portrayed Tiwa's artistic mastery, featured artists like Stefflon Don, Naira Marley, Dice Ailes, Davido, Hamzaa, Davido, and Sam Smith.
It has four singles: Koroba, Temptation, Attention, and Dangerous Love. On August 16, 2021, Tiwa Savage announced the release of her second EP, Water and Garri, unveiling the album's cover and tracklists. On August 20, 2020, the Ep was officially released. The EP, centered on passing love messages, contains genres like pop, R&B, Afrobeats, and soul.
Many top artists were featured, including Amaerae, Brandy, Rich King, and Tay War. The EP also contains five hit tracks, which were all well received by fans and have received positive reviews from critics.
Collaborations
Apart from Tiwa Savage's albums and EPs, she has also collaborated with many artists in releasing single hit songs. Below are the songs that she has released in collaboration with other artists:
Lova Lova (Duncan Mighty)
Eminado (Don Jazzy)
Beremole (Adey)
Oyi remix Flavour
God sent (Jaywon)
Ordinary Love (Sarkodie)
Girlie O (Patoranking)
Me and You (Emtee)
BBC (Blaqbonez)
Other Sources of Tiwa Savage's Net Worth
Tiwa Savage's Music Publishing Deals
After Tiwa Savage started as a backup singer in America and developed herself, she got the chance to sign a deal with Sony/ATV music publishing in 2009. While with the record label, she wrote songs for various artists and collaborated with some of them. Some artists she wrote songs for include Kat Deluna, Mya, Monica, Fantasia, Jackio, and Baby Face.
She collaborated with Fantasia to release the song Collard Greens and Cornbreads, which earned the American singer a Grammy nomination in 2010. In 2011, she performed as a background vocals for the American singer Whitney Huston on the album I Look To You.
In June 2016, Tiwa Savage struck a management and publishing deal with an entertainment agency founded by Jay-Z called Roc Nation. She became the first Nigerian to be signed up with the agency.
Music Concerts and Tours
With a booming music career, the Queen of Afrobeats has successfully hosted shows within and outside Nigeria. Tiwa Savage's net worth has also received a meteoric rise through her various live performances. She performed on the Liberty Stage at Jay-Z's Made in America Festival.
In 2014, she performed live at the MTV Africa Music Awards alongside other Nigerian artists like Professor, Uhuru, Flavour, Davido, Mafikizolo, Oskido, and Miguel. In August 2018, she hosted a concert at the O2's Indigo Venue. The concert featured artists like Awilo Logomba, Dr. Sid, Mystro, and many more.
She performed at the Global Citizen Festival: Mandela 100 at the FNB Stadium in Johannesburg in 2018. In 2019, she performed alongside other artists at the 2019 Wireless Festival. Tiwa proved her prowess in music at the Rick Ross Live in Concert in April 2022. She has hosted many successful concerts in Nigeria, America, London, France, and other countries.
Streaming Channels
Tiwa Savage's net worth has increased significantly from her streaming channel earnings. She promotes her music on the channel and has about 1.1 million subscribers and over 100 million views. The earnings on YouTube are estimated between $1 to $20 per 1000 views, and the Queen of Afrobeats earns massively from the platform.
Acting Gig
Apart from having great musical talent, the singer is also talented in acting. Though she has not appeared in numerous movies, she has made quite a hit in the few that she has appeared in. She was featured alongside Joke Silva and Ireti Doyle in her debut acting gig, Colored Girls, in 2011. Tiwa Savage was featured in the MTV series Shuga in a supporting role.
From 2013 to 2014, she starred as Sade Banjo, an overprotective adoptive mother of a son who is HIV positive. In 2016, she made a cameo appearance in the comedy series Jenifa's Diary as herself. With her success in the previous acting gigs, Tiwa is sure to bag acting deals in the future.
Brand Endorsement Deals
Tiwa Savage's net worth has also received a meteoric rise through her brand endorsement deals. Having made a name in the music industry, the music icon has successfully bagged endorsement deals with top companies. Her Instagram account was estimated to be worth about $61,000 per post for any adverts, and she has a handful of them.
Tiwa Savage signed a N30 million endorsement deal with MTN in 2013. She is a brand ambassador for Pepsi alongside other superstars like Davido and Wizkid. In 2018, she struck an endorsement deal with the hair product company Profectiv Mega Growth. The singer became the first female to bag an ambassadorial deal with Star Lager's fruit alcohol, Star Radler.
Tiwa, alongside her son, bagged an endorsement deal with one of Nigeria's beverage companies, Promasidor, for their product Twisco chocolate drink. She is also the brand ambassador of Maggi and Forte Oil. The Queen of Afrobeats was once the brand ambassador of Glo, Cadbury, and Pampers. In 2022, she signed a lucrative deal with one of the leading phone brands in Nigeria, Tecno.
A Rundown Of Tiwa Savage's Endorsements
MTN
Pepsi
Profective Mega Growth
Star Radler
Twisco chocolate drink
Maggi
Forte Oil
Glo
Cadbury
Pampers
Tecno
Others
With music being Tiwa Savage's major source of income, she earns well from hosting concerts, shows, and sales of albums. The amount that the singer charges per show is unknown, but musicians of her level are known to bag millions for shows.
She co-hosted the second edition of Nigerian Idol together with 111Rymz in 2011. Though the exact amount Tiwa earns from all her sources of income is unknown, she undoubtedly makes a lot from all her endeavors.
Highlights of The Sources of Tiwa Savage's Net Worth
Music
Music concerts and tours
Acting
Streaming Channels
Endorsement deals
A Glance At Tiwa Savage's House and Cars
With a whopping net worth of $9 million, Tiwa Savage has been able to afford the luxury lifestyle she is living today. Below are all that the singer spends her money on
Tiwa Savage's Mansion is Posh
Tiwa Savage is among the celebrities that hardly flaunt their wealth on social media. This makes it impossible to record how many houses she has. Though reports have it that she has houses in Nigeria and abroad, it has not been confirmed. The only house known to be owned by the Queen of Afrobeats is the luxury mansion in Lagos.
Tiwa acquired the mansion in 2018 for N75 million. The mansion is located in the highbrow part of Lagos, Heaven Homes Richmond Gate Estate, Lekki, Lagos State. The magnificent edifice has luxury interiors and other outstanding features.
The Musician Drives Exotic Cars
Tiwa Savage has a good taste for exquisite cars. She has a good number of flashy automobiles in her garage.
Mecerdes Benz V-Class
This vehicle was specially designed for the singer at N60 million. It was created to provide luxury, comfort, and space and is ideal for family use. She took to her Instagram handle to announce the car's arrival and how much it cost. The exquisite features of the car include:
LED lights and integrated dual motif daytime running lamp
Stylish alloy wheels
Power steering
Anti-lock braking system
2.2 Litre four-cylinder diesel engine
380 Nm of peak torque
7G Tronic automatic gearbox
161 bh
Sophisticated safety tech and many more
Rolls Royce Phantom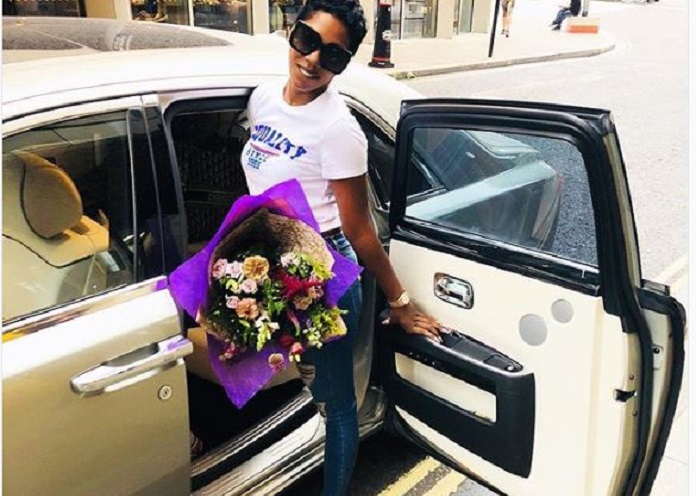 The Rolls Royce Phantom is one of the singer's luxury cars purchased for $450,000 in 2013. She used the hashtag #dreamcomestrue to announce the arrival of the car. The exotic whip has luxurious features such as an alert assistant, laser headlights, WiFi hotspot, adaptive cruise control, and many more.
Bently Bentayga
Tiwa Savage doesn't look back when it comes to acquiring opulent rides. She attended Wizkid's show at the O2 Arena with the ride. The electrified car was purchased for $160,000 and was one of her expensive rides. It includes revs from 0 to 60mph in 3.8 seconds, a top speed of 190 miles per hour, and luxury interiors.