Anita Joseph Olagunju (born 4th January 1985, Age: 38) is an actress, television and social media personality, dancer, model, movie producer, and philanthropist widely recognized for her voluptuous figure, skillful acting, and enterprising nature.
Although her net worth has not yet been verified, she is said to be one of the richest Nigerian-based entertainers for many good reasons.
Profile Summary and Biography of Anita Joseph
Full name: Anita Joseph
Date of birth: 4th January 1985
Age: 38 years old
Place of birth: Anambra state, Nigeria
Occupation: Actress, dancer, singer, model, media personality
Net worth: $450,000
Relationship status: Married
Spouse: Michael Fisayo Olagunju (MC Fish)
Children: Two (Miracle and Chizaram Isabella Carter Joseph)
Anita was born and bred in Anambra, South Eastern Nigeria
The popular actress is an indigene of Anambra State in the South-East of Nigeria. Her birth, the early years of her life, including her primary and secondary education, were all in Anambra State until she moved to Calabar in Crossriver State (South-South) to pursue a University degree. Upon completing her studies, she earned a Bachelor of Arts (B.A.) degree in Mass Communication.
Thereafter, the would-be actress relocated to Lagos to erk out a living. Currently, the only known member of Anita Joseph's birth family is an elder sister named Sandra Nnah, with whom she shares a close relationship, and by extension a nephew, Allen Nnah, who is Sandra's son.
Entrance to Nollywood and Rise to Fame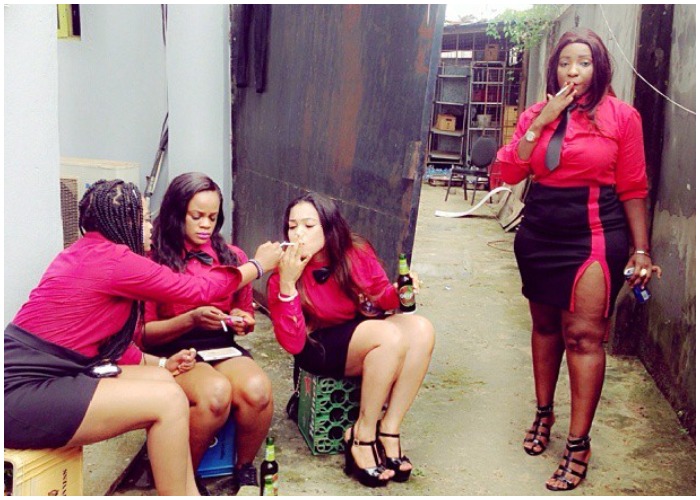 Anita Joseph officially started her acting career in 2005, but her role in the movie Tears in My Heart, produced in 2006, shot her to fame in the Nollywood circle. Since that time, she has been cast in several Nigerian movies, some of which are:
Open and Close
Tears in My Heart 1 & 2
Wife on the Loose
Instagram Hustlers
Bobrisky in Love
Five Sisters
Unfaithful Wife
Real Fake Babes
Wife Vs. Inlaw
Crazy Sisters
Unapologetic
Lover Girls
Battle
Ifenkili
Laurie
Anita was 20 years old when she began acting professionally. Her over a decade and a half acting career trajectory have seen her rise to stardom as one of Nollywood's finest and most resourceful actresses. She is extremely talented and is famed for her uncanny ability to morph into diverse characters as required and expertly deliver given roles. Anita has once received an Africa Magic Viewers Choice Award as Actress of The Year.
What else does She do Apart from Acting?
Like many actors and actresses in the Nigerian entertainment industry and indeed celebrities in the country and worldwide, Anita has diversified her income sources by investing in businesses and leveraging her good public image to promote brands (their products and services) who can foot her bill.
She is a Businesswoman
Aside from her burgeoning acting career, Anita Joseph is the Chief Executive Officer (CEO) of Hourglass Fashion World, a retail store for waist trainers, gym belts, butt lifters, and other figure enhancement accessories. The brand is familiar to many high-class women who want to get a finely curved waist. And looking at the actress who is everything curvy you would desire in a woman, she readily uses herself to advertise the efficacy of her merchandise.
Anita is a Brand Promoter and Ambassador
She is currently an influencer for several fashion and beauty brands, including Glee Skincare, Bodybyenniie, Cupid8 Empire, Rhiks Hair, etc. She readily promotes all these brands on her social media profiles to her teeming fans, who hardly cease to comment on the posts.
Anita is Married to MC Fish and is a Mother of Two
Anita Joseph is married to the 30-year-old hype man, comedian, and Master of Ceremonies Michael Fisayo Olagunju, professionally known as MC Fish. They held their English-style wedding on the 14th of February, 2020. The actress took to her Instagram page the same day to express love for her groom and excitement at the prospect of spending forever with him. 
However, before her marriage with the celebrated MC, Anita Joseph had a daughter named Chizaram Isabella Carter Joseph. She gave birth to her in December 2015, but the paternity of the child is currently unknown. Aside from her daughter, which there are pictures on the internet to ascertain that she does exist, Anita is also said to have a son named Michael, which speculation is yet to be denied or confirmed by her. The boy is about 12 years old, as he is believed to have been born in 2011.
Though now married, several speculations and controversies have surrounded Anita's love life in the past. For instance, she is said to have been in a customary marriage with a certain businessman based in Abia State. The man's name and his other personal information are undisclosed to date. The marriage reportedly lasted for about three years and ended childlessly. 
Anita Joseph's Popularity and Social Media Presence
Anita has a large following on Instagram, currently numbering just over two million, which explains the heavy patronage she receives as a brand ambassador. She is fondly called "Mother Hen" among her fans for her love and support for Nigerian crossdresser Bobrisky. She has publicly defended him on social media against critics, even once threatening to block any of her followers who dare to speak against him.
Anita is also friends with 2019 ex-BBNaija housemate Alex (Asogwa Alexandra A) and also 2020 ex-BBNaija housemate Laycon (Olamilekan Moshood Agbeleshe), who she supported massively in the last season of the popular Nigerian reality TV show.
She has been labeled controversial among fans and critics due to her speculated history with men. Her racy Instagram pictures, videos, and comments about her relationship with her husband, MC Fish, have also given people a lot to talk about. Once, she made a post expressing regrets about her six body ink marks, saying that she was not aware that tattooing was sinful when she was inscribing them.
This, too, caused a bit of a stir among her fans. Despite all of these, Anita Joseph continues to maintain a healthy and acceptable public image. She remains a screen favorite for many Nigerian movie enthusiasts.