A line in the Nigerian national anthem says "the labour of our heroes past shall never be in vain." This can only be achieved if these Nigerian heroes do not go into extinction in the hearts of Nigerians who sing/sang the anthem every morning at the assembly ground, government functions or similar occasions of national importance.
Nigeria has had a couple of patriotic citizens who made significant impacts in the development of the country, and it will only be fair if they are honored even in their absence. Below is a list of ten Nigerians whose name cannot be erased from the sand of Nigerian history.
Nigerian Heroes You Shouldn't Forget
1. Sir Ahmadu Bello
June 1910 – January 1966
Sir Ahmadu Bello, KBE was born in Rabbah Sokoto and is one of the most prominent early leaders in Nigeria. He was the Sardauna of Sokoto and a leader of the Northern People's Congress where he dominated Nigerian politics throughout the First Nigerian Republic. Sir Ahmadu Bello fought actively in the independent struggle of Nigeria, and on his return from a trip to Britain, he was nominated to represent the province of Sokoto in the regional House of Assembly.
He made sure his voice was well heard in the assembly and also consulted other representatives of the northern emirates to arrive at an agreed conclusion. KBE was assassinated on 15 January 1966 in a coup which toppled Nigeria's post-independence government. Although he is no more alive, his legacy lives on. His face graces the ₦200 note, and The Ahmadu Bello University of Zaria was named after him. Aside from that, Bello's greatest legacy was the modernization and unification of the diverse people of Northern Nigeria.
2. Dr Nnamdi Azikiwe
November 1904 – M

ay 1996
Chief Benjamin Nnamdi Azikiwe was one of the leading figures of modern Nigerian nationalism. He was the first president of Nigeria, from 1 October 1963 to 16 January 1966. He also served as the second and last Governor-General from 1960 to 1963. He attended Hope Waddell Training Institute, Calabar, and Methodist Boys High School Lagos before attending Howard University, Washington DC and Lincoln University, Pennsylvania.
Fondly referred to as Zik, Nnamdi promoted pro-African nationalist agenda while he worked as an editor for African Morning Post. He became the first Nigerian to be named to the privy council of the United stated.
Following the declaration of Nigeria as a republic, Dr Nnamdi fought relentlessly for an independent Nigeria. His unforgettable hard work has led to several places being named after him.
They include the Nnamdi Azikiwe International Airport Abuja, the Nnamdi Azikiwe Stadium in Enugu, the Nnamdi Azikiwe University in Awka, Anambra State, Nnamdi Azikiwe Press Centre, Dodan Barracks, Obalende, Ikoyi, Lagos and Azikiwe Avenue in Dar es Salaam, Tanzania. His legacy also lives on as long as Nigeria's ₦500 note exists – his portrait is on it.
3. Funmilayo Ransome Kuti
October 1900 – April 1978
Funmilayo Ransome-Kuti was a teacher, political campaigner, women's rights activist and traditional aristocrat. She was the mother of famous afro-beat artist, Femi Kuti and also the first woman in Nigeria to drive a car. Due to Ransome's political activism, she was described as the doyen of female rights in Nigeria, as well as "The Mother of Africa."
She was elected to the native house of Chiefs and served as an Oloye of the Yoruba people. Her activism rubbed off on her three sons and even in her old age, they had faced several oppositions from the Nigerian military juntas.
Fumilayo died from injuries sustained after she was thrown down from the third-floor window in the Kalakuta Republic. Her legacy is seen in her children and grandchildren as they still preach the word through their music. In 2012, there was a debate between the federal government and the Kuti family, as the family insisted that the federal government should apologize for the death of their mother before they think of immortalizing her on the proposed ₦5,000 note.
4. Chief Anthony Enahoro
July 1923 – December 2010
Chief Anthony Eromosele Enahoro was Nigeria's foremost anti-colonial and pro-democracy activists. At 21, he became the editor of Nnamdi Azikiwe's newspaper, Southern Nigerian Defender, making him the youngest editor in Nigeria. Enahoro was the first to move the motion for Nigeria's independence and was usually referred to as the "Father of the Nigerian State". He was an academician and fought for the good cause of the nation until his death in late 2010.
5. Kudirat Abiola
1951 – June 1996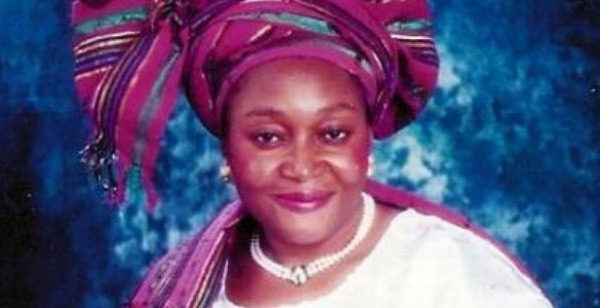 Kudirat was the wife of MKO Abiola and a first lady in the making who was ripped off before her time. At 21, she married Chief Moshood Abiola and they had seven children together. Kudirat adopted many social causes and was to become a prime supporter of the educational programs of the Ansar-Ur-Deen movement in Nigeria.
She was also a successful businesswoman who built a pharmaceutical company. She was an activist and was very much involved in the oil workers 12-week strike against the military.
The strike was the longest recorded in African history of oil workers and it really got to the government. She was also part of the march for freedom that took place in 1995 and she won the woman of the year award in the same year and the previous one.
Unfortunately, Kudirat was assassinated with a P 90 rifle by unknown men on Lagos-Ibadan Expressway. That event brought an end to her brilliant and bold life but she is still remembered often, especially whenever the Kudirat Abiola Way at Ojota/Oregun is mentioned or passed through.
6. Margaret Ekpo
1914 – 2006
Margaret Ekpo was a Nigerian women's rights activist and social mobilizer who was a pioneering female politician in the country's First Republic. She was born in Creek Town, Cross River State. She was married to a doctor, John Udo Ekpo, and they later moved to Aba where she played major roles as a grassroots and nationalist politician.
She earned a diploma in domestic science at the new Dublin Institute of Technology, Dublin Ireland. On her return to Nigeria, she established a Domestic Science and Sewing Institute in Aba. In 1954, she established the Aba Township Women Association and that led to an outnumbering of men voters by women voters in the city election that held the next year. The Calabar International Airport was named after Margaret Ekpo in 2001, sadly she died five years later.
7. Chief Obafemi Awolowo
March 1909 – May 1987
Chief Obafemi Jeremiah Oyeniyi Awolowo was a nationalist and a statesman who played a key role in Nigeria's independence movement. He is most notable as the outstanding first premier of the Western Region but was also a successful federal commissioner for finance and vice president of the Federal Executive Council in the Civil War.
Awolowo was the first Leader of Government Business and Minister of Local Government and Finance, and first Premier of the Western Region under Nigeria's parliamentary system, from 1952 to 1959.
Beginning from the eve of independence, Awolowo led the Action Group as the Leader of the Opposition in the federal parliament and although he didn't win the 1979 and 1983 presidential elections, he had the second-highest number of votes. He introduced free primary education and free health care in Nigeria and also built the Liberty Stadium in Ibadan.
Unlike most of his contemporaries that were assassinated, Awolowo died a noble death at his Ikenne home on 9 May 1987, at the age of 78. He is the man on round glasses that is seen on the ₦100 naira note.
8. Herbert Macaulay
November 1864 – May 1946
Olayinka Herbert Samuel Heelas Badmus is the grandson of Samuel Ajayi Crowther, the first African bishop of the Niger Territory who returned to Nigeria after being sold to slave merchants. Herbert was a nationalist, politician, engineer, architect, journalist, and musician and is considered by many Nigerians as the founder of Nigerian nationalism.
Macaulay was a strong opponent of British rule in Nigeria. In 1919, he argued successfully for the chiefs whose land had been taken by the British in front of the Privy Council in London and as a result, the colonial government was forced to pay compensation to the chiefs.
This made the British Council mad at Macaulay and jailed him twice. Macaulay became very popular and on 24 June 1923, when he founded the Nigerian National Democratic Party (NNDP), the first Nigerian political party. He later died in 1946 and was the face of the defunct ₦1 note.
Read Also: Nigerian Leaders: Meet The 36 Current Governors In Nigeria
9. Hajiya Gambo Sawaba
1933 – 2001
Hajiya Gambo Sawaba was a supporter of the Northern Elements Progressive Union during the First Republic. She was one of the early members of NEPU in Zaria, whose aim was to identify with the working class and poor and to support them.
Although Gambo had a hard time moving from one husband to the other she still tried to make a mark in her generation irrespective of being married four times to four different men. There had been incidences of domestic abuse in one of her marriages and that led her to start up a charitable organization that focused on women liberation.
10. Murtala Mohammed
November 1938 – February 1976
General Murtala Ramat Muhammed is one of the well known faces of Nigerian heroes. He was the Federal Military Head Of State in Nigeria for a year. He resumed office in 1975 and was assassinated the next year at the age of 37 in a coup led by Lt. Col Buka Suka Dimka. Today, his portrait adorns the front of ₦20 note and Murtala Muhammed International Airport in Lagos was named in his honour.