Biodun Okeowo (born on December 26th, 1979, in Fadeyi, Lagos State) is a curvy Nigerian Yoruba actress and film producer, popularly known by the nickname Omo Butty. She earned her nickname from a self-produced movie of the same name.
Asides from acting, Biodun is a successful businesswoman who owns and manages a cosmetic brand, Victoria Beauty. What's more, the actress has been making headlines following her alleged divorce from her husband, with whom she had two children. Since then, both fans and the general public have been keen on knowing what led to the end of the said marriage to her supposed ex-husband. Read on to get the full details.
The Exact Year Biodun Okeowo was Born is Unknown
The only certain thing is that actress Biodun celebrates her birthday every 26th December, but the actual year of her birth is unknown. Many media sites believe that she was born in 1971, some in 1979, while others say it is 1983. However, the actress has come out to debunk the claims on her age in an interview she granted with Broadway TV in 2019. In the interview, Biodun made it clear that she is not even up to 40 years, but she is in her late 30s, saying that she doesn't know how people came about her age to be 47 and even above. However, she did not reveal her exact birth year.
Biodun Okeowo is a trained journalist who studied Communication Arts at Lagos State University but has a passion for acting. She graduated from the university and started searching for a job but couldn't get any. At this point, she decided to try out the entertainment industry by approaching a contact she met during her Industrial training. Through him, she was able to join Nollywood, though it was not easy at the beginning. Today, Biodun has grown to be one of the most loved and successful actresses in Nollywood, precisely Yoruba movies.
She Started Acting Professionally in 2006
Biodun professionally started acting in 2006 after series of training and auditions. Though the actress said that the journey had not been a picnic, she has got many achievements to boast of since her emergence in the industry. She got her first role in the 2006 Yoruba movie, Eniyemi, but rose to prominence in 2007 with Tolani Osinrin. She has earned millions of fans due to her high creativity and skill in interpreting movie roles. Today, Biodun has produced and starred in many Nollywood movies, both English and Yoruba.
Some of her notable movies include:
Omo Butty
Alapo Aje
Star Boy
Èbúté
Okanjua
Boseyemi
Funmilayo Baby
Igbeyawo Arugbo
Biodun Okeowo Was Never Legally Married To Her Alleged Ex-Husband
Biodun Okeowo has, in an interview, put it straight that she is not married and has never been legally married before. In her own words, she said that the man who is the father of her two children could not be called her husband because he did not pay her bride price. Though actress Biodun did not reveal the name of her children's daddy, she said that she met him while she was an undergraduate. When asked why both of them did not end up later, she said she thinks the man was not ready at that time.
However, the actress said that she has a cordial relationship with him and expressed how he usually calls him so he can speak with his kids. Meanwhile, the rumor mill has a different version of the story. Some say that the man left her because of her romantic relationship with her fellow actor, Kunle Adegbite. Others have it that the actress was the one who left when he found out that he had married another woman. However, we do not have a cause to believe these claims as there is no evidence to back them up.
Through Their Relationship, the Actress Had Two Children
Biodun Okeowo made it clear that she had her two children out of wedlock and that both of them share the same father, who is the said husband of hers. According to her, she was so in love with the man that even after the first pregnancy, she still stuck with him against her parents' warnings and advice; this led to the birth of her second child.
She had her son named Ayomide on 14th March 2000, while her daughter, Ifeoluwa, came on 11th July 2001. The actress gave the whole credit of raising her children to her mother, who helped her hugely right from their infancy. Considering that she was still in the university at the time, her mother would tell her to go and concentrate on her studies and leave the kids for her. She did approximately everything for them until her death occurred in 2019. She expressed that she only wants the best for her children and would go out of her way to ensure they do not lack anything.
A Look at All The Men The Actress Has Been linked To
Besides Biodun Okeowo's alleged husband, the actress has also been rumored to be in other relationships. While some of these relationships were confirmed, others are mere rumors and were never confirmed. Let's take a look at some of the men she has dated below.
Biodun Okeowo's Alleged Love Affair With Kunle Adegbite
Kunle Adegbite is a married Yoruba actor, movie producer, and director. For some time, Biodun has been linked to Kunle with the claims that both stars are into a romantic relationship. In 2016, the two were recognized and awarded at the Celestian church of Christ, Ijesha Parish, Surulere. They were given the award in honor of their selfless and devoted service to the work of God. It is following this that the rumor started peddling that they are more than platonic friends.
Even though it is apparent that both of them have a cordial connection, yet there is no proof of their alleged romantic affair. Similarly, it is known that the actress does not fail to celebrate his birthday on her social media page by posting his pictures with amorous words and phrases to wish him well. However, the actress has debunked this rumor countless times, insisting that what they share is only a working relationship and then friendship, nothing more. Kunle, on his part, kept calm and did not bother to say a word about it. However, the rumors died a natural death.
She Was Romantically Linked To Pasuma
Another rumor started brewing that the curvaceous actress has was romantically linked to veteran Nollywood actor and fuji musician, Pasuma. In an interview with Vanguard, Biodun said that the rumor is quite laughable because Pasuma is just like a brother and friend to her and that he equally knows her very well. She dismissed the rumor by saying that the peddlers obviously do not have work to do and should go and find one. She went ahead to express her surprise at this by wondering why people can't just see closeness in a relationship without thinking of sex. Hence, she concluded that local mentality is the only thing she sees as the reason behind all these unscrupulous rumors.
Biodun Okeowo's Alleged Relationship with Dino Melaye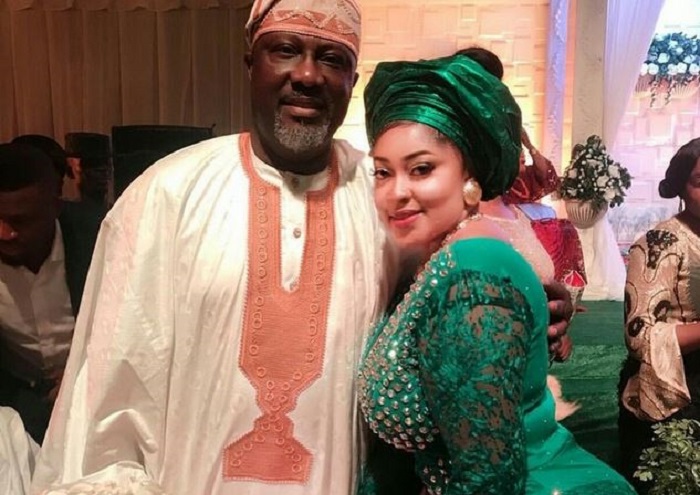 Nigerian politician and former Kogi State senator Dino Melaye is yet another notable person that has been linked to Omo Butty. Recently in 2021, actress Biodun has caused an uproar on social media by posting a photo of her with the former Kogi State Senator. According to her, she met Dino at a wedding ceremony and decided to have a shot with him just like she did with some other notable guests. But with reasons best known to rumor mongers, they came out with it again, spreading the lies and allegations that they are having an affair.
In June 2019, Biodun Okeowo took to her Instagram page to deny this report by saying that she is not in any form of relationship with Dino Melaye and has no intention to date him, even in the future. Following her response, Dino also debunked the rumor, saying that nothing was going on between them.
The Actress Might Be in a Serious Relationship
Undoubtedly, actress Biodun is one of the hottest Nigerian actresses who get the attention of many men both in and outside the entertainment industry. She is also nicknamed "Hips don't lie" and is obviously is a typical curvaceous African woman. After she parted ways with the father of her children, Omo Butty has not revealed to be seriously attached to any man but says she is only focused on training her kids and giving them the best. However, in one of the interviews she granted in 2019, the actress divulged that she is in a serious relationship but didn't reveal who the lucky man is.