Teni's net worth is estimated at $2.1 million, making her one of the musicians that has a considerable net worth. Her net worth has been able to accord her the flamboyant lifestyle that can be seen in the houses that she has acquired.
Teniola Apata, who goes by the stage name Teni, is one of the Nigerian musicians whose voice is second to none. Also known as Teni the Entertainer or Teni Makanani, she is a singer, songwriter, and entertainer. The singer started her music career in 2016, and by 2018, she rose to stardom after releasing the song Case. She typically sings in the Afro genre and dubs her songs in pidgin, Yoruba, and English.
Her mixture of tomboy (which is evident in her attire of dungarees and big shirts) and high-pitched voice has given her a platform and made her stand out among other female musicians in Nigeria. With her rise in the music industry, she has been able to rake in a reasonable amount of cash through her music career, endorsement deals, and other ventures.
What is Teni's Net Worth?
Teni has a net worth that is estimated at $2.1 million. She has been able to amass her wealth through the various sources of income in her music career and other ventures. Below are the sources of Teni Makanani's income:
Music Career Is a Major Source of Income
Prior to her big fame, Teni started showing her love for music at the age of two when she started performing with the school band. As a child, she performed for various Lagos state governors as far back as the tenure of Buba Marwa. Since then, she has been on various stages, videos, and concerts, lending her melodious voice to the world.
Teni Makanani debuted as a musician in 2016 with the release of her debut single, Amen, on the Magic Fingers Record. In 2017, she signed with Dr. Dolor Entertainment, where she started releasing music that shot her to fame. Her second single, Fargrin, which she released under the record label, gained her a little fame.
The hit singles Askamaya, which ranked 15th on the year-end list of MTV Base Top 20 Hottest Naija Tracks of 2018, Case, and Uyo Meyo, all released in 2018, catapulted her to fame and recognition in some parts of the world. Case became a major hit and gave her the chance to grace various stages around the world. The song also gave her a platform to perform for governors and other high-profile Nigerians.
Uyo Meyo, which was produced by Michael Seyifunmi Bakare, also became a major hit in Nigeria. It received many positive views from Nigerians and beyond. In 2019, she released the music video for Sugar Mummy and the single Power Rangers. In 2019, she released her debut E.P titled Billionaire, produced by Jaysynths Beats and Pheelz.
The E.P was solely sung by the singer and featured no guest artist. It consists of six tracks, including Nowo, Online, Super Woman, Shayo, Billionaire, and Complain. Teni Makanani in collaboration with D.J Neptune, released her second E.P known as Quarantine Playlist. The Quarantine Playlist consists of four tracks that are mostly mid-tempo and were produced by Dera, P.Prime, and Tempoe.
The Case crooner started working on her debut album, WONDALAND, in 2021, which has been streamed on various channels. The production of the music video for the album was done in various locations across the world like London, Lagos, Abuja, Ondo, New York, and Orlando. The music production was handled by Ozedikus, Pheelz, Tompoe, P.Prime, Damayo, Krizbeatz, and Millamix.
She has also collaborated with various other artists like Davido, Rambo, Diamond Platnumz, Shizzi, Mayorkun, and many more, in releasing successful hit songs. Teni has maintained a special style of music since her venture into the music industry. She is known to sing in Pidgin and Yoruba and mainly sings in the Afropop genre. The singer usually takes to her music to express love, wealth, reality, and other things.
She Makes Money From Songwriting
Teni is not only known as a singer but also as a songwriter. She has written songs for an artist signed to Sony Records, an American multinational music record company. The singer also wrote the song Like That for the Nigerian musician Davido.
Though the amount that she was paid for writing those songs is unknown, following her mastery of music, she is seen to earn a reasonable amount.
Music Tours Add to Teni's Net Worth
With a flourishing music career, Teni's net worth has been able to receive a meteoric rise. She has held concerts in various countries, which were all well attended. On April 27, 2019, she hosted a music concert in Toronto, ON, Canada. She also hosted two more concerts in Regina, Sk, and Vancouver, BC, Canada. She performed at the Interswitch One Africa Music Fest 2019 held in New York with musicians like Burna Boy, Wyclef Jean, Tiwa Savage, Casanova, Eddy, Diamond Platunmz, Kranium, One Africa, and Kenzo.
Teni is unarguably a pro in music as she performed at the A3cFestival & Conference: Afrobeats 2019. She performed alongside artists like Burna Boy, Mr. Eazi, and Afro B. On August 31, 2019, she hosted a concert at the Roxbury Center for Arts at Hibernian Hall, Boston, USA. In 2020, she hosted shows at The Classic Gland, Glasgow, and Indigo at the O2 London.
In July 2020, she performed alongside numerous world-class artists at Oh My! Music Festival held at Almeerderstrand, Almere, Netherlands. The artists that she performed with include R2Bees, Tyga, Burna Boy, Lil Durk, A Boogie Wit da Hoodie, Nafe Smallz, Bpw Wow, City Girls, and many other artists.
Teni has been able to draw crowds at the various concerts that she has hosted and those that she has performed at. Considering how well the concerts were attended, the Nigerian-born singer has amassed quite a fortune.
Concert and Shows
The singer hosted a music concert at the Prestigious Eko Convention Center, Eko Hotel and Suites on December 16, 2019. The concert was hosted in partnership with Bet9ja, Quickteller, Fearless, Munch it, Ntnudo, Pepsi, Max NG, and Tecno. The concert, which was well attended, had its tickets sold at N5,000 for regular, N20,000 for VIP, N100,000 for VVIP, N1 million for the silver table, and N2 million for the gold table. She is seen to have raked in a huge sum from the concert.
In June 2022, she performed alongside some Nigerian artists at the Youth Vote Count Mega Concert 2.0 held at Old Parade Ground, Area 10, Abuja. Other artists that performed alongside Teni in the concert, which was organized by INEC, Yiaga Africa, and European Union, included 2Baba, Omawumi, Zlatan, Falz, Ice Prince, M.I, Phyno, and various other artists as well as comedians. Though it is unknown how much she charges per show, she is seen to have amassed a huge sum following her prowess in music and fame.
Streaming Platforms Have Added to Teni's Net Worth
The Case crooner makes daily, weekly, monthly, and yearly income from her various streaming channels. Below are the streaming channels that rake in money for her:
YouTube Channel
With a flourishing music career, Teni has over 590k subscribers and 4 million views. Reports have it that the platform pays as low as $0.5 per 1000 views, while other claims have it that the platform pays about $3 per 1000 views. Following the estimation of $3 per 1000 views, the singer is seen to make a whopping sum from the platform.
She is also the second artist in Africa to be featured on YouTube in its trending Artists on The Rise in 2019. With this, her songs will be promoted on US trending pages, social media ads, and fan event appearances on YouTube spaces. This development is another plus to Teni's net worth.
Amazon Music
The streaming music platform owned by Amazon was launched in 2007. The platform uses ad-sponsored free access to rank artists and music stalls at the top. When a song is streamed by a listener, the musician is paid a proportionate share of Amazon's subscription revenue per month.
This means that artists are paid their royalties depending on the number of streams. The music platform pays its musicians $0.00402 per stream, which is paid quarterly. To make $1, an artist must have about 249 streams. Teni is seen to earn well from the platform.
Spotify
According to reports, artists can earn up to $1 off of 250 streams on the streaming platform. Putting this into consideration, Teni's music on the platform has made a reasonable amount following the number of views. The singer also has about 527,294 monthly listeners. Following this estimation, she is seen to cash out thousands of dollars from the platform.
Deezer
This is a French online music streaming platform that allows users to listen to music from artists. The platform calculates artists' royalties on the market share model. In other words, artists are paid according to the percentage of streams in relation to the total number of streams across the platform per month. The royalty paid per month includes the total number of songs streamed on the platform, total paid subscriptions, and total listeners on an ad-supported plan.
According to sources, the platform pays $0.0064 to $0.01 per stream and $6.4 to $10 per 1,000 streams. Teni, who has various music uploads on the platform, is seen to have 149,897 fans and will make a good sum of money from there.
Google Play
The pay from Google Play for artists is dependent on the country where the streams and plays are coming from. It is also dependent on the listeners if they are paid or free. Due to the restrictions, the platform does not have a fixed amount paid to artists but pays roughly 0.0676 per stream. Though her earnings on the platform are unknown, it still adds to her net worth.
Audiomack
The royalties earned from the platform are calculated by revenue per stream. The calculation of views is determined by dividing the total streams gotten on the platform by the revenue from subscriptions and advertisements. Following the calculations, Teni makes money on the platform from the number of streams of her content. The number of streams is multiplied by 50% of the revenue per stream, which is the AMP revenue share.
The singer joined the platform on October 1, 2019, and has become an A-list artist on the platform. She has over 1.07 million followers, 950k monthly listeners, and 190 million total plays. Following the payment pattern of the platform, which is not fixed on any amount, her earnings from the platform vary with her streams. She also earns about 85% from the purchase of her badges on the platform by supporters.
Acting Gig
Teni The Entertainer has touched on the acting part of the entertainment world. In 2019, she made her movie debut in the movie Dear Affy. The movie, which is a romantic comedy, was directed and produced by Bigsam. Teni starred as Little Angel, the troublesome girlfriend of Nerdy Guy, which was starred by Sir Dee, an ex-BBNaija housemate.
She starred alongside movie stars like William Uchemba, Chinwetalu Agu, Faithia Williams, Timi Eguson, Jide Kosoko, and many others. Though the amount that she made from the role is unknown, it will be a considerable amount following her status in the entertainment industry.
Endorsement Deals That Boosted Teni Net Worth
It has become a norm in the entertainment industry for artists that have made a name for themselves and gained lots of fans to have a couple of endorsement deals. Teni is not an exception, as she has bagged endorsement deals that are worth quite a fortune. On March 26, 2019, the singer became an ambassador for one of Cadbury's candies, Tom Tom.
Teni, alongside other Nigerian artists, was named as one of the brand ambassadors of Budweiser Beer. In July 2019, she bagged an endorsement deal with the commercial bank, Wema Bank Nigeria. On June 30, 2019, she bagged a mouth-watering ambassadorial deal with the Nigerian beverage company, Pepsi. In 2020, she became a brand ambassador for Tecno Mobile.
In October 2020, she signed an endorsement deal with one of the largest telecommunications in Nigeria, Globacom. In 2022, she took to her Instagram to announce her endorsement deal with the worldwide electronics company Samsung. Teni's net worth will increase significantly since she is still active in the music industry and will bag more endorsement deals.
Summary of Her Endorsement Deals
Tom Tom
Budweiser Beer
Wema Bank Nigeria
Pepsi
Tecno Mobile
Globacom
Samsung
Streams Of Teni's Income
Music
Songwriting
Music tour
Shows and concerts
Streaming platforms
Acting gig
Endorsement deals
A Look Into Teni's Posh House In Lagos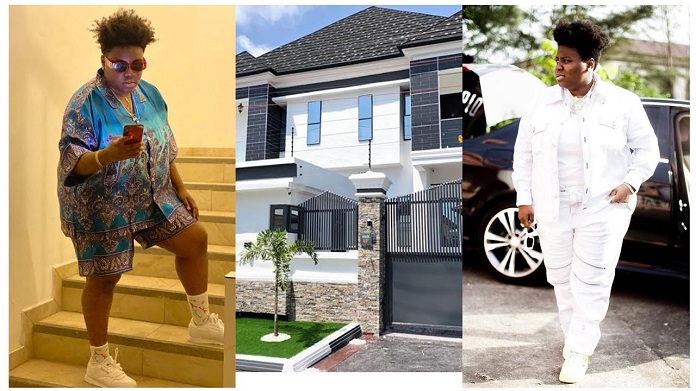 The singer is one of the popular Nigerian singers who hardly flaunts her wealth on social media. Teni's net worth has been able to afford her the luxury that she is enjoying today, which is evident in her houses. In March 2020, she acquired a house that dropped the jaws of her fans when she shared the news online. On March 12, 2020, she took to her Instagram handle to release a video of her new home for the public to see.
This made many fans troop into her comment section with their congratulatory messages. The house, which is located in Lagos, is worth over N100 million. In January 2022, the singer was spotted in a video shared on Instagram holding a house key with sold boldly written on it. According to sources, this is her second property which is also located in Lagos.