Launched in 2016 as an entry-level phone, Tecno W3 is the third smartphone built by the Tecno company to come with the Android 6.0 operating system. Also the most reasonably priced in the lineup, Tecno W3 features among other things, a 2500 mAh battery and a 5-inch Display.
Tecno became popular in Nigeria because of its affordability. Even as it keeps going forward to produce very expensive ones, it keeps coming back to make affordable ones. That is it with the Tecno W3.
I didn't expect much from the phone before going through it most especially because of its price and the fact that there are so many phones out there that came with many promises only to fail. I wasn't disappointed even though I would have asked for a little more, but again with the price how can one ever ask for more with all you get here.
Let's have a look at it from a better perspective.
Build quality and design
Sound quality
Camera
Memory and storage
Processor and Software
Battery 
Quick Specs
Pros
Cons
Verdict
Price
Build and quality of the Tecno W3
While not unique in design, the phone is significantly improved from what you get with the previous phones in this line. With the way Techno had been releasing phones before this, I actually thought that the design of this would be a flop, but it wasn't.
Furnished with an FWVGA Touchscreen 5.0 display and a resolution of 854 X 480, it is not one of the biggest and it should fit your hand rightly.
The buttons are well placed on the sides and it comes with a 3.5mm Audio jack for your earphones.
The phone accepts 2 micro sim cards and for the network connectivity, it supports 2G, 3G, and 3.7G networks.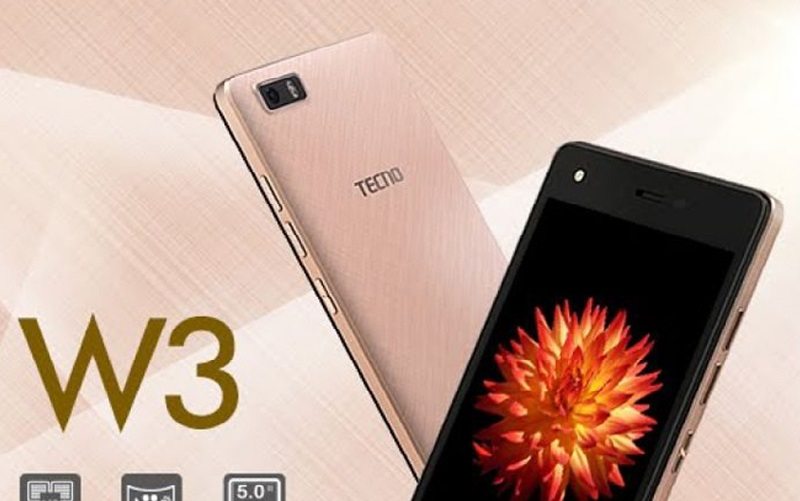 Sound Quality
I give it a pass mark when it comes to the audio quality. It is obvious that phone speakers right now do not come as noisy as they used to, so naturally, no one should expect that this should be that way.
Nevertheless, the sound is generously loud in a decent way. The thing though, is that you shouldn't expect that it will come good enough for outdoor use. If you want to use it for that, you will still get something that is quite better than many others.
More so, whether you are using a headphone or the phone loudspeaker, there is decency in the audio quality.

Camera
You will not find a million things to say about the phone camera as it only offers what most others offer. Hence if you need a camera-centric phone, you may as well not go for this because even the W4 comes with a much better camera. The only thing, however, is that it doesn't come as cheap as this.
In specifications, the phone has both front and back cameras. While the front has the 2MP you get with many others, the front comes with 5 MP which is nothing to snap home about. Also, it is decorated with Autofocus and a dual LED Flash and the back camera also has a flashlight.
Memory and Storage
8GB internal storage is what the phone offers. For me, that is not as impressive as it can be, as some in its line including the Tecno W4 come with higher storage capabilities.
If you need more than the 8GB that comes with the phone, you can decide to have it expanded using the Micro SD that is built to take up a card of up to 32GB. 40GB storage in total is what the phone can take, and I believe this should be good enough for the phone.
Also, for the RAM you get a 1GB piece. For the phone, there is no reason to believe that 1GB is not good enough to go. Hence, you should be able to enjoy a good ride even when you have your storage almost completely filled

Processor and Software
The Techno W3 is powered by a 1.GHz Quad-core MediaTek processor which serves very well in processing speed most especially if you consider the 1GB RAM.
For the operating system, Techno made use of the Android 6.0 Marshmallow with HiOS interface. Personally, that is one thing that I love most about the phone; the interface.
More so, it comes with a very important manager that helps you achieve a lot of things including data and app management.
Battery
Looking at the battery, the phone is kitted with a 2500 mAh battery. Let's face it, looking at the size of the battery, it is not the best since there are some that even go as high as 6000 mAh. Nevertheless, because of the size of the phone and its functionality, the battery is rather right on point.
For someone who is not a heavy user, this phone will be able to serve you for more than 30 hours. This is even as the phone's talk time is placed by its manufacturers at 25 hours. On standby, Tecno said it will give you up to 312 of battery life if you are running on standby mode.
Between 2hrs 30 mins and 3 hours is all you need to have the battery fully charged.

Quick Specs
Screen Size: 5.0-inch FWVGA Touchscreen
Colour: Black, White, and Gold
Body: Plastic frame
Memory: 1GB RAM
Storage: 8 GB (can be expanded by up to 32 GB)
Operating System: Android 6.0 Marshmallow with XOS
Camera: 5.0 MP back camera with dual flash and 2.0 MP front camera with LED Flash
Battery: 2500mAh
Connectivity: 2G and 3G
Pros
The phone is affordable
Good battery
Improved design from those before it
The interface is very attractive
Cons
The battery is not the best for a heavy user even though it is great for a not light phone user.
Verdict
This is not the phone for someone looking for the whole world on a phone. Instead, it is for someone who needs a phone that comes affordable with almost everything a very decent phone should give. Even though it is as standard as many that come in the entry-level of phones, it is still better if you combine all its features, performance, battery life, and the price it goes for.
Unless for the issue of price, I will suggest that you go for the Techno W4 instead of the Tecno W3 because I feel it gives better features and the price difference is not much. But if again you are on a tight budget, this is one of the best you can get for the price it comes with.

What is the Price of Tecno W3 in Nigeria
You can easily get this phone online in various stores including Jumia Nigeria. From all my checks, you will be able to land the Tecno W3 online from 23,000 to 33,000 thousand Naira online. Offline, it could cost more based on where you decide to check.
Check Price and buy the Tecno W3 phone on Jumia.