Taye Currency, whose real name is Taye Akande Adebisi (born 17th December 1974; Age: 48 years old), is a Nigerian singer mostly known for his fuji music. His net worth is currently estimated at $500,000.
Taye Akande Adebisi is one of the long-established Nigerian musicians that started his professional musical career in 1999. The Ibadan-based singer started as a backup singer, and today, he has become a big brand and a household name in the Nigerian fuji music industry.
Taye Currency's Bio
Full name: Taye Akande Adebisi
Nickname: Taye Currency
Gender: Male
Date of birth: 17th December 1974
Taye Currency's Age: 48 years old
Ethnicity: Yoruba
Nationality: Nigerian
Zodiac Sign:  
Sexual Orientation: Straight
Religion: Islamic
Marital Status: Divorced
Taye Currency's Wife: Dara
Taye's Children: Yusuf Oladeni Adebisi
Taye Currency's Parents: Mr. Ganiu Amoo Adebisi & Alhaja Mojisola Aduke Adebisi
Siblings: Sulaiman Akanmu Ademola A.K.A, Commy Jackson
Taye Currency's Net worth: $500,000

Famous for: Fuji music
Taye Currency's Instagram: @tayecurrency_official
How Old Is Taye Currency, and Where Is He From?
He was born Taye Akande Adebisi on 17th December 1974 in Ibadan Oyo State, southwestern part of Nigeria, making him 48 years old today. He was born into a Muslim Yoruba family of late Mr Ganiu Amoo Adebisi and Alhaja Mojisola Aduke Adebisi.
Also, his birthplace, Taye, is a native of Ibadan, and that was the place he spent his early years. He grew up with his parents and other siblings, including Suleiman Akanmu. While his father is deceased, his mother is still alive.
Taye received his primary education at Abiola Jacobs primary school and secondary education at I.M.G Grammer School Oke–Ado, all in Ibadan, Oyo State. From his school days, Taye realized he had a talent for singing due to his constant participation in some of his school's activities that required singing.
Taye Currency Started Singing at Age 11
In 1983, at the age of 11, Taye started singing as a backup artist for his elder brother Mr. Sulaiman Akanmu Ademola, also known as Commy Jackson. During this time, he fully discovered his musical talents and began putting all his time and effort into it.
To say the least, it was not easy for Taye to grow his career in music as he was constantly rejected and told that he did not have a future in the entertainment industry. However, he did not let those negative words and rejection get to him; instead, he chose to remain hard-working and diligent in learning.
In his learning process, he moved to Ijebu-Ode, Ogun State, where he became a backup singer for four different brands for two years. He advanced his learning by partnering with Ilu-Pesi at Isale Eko in Lagos State. There, he worked as an apprentice and, at the same time, arranged musical instruments for them.
He Rose to Stardom at Age of 17
After one year at Ilu-Pesi, Taye returned to his home state Ibadan to form his band. With the support of his mother, he formed his band known as Currency Band. He also got support from his twin brother, late Mr. Kehinde Alayoke Adebisi, his late manager, Rahmon Akilapa, and Mr. Musbau Adebisi. By the time he was 19, he already had written a good number of songs.
Interestingly, luck shined on Taye Currency after he met with the fuji star, Alhaji Wasiu Alabi Pasuma, in 1993. The famous musician was the one who finally helped him gain his ground in the music industry, and he promptly was signed to Twilight Records. Taye Currency released his first official song in 1999, titled Millenium. Since his debut, Taye has been doing just well given his genre of music that is less competitive.
He took a hiatus from his music career and came back in 2021 with a new album. He dropped a double album titled Candidate and Aspirant. Both albums, which were much to the love of his fans, became very popular on the streets of Ibadan and indeed all over the Southwest.
According to the fuji artist, the Candidate and Aspirant consolidated the standard he set for himself in the industry over the years. He stated that he mainly aimed to modify the fuji music trend to the delight of his fans. Taye has made several collaborations with other fuji musicians and also hip-hop, Islamic, and juju singers.
He has also received many recognitions and awards for his works, including The Most Consistent Fuji Artiste by City People Magazine, Great ambassador of Fuji, Jagunmolu of Fuji Worldwide, Amuludun of Ikorodu, Okonlomo ni Ibadan 1, Mayegun of Oluyole Ibadan land, among others.
Taye Currency's Songs
Carnival
Agbalagbi
Hauwa
Combination
Golden Mother
No Story
Pass Mark
The fuji star
Ivory Coast
Solution
Injection
Dublin Flavour
Breakthrough
Way Forward
London Effisy
Millennium Dance'
London Eclipse
Turning Point
What Next
Watch and Shadow
Taye Currency's Net Worth Majorly Came From Music
It is a fact that the fuji singer makes money majorly from his music career, and that is his only known source of wealth. Like most Nigerian artists, Taye earns from the sales of his songs, shows, streaming channels, and concerts. Details of how much he makes from these are unknown, but they are the contributors to his impressive $500,000 fortune.
Taye Currency is Divorced
Taye Currency married his wife Dara, popularly known as Ara '99, in April 2018. However, records show that the woman woke up one day and decided to live the marriage for personal reasons. There is no further record or details about the singer's marital life with Dara save that they have a son, Yusuf Oladeni Adebisi. Meanwhile, the singer said in an interview he granted with Encomium magazine that he has been searching for a new wife since Dara left him.
Is Taye Currency's Son A Lawmaker?
Yes! Taye Currency's son Yusuf Oladeni Adebisi is the youngest serving lawmaker in Nigeria. Hon Yusuf Oladeni Adebisi was born on 11th September 1993 to his parents, Taye Currency and Dara, who are now separated.
He attended Aladorin Nursery and Primary School and Hallmark College Apata Ibadan. He then proceeded to Al-Hikma University, Ilorin, Kwara State, where he obtained his first degree in History and International Relations.
In 2018, he landed a Master in Business Administration (MBA) from the Ladoke Akintola University of Technology (LAUTECH) Ogbomoso, Oyo State. Before joining politics, Yusuf was an astute Businessman interested in Agriculture.
He subsequently grew an interest in politics and, in 2019, contested for and won the Ibadan South-West Constituency 1 Seat under the PDP platform at age 25. The 29-year-old defeated the incumbent Honourable Kehinde Subair of the All Progressives Congress to emerge the winner of the intently contested election.
What to Know About Taye Currency's House
In 2018, Taye Currency launched his two-story lavishly furnished building in Ibadan Oyo State. The launch party of the house was attended by many famous Nigerian celebrities, including Yinka Ayefele, Wasiu Ayinde, Wasiu Alabi Pasuma, Olubada of Ibadan, and Ilorin cleric Alhaji Shehu Buhari, among others.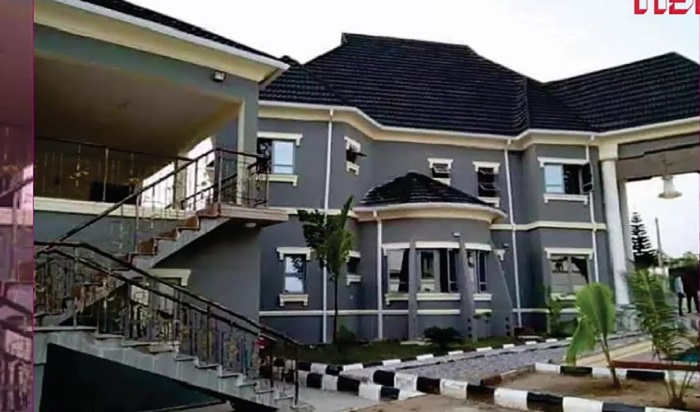 Upon its completion, the spaciously built property was named the most beautiful mansion and a tourist attraction center in Ibadan. Going by photos, Taye's mansion looks just like a palace. It has a sizeable swimming pool and other luxurious features. The house is said to be worth hundreds of millions of Naira.