Standard Chartered Bank Nigeria began operations in the country in 1969, four years after the Standard Bank of South Africa merged with the Bank of West Africa.
The bank was renamed First Bank of Nigeria in 1979 from Standard Bank of West Africa a and had been a shareholder of First Bank of Nigeria until 1996. It made a major comeback in 1999 and was subsequently opened to clients as a wholly owned subsidiary of Standard Chartered Bank Plc on 15 September 1999.
The Standard Chartered Bank Nigeria, today, offers a wide range of products and services and boasts over 905 staff and about 35 branches, with ATMs in each branch.
Standard Chartered Online Banking 
There are several means of banking with Standard Chartered Bank. While most clients prefer visiting the banking hall, others, especially younger clients, make transactions via the ATM, Standard Chartered Mobile, and online banking.
For some reasons, we will discuss in details everything you need to know about the bank's online transactions, hoping to tell you more about the rest some other time.
The Online banking platform is one of the greatest innovations the banking sector has ever come up with it. With Standard Chartered online banking, customers are presented with the opportunity to carry out a whole lot of transactions in a blink of an eye and from the comfort of their home any time, any day.
The platform is open to all Standard Chartered bank account holders. All you need to do to maximize the e-banking service is to register online and have an internet-enabled device (phone or personal computer). There are many benefits of using the bank's online platform. With the service, customers can conveniently do the following:
Update their account information
Check their transaction history for deposit and account balances
Make bill payments such as mobile phone airtime, DSTV, Arik Air and others.
Transfer funds to local bank accounts instantly
Print account statements
Transfer funds to International bank accounts
Request for a checkbook and statement
Download application forms
Receive notifications as well as send emails to Account Services
Change their user ID and password for enhanced security
Registration on Standard Chartered online banking platform can be done with your ATM/debit card, credit card, a temporary ID, and SMS PIN. If you don't an ATM card, debit card, or credit card, kindly visit the bank to apply for one because your online registration process wouldn't be complete without any of these cards.
Application for online banking is open for holders of any (or a combination) of these Standard Chartered products:
Savings Account
Credit Account
Current Account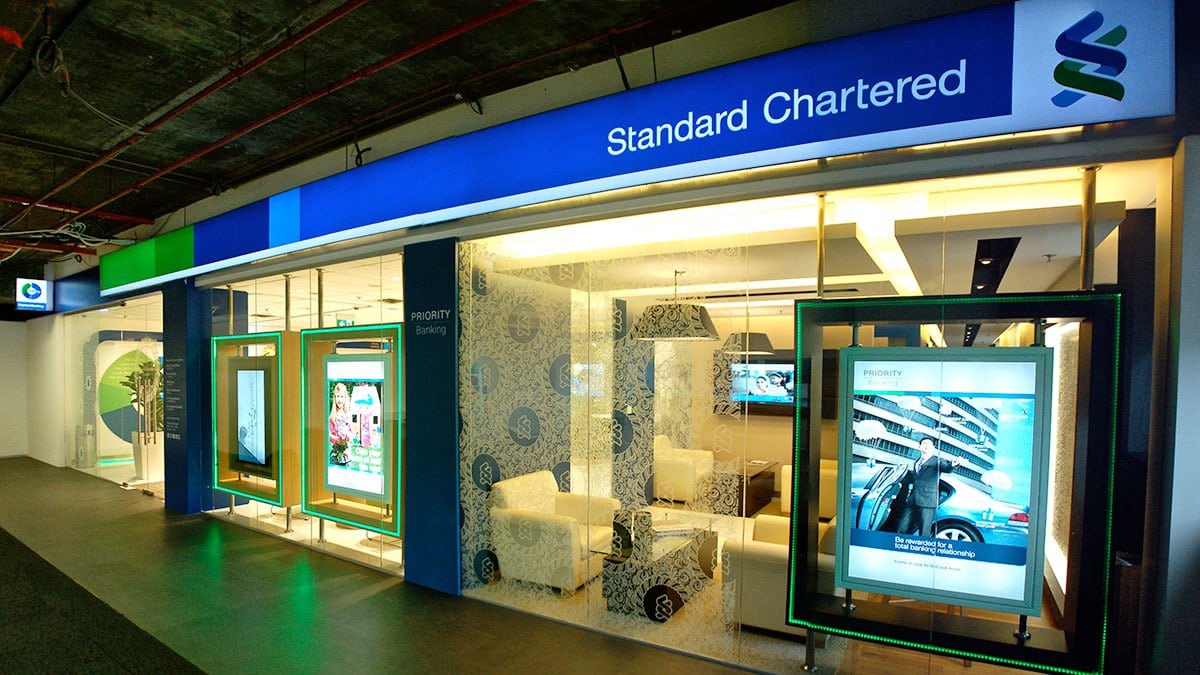 How to Register for Standard Chartered Online Banking:
1. Go to https://retail.sc.com/afr/ibank/ng/foa/login.htm or simply click here.
2. Click on the 'log in' button on the homepage
3. Choose the instant registration link.
4. Follow the instructions on the screen and you will be ready to start using the online banking portal in minutes.
Registration for the service for free with no extra charges and can be done by reaching out to Standard Chartered Bank 24-hour contact center on 01 2704611-4 as well.
Standard Chartered Branch Locations In Nigeria
The Standard Chartered bank currently boasts 35 branches located in Port Harcourt, Lagos, Onne, and Abuja.
The bank's Lagos offices can be found in the following areas:
No. 142, Ahmadu Bello Way, Victoria Island, Lagos (Head Office). Tel: +234 (1) 2368146, +234 (1) 2368154
No. 105B, Ajose Adeogun Street, Victoria Island, Lagos. Tel: +234 (1) 2368051, +234 (1) 2368185
No. 40, Warehouse Road, Apapa, Lagos.Tel:+234 (1) 2368752, +234 (1) 2367396
No. 30, Aromire Street, Ikeja, Lagos. Tel:+234 (1) 2368830 – 1
No. 37A, The Palms Mall, Lekki Peninsular, Lagos. Tel:+234 (1) 2368842, +234 (1) 2368866
Plot 1681 Sanusi Fafunwa Street, Victoria Island, Lagos. Tel: +234 (1) 2368858, +234 (1) 2367316
No. 122/132 Apapa-Oshodi Expressway, Isolo – Afprint Isolo, Lagos. Tel: +234 (1) 2367196; +234 (1) 2368848
No. 138, Broad Street, Lagos. Tel: +234 (1) 2368790, +234 (1) 2368611
K23 Ikota Shopping Complex, Lekki-Epe Expressway, Lagos. Tel:+234 (1) 2368841, 234 (1) 2367262
No.184, Awolowo Road, Ikoyi, Lagos. Tel:+234 (1) 2368852, +234 (1) 2368849
No. 56, Town Planning Way, Ilupeju, Lagos. Tel: +234 (1) 2368845, +234 (1) 2367186
No. 47, Isaac John Street, GRA Ikeja, Lagos. Tel: 234 (1) 2368836
No. 35 Opebi Road, Ikeja, Lagos. Tel: +234 (1) 2368753, +234 (1) 2367538
Shop G2 and G3, City Mall, Onikan, Lagos. Tel: +234 (1) 2368757, +234 (1) 2368758
Polysonic Plaza, 1B Point road Apapa, Lagos. Tel: +234 (1) 2368883, +234 (1) 2368792
21/22 Marina, Lagos. Tel: +234 (1) 2368169
Plot 6/7, 1st Avenue, Festac Town, Lagos. Tel: +234 (1) 2368687, +234 (1) 2368796
Plot 42 Acme Road/34 Lateef Jakande Street, Agidingbi, Lagos. Tel: +234 (1) 2368798, +234 (1) 2368854
279, Herbert Macaulay, Yaba. Tel: +234 (1) 2368980 – 1
350 – 360, Ikorodu Road, Anthony, Lagos. Tel: 234 (1) 2267009
Branch Monastery Road, Lekki-Epe Expressway, Sangotedo, Lekki-Ajah Lagos. Tel: 234 (1) 2367518
In Abuja, their offices can be located at:
Plot 3174 Adetokunbo Ademola Crescent, Wuse II, Abuja. Tel: 234 (1) 2368761
D'alibro Shopping Mall, Suite G13, 32 A.E. Ekukinam street, Utako District, Abuja. Tel: +234 (1) 2368761 – 63
Plot 1517/1518 Mohammadu Buhari Way, Garki, Abuja. Tel: +234 (1) 2368872, +234 (1) 2368807
Zamani Complex; 1 Zambezi Crescent; 1405 Cadastral Zone A05, off Aguiyi Ironsi Street, Maitama, Abuja. Tel: +234 (1) 2368876, +234 (1) 2368982
84 Kwame Nkrumah Crescent, Asokoro, Abuja. Tel: +234 (1) 2368814 – 5
Herbert Macaulay Way, Central Business District, Abuja, which is at NNPC Towers. Tel: +234 (1) 2368765, +234 (1) 2368768
Plot 1161, Memorial Drive, Central Business District. Tel: +234 (1) 2368624, +234 (1) 2368895
Standard Chartered Bank can be located in Port Harcourt at:
143, Aba road, Port-Harcourt, Rivers. Tel: +234 (1)2368691, +234(1) 2368680
Plot 7, Trans-Amadi Industrial Layout, Port-Harcourt, Rivers. Tel: +234 (1)2368769, +234(1) 2368692
420 Aba Road Opposite Shell RA P.H.
For further information about the bank, simply dial 01 2704611 – 4 (for Nigerians only) or +234 1 2704611 – 4 (for overseas).
Standard Chartered Bank mobile banking app is called Breeze Mobile. With it, customers can easily move their money between banks and between Standard Chartered accounts, view their transaction history and manage their account, pay bills and top up their airtime on the go, get information about the bank's products, view all their accounts at once and more.
The bank's offices in all branches are open for transactions from Monday to Friday from 8:00 am to 4:00 pm.