Sanusi Lamido Sanusi's net worth is estimated at $5 million. He has an extensive career in the banking sector and his place as the Emir of Kano to thank for his wealth.
The 53-year-old Sanusi is often considered one of the richest men in Nigeria and is most famous for being the governor of the Central Bank of Nigeria (CBN) from 2009 to 2014. He has also served as the chief executive officer of First Bank, general manager of UBA; and head of financial services and manager of Icon Limited.
What is Sanusi Lamido's Net Worth?
Sanusi Lamido's net worth is evaluated to be over $5 million, which is more than 2.3 billion in Naira. With this wealth, it is easy to link the father of 13 among the richest and most influential individuals in Nigeria.
Sanusi, who was born to a royal-class family in Kano, has recorded his wealth through different means from the 1980s.
In this article, we have calculated Lamido's net worth, putting into consideration his total available assets; including money, real estate equity, investment plans, and items with clear market value, such as cars, jewelry, etc.
How Sanusi Lamido Sanusi's Net Worth Accrued
The Kano-Born Islamic Religious Leader Began his Career as a Secondary School Teacher
At the age of 20 in 1981, Sanusi Lamido graduated with a Bachelor's Degree in Economics from Ahmadu Bello University (ABU) Zaria. This then marked the beginning of his earning through the National Youth Service Corps Scheme (NYSC).
While his exact earning at the time may be sketchy, Nigeria's minimum wage at the time was ₦300 in 1981. Since it is known that the Nigerian government often pays Youth Corp members slightly above the country's minimum wage, it is likely that he received a little more than ₦300.
While this amount may be little in today's Nigerian money, it has been revealed that at the time, the minimum wage was more than $125 dollars as compared to its place of $60 per month in 2021 and even lesser at the time of this writing.
Judging based on the report that Nigeria's minimum wage was about $125 at the time Sanusi Lamido served, it is safe to say he earned about ₦70,000 in today's money monthly. This is also translated to ₦840,000 annually. In his service year, he taught in a girls' boarding school in Yola, the capital of Adamawa State.
He worked as a Lecturer from 1983 to 1985
Following his compulsory service year, Lamido returned to school to obtain his master's degree in Economics. This was also the time that he lectured in the Economics department of Ahmadu Bello University, Zaria.
This marked the beginning of his major career earnings, which have contributed to his net worth.
While his earning at the time is not known, he was certainly a junior lecturer. At the time of this writing, Federal university lecturers at the junior level earned between ₦100,000 to ₦150,000.
Sanusi Lamido Started his Banking Career at 24
Sanusi Lamido Sanusi left his lecturing career to work at a bank in 1985 at the age of 24.  His job in the banking sector started with Icon Limited, where he was a merchant banker. He later rose to the positions of head of financial services and manager of the bank's branch in Kano.
This career was cut short in 1991 when he was 30, and after, he left a remarkable footing as well as claiming wealth.
He became the First Nothern Nigerian to Head First Bank
The highly educated Sanusi Lamido worked at UBA in the 1990s, where he reached the position of general manager. He then took another job in the risk management sector of First Bank – the oldest bank in Nigeria.
He gave a lot to the bank, and with evidence that there was more to be given by the Lagos State King's College graduate, it was swift for him to move to the rank of chief executive officer in 2009. This made him the first northern Nigerian to head the bank, which at the time of this writing has assets worth 5.9 trillion Naira.
He Was Made The Governor of the Central Bank of Nigeria in 2009
In 2009, the then-president of the Federal Republic of Nigeria, Umaru Musa Yar'Adua, nominated Sanusi Lamido as the Governor of the Central Bank of Nigeria. This bank is the Apex monetary authority in Nigeria. On June 3 of the same year, his appointment was confirmed and served until 2014.
As a CBN governor, he was one of the top-earning civil servants in Nigeria. While this fact is known, it is difficult to trace his exact salary, but from what is known, he may have earned millions of Naira since he held the most powerful position, and it is known that in Nigeria, CBN's salary structure is one of the highest in the public sector.
Sanusi Lamido Became the Emir of Kano in 2014
At 53 in 2014, Sanusi Lamido Sanusi succeeded his granduncle, Ado Bayero, as the Emir of Kano. This made him the fourth most important Islamic ruler in Nigeria after the likes of the Sultan of Sokoto, Shehu of Borno, and Emir of Gwandu.
At the time of his reign as "sarkin" Kano (king of Kano), Sanusi was regarded as one of the richest and most influential kings in Nigeria. His earnings at the time are not known, but it is notable that first-class rulers are the top-earning chiefs in Nigeria.
In 2020, Sanusi was dethroned as an emir, which may have also reduced his income. Yet, in 2021 he was appointed "khalifa" (leader) of the Tijaniyyah Sufi order of Nigeria.
As in the case of many positions, it is not known how much this position may have added to his income. Regardless, he is one of the most highly placed Islamic religious leaders in West Africa.
Other Ventures Have Contributed to Sanusi Lamido's Net Worth
The Kano state-born economics guru has been involved with several companies in his career rise. This has equally added to his wealth over the years. He has served as the chairman of a portfolio company of Blackstone known as Black Rhino Group. In this position, he has contributed to power and energy development across Africa.
Moreso, Sanusi has chaired an impact capital fund named "Babban Gona" – an Hausa term that translates as Big Farm in English. Through this, he has helped the agricultural sector by supporting small-scale rural farmers.
A Look At How Sanusi Lamido Spends His Fortune 
Sanusi Lamido Sanusi's Cars
The former CBN governor is no stranger to luxury and flashy cars that are worth millions of Naira.
Among the cars are different models of Rolls Royce, including one he inherited from Kano's emirate while he was a monarch. While this may not necessarily be added to Sanusi's cars in relation to his net worth, it cannot be ignored when the topic of the cars he has used comes up.
Interestingly, the Islamic religious leader also owns a Rolls Royce Ghost, which costs about N70 million. He was said to have acquired this car shortly after he became the Emir of Kano.
Another car linked to his name is a 2016 Rolls Royce Phantom VII. This car is worth N60 million and was said to have been added to the list of Sanusi's cars in 2016. The car's number plate is customized "MS-1" which is the acronym for Muhammadu Sanusi 1.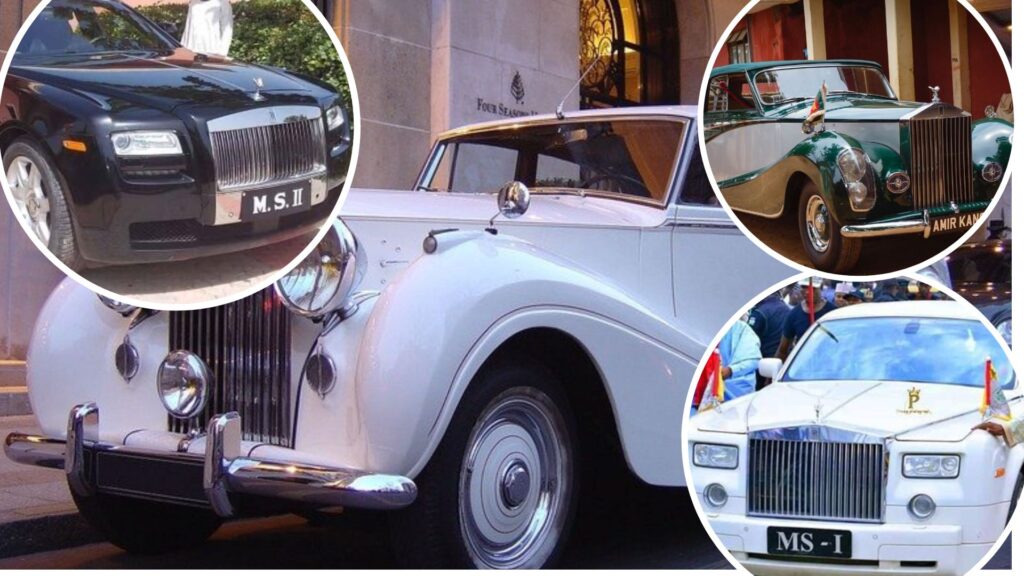 Both the Rolls Royce Ghost and Rolls Royce Phantom VII have generated mixed feelings. Sanusi was accused of probably using the Emirate's fortune to buy luxury cars, but others pointed out that he could afford them since he worked as a boss in different banks, including CBN.
Along the line and in the heat, there were claims that, as in the case of many monarchs in Kano and Nigeria, there are well-wishers who bless them with gifts. It was further claimed that one of Sanusi's cars was a gift from an old friend named Kola Kareem, while the other was a gift to him from his classmate at ABU Zaria, Bola Shagaya.
Sanusi was known for moving in convoys as a king. Several cars that accompanied him include a GMC Terrain, Renault Duster, Toyota Fortuner, Toyota Hilux, a Mercedes-Benz E-Class, and Toyota Land Cruiser. Before and after he became king, he also had other fleets of expensive cars from brands such as Mercedez and Toyota, which may as well cost millions.
Does Sanusi Lamido Have a Private Jet?
There is no recording of Sanusi being a private jet owner. What is available, however, is the fact that he may have used a private jet.
In a report, it is stipulated that whenever he needs a jet, he has very wealthy friends who are willing to let him use theirs. Some of them include Aliko Dangote, Tony Elumelu, and Dauda Lawal.
Sanusi Lamido's Houses
Sanusi owns houses in his hometown, Kano, and another reported luxury mansion in Ikoyi, the highly moneyed neighborhood in Eti-Osa Local government of Lagos State.
There are allegations that the former CBN governor owns a 1 billion Naira house in Abuja, the capital city of Nigeria. While the news headed numerous outlets, the CBN made a press release debunking the allegation.
They clarified that the expensive property belongs to the Central Bank of Nigeria. The contract for the construction of the property was reportedly given at the time when Prof. Chukwuma Charles Soludo was the Central Bank's governor.
The press release further claimed that Lamido had no personal house in Abuja. As such, he lived in a rented apartment as a CBN Governor, and the apex bank paid the rent.
Summary of All that Contribute to Sanusi Lamido's Net Worth
The Islamic cleric started his earning in his 20s when he was a Nigerian youth corp member
He served as a lecturer in one of Nigeria's most prestigious universities from 1983 to 1985
Sanusi Lamido worked in the banking sector under Icon Limited, UBA, and First Bank
He is the first northern Nigeria to become the head of First Bank
The Fulani former Emir served as the CBN governor (2009 – 2014), where he became one of the top-earning public servants in the country
Lamido became the 14th Emir of Kano in June 2014
He is the leader of the Tijaniyyah Sufi order in Nigeria
The highly-educated Kano State native has held positions as the chairman of brands, including Black Rhino Group and Babban Gona
He has held lectures at numerous venues across the world