Rochas Okorocha (born 22nd September 1962; Age: 61 years old) is an influential Nigerian politician and one of the wealthiest with a net worth estimated to be around $1.4 billion according to several online resources. He is best known as the former governor of Imo State, serving from 2011 until 2019 when he moved to the Senate to represent the Imo West Senatorial Zone.
Rochas is one of those politicians who people believed in prior to his election as the governor of Imo state. He showed lots of promise as well as brilliant ideas that were poised to change the condition of his native state and thus gained for himself a very warm place in the hearts of many.
Also, his philanthropic gestures had at distinct situations, gained him absolute likeness from many. However, while some believe that Rochas is one the most successful and talked-about politicians in the history of Nigeria, others regard him as one of the most controversial.
Asides from politics, he is an astute businessman. Though his net worth before going into politics is unknown, there is no doubt that Rochas Okorocha was very wealthy. With his chain of businesses and investments, his assets, and his financial status, the figures (before politics) are expected to be impressive. All the same, read on to find out more gripping facts you still don't know about him.
Profile Summary of Rochas Okorocha
Full Name: Owelle Rochas Anayochukwu Okorocha
Gender: Male
Date of Birth: 22nd September 1962
Place of Birth: Ideato, Imo State
Rochas's Age: 61 years old
Ethnicity: Igbo
State of origin: Imo State
Nationality: Nigerian
Zodiac Sign: Virgo
Sexual Orientation: Straight
Religion: Christian
Education: University Of Jos
Marital Status: Married (1986)
Rochas Wife: Nneoma Nkechi Okorocha
Children: Six (Uloma, Uju, Uchechi, Ahamefula, Amen, Amamchi)
Rochas's Height in Centimetres: 176 cm
Rochas's Weight: 81 kg
Body Measurements in Inches: 40-31-19 Inches
Rochas Net worth: $1.4 Billion
Occupation: Politician, Businessman
Years Active: 1990s -present
Political Party: All Progressive Congress (APC)
Rochas Instagram: rochasokorocha
Rochas Okorocha is 61 Years Old
He was born to a father from Imo State and a mother from Anambra State (Ezinne Josephine Okorocha) on the 22nd day of September 1962 in Jos, Plateau State, Nigeria. Rochas is said to be identifying more with his Anambra side. Meanwhile, he originally hails from Ideato Local Government Area (now divided into Ideato North and South) in Imo West Senatorial zone.
The division of Ideato into South and North placed his parent's village under Ideato South. Rochas wasn't born with a silver spoon in his mouth, in fact, he likens his family's condition growing up as all shades of poverty.
Growing up in Jos, Rochas got his First School Leaving Certificate from a primary school in the city. He proceeded to Juladaco High School, Jos in 1976 and obtained his West African Senior Secondary Certificate Examination (WASSCE) in 1981. His quest for more education made him proceed to study at the University of Jos from 1990 to 1991, and from there he obtained a diploma in Public Administration. Afterward, he obtained Advanced Diploma in Public Administration (1993-1994) from the same University of Jos. Rochas revealed that though he is educated, the journey was never a straight one as he had to combine street trading with his studies.
The Rumor That Okorocha is a Northerner
Some people had over time bore the rumor that Rochas Okorocha is a Northerner but it is crucial to note that he is a bonafide Igbo man. This is as a result of the high interest he showed and continues to show in the affairs relating to the north. He has been involved in numerous interventions and developmental projects in the northern part of the country.
Okorocha built twelve schools out of which 6 were located in the north. He was in 2018 conferred with the traditional title of Maga Alherin Kasar Hausa by the Emir of Daura, Umar Faruk. Following this, he promised to build an Islamic university with modern facilities under his Foundation.
When asked his view on the rumor about him being a northerner, Okorocha replied that he is sure that people know the truth and as such see no need to bother himself about the cheap rumors. He further stated that in order for him to be seen as a detribalized Nigerian, he needs to align more with the North.
How Rochas Okorocha's Political Career Helped Him Build His Net Worth of $1.4 Billion
Rochas Okorocha narrated that he is grateful for the things he passed through while growing up because they helped him become independent and enterprising at a very young age. He first started trying out his hands in business after his secondary education by hawking groceries in Barkin Ladi, Jos. He later became a commission agent where he earned a lot of money from the used equipment he sells. Rochas said that it was then he made his first million which he subsequently put in a cement business in Gboko, Benue State.
Some notable achievements he made before joining politics include buying a television set at age 9, buying a bus at age 14, becoming the head of a commercial school at 19 years, becoming the proprietor of a school, going into cement business (BBC) in Gboko, Benue State, at age 23, and becoming a member of the National Constitutional Conference at 29 years of age. Below are positions and offices Rochas served in before he ventured fully into politics
President of Nigeria Red Cross Society
President, Rochas Group of Companies Limited
President/Founder Rochas Foundation Inc. (1996)
Pro-Chancellor, African Business School and
Former Chairman, Board of Nigerian Airspace Management Agency.
His Political Career Began in the 1990s
According to Rochas, his journey into politics wasn't a smooth one but he pulled through. He first became a member of the Federal Character Commission and a member of the constitutional conference. In 1999, he contested for Governor of Imo State under the Peoples Democratic Party (PDP) but failed in the primaries. Later on, he moved to the All Nigerian Peoples Party (ANPP) and in 2003 ran for the presidency but failed yet again.
He decided to return to PDP and following his return, he was given the position of a presidential adviser on Inter-party affairs under the Olusegun Obasanjo administration. In 2005, Rochas left PDP again to form his own party – Action Alliance. It was alleged that his intention was to contest as president under the party in the 2007 election. Not long after, he went back to PDP again. The exact salaries Rochas Okorocha was earning through his political career so far remained undisclosed.
Rochas Okorocha Served as Governor of Imo State from 2011 to 2019
Rochas had an early political experience that served him well in the race to become the governor of Imo State. Yet again, in 2010, he decamped from Peoples Democratic party to join the All Progressive Grand Alliance (APGA). Rochas was reported to have stormed the Imo State Secretariat of APGA with dozens of thugs, who beat up a handful of top officers of the APGA and also threatened the Imo State Chairman and Secretary of APGA. Hence, he was suspended from campaigning in December 2010 by the party as the case was ongoing then, but he later went on to campaign as an APGA candidate.
He ran as APGA candidate for the April 2011 Imo state governorship election which he won on the 6th of May 2011 with 336,859 votes. Then, in 2013, he decamped from APGA to join APC under which he contested in the 2015 general election and was re-elected for a second term in office on April 11, 2015. The election was declared inconclusive and INEC ordered a re-run due to the 79,000 difference in vote scored by the leading and second candidate, Hon. Emeka Ihedioha. Eventually, Rochas won the 2015 Imo State governorship election.
On assuming office, Rochas sacked all democratically elected Council Chairmen and Councilors, sacked ten thousand youths employed during Ohakim's administration, dissolved tenured Boards & Commissions, and lots more just within one week on the seat. Towards the end of his second tenure as the governor of Imo state, Rochas picked his son-in-law Uche Nwosu as his candidate to run for the office of the governor under APC but he lost the governorship ticket to Senator Hope Uzodinma. Uche Nwosu later moved to the Action Alliance party (AA) where he became their flagbearer but 9t was Uzodinma who later became governor after the elections were contested in court.
The Former Imo State Governor Still Has a Very Active Political Career
Following the expiration of his second tenure as the Imo State governor, Rochas contested for a seat in the Senate in the 2019 National Assembly elections, representing Imo West Zone. Despite that he was declared the winner, his name was removed by INEC from the final list with the claim that the result was declared under duress. But after all was said and done, a certificate of return was issued to him by INEC on 11th June 2019 and he was declared the winner of the Imo West Senatorial District elections. Rochas Okorocha was sworn in on the 13th of June 2019 by the senate president Ahmed Lawan.
Ahead of the 2023 elections, Rochas has declared his intention to contest for the seat of the presidency under the auspices of APC. He had previously done so in 2015 but was not given the ticket at the primaries.
Business Establishments Owned by Rochas Okorocha
Rochas Okorocha is a born businessman. Considering the fact that he started trying out his hands in various businesses right from childhood, he has gotten quite good at it. He is a real estate manager and CEO of the Rochas Group of Companies. This is a private unlimited company that is primarily into animal husbandry services, real estate, and creates opportunities for other economic growth.
He is President of the Rochas Foundation; an initiative that provides free education and support for African children. The foundation birthed Rochas Foundation College which also gives free education to many Nigerian students. He reportedly owns an oil and gas station in one of the northern states which its name is not known. Including the thriving businesses he owned before venturing into politics, Rochas Okorocha owns a chain of other investments.
Rochas Has Been Married To His Wife Nneoma Nkechi Okorocha For Over Three Decades
Rochas Okorocha is a happily married man. He has been married to Nneoma Nkechi Okorocha since 1987. Nneoma is based in the UK and is the Executive Senior Sales Director at Marykay skincare and cosmetics. The politician in one of his interviews divulged that he married his wife at the age of 24. According to him, his father got very sick during the time and asked that he see his daughter-in-law before he dies. Hence, Rochas began to search for a woman to marry. One morning he was driving alongside his friend, he saw a lady packing tomatoes along the road and said to his friend "this is my wife". They stopped to offer help to her but she declined and his friend laughed at him. They had to leave but he still believed in his heart that he had seen his wife.
The next day, he was on a bus and saw the same young lady but never talked to her because she was with her sister. Eventually, it happened that they both met at an event and from there, they started talking. Rochas said that he did not date his wife for up to a week before they got married and since then, their marriage has been the best marriage on earth. Read his words: "…I'm sure it's one of the fastest marriages ever and today I can say meeting my wife, the first lady is the best thing that ever happened to me in life, believe me and I say it anywhere in the world to whoever cares to know. I'm blessed with the best family you can think of…"
The Couple Have Six Children
The former governor of Imo State and his wife Nneoma are proud parents of six lovely children; 3 daughters and 3 sons. They include Uloma Rochas Nwosu, Uju Okorocha Anwuka, Uchechi who goes by Ucy, Ahamefula Brendan, Amen Amarachi, and Amamchi.
1. Uloma Rochas Nwosu
Okorocha's first daughter Uloma is a doctor by profession. She has acquired two degrees from two universities in the USA and one from a Nigerian university; (Associate Clinical Psychology at Everest College Dallas, Clinical Psychology at the University of Texas, and Business Administration at the University of Abuja).
Uloma is the managing director of the shopping center House of Freeda, and the CEO of her father's "Rochas Foundation", which was created to support children and families who are in need. Uloma got married to her heartthrob, Uche Nwosu, in December 2013 in Owerri. Their wedding was graced by highly recognizable men in the country, governors, senators, and the rich from all walks of life. Together they have twins named Russell and Ryan.
2. Uju Okorocha
Uju is the former governor's second daughter and she is the managing director of her father's foundation subsidiary, Reach Out and Touch. She is happily married to Dr. Uzoma Anwuka, the son of Professor Anthony Anwuka and their traditional wedding took place in October 2014 in Ogboko, while the white wedding was held a few days later at Saint Joseph Catholic Chaplaincy, Owerri. They had their son Jidenna Anthony in October 2015. Uju is said to be living a more quiet life than her elder sister and so there are not many details about her on the news.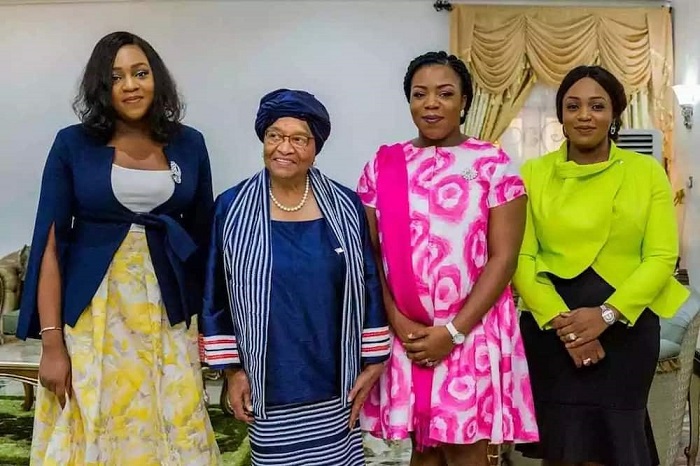 3. Uchechi Okorocha
Uchechi is the youngest daughter of Rochas Okorocha and is not yet married. She studied Social Policy and Law, and International Relations and Law at the University of New York. She is also a member of the Board of Directors in her father's business. But besides that, she has a few personal businesses she runs on her own.
4. Ahamefula Brendan Rochas
Ahamefula, Okorocha's first son, was born on 1st March 1994, making him 29 years old. He graduated from The University of Manchester with a first-class in Mechanical Engineering. He is the CEO of Ryan and Russel, a retail outlet for men's fashion in Abuja. Ahamefula is a young serial entrepreneur and his other businesses include Fula Real Estate Development Company, a private equity & holding company, the Aham Rochas group, and a philanthropy foundation the Aham Rochas foundation.
5. Amen Amarachi Rochas
His second son Amen in 2017 graduated from Southern Methodist University, Texas. He is also a board member at the Rochas Foundation where he works as the Director of Internal and External Resources.
6. Amamchi Rochas
Amamchi is the last child in the family of Rochas Okorocha. He graduated from Samford University. It is not certain what he is currently engaged in as he only graduated from the university just recently.
Rochas Has Not Been Free From Controversies and Corruption Scandals
Over the course of his political career, Rochas Okorocha has always been in the news, either positively or negatively. But it has been seen that he is never perturbed by any negative thing said about him or by the many controversies he continues to court.
One of the biggest controversies surrounding Rochas Okorocha during his tenure as Imo State governor was the unveiling of statues in his state. One of the statues was of then-South African President Jacob Zuma, and the naming of a street after him, despite the corruption allegations leveled against Zuma. Rochas was highly dragged and ridiculed over it by Imolites and Nigerians generally. The governor, however, did not pay attention to what people said but once responded that he owes no one an apology.
Also, during the time, his Chief Press Secretary Sam Onwuemeodo stated that if all they need to do to attract good things to Imo State is erect statues, then, they are willing and have no option but to erect as many as possible. He, however, did not only erect a statue in Zuma's honor but also directed a traditional ruler in the state to honor him with a chieftaincy title, named a road after him in Owerri, and awarded him with the Imo Merit Award. All of these are reportedly done with taxpayers' money whereas Okorocha was still owing workers' salaries and pensioners for over seven months as of then.
Although it is recognized that there is nothing wrong in erecting a statue in honor of a deserving and highly reputable individual, the individual and personality involved in this case is what made many tongues wag. Jacob Zuma has on a number of occasions faced and is still facing numerous corruption charges and does not in any way deserve to be honored by Okorocha. Not only that, this man is perceived to be an immoral person given the rape case he faced a few years ago. There were reportedly a series of attempts by the South African parliament to get him out of office.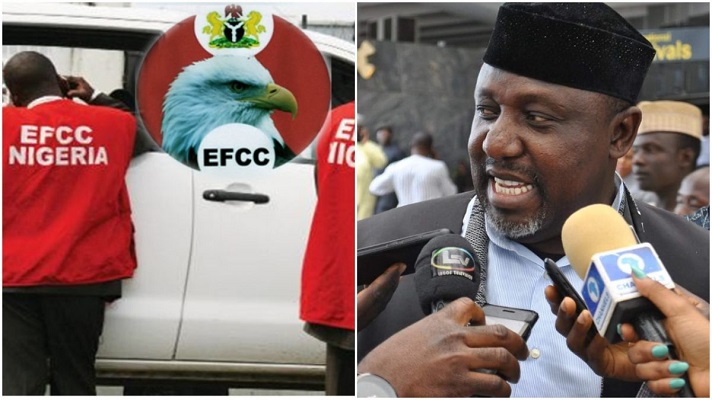 Furthermore, Rochas was accused of diversion of public funds. According to the report, his predecessor Ikedi Ohakim handed over N26.8 billion to Gov. Rochas, which on different instances he was required to give an account of the money but he was not able to do that. This gave rise to the rumor that the money was part of Imo State Government money looted by Rochas which he used to finance his presidential election campaign.
Okorocha is also accused of his attitude to the public not minding his political status in the country. He jokes too much even over serious issues. He sometimes makes flippant comments in public, not minding how such comments would be perceived or interpreted by others. What he says and does brings controversy his way and he seemingly enjoys the swing of it and all the delight it brings.
In April 2021, in his private office in Abuja, Rochas Okorocha who is the senator representing the Imo Senatorial Zone was arrested by the Economic and Financial Crimes Commission (EFCC). It is reported that an invitation was previously sent to him but he vehemently refused to turn up, hence, the EFCC operatives went on his trail, stormed his office, and arrested him. The anti-graft agency accused him of the misappropriation of the state's fund to the tune of N7.9 billion. The money was recovered from the different fraudulent bank accounts linked to the ex-governor.
Okorocha was further accused by the state government of awarding 12 contracts worth over N20 billion in violation of the public procurement act.
The above are some of the controversies Okorocha has been involved in. It is also to be noted that Rochas vehemently denied all allegations of financial mismanagement, saying that they are ordinary fake news. There has, however, been a protracted battle between Rochas and the EFCC since he handed over office to his successor Hope Uzodinma following his claims and counterclaims that his hands are clean and he was only a victim of a witch-hunt by his successor.