The world we live in today does not necessarily connect with nationality, age, and wealth. Both young and old have the accessibilities and opportunity to become very rich regardless of their origin. The beauty about this list is that we have individuals who have made it from different stages in life, those who literally made it from previously having nothing, and those born into wealth.
The richest black billionaires in the world today all got to their status through adequate hard work, creativity, and resilience. They are, according to Forbes,  people who have predominant black ancestry with a net worth of at least $1 billion. Its ranking tops the Nigerian business magnate Aliko Dangote, the world's richest black man with a net worth of $13 billion.
List of the Richest Black Billionaires in The World
1. Aliko Dangote 
Net Worth: $13 billion
Age: 66 years old
Nationality: Nigerian
Industry: Industrialist (Dangote Group)
Other sources of wealth: Investments, holdings in several top companies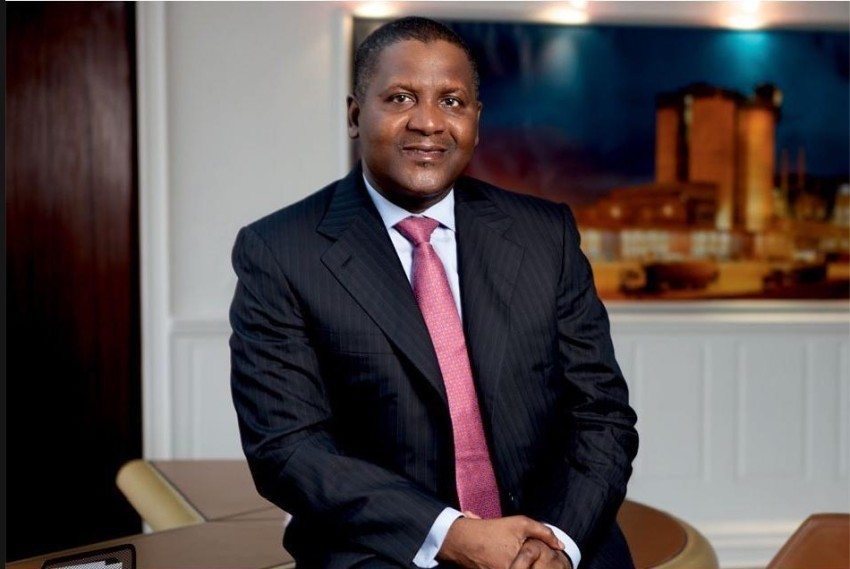 At the age of 51 in 2008, the Nigerian business magnate and monopolist first became a billionaire, hitting $3.3 billion. Today, he is worth a jaw-dropping $13 billion, making him  Forbes #1 Africa Billionaire 2021 and the Richest Black Billionaire in The World. Aliko Dangote is the founder of the Dangote Group, a company that operates in various business activities in Nigeria and other parts of the world. Even though he comes from an entrepreneurial and wealthy family, Aliko did not fold his hands to wait to join the family business after graduation; instead, he picked interest and started a new different line for himself.
Records have it that immediately after he acquired his degree, he borrowed N500,000 from one of his uncles and started importing sugar from Brazil and rice from Thailand. He was making a decent profit from the business and was able to repay his uncle his money. But then, as a man with a high business vision, Aliko Dangote founded his own manufacturing company in 1977 to start producing the things he imports from Thailand and Brazil. It began as a small trading company that deals in manufacturing cement, sugar, flour, freight management, rice, pasta, and real estate. Today, the Dangote Group has grown into a multi-billion dollar company and enlarged into several other sectors such as oil and gas, transport, and telecommunications with operations in various countries. It also exports food products like ginger, cocoa, cashew nut, cotton, and sesame seeds.
The business magnate has other business ventures, which largely contribute to his huge net worth. He has stakes in the United Bank for Africa (UBA) and Nascon Allied Industries, which deals in food manufacturing, fertilizer, and other businesses. Also, worthy to note is that Aliko, apart from Nigeria, has holdings in 18 different African countries, including Ghana, Togo, Benin, Zambia, Sudan, etc. Aliko Dangote is also well notable for numerous other personal investments he has made. Some of them include N200 million donation to the presidential library, $100 million to the fight against child malnutrition in Nigeria (2017), N50 million donation to the National Mosque, and many others.
2. Robert Smith 
Net Worth: $6.7Billion
Age: 60 years old
Nationality: American
Industry: Investment (Vista Equity Partners)
Other sources of wealth: Shares in several companies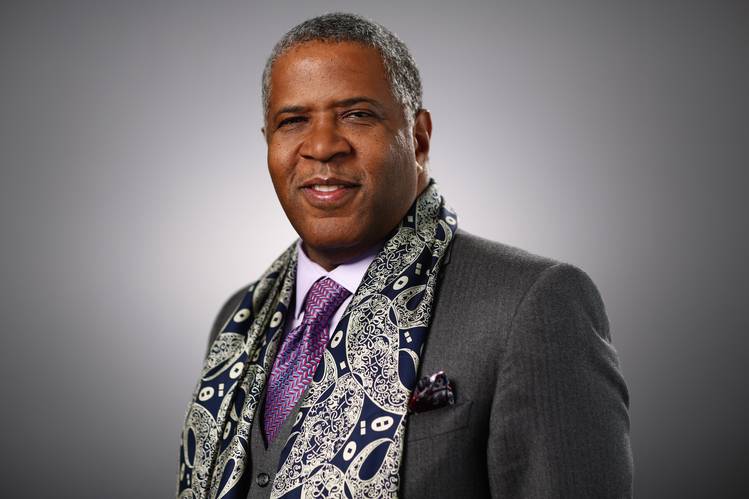 Robert Fredrick Smith is an American businessman who worked his way to establishing his own company and turning it into a multi-billion dollar business. He is the founder and CEO of Vista Equity Partners, a private investment firm that deals in financing and forwarding software, data, and technology-enabled startup businesses. The firm is reportedly worth an annual revenue of $1.2 billion. As a chemical engineer, upon graduation from the university, Robert first worked at Kraft Foods and Goodyear Tire. He also served as the chief executive of Goldman Sachs before he started his own investment business.
In broadening his horizon, Robert acquired stakes in many top companies across the world. Some of its holding companies are Cvent, TIBCO, Finastra, Lithium, Solera, Infoblox, Ping Identity, Datto, Vertafore, and Mediaocean. As of 2020, Vista Equity Partners is reported to have more than 50 companies under its control, with over $60 billion under assets management.
3. Mike Adenuga
Net Worth: $6.5Billion
Age: 70 years old
Nationality: Nigerian
Industry: Telecom, oil production
Other sources of wealth: Stakes in Stanbic IBTC Bank, Sterling Bank, etc
As of October 2021, Forbes estimated the billionaire businessman's net worth at $6.5 billion, ranking him as the third richest black billionaire in the world. Mike Adenuga is the owner of the second-largest telecom company in the country, Globacom. With over 55 million subscribers, Globacom has a presence in Nigeria, Ghana, and Benin, Cote d'Ivoire and continues to acquire licenses in other West African countries. It has various products like Glo mobile, Glo-1 coverage, Glo Gateway, and Glo Broad Access. Furthermore, the business tycoon is the founder and CEO of the leading oil and gas company in Nigeria, Conoil. Conoil struck oil in commercial quantity with its current production capacity as 100,000 barrels of oil per day.
Unlike Dangote, Mike Adenuga came from a very humble background where he started making money from scratch. He took off his business venture by selling lace materials and distributing soft drinks, and at the age of 24, in 1979, he hit his first million. However, he got his big breaks in 1990 when he was granted a drilling license after many years of applying for it. Then, in the following year, he started operating his company Consolidated Oil under the shallow waters of Ondo state. Mike owns stakes in different companies in the country and beyond, including Stanbic IBTC Bank and Sterling Bank.
4. David L. Steward
Net Worth: $5.8 Billion
Year of birth:1951
Nationality: American
Industry: Technology (founder of World Wide Technology Holding, Inc)
Other sources of wealth: St. Louis Blues NHL hockey team
David Steward holds his own as one of the richest black billionaires in the world today. He is an American businessman, founder, and chairman of a private-held technology service provider, World Wide Technology. Forbes' estimation of David's net worth is pegged at $5.8 Billion, making him the fourth person on the list of richest black billionaires. David Steward's story is motivating as he started from nothing to now being a billionaire and the owner of the largest black-owned company in America.
After obtaining a degree in business from Central Missouri State University in 1973, Steward worked as a production manager at Wagner Electric, sales representative at Missouri Pacific Railroad Company, and senior account officer at FedEx Corporation. During these times, David made sure he built deep insights into business, and in 1981, he was introduced into FedEx Corporation's hall of fame. He left the company and founded WWT in 1990, but before then, he successfully ran a transport company, Transportation Business Specialists and Transport Administrative Services. He is also the founder of another global technology company, Telcobuy.
The system integrator, World Wide Technology, stands to be the major source of David's fortune. It provides technology solutions such as video and collaborations, cloud capabilities, security, networking technologies, data center and virtualization, voice, and mobility, from more than 3000 manufacturers to entities in telecoms, commercial, and government sectors. The company employs over 7,000 people, generating around $12 billion in its annual revenue. Furthermore, David Steward has another mouthwatering source of revenue, which is his private investment firm, Kingdom Capital. He is a co-owner of the St. Louis Blues NHL hockey team and controls about 85% of St. Louis, Missouri-based business, which reported revenue of $9.4 billion as of 2016.
5. Abdul Samad Rabiu
Net Worth: $4.7Billion
Age: 63 years old
Nationality: Nigerian
Industry: Investment (BUA Group)
Other sources of wealth: Stock exchange trading
As of October 2020, Forbes' estimation of Abdul Samad Rabiu's net worth is $4.7 Billion. At the age of 24, after he graduated from Capital University in Columbus, Ohio, Abdul returned to Nigeria and started managing his family's rice importation business. After four years, in 1998, and having gained the necessary business experience and courage he needed, he decided to venture into his own business. He first started BUA International Limited, which deals in rice importation, edible oil, iron, flour, and steel.
With his business acumen, Abdulsamad has remained a force to reckon with in the world of business across the globe. In 1990, he hit a lucrative deal to supply Delta Steel Company with raw materials and get paid with finished products, which helped stabilize his company. After some years, BUA International expanded and evolved into the now BUA Group. BUA Group has many subsidiaries, including BUA Sugar Refinery Limited, BUA Ports and Terminal Limited., BUA Oil Mills, BUA Cement PLC, and BUA Estates. With all these different sectors thriving, BUA Group remains Abdul's major stream of income.
In addition, one of the subsidiaries, BUA Cement Plc, trades in Nigeria's stock exchange, wherein Rabiu owns 98.5% of it. Today, BUA Group has become Nigeria's leading foods, mining, manufacturing, and infrastructure conglomerate and constantly seeks to expand its ventures.
6. Strive Masiyiwa
Net Worth: $2.7 Billion
Age: 62 years old
Nationality: Zimbabwean
Industry: Telecoms
Other sources of wealth: Investments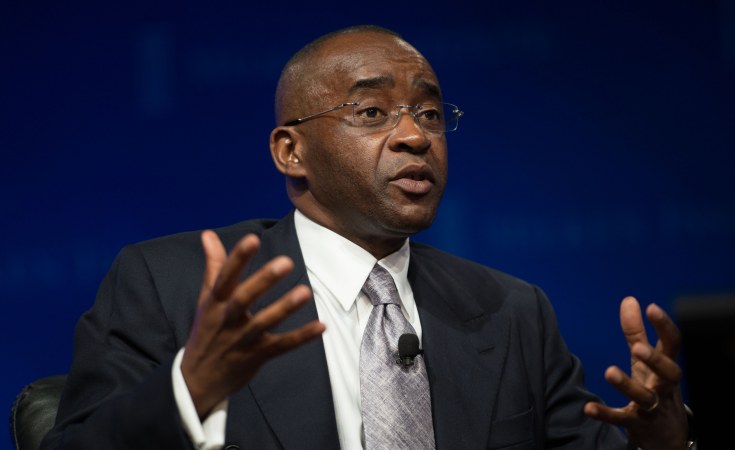 Thanks to his position as the founder and executive chairman of Econet Global, Strive Masiyiwa makes it to the list of the world's richest black billionaires with a net worth estimated at $2.7 billion by Forbes. In 1984, after spending 17 years in London, Strive came back to Zimbabwe to build one of the largest telecom companies in the world today. Before that, as a graduate of Electrical Engineering from the University of Wale, he briefly worked as a telecom engineer with one of the state-owned telephones companies. He later quit the job and, in 1993, founded Econet, Zimbabwe's first independent mobile telecom network.
Econet is a diversified telecommunications group with operations and investments in Europe, Africa, South America, and the East Asia Pacific Rim, offering products and services in most essential areas of mobile and fixed telephony services, optical fiber networks, and broadband, satellite, mobile payment. Strive Masiyiwa owns more than 50% of the publicly-traded Econet Wireless group. His other assets include investments in fintech and power distribution firms in Africa and stakes in mobile phone networks in Burundi and Lesotho.
With all of their operations in 29 African countries, other successful companies and sources of the telecom giant's wealth are Cassava connect, Cummii, Liquid Telecom, and Kwese TV. Strive has also been recognized for serving in various international boards, including Global Advisory Board, Rockefeller Foundation, the Council on Foreign Relations, The UN Secretary General's Advisory Board for Sustainable Energy, Morehouse College, The Kenjin – Tatsujin International Advisory Council, Unilever, The African Progress Panel, and Hilton Foundation's Humanitarian Prize Jury.
7. Oprah Winfrey
Net Worth: $2.6 Billion
Age: 69 years old
Nationality: American
Industry: Media; Oprah Winfrey Talk Show
Other sources of wealth: Real estate, writing, publishing, and film production
The world-famous Oprah Winfrey! Born in a poor home and went through major life challenges, her story is an inspiration of its own. Oprah came into the spotlight through her talk show The Oprah Winfrey Show, and the show remains the highest-rated show of its kind to date. Thanks to her show, she became a billionaire at the age of 49. Since then, she has remained on the list of the world's richest black billionaires. Before she started her talk show, Oprah had spent over a decade working in various radio stations, and these were the times she graced herself and gathered all the insights and skills she needed for her foray into the media industry.
With her net worth currently standing at $2.6 Billion, Oprah Winfrey has become the first black woman billionaire in the world through her numerous business investments. She launched her talk show on 8th September 1986, and it became the number one daytime talk show in America and one of the most famous TV shows, drawing millions of audience. Besides being a talk show superstar, the media mogul makes a generous sum from film appearances and productions. Her highly acclaimed movies include Immortal Life of Henrietta Lacks, Color Purple, Selma, Beloved, and many others. The billionaire woman is also an author and publisher and has about 11 books to her name so far. Her other media extensions are Oprah Winfrey Network OWN, Oprah's Favorite Things, Oprah Radio, Oprah Magazine, and Oprah's Book Club, all contributing to her net worth.
8. Patrice Motsepe 
Net Worth: $2.6 billion
Age: 61 years old
Nationality: South African
Industry: Mining
Other sources of wealth: Sports, finance
One of the world's richest black billionaires, Patrice Motsepe, who has a net worth estimated at $2.6 billion, is known for having diverse income sources. He is the king of mining and the founder of African Rainbow Minerals. His company deals with gold, platinum, and various metals. Motsepe is a stakeholder in many top companies, such as Blue Bulls Co., which owns a 37% stake. He began his mining business in1997 when the gold price was low, and he had to leverage the opportunity and purchase marginal gold mines from AngloGold.
Apart from his interest in mining, Patrick owns Mamelodi Sundowns F.C, a South African football club. Patrick has continued to do exploits in business and expanded into financial involvement. In 2003, he created Ubuntu-Botho Investments, where he owns 55% of the investments. Furthermore, the South African billionaire sits on the board of many companies, including Harmony Gold, the world's 12th largest gold mining company.
9. Kanye West 
Net Worth: $1.8 billion
Age: 46 years old
Nationality: American
Industry: Music
Other sources of wealth: Fashion line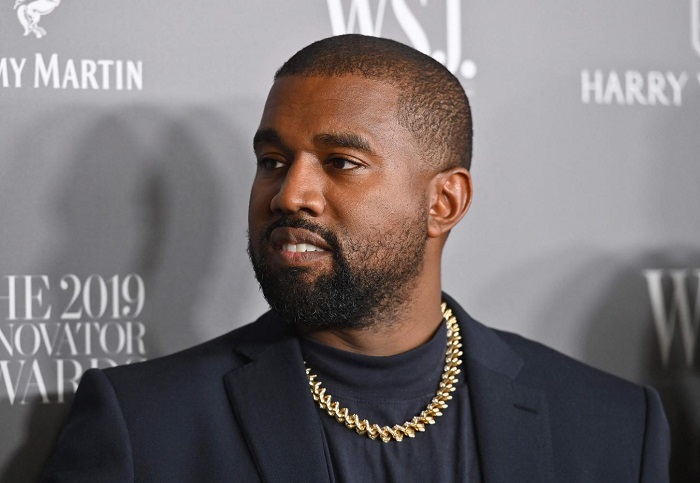 Kenyan-based music giant Kanye takes the 9th spot on the list. As of 2021, Forbes pegged Kanye West's net worth at $1.8 billion, and he amassed a decent part of the fortune from music. Kanye West dropped out of Chicago's American Academy of Art to pursue a career in music and gained recognition in 2000 as a producer for Roc-A-Fella Records. He founded the record label and production company GOOD Music in 2004. In 2019, Forbes reported that Kanye West had surpassed Jay-Z to become the highest-paid person in hip hop, wherein he made $150 million, almost double Jay-Z's $81 million.
Nevertheless, the majority of Kanye's fortune does not come from music. He has a footwear and apparel brand dubbed Adidas Yeezy that deals in sneakers, shirts, jackets, track pants, socks, slides, women's shoes, and slippers. He, in 2015 started his fashion line by collaborating with German sportswear company Adidas. Kanye also has about $122 million in cash and stock in his ex-wife Kim Kardashian's Skims shapewear line.
10. Michael Jordan 
Net Worth: $1.6 billion
Age: 60 years old
Nationality: American
Industry: Sports (Basketball)
Other sources of wealth: Endorsements, Charlotte Hornets
Michael Jordan is the world's richest basketball player and businessman. Though retired from professional basketball, he still benefits from the sport. With most of his fortune coming from basketball and endorsements, Micheal is currently worth $1.6 billion. However, considering that he earned just a total of $90 million throughout his 15-years playing career, Micheal Jordan was able to make it to the list of richest black billionaires, thanks to his ownership of the Charlotte Hornets basketball team.
The former Chicago Bulls Shooting guard is a six-time NBA Finals Most Valuable Player, six-time NBA Championship winner, fourteen-time NBA All-Star, five-time Most Valuable Player, and several other accomplishments. Jordan has several restaurants, apparel, and leisure brands across the United States. He bought the NBA franchise for $175 million, which was a very lucrative deal for him, as the value of NBA franchises skyrocketed over the past decade.
11. Jay-Z 
Net Worth: $1.4 billion
Age: 53 years old
Nationality: American
Industry: Music
Other sources of wealth: Entertainment, fashion
Jay-Z, whose birth name is Shawn Corey Carter, is famous for being an American musician and has made a decent part of his $1.4 billion net worth from music. In addition to being a musician, Jay-Z is a record producer, businessman, and media mogul. He grew up in a humble neighborhood, where his father abandoned the family, and he, alongside his three siblings, was raised by their mother.
Jay-Z had a rough time growing up, but with a passion for music, he started making his own music, and luckily, it paid off. He took off his music career at the age of 19 in 1988, and today, with a career spanning over 30 years, Jay-Z has made billions from it. His album Hard Knock Life earned him massive recognition and a spot in the world of music. It became his most successful work, selling more than five million copies and getting a Grammy Award. So far, the music maker has released over 150 singles and 13 solo studio albums.
Over the years, Jay-Z has diversified his success into the world of business and has made money from other ventures. They include entertainment labels, a clothing line, a high-end champagne brand (Ace of Space), and the music-streaming service Tidal, a video streaming service launched in 2004. His clothing line, Rocawear, was an immediate success and, as of 2000, was generating an annual revenue of $50 million. He also has investments and stocks in some companies.
12. Michael Lee-Chin
Net Worth: $1.4 billion
Age: 72 years old
Nationality: Jamaican
Industry: Business, mutual funds
Other sources of wealth: Investment
Michael Lee-Chin is the CEO of Portland Holdings Inc., a privately held investment company in Canada. The billionaire is the chairman and director of Mandeville Holdings Inc. and portfolio manager of Portland Investment Counsel Inc. Lee-Chin also built his fortune by investing in National Commercial Bank Jamaica and AIC Limited.
At the outset of his career, Micheal did several jobs, including working as a bouncer, before securing a loan from Continental Bank in Canada, which he used to purchase a stake in Mackenzie Financial Group. He has largely contributed to Canadian and Jamaican economies and is also known for his philanthropic gestures.
13. Mohammed Ibrahim
Net Worth: $1.1 billion
Age: 61 years old
Nationality: British
Industry: Communications
Other sources of wealth: Stakes in other companies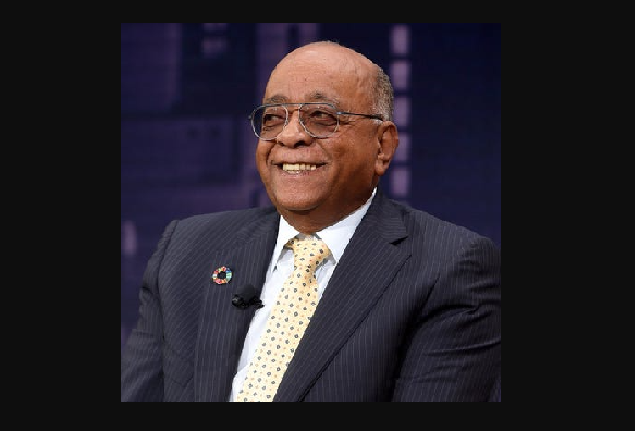 Sudanese-British native, Mohammed Ibrahim, is one of the wealthiest black billionaires who made his $1.1 billion net worth from telecommunications. He was the man behind Celtel before he sold it for $3.4 billion in 2005. He further created the Mo Ibrahim Foundation in 2006, a foundation that gives scholarships to African students looking to further their education in several UK schools. Mohammed owns a majority stake in Satya Capital, a private equity fund that invests in African startups.
14. Tyler Perry
Net Worth: $1.0 billion
Age: 54 years old
Nationality: Black American
Industry: Entertainment
Other sources of wealth: Author, Publisher
One of the richest black billionaires, Tyler Perry, is a film actor, director, screenwriter, and producer most notable for his Madea franchise, which has grossed over $660 million. His career as an actor and filmmaker has made him one of the most successful actors in Hollywood, with a net worth standing at $1 billion. After Tyler began his career, he became popular in the 1990s in live theatre before transitioning to television in the 2000s. He has written numerous plays and produced them. By 2005, he had sold over $20 million in merchandise and $100 million in tickets. Tyler Perry hit the billionaire spot at the age of 51 in 2020, according to Forbes.
Besides the recognition he has gained as an actor, Tyler makes a significant amount of money from his film studios, the video of his stage productions, and TV shows, with credits for writing and producing more than 45 TV shows. He also signs major production deals with OWN Oprah Winfrey Network and Viacom. As an author, he has written two books; his first, Don't Make a Black Woman Take Off Her Earrings: Madea's Uninhibited Commentaries on Love and Life, which sold over 30 thousand copies and reached number one New York Times Bestseller List. His second book, Higher is Waiting, released on 14th November 2007, also debuted on the Bestseller list.

Recap of the Richest Black Billionaires and their Net Worth
Aliko Dangote – $13 Billion
Robert Smith – $6.7 Billion
Mike Adenuga – $6.5 Billion
David Steward – $5.8 Billion
Abdulsamad Rabiu – $4.7 Billion
Strive Masiyiwa – $2.7 Billion
Oprah Winfrey – $2.6 Billion
Patrice Motsepe – $2.6 Billion
Kanye West – $1.8 Billion
Michael Jordan – $1.6 Billion
Jay-Z – $1.4 Billion
Michael Lee-Chin – $1.4 Billion
Mohammed Ibrahim – $1.1 Billion
Tyler Perry – $1.0 Billion