RenMoney MFB Limited (formerly RenCredit) is a consumer finance organization founded in Lagos in 2012 under a unit Microfinance Banking with expertise in the provision of simple money solutions.
In December 2013, RenCredit MFB Limited was re-branded to RenMoney MFB Limited – the name by which they are now known.
Today, RenMoney MFB Limited has upgraded to a state license to operate multiple locations in Lagos State. This led to the opening of five additional branches in Ikeja, Surulere, Lagos Island, Apapa, and Ikota.
The company which is committed to the provision of simple money solutions currently has a staff base of over 400 employees and a customer base of over 25,000 and still counting.
RenMoney is the first Micro Finance Bank (MFB) to launch Cloud technology with minimal fixed asset investment in Nigeria. They have a functional platform which guarantees and ensures an efficient & scalable operational system.
RenMoney has several products – Cash Loan, Fixed Deposits, Target Savings, Smartphone Financing, [email protected], School Fees Loan and Point-of-Sale (POS) Loan.
How RenMoney Works
CASH LOAN
RenMoney offers customers unsecured cash loans (i.e. not requiring collateral) of up to NGN4 million for a tenor that ranges from three (3) to nine (9) months for new customers, while a returning customer enjoys a longer tenor of twelve (12) months.
Customers can either be salary earners or self-employed as long as they can provide a verifiable source of income.
To Qualify For Cash Loan
Be between ages 22 – 59 years.
Have a steady source of income that is verifiable.
Must be confirmed staff in present employment.
Have a functional current or savings bank account.
Have valid means of identification
For more information, click here.
SMARTPHONE FINANCE
RenMoney in partnership with select service providers offers smartphone financing; a product that enables interested persons to purchase their favourite phones and payback in convenient instalments of twelve (12) months.
With just your Debit Card, RenMoney can help you own the latest smartphone without having to break the bank.
How It Works
Each month, a portion of the monthly bundle paid by the customer is used as repayment for the phone which is financed (paid for or funded) by RenMoney. The rest is a charge for the data, voice and SMS service provided by the network provider.
For example, if the monthly bundle costs N1,000 monthly, N600 can go to RenMoney as repayment for the phone while the balance N400 goes to the network provider for the data costs.
RenMoney has a proprietary algorithm to determine which customer will be eligible.
Over the period of the subscription, RenMoney will collect the monthly bundle fees and remit to the network providers, the portion for the Data, Voice and SMS charge
To find out more about Smartphone Financing, click here.
RenMoney also offers what it calls [email protected] This package is designed for registered organisations in partnership with RenMoney.
Under [email protected] scheme, employees of organisations can access loans at reduced interest rates.
How [email protected] Works
[email protected] is designed for organizations with a sizeable amount of staff (not less than 30).
The company must be duly registered with the Corporate Affairs Commission (CAC) and running a thriving business.
RenMoney and the organization will sign a Memorandum of Understanding which permits RenMoney to grant employees of the pre-qualified organisations' loans at reduced interest rates.
The repayment structure is very easy and seamless as it can either be Payroll deduction at source or via any of our repayment methods – Direct Debit Mandate or Post-dated Cheque
Click here for more information.
SCHOOL FEES LOAN
With this package, both adults and kids can have their education financed by RenMoney.
Renmoney School Fees loan disbursement is made directly to the educational institution on behalf of the applicant while applicant repays to RenMoney in convenient monthly instalments.
Under this scheme, you can access up to NGN4,000,000 School Fees Loan, without collateral, and 24 hours cash disbursement after loan approval.
What You Need To Apply For Renmoney School Fees Loan
You must be between ages 22 – 59 years.
Have a steady source of income that is verifiable.
Must be confirmed staff in place of present employment.
Have a functional current or savings bank account.
Have valid means of identification – International Passport, Driver's License or National ID Card.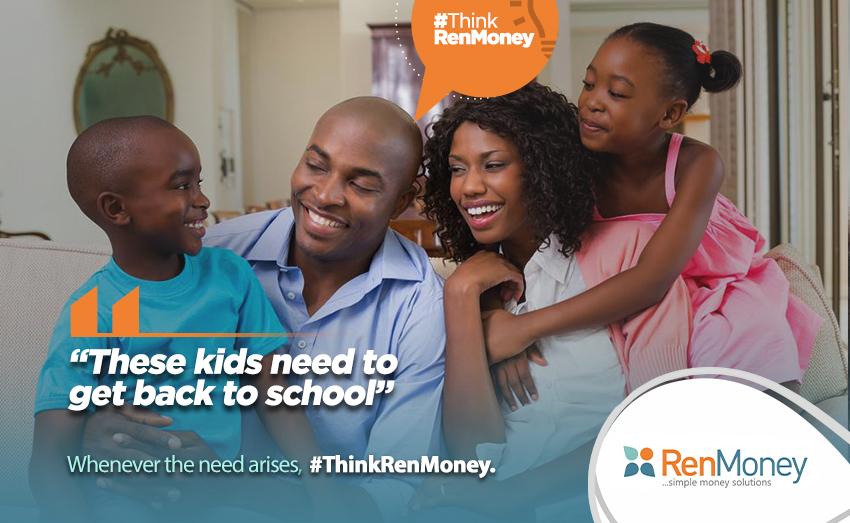 For more information on how this works and to apply, click here. 
Also See: Betting With Bet9ja: Everything You Should Know
POINT OF SALE (POS) LOAN
Under this scheme, you can buy household appliances with repayment made in monthly instalments through RenMoney's Point-of-Sale (POS) Loans.
Appliances that can be purchased at partner shops (e.g. Samsung) include television, air conditioners, freezers, washing machines, microwave ovens, etc.
Click HERE to read more about Point-of-Sale (POS) Loans.
FIXED DEPOSIT
This is an investment product for customers who desire high returns on their investment. With a minimum of NGN250,000 investment, the Fixed Deposit product from RenMoney offers competitive interest rates over an agreed tenor. All investments are insured by the NDIC.
On how to place a fixed deposit, click HERE.
TARGET SAVING
Target Savings plan offers customers a smart way to save towards specific goals such as a wedding, a professional certification, a milestone event or just better financial awareness and management. The Target Savings plan offers 10% interest rate per annum.
To Start a Target Savings Plan:
Determine how much you want to save monthly (minimum of N20,000).
Fill application form.
Choose the tenor of your savings plan (minimum tenor is 6 months).
Issue post-dated cheques or set up a direct debit mandate with your bank.
Send a mail to the Investment team on [email protected] or call 016310723.
You can also fill the application form below.
For more information Click HERE.
Branches and Contact Details
Head Office: 89, Awolowo Road Ikoyi, Lagos, Nigeria.
Other Offices: 
Kings Plaza, 80, Adeniran Ogunsanya Street, Surulere.
Pentagon Plaza, 23 Opebi Road, Ikeja.
F61 & F62 Road 3, Ikota Shopping Complex,Ikota, Lekki-Ajah.
27-29 Odunlami Street, Marina, Lagos Island.
No. 13, Park Lane, Apapa Mall.
Contacts: 
Email: [email protected]
Tel: 0700 RENMONEY (0700 73666639)