Regina Daniels parents are Jude Ojegwu and Rita Daniels. Regina Daniels' dad and mom are not divorced but separated. However, they lived together in Ogwashi-Uku, Delta State, and Lagos for several years before their separation.
Regina Daniels is a household name in the Nigerian movie industry, Nollywood. She is an actress, film producer, model, and businesswoman who began her acting career at the age of seven. The fame Regina Daniel has gathered over the years has in some ways extended to her parents who were not in the spotlight before, especially her father. Although her mother, Rita Daniels, had been a Nollywood actress, not many people are familiar with her.
Who is Regina Daniels' Mother, Rita Daniels?
Full name: Rita Daniels
Date of birth: July 12, 1975
Rita Daniel's Age: 48 years old
Rita Daniel's Occupation: Actress, Politician, Producer, Entrepreneur
Rita Daniel's Instagram: rita.daniels06
Regina Daniels' mother, Rita Daniels, is an actress and politician. Even though not many are familiar with her, Regina's mother, Rita Daniels, was a public figure long before her daughter's marriage to the billionaire politician. She is a Nollywood actress, filmmaker/producer, politician, and successful entrepreneur.
Rita has been in the entertainments industry for more than two decades and has managed to grace the face of some movies in Nollywood. She has garnered decent popularity and fans. Rita Daniels is currently the chairman of the Actors Guild of Nigeria (AGN), CEO of Chris Daniels Nigerian Ltd, Last Point Resort, and Regina Daniels Children Foundation. Additionally, Rita has an active political career.
She is the majority leader, instructor, legislator, and counselor of Aniocha South Local Government Area of Delta State. She has also earned an honorary title as the Ochiudo of Ogwashi Uku Kingdom through her works in the community. In recent years, Rita has slowed down in acting while focusing more on production and other many roles and engagements she has at hand.
Regina Daniels Father, Jude Ojegwu, is a Lagos-based Lawyer
Jude Ojegwu, the father of Nollywood actress Regina Daniels, was born on 4th June 1968 in Azungwu, Ogwashi-Uku Delta State. Jude had his secondary school at St. Micheal's College Ogwashi-Uku and graduated with LL.B from the University of Calabar. He is also a graduate of Nigerian Law School Lagos.
He is the owner of O Ojegbu and Co., a law chamber in Lagos, where he currently practices. Mr. Jude gained public recognition in 2019 following the controversial marriage of his teenage daughter Regina to Nigerian billionaire politician Ned Nwoko. Meanwhile, Jude Ojegbu remained single ever since he separated from Regina's mother and is not known to be in any relationship.
Regina Daniels' Parents are Separated
Regina Daniel was born on 10th October 2000 in Lagos to parents Jude Ojegwu and Rita Daniels. She has four siblings, including three brothers and a sister. Details of where and when Regina Daniels' parents got married are not public knowledge. The couple is not divorced but separated. But before the separation, they lived together in Ogwashi-Uku, Delta State, and Lagos for several years.
Meanwhile, evidence recently showed that Jude and Rita were never married officially. This was revealed during the marriage brouhaha of the actress and Ned Nwoko. According to an article released by the Guardian Nigeria, Jude Ojegwu did not pay Rita's traditional bride price according to custom, claiming that her paternal family could not be traced. Rita had clung to this fact to maintain that Jude is not traditionally recognized as Regina's father.
On his part, Jude went on to defend himself and claimed that though he didn't officially pay Rita's bride price, he has been financially responsible for all his four children with her. He further revealed that two of their sons lived with him in his house for several years until recently, when their mother asked them to move in with her in her new house.
The Actress Has a Closer Relationship with Her Mother
Unlike her father, whose relationship with her cannot be defined, Regina is very close to her mother, who has grown from home to career over time. Their cordial relationship started from her childhood when her mother used to take her to film sets. Little Regina fell in love with acting, and her passion to be an actress grew rapidly.
Initially, Rita never wanted her daughter to become an actress but later gave in to her demands and offered her a role in her movie Marriage of Sorrow. Her performance in the movie was great and encouraging, so she continued earning more roles. Today, Regina Daniels is one of the most popular actresses in Nollywood.
The mother and daughter regularly shower praises on themselves through their respective Instagram pages. Regina took to her Instagram page to celebrate her mother's birthday in 2021, writing a long appreciation post with a photo of a Toyota SUV that she bought for her worth N15 million.
On what she said over her daughter's controversial marriage to the Ned Nwoko, Rita Daniels categorically made it known that she is only a mother who supports her children's ideas that would make them happy. She said Regina wanted to marry early and presented Ned as the man she loves, so she had to support her.
Rita also debunked the claims that she forced her daughter into the marriage for material gains, maintaining that she had already made a name and fortune for herself and her children long before the emergence of the billionaire husband.
Her father was not in Support of Regina Becoming Ned Nwoko's 6th Wife
The story about Regina's father was a mystery until Jude Ojegwu revealed himself as her biological father. He came out in 2019 to lament over the marriage between her then-18-year-old daughter and 60-year-old billionaire. He blamed Rita, Regina's mother, for pushing the young girl into the marriage just for material gain.
According to Jude, Rita is treading on a dangerous path by allowing her daughter to marry the old man without his permission. In an audio interview Jude granted, he expressed total disapproval of the marriage and warned Rita Daniels to stop as soon as possible. He also said that he had called his daughter to warn him, but she told him she loves the politician.
Regina's father was eventually not consulted nor invited in the marriage proceedings, which were held at his ex-wife's compound instead of his village.
Regina Daniels' Dad Has Now Reconciled with His Daughter and Son-in-Law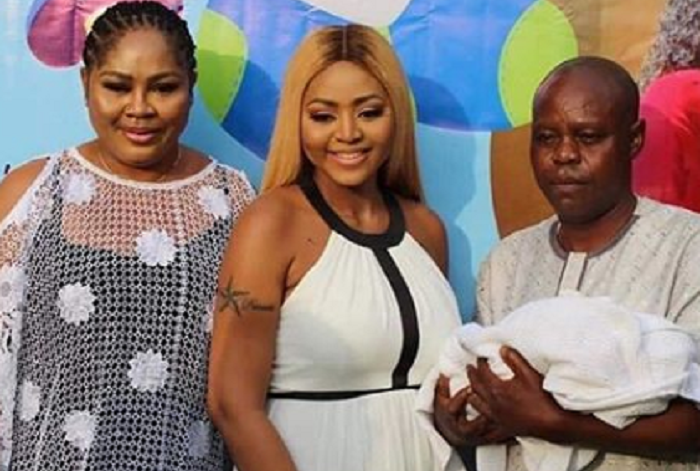 Jude Ojegbu's conflict with her ex-wife, daughter, and son-in-law lasted only a year. After Regina gave birth to her son, Munir, in 2020, Jude decided to bury the hatchet and ended his opposition to the marriage. He said that having a grandson encouraged him to resolve the matter and gave peace a chance.
Evidence of his reconciliation showed when he attended the child's naming ceremony and named him Ifechukwude, which means "what God has written." Besides this reconciliation evidence shown, there has since not been any other evidence to show a closer relationship with Regina and her husband or any means he benefits from their wealth.
Is Regina Daniels' Father Still Alive?
Regina Daniel's father Jude is alive and not dead. Barrister Jude Ojeogwu has long been rumoured to have died. This follows his unavailability at his daughter's marriage ceremony with famous Nigerian lawyer and politician Ned Nwoko. The rumour about Regina's father's death spread further in 2018 after Regina made a post about losing someone dear to her heart. Eventually, it turned out that she was referring to the famous musician, Raskimono's death. Since his reconciliation with his daughter and husband, Barrister Jude Ojeogwu lives happily with his family.
How True Are The Rumours That Regina Daniel's Mom, Rita Daniels, Remarried
In May 2020, rumours started peddling that Rita Daniels tied the knot with a younger lover. Rita Daniels came under severe online criticism and backlash over giving her daughter's hand out in marriage to an old man and going on to marry a younger lover. In the photos circulating on social media, she was seen posing in different traditional attires with a young man recognized as Larry Zuka, an American-based filmmaker and director.
To further fuel the fire, Rita took to her Instagram page, sharing the photos with the caption "True Love wins." However, her son, Lawrence, was prompt to confirm the reports to be untrue. According to Lawrence Daniels;
The photos are from a movie scene. Social media can catch their cruise, but they will be shocked when they eventually see the movie.
FAQs
Who is Regina Daniel's Mother? 
Regina Daniel's Mother is Rita Daniels, a renowned actress, politician, producer, and Entrepreneur
Who is Regina Daniel's Father? 
Regina Daniels father is Mr Jude Ojegwu – owner of O Ojegbu and Co., a law chamber in Lagos
Who are in Regina Daniels Family
The members of Regina Daniels family include her father Mr Jude Ojegwu, her mother Rita Daniels and her siblings – Ifeoma Daniels, Destiny Daniels, Samuel Daniels, Emmanuel Daniels and Lawrence Daniels.