Portable's Net Worth is estimated at $700k (N294.2 million). Portable's net worth largely accumulated from his music career and brand endorsement deals. This has afforded him a house in Lekki and luxury cars to go with it.
Portable is notably one of the fast-rising music artists in Nigeria who emerged as a top trend in 2021 following the release of his hit track "Zazoo Zehh". Today, he joins the league of young artists with jaw-dropping income. His net worth of $700k  is enough to afford him some of the best cars and houses celebrities like him are known to have.
How Much is Portable's Net Worth?
Portable's net worth is estimated at $700k, which is approximately N294.2 million in Nigeria. The young singer from Ogun state made much of his income from his music career. Portable is known by many street slangs, including the son of Shaku Shaku, Street Problem, and Wahala Musician.
Portable began his music career after relocating to Lagos from his home state of Ogun state. Although he wrote and sang several songs which were not largely recognized, his journey to stardom happened after he met a Nigerian dancer and Master of the Ceremony, Poco Lee, who then introduced him to top Nigerian rapper, Olamide.
Olamide became interested in Portable's musical career and helped him collaborate with Poco Lee. The three of them worked together on the song "ZaZoo Zehh," which was a massive hit and made Portable an overnight sensation.
While many still debate the ownership of the "ZaZoo Zehh" copyright between Portable and Pocco Lee, what remains significant is that the hit song gave the newbie singer Portable an unimaginable rise to fame. Produced by P.Prime, "ZaZoo Zehh" was a smash tune as soon as it was released.
It was listed as number 15 on the Billboard chart the first week it was released, and by the second week, the song had moved up to the 14th position, sitting below Joeboy's smash tune 'Sip (Alcohol)'. The song was also one of the biggest hits on YouTube, as it recorded a massive 11 million views in less than a year after its release.
Leveraging his much-garnered fame, Portable released more singles. In fact, 2022 could be termed his biggest year as a singer, as it saw him release songs back-to-back. He first released "Ogo Forever," which is an appreciation tune to God and his supporters. The song also has the artist telling his story of his life journey and his future plan to bring good music to his fans. After "Ogo Forever" comes "Neighbor," where he featured Small Doctor, All Eyes On Me (featuring Barry Jhay), Oro Aje (featuring Oritse Femi), and more.
List of Portable's Songs
Pay Me My Money(2019)
Ema Joke Dada(2020)
Ogo Forever (2022)
All Eyes On Me (featuring Barry Jhay), (2022)
Oro Aje (featuring Oritse Femi) (2022)
Clear (2022)
Money Before You Love (2022)
Expensive OG (2022)
Gberatan (2022)
Odogwu Bitters (2022)
Bye To Sapa Nation (2022)
Other Sources of Portable's Net worth
Just like every other young artist, Portable made additional income from tours, concerts, live events, and live streaming of his songs on various social media platforms. Under the Zaazu tour 2022, Portable made meaningful income touring the various cities of the UK. His UK tour, which happened in November 2022, saw him visiting cities like London, Manchester, Birmingham, Glasgow, and Dublin, among many others.  He made good money from the sales of tickets, among others.
Portable also makes money from adverts and from agreeing to feature in songs by his co-artists. He is believed to be paid handsomely by Humblesmith to appear in his latest release titled "Ogaba". One other artist that featured the Nigerian street-pop music maker is Bolisco, in his record, "Bolaji".
His Endorsement Deals 
Portable's rise to fame following the success of Zazoo Zehh earned him endorsement deals that also contributed to his financial success. One of the biggest deals Portable has signed is with Odogwu Bitters, owned by Nigerian Billionaire Obi Cubana. The N50 Million endorsement deal, which he signed in March 2022, is said to be his highest endorsement deal since he rose to fame in December 2021.
In April 2022, Portable secured yet another endorsement deal with Sujimoto, a Nigerian construction company. While it is not clear how much the deal was worth, we believe that it is huge enough to give his net worth a meaningful boost.
His "Zeh Nation" Record Label
The Zazuu Zeh crooner owns a brand company known as the Zeh Nation. Portable himself made this revelation by sharing a copy of his company's Corporate Affairs Commission (CAC) certification with his fans.
Following the incorporation, Zeh Nation Limited is now recognized by the Nigerian Corporate Affairs Commission as a private company limited by shares. So far, Portable's Zeh Nation has one signee in the person of Young Duu, an upcoming artist Portable discovered on the street. Unveiling him to the media in November 2022, Dr. Zeh also revealed that Young Duu has been with him for a while, and they have "a collabo" already.
How Much Does Portable Charge Per Show?
Though a newbie in the music industry, Portable's rise to fame has immensely impacted his financial life. The Zazu crooner reportedly makes from $3,000 to $5,000 per show, depending on the nature of the event, and so far, he has hosted over 25 shows.
Portable's House in Lekki
Portable Zazuu joined the league of celebrities with properties in the Lekki axis of Lagos state when he bought an apartment in Lekki, Ajah, Lagos State. Details of the house are not yet known, but from the series of photos released by the fast-rising singer on his Instagram page, it is a massive bungalow.
While appreciating God for making him a house owner, Portable further noted that he would soon organize a housewarming party. "Make Una Help Me Thank God ( OPEYEMI ) ZAzuu Villa House warning loading ORILOYOMi OTAOBAYOMI Akoi Grace Zeh Nation Hottie hottie KINIMAH Dõn buy house Oluwa Thank God I'm Grateful You Fit Build a house make I later buy am Na God dey Run am no be man," he wrote in pidgin English.
Portable's Cars
Portable's $700k net worth has helped him purchase a good number of luxury cars that are worthy of admiration. Here are some of the luxury rides you are sure to find at the Zaazoo singer's apartment
Toyota Camry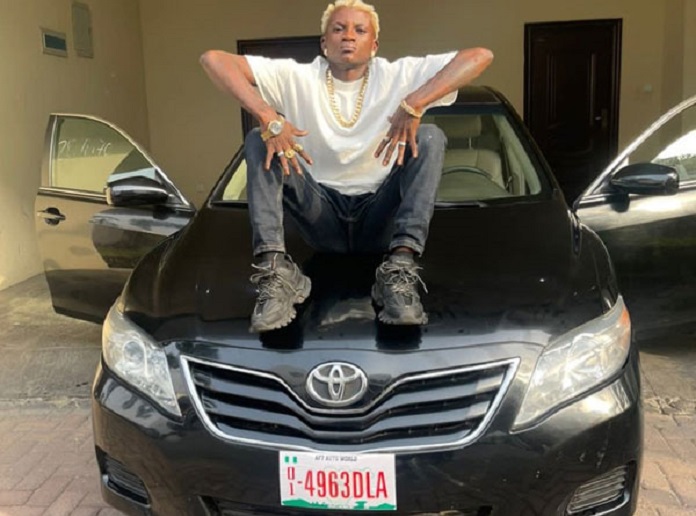 Purchased in December 2021, this is, by all means, the first ride Portable bought for himself to launch his rise to fame. The singer-rapper announced it himself on December 23, 2021, as he took to his Instagram page to announce and show the newly purchased car to his adoring fans.
Portable's first car came shortly after the success of Zaazoo. "Awon fans ti boo cardi o. Big love and appreciation to my benefactors @olamide @poco_lee , @kogbagidi for showing me to the world. New whip for the road. Coming to shutdown all shows. Zaaazo," he wrote while announcing the arrival of his new car. However, the Camry was later damaged by his fans, who apparently were struggling to get some cash from him.
Land Rover Range Rover
29 years old Habeeb Okikiola received his second car shortly after buying his Toyota Camry. He received the Range Rover gift from his benefactor Olamide. Portable
Land Rover Range Rover is reportedly worth over $100k.
Lexus ES 330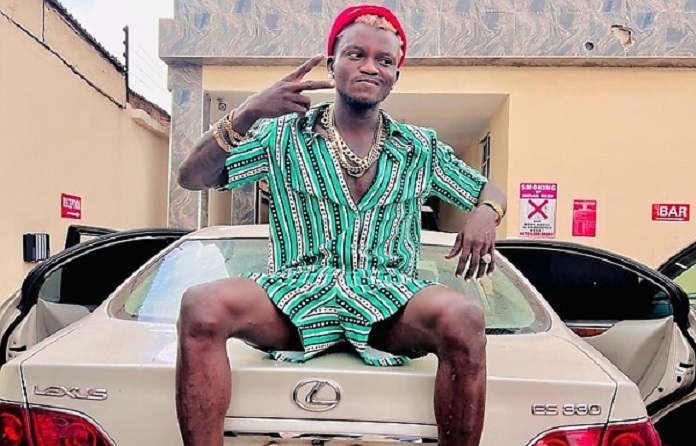 This is apparently Portable's third car. He shared the good news of his luxury ride on his Instagram page in the early days of January 2023. He posted a picture photograph of himself in the car and wrote; "OKIKIOLA God Sent ZAzuu More Keys More Fame More Cash Out Oro Mi Bizza Bizza Na God Dey Run Am Another Motor Abeg no spoil my car oh ZAzuu Motor CEO Dr ZEH Nation." He got the new ride three days after fans badly damaged his Camry.
Meanwhile, there are rumors that the young artist recently bought a luxury ride worth millions of dollars. Even though he has yet to debunk or confirm the assertion, many of his fans have called to congratulate him on his new ride. This follows a recent picture he posted on his Instagram account where he posed behind a golden-color car with a caption that appears like a self-praise.
Aside from gifting himself good cars, Portable also bought a car for his biological father. This was reported in a recent Instagram post where the music artist drove home in the company of his friends to surprise his father with a blue-colored Toyota he bought for him.