Phyno's net worth is estimated at $12 million, making him one of the richest musicians in Nigeria. Thanks to his impressive net worth, Phyno has been able to afford himself the luxury things of life, such as exotic cars and expensive houses.
Phyno has consistently made a name for himself in the Nigerian music industry and has released many songs, especially in Igbo and Pidgin. Aside from earning massively from entertainment, the Highway singer also made a good part of his wealth from endorsements and other businesses.
How Phyno's Net Worth of $12 Million was Accumulated
As a child, Phyno had wanted to become a doctor, but while in secondary school, he started acquiring skills in playing drums and Piano. By the time he was in the university, he had started making covers of songs and taking music more seriously.
According to Phyno, he looked up to one of the Nigerian renowned music icons Mr. Raw who helped inspire his choice to launch his music career professionally. Today, Phyno has gathered massive wealth and fame and become one of the most sought-after musicians in the country.
Music is the Major Contributor to Phyno's Wealth
During his university days at IMT Enugu, Phyno put enough effort into learning his rope in music. He put up some performances at the university and created renditions for every recording he heard, and today, his major achievements and net worth of $12 million primarily come from his music career.
Phyno's Style of Music
Throughout his music career, Phyno has maintained a unique style of music where he sings in his native dialect, the Igbo language. Even at that, he still maintains a position where his rhythm keeps him stable in the regions of the west, south, north and other parts of Africa. To pass a message with his music, the Financial Woman crooner employs various societal issues that cut across politics, God, and love, among other things.
Although he took off as a rapper, Phyno has diversified and become versatile with his songs instead of only rapping. According to Phyno, rapping in his native language is his strong suit. Meanwhile, other musicians with the same musical approach as Phyno include Flavour, Olamide, and Zorro.
His Debut Album, No Guts No Glory, Launched Him to Prominence
In 2010, Phyno relocated to Lagos and started working with different artists, marking the beginning of his fame. Two years later, in 2012, he began recording his debut studio album, which was finally released in 2014. The album, No Guts No Glory featured celebrity artists like P-Square, Mr. Raw, Olamide, Omawumi, Ice Prince, Runtown, Flavor, Timaya, and others.
In the album's lead single, Ghost Mode, Phyno was seen with Olamide rapping in their local dialects. No Guts No Glory, just in the same case as his subsequent albums were recorded in Igbo and Nigerian pidgin. Other songs in the album that set a pace for it include Man of the Year, O Set, Alobam, and Parcel. Ghost Mode went on to win prestigious awards for the collaboration of the two artists.
He Has Four Albums to His Name
So far, Enugu State-raised singer Phyno has dropped four studio albums and one collaborative album, including his debut, No Guts No Glory. In April 2015, he collaborated with Olamide and released the album titled 2 Kings. Both rappers first announced the plans for the album via their social media pages. 2 Kings was released through Cloud 9 and the iTunes Store, and it received positive reviews from music critics. Some of the hit songs in the album include Cypher, God Be With Us, Real Nigga, Carry Me Go, Confam Ni, Koba Koba, etc.
Fast forward to 2016, Phyno dropped his Sophomore album titled The Playmaker. With this album, the Highway crooner literally pulled all the music strings and confirmed his present status in the world of music. The Playmaker is a two-part conceptual album about life stories, women, aspirations, introspection, and sounds. Both halves are intertwined with each other, forming a sonically complete body of work. The playmaker contains 20 tracklists and features A-list artists like 2baba, PSquare, Burna Boy, and others.
In 2019, Phyno announced the release of his third studio album titled Deal With It. The 21-track album features guest appearances like Davido, Don Jazzy, Zoro, Runtown, Teni, and Falz. Even though it received positive reviews, Deal With It was haunted by bad timing, given that it was released in the middle of the xenophobic attacks in South Africa. However, the album contains many hit tracks as that was where he truly crowned himself.
Phyno's latest album is Something To Live For, released in 2021. Phyno has unofficially earned the title "Mr-no-bad-albums." When it seemed like the window of his superstardom slightly slowed down, he dropped another impressive album. The 16-track album represents Phyno's already documented range and is quite amazing in many ways.
Some of His Most Acclaimed Singles
Apart from his albums, Phyno has dropped many singles that helped him gain popularity and contributed to his wealth, given their massive reception and sales. One of his recent highly rated songs is Highway, released in 2020, where he was featured by DJ Kaywise. In 2021, Highway was named NET Honour's Most Played Streethop Song.
Irrespective of his collaborations, the grapevine talk is that Phyno owns 100% of all his songs which suggests that every money coming from them comes completely to him. Below are some of his famous songs that boosted his net worth.
Oringo
Nnunu – ft Stormrex
Ezege
Alobam
Street (Kush) Muzik
Connect
The Bag
Ke Ife O
Yayo
Egedege by Larry Gaaga ft Phyno
Connect
Fada Fada
Iyulu Ife
Isi Ego
Agu
E Sure For Me
So Far So Good
Ride For You – ft Davido
Ojimo
Vibe
Got it in my Vein – ft De Boss and RunTown
Link Up – ft M.I. and Burna Boy
Augment – ft Olamide
Mkpotu – ft Zoro and Tidinz
No Be My Style – ft Burna Boy
Okpeke – ft 2Baba and Flavour
NWA – ft Wale
IWA – ft Tekno
Fuwa Sewa
Other Endeavors That Contributed to Phyno's Net Worth
Shows/Concerts
Phyno's singing career has seen him having the biggest concerts in Africa. The Anambra State native performed at the 2013 Star Music Trek tour alongside other artists like Burna Boy, D'banj, Chidinma, Pucado, Vector, Seyi Shay, Kay Switch, Show Dem Camp, and Sean Tizzle. He also performed at the 2016 edition of the same show in Enugu State.
In 2015, Phyno started a festival called Phynofest with a debut at the Chuba Ikpeazu Stadium in Onitsha, Anambra State. The festival witnessed over 12,000 people, and the success led to its sequel in the following year. The 2016 edition became more successful than the previous one drawing more than two times the number of people who attended during the last year.
He held the 2017 edition of the festival at Nnamdi Azikwe Stadium in Enugu, and this time it had over 50,000 people in attendance. Among the stars in attendance are Mayorkun, D'banj, Timaya, Flavour, Runtown, Zoro, Yemi Alade, Ycee, Duncan Mighty, and Lil Kesh. After that, it was tagged the biggest concert in Africa by an artist.
Phyno does not only pull crowds via this festival but also money, thus, contributing to his impressive net worth. Meanwhile, fans have had expectations for a bigger concert, but none has come since then.
He Earns Significantly From His Record Label/Music Production
Phyno also earns from being a notable music producer. According to worldwide statistics, an average music producer in Nigeria earns about N10,000 per hour and N9 million monthly, depending on their recognition and expertise. Undoubtedly, Phyno is above the average, so his earnings are expected to be higher, given that he mainly produces for big names.
He is the founder and CEO of the record label Penthauze Music, wherein he has worked with notable artist Runtown. By signing talented and up-and-coming artists, Phyno invests in his record label and makes a lot of profit.
Tours
The talented music star does not just enjoy massive airplay globally. Besides sales of his tracks, Phyno's net worth was achievable through his many live performances, thanks to his vibrant on-stage personality. He has graced several stages, including the Trace Live Concert in 2020 and the Glo music concert in 2017, wherein he performed alongside Flavour, Olamide, Runtown, and Omawumi in the city of Lagos.
Streaming platforms
Still, on music, the Bia singer makes income daily, weekly, and monthly via online streams and his Youtube channel. On YouTube, he has 20 million subscribers and 169 million views, where he promotes his works and entertains his fans. On average, a YouTuber earns between $1 to $20 per 1,000 videos and Phyno is expected to be earning more, considering the number of videos on his channel.
Endorsement Deals also Bolstered Phyno's Net Worth
In addition, it goes without saying that Phyno's net worth of $12 million was achievable through multiple endorsement deals he continues to sign. Since hitting the limelight in his music career, Phyno has gained much fame, and thus many top brands are always on the lookout for him to endorse their brands.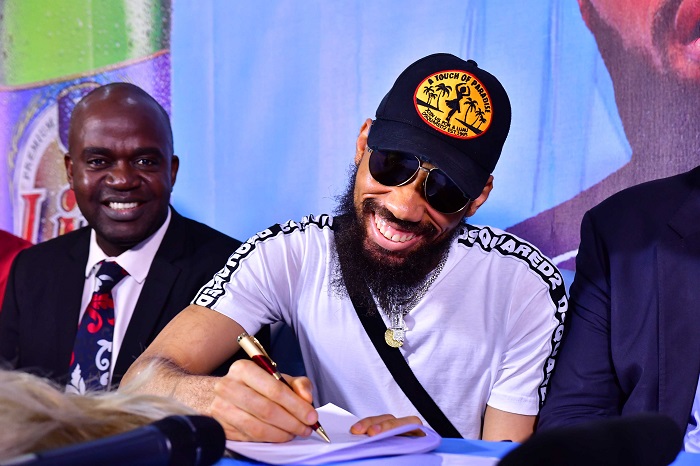 He has signed deals with reputable companies like sports betting company Nairabet. In August 2014, Guinness Nigeria's Made of Black campaign unveiled him alongside Olamide as its brand ambassador.
Here is a list of all the brands he has endorsed, both past and present
Life Larger Beer
Cadbury Nigeria PLC, TomTom brand
Airtel Telecommunications
Globacom
Guinness
Monster Energy
Nairabet
Others
Phyno's major source of wealth is music, and the platform allows him to earn from album sales, concerts, and shows. Although it is unknown how much he charges per show, artists of his caliber receive nothing less than a million Naira. More so, Phyno also earns from acting. Though he does not have a consistent acting career, he appeared in Genevieve Nnaji's highly acclaimed movie, Lionheart, in 2018.
With all these, you can now see how Phyno's net worth is rounded up to $12 million. Even though the exact amount he makes from these ends remains undisclosed, it will suffice to say that they make pillars of his fortune and success.
Recap of the Sources of Phyno's Net Worth
Music Sales
Shows and concerts
Music Production/Penthauze record label
YouTube Channel
Endorsement deals
Others
Inside Phyno's Luxurious Mansions
Unlike most celebrities in the entertainment industry, Phyno tries his best to live a private life. He is not used to singing about his wealth or flaunting his properties on social media. However, it is known that the singer has two houses; one in Enugu State, where he was born and raised, and the other in Lekki Lagos, where he spends most of his time. It is not public knowledge when he bought these houses.
His Lagos mansion is a three-bedroom duplex located in Chevy View Estate, Lekki Phase 1 Lagos State. While the house reportedly cost him N170 million to purchase, the one in Enugu is believed to have cost him N70 million. The interiors and unique features of these houses have so far not made it to the media. Furthermore, it was reported that the singer has another house he has been building for years.
Phyno's Car Collection
Phyno has done quite well for himself and enjoys his massive wealth. Although he is not someone who loves to show off his wealth, we know that the Nigerian rap boss has a high taste for luxury cars. All his cars are luxury models which cost a fortune to acquire.
The Bentley Continental GT
In 2017, Phyno joined the league of Bentley owners. The Continental car has a six-speed automatic transmission, 403-pound feet of torque, and is powered by a 6.7-liter V8 engine. He did not officially reveal how much he bought the car, but the retail price for brand new Bentley Continental is estimated at around N105 million.
Phyno bought his Toyota Avalon at an estimated price of N13 million. The car comes with a convertible version, with an engine that can produce up to 600 hp and over 700 Nm torque. Its standard version is a little slower than 312 km/h.
Another luxury car in Phyno's collection is a Rolls Royce Phantom, which cost him N170 million to acquire. The car stands out for its off-road proficiency and luxury accommodation.
He switches between the Range Rover Sport and Toyota Avalon for his regular event. It is unknown when and how much he bought this car but to own the same today, one has to cough out a decent $69,500, which is around N28 million.
Who is richer between Phyno and Olamide?
Phyno and Olamide are two Nigerian music stars that have done well in building fame and fortune for themselves. However, Phyno has been taking the lead over the years regarding their net worth. While Phyno has a net worth of $12 million, Olamide follows closely with $10 million.
Both artists are sophisticated rappers who have maintained credibility and good standing in the Nigerian music industry. Nigerian hip-hop rap artist, Olamide also records mainly in his native language, Yoruba. He has quite built a fortune for himself, earning from music, his record label, YBNL Nation, and numerous endorsement deals with companies like Peak Milk, Etisalat, Guinness, etc.
Other artists who have achieved outstanding success and notability but are behind Phyno and Olamide include Reminisce ($7 million), Ice Prince ($5 million), Kcee ($5 million), Zorro ($1 million), and many others.