As some Nigerians are lamenting over a bad economy and poverty, some others are busy splashing hundreds of millions on luxury cars. One begins to wonder if they actually have trees yielding money as fruits just at their backyards. Looking at all the cars these stars have ever acquired in their lifetime may appear incredible and prodigious. Therefore the list here is restricted to the ones I call the 'Explosives'!
Luxury Cars Owned by Nigerian Celebrities
Waconzy and his N15 million Mercedez Benz E-Class
Right now, Waconzy may not be among the biggest stars in the country, but the man still has good wealth. Among the cars that he has are a 2013 Mercedes e class which is worth 3 million, 2013 Range Rover sport which value is placed at 10 million, 2013 BMW X6 worth also worth millions, as well as a 2009 Range Rover Sport that is worth $7 million.
Davido's N30M G Wagon and 2014 Range Rover SUV
Quite a number of Nigerian celebrities like their international counterparts own a G Wagon. One of the people that have the car is Davido. The award-winning musician bought the $30 million car in 2013 as a Christmas present to himself. KCee, Dencia, M.I, Olamide, Timaya, and Ini Edo are other Nigerian celebrities that own the G Wagon.
The son of a billionaire who is also doing well for himself, Davido also has other cars including a Range Rover, Mercedes GLE 250, Chevrolet Camaro GS, Porsche Carrera, and a Honda Accord.
Wizkid and his Panamera Porsche S
It was as early as 2013 that WizKid acquired his Panamera Porsche S. Wizkid bought the car shortly after he crashed his N25million worth Porsche Panamera. In the crash, the tire of the car burst before he slammed into a barrier. Since from then, the man has gone on to acquire many cars including a N45 million Bentley, a N9 million worth Mercedes Benz 2012 Compressor, N11 million worth BMW X6, as well as a N6 million worth Hyundai Sonata.
Jim Iyke and his "Rare Toys"
Regarded as Nollywood's baddest boy, Jim Iyke also has a nice collection of cars. Once among the most sought-after actors in the country which translates to him being among the highest paid, Iyke owns a Plymouth Prowler Convertible as well as a Camero SS Convertible. No, I doubt if these are the only cars owned by the popular actor whose real name is James Ikechuwu Esomugha.
Daniella Okeke and her fleet
In order to prove that she is not broke, even though as she said, she is not the riches, Actress Daniella Okeke shared the pictures of her exotic cars. The woman has many cars including a Range Rover E-Vogue which has been said to be a gift from a US-based lover. The car is said to worth close to 30 million Naira. Other cars the actress has are a Lexus and a Mercedes-Benz 450 GL.
See also: 10 Cutest Nigerian Celebrities and their Familie
Ebube Nwagbo posing beside her N18 million Porsche Panamera
In front of her Hummer Jeep
Ebube Nwagbo is another woman that we are coming to see as a car freak. She recently unveiled her two cars; a Porsche Panamera and a Hummer jeep. American rapper, The Game, Ne-yo, Akon, and Sylvester Stallone are other celebs that own Porsche cars.
Hallima Abubakar and her N10 million Porsche Automobile
It was in 2013 that this Nigerian actress acquired her Porsche convertible that was worth 10 million Naira. The car is about luxurious comfort.
J-Martins' Rolls Royce Phantom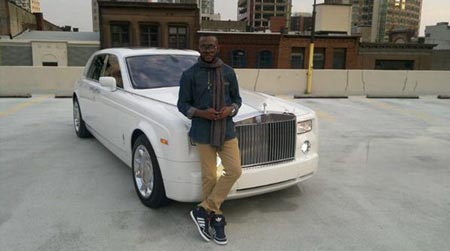 N64 million is the amount that J Martins spent to get his Rolls Royce Phantom. Interestingly enough, J Martins is not the only one to have this car.
I Go Die's N30 million Rolls Royce Phantom
I go die bought his Rolls Royce Phantom for a documentary he was working on, I Go Dye, Pain to Glory. There are many international celebs that have Royce including Jennifer Lopez and Lady Gaga.
Mikel Obi and his $180 000 Bentley Continental GT
You will be surprised to find out that others celebs that have Bentleys include Jay Z, Kim Kardashian, and Ludacris. It is since before 2012 that it was reported that Mikel bought this ride.
What's your opinion about this affluence? Will you say that its worth the sufferings or do you consider it all together a waste? Let's know your mind in the comment session below.