Peter Nwachukwu (Real name: Peter Echijekwu Okekenwa, born on 7 July in the 1960s) is a Nigerian evangelist popularly known as the husband of the late Nigerian gospel singer Osinachi Nwachukwu.
Though a husband to the popular gospel singer, Nwachukwu Peter only became popular in the media space following his involvement in the death of his wife as he was accused of killing her. Since the demise of the "Ekwueme" singer, Peter has continued to make the news for the wrong reasons. Here are some interesting facts about the infamous Nwachukwu Peter you will love to know.
Summary of Peter Nwachukwu's Biography
Full name :Peter Echijekwu Okekenwa
Gender: Male
Date of birth: July 7
State of Origin: Anambra State
Nationality: Nigerian
Sexual Orientation: Straight
Religion: Christianity
Marital Status: Married
Peter Nwachukwu's Wife: Osinachi  Nwachukwu
Peter Nwachukwu's Children: 4
Siblings: Richard Okenwn
Famous for: Osinachi Nwachukwu's husband
What is Peter Nwachukwu's Age?
Peter Nwachukwu was reportedly born in the 1960s. He lists July 7th as his birth month and day, making his age to be between 63 and 54 years old.
Nothing much has been revealed about Nwachukwu's childhood. His educational background is not public knowledge as well.
Where is Peter Nwachukwu From?
Mr. Peter Nwachukwu hails from Omaboma in Nnewi South local government area of Anambra state, Nigeria, where he was born and raised by his parents who were of Christian faith. Not much is known about his family, but he is said to have an older brother named Richard Okekenwa.
Mr. Okenwa further revealed Peter's real name to be Peter Echijekwu Okekenwa and not "Nwachukwu," which he is usually called.
What is Peter Nwachukwu Occupation?
Osinachi's husband, Peter Nwachukwu, is an evangelist and pastor at Dunamis International Gospel church, where Osinachi is also known as one of the lead singers before her death. Dunamis is owned by a popular Nigerian clergyman, Pastor Paul Enenche.
It is not clear if Mr. Peter was a full-time pastor or if he was engaged in other jobs outside the church. Meanwhile, there were claims that Peter doubled as his wife's manager. This means that he was responsible for his wife's financial negotiations and bookings, among other things.
How Peter Nwachukwu Became Osinachi's Husband
Peter Nwachukwu was married to his wife for over 10 years before her sudden demise in April 2022. Though not much has been revealed about their love life before their marriage, it is said that the pastor met his wife at a church choir ministration.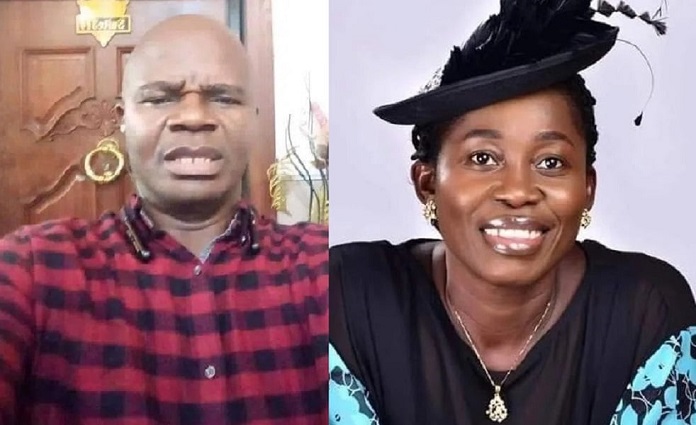 Peter's wife, Osinachi, is an indigene of Isochi in Abia state. Her mother's name is given as Caroline Madu, and she has a twin sister whose name is Amarachi Ezeh. Not much information is revealed about the early life and educational background of Mrs. Osinachi Nwachukwu. Although she is educated, the name of the schools she attended has not been disclosed.
The exact date Peter and Osinachi got married has not been revealed, but their union was blessed with four children – a girl and three boys. Meanwhile, it is said that Mr. Nwachukwu was secretly married to an unknown woman with whom he shares a romantic relationship in a church before his marriage to the Ekwueme singer. This was revealed by one of the children of the deceased gospel star, who found an old photo album hidden in his father's room.
The photo album contained pictures of Nwachukwu having a church wedding with an unknown woman with whom he apparently has a child. This secret is unknown to the late singer. There were claims that Osinachi suspected her husband's affair outside their marriage, but she could not lay hold of any evidence. Her family also claimed not to be aware of the man's secret wedding, adding that they may not have agreed to Nwachukwu's marriage proposal if they knew.
What Killed Peter Nwachukwu's Wife, Osinachi Nwachukwu?
Osinachi's sudden death hit the world in April 2022. Though there were initial speculations that the famous singer suffered from cancer of the throat for which she gave up the ghost, medical reports state that she died as a result of blood clotting in her chest region, which she sustained from the kicking she allegedly got from her husband, Mr. Peter Nwachukwu.
Osinachi died at the age of 42 after spending days at the National Hospital in Abuja. She was said to be a victim of domestic violence. Friends and close family members who claim to be aware of the artiste's bitter marriage experience had advised her to leave, but she apparently refused on the claims that she was hopeful that her husband would change.
Mr. Nwachukwu would beat his wife and inflict pain and injuries on her body. There were claims that he often would lock her up in the house after severe beatings. The last beating was a kick on her chest, which landed her in the hospital and kept her on life support for five days before she finally died.
Where is Peter Nwachukwu Now?
Peter Nwabuezu is currently at the Kuje Correctional Facility in Abuja, where he is awaiting the hearing and determination of the homicide-related suit instituted against him by the Attorney General of the Federation.
Peter Nwachukwu was arrested for allegedly beating his wife, which resulted in her death. The pastor was ordered to be remanded at the correctional facility after he pleaded not guilty to 23 counts bordering on domestic violence and homicide, among others.
The pastor was charged for allegedly committing culpable homicide under sections 104 and 379 of the Administration of Criminal Justice Act, 2015, an offense contrary to section 221 of the Penal Code and punishable with death.
Peter was alleged to have deprived his wife of her personal liberty by restraining her movement and locking her up in the house; subjecting her to emotional, verbal, and psychological abuse; and denying her access to her money for medication and household necessities, thereby forcing her into begging and borrowing.
Nwachukwu was further charged for cruelly beating his children, recording their cries, and playing them on his phone. However, he pleaded not guilty to all the allegations that were contained in the charge the Federal Government preferred against him. Osinachi Nwachukwu has been laid to rest in her hometown, Isochi Umunneochi, in Abia State.