The Institution of Chartered Accountants of Nigeria, ICAN is a professional organization responsible for accounting regulations in Nigeria. It works with the Association of National Accountants of Nigeria (ANAN) as the two regulatory authorities for accountancy in the country.
ICAN was founded in 1965 with the purpose of boosting competency of practitioners in the field. Starting out initially with 260 members, the body has grown stronger over the years and now boast of certifying more forty thousand chartered accountants who are engaged in different sectors of the nation's economy.
As one of the authorities of professional accountants in the country, graduates, postgraduates, and undergraduates are seeking to register and become a member of ICAN. That is why we are here to provide you with simple guidelines on everything you need to know in that regard.
How To Register for ICAN in Nigeria 
You can either register for ICAN as a professional student, as an Accounting Technicians Scheme West Africa, ATSWA, student or register as a member.
As a professional student:
In order to register as a student with the Institute, you must hold a University degree or its equivalent, plus some approved qualifications on this list. Then, follow the steps below:
1. Visit any Commercial Bank in Nigeria and pay the sum of ₦7,000 (bank charges not inclusive) for the professional registration fee via PayDirect.
2. After making the payment, proceed with the registration at the website address indicated on the PayDirect receipt obtained at the bank.
3. Attach a scanned colored passport photo of yourself on the registration form online.
4. Once you've finished filling the registration form online, print it out and append your signature.
5. Meet any chartered accountant who would be your referee/sponsor. You only need to provide the persons membership number, name, and phone contact. Also, present the printed copy of the filled application form and photocopy of your credentials to your referee for certification.
6. Applicants using Architecture Aptitude Test, AAT result, are to pay ₦23,500 as the cost of induction/conference and attach the photocopy of the receipt to the form.
Also, attach the following:
Original copy of the pin voucher.
Two copies of certified passport photos.
Original copy of the bank (PayDirect) receipt.
Note: Those using transcript in place of NYSC should address it to the Registrar/Chief Executive of the institute.
Furthermore, they do not entertain a change of address until after 2 years of registration. You can send an e-mail to [email protected] for further enquiry.
With the above procedures, your professional student's registration is complete!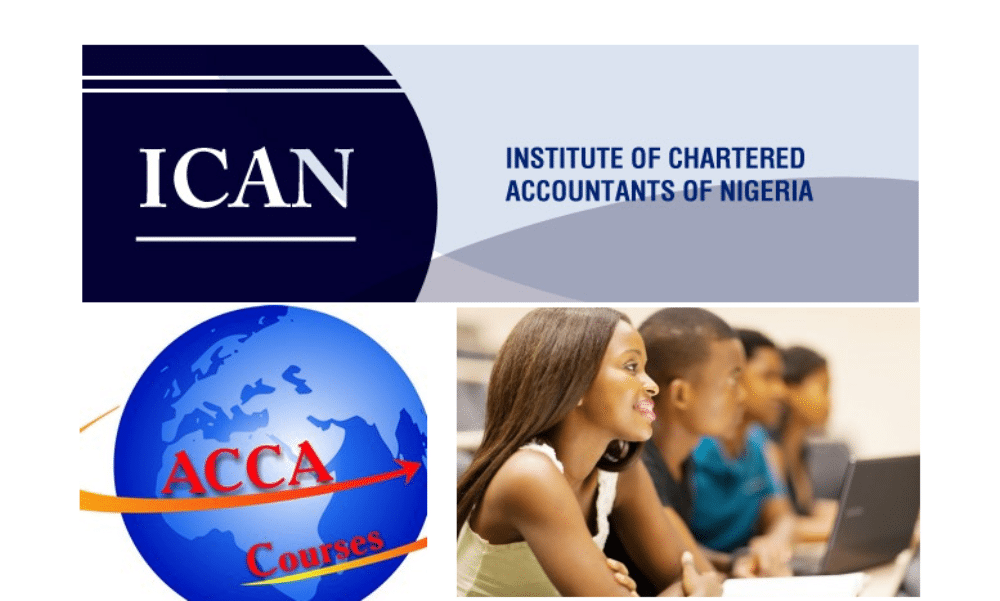 As an ATSWA student:
To register for ICAN as an ATSWA student, you need qualifications such as
Ordinary National Diploma,
a National Certificate of Education or
any relevant qualification that is approved by ICAN.
Then follow these steps to register:
1. Go to any commercial bank in Nigeria and pay ₦6,000 professional examination registration fee on PayDirect.
2. Proceed with registration at the website address shown on the PayDirect receipt you obtained from the bank.
3. Attach a scanned colored passport photo of yourself on the online registration form.
4. Print out a copy of the completed application form and ink your signature on it.
5. Any Chartered accountant/AAT member can stand in as your sponsor/referee, so all you need is to find one and provide his/her name, membership number and contact on the form.
6. Once you're able to obtain that, take a printed copy of the completed application form, and photocopy of your credentials to the person for endorsement.
7. For your registration to be complete, you'll need to attach the following:
Photocopy of WASC/NECO certificate, or Statement of Result, OND, NCE and other acceptable academic certificates.
two certified copies of passport photos,
Original copy of the pin voucher
a copy of your birth certificate/sworn affidavit
three empty envelopes with your address and ₦50.00 stamp on each of them and
the original copy of the bank payment receipt.
8. Once you have all the above documents, you are to submit them to Students' Education & Training Department at ICAN Secretariate, 82, Murtala Mohammed Way (opposite Denton police station), Ebute Meta, Lagos.
How To Register to Become an ICAN Member
An ICAN member is expected to be a qualified accountant with work experience in the accounting or related field. In other words, if you are a university certified accountant, you must have acquired 3 years of experience. But if you have a diploma in another discipline or you're a member of the AAT, you need 4 years of experience. After that, follow the steps below for registration:
1. Pay an Induction fee of ₦90,000 through PayDirect at any commercial bank in Nigeria.
2. With your payment receipt, proceed for your registration on ICAN's website: https://www.icanonline-ngr.com/paydirect.
3. Type in your Deposit slip number and receipt number on the space provided
4. A new PIN and Serial Number would be generated for you.
5. On the registration page, enter your Student Registration Number, PIN and Serial Numbers.
6. After you've filled the form, upload a clear passport photograph yourself on a white background and submit it online.
7. Print the completed Membership Form for your Referees/Sponsor to sign.
8. Ensure that your ICAN Final Examination Number is boldly written on the copy of your form.
9. You are to attach the original of your Confirmation/Attestation letter(s) on Company's letterhead, from present and previous employers.
10. Your Confirmation/Attestation letter(s) should be signed by any of the following
a Chartered Accountant in the organization/External Auditor (for those in Commerce & Industry as well as Government Parastatals) or
a Partner (for those in Practising Firms).
11. The letter should state the duration of employment (month and year) and a detailed scope of duties.
12. Once you've completed the induction application form, download and submit it to: The Institute of Chartered Accountants of  Nigeria, Plot 16, Idowu Taylor Street, Victoria Island, Lagos, on or before the stipulated closing date.
How To Make Payments for Registration
To proceed with the registration for ICAN, you have to pay the required amount of money (₦7,000) for the professional examination registration on PayDirect at any commercial bank in Nigeria, where you'll be issued a receipt to continue with the registration on the institute's website.
The contacts below are provided for any inquiries:
Membership DL: 01-4542097
There you have it, we hope you find this most useful. Goodluck!