Olayinka Solomon (born 17 September) is a fast-rising Nollywood actress, producer, and model best known for her roles in Yoruba movies. She is famous for featuring in Olosho Ghetto (2022), Romeo (2022), Esin (2021), and President Kuti (2021) as well as for her presumed marriage to actor Ibrahim Chatta.
Despite her fame in the movie industry, Olayinka exposes herself through other career paths as an entrepreneur. She is the founder of Olayinka Mart and travels to countries to get goods. While these may seem to be great details about her, here is every detail from her birth to marriage, relationships, children, career, and controversies of the actress.
Summary of Olayinka Solomon's Bio
Full Name: Olayinka Solomon Irenitemi
Nickname: Ogo Mushin, Yinka
Gender: Female
Date of Birth: 17 September
Ethnicity: Yoruba
Nationality: Nigerian
Zodiac Sign:  Virgo
Sexual Orientation: Straight
Religion: Islam (by marriage)
Marital Status: Married
Olayinka's Husband: Olasunkanmi Mabinuori
Her Children: 2 boys
Olayinka Solomon's Net worth: Above $400,000
Famous for: acting and producing movies
Olayinka Solomon's Instagram: @olayinkasolomon01
Facebook: Olayinka Solomon
Olayinka Solomon was Born and Raised in a Very Wealthy Home
Olayinka Solomon was born in an undisclosed year on 17 September in Lagos State. She hails from a very rich Yoruba family that is famous in Mushin, Lagos. While she may have kept the identity of her parents under wraps, she revealed that the pool of her father's wealth led to her becoming a landlord at a very tender age.
Her father died years before 2020 and due to the wealth he left, Olayinka inherited lavishly and would later invest a large part of the wealth in other businesses.
She Started Acting in Secondary School and Became a Professional in 2005
Since her secondary school days, Yinka took interest in acting and started performing on small stages. In 2005, she started a career that saw her rise in the Nigerian entertainment industry.
Years down the line, she featured in many other movies and became one of the most entertaining characters. While she started drawing attention in her early career, she later decided to take a break from acting, only to return in 2018, about 13 years after she officially made her professional acting debut.
She has interpreted roles alongside several other notable actors such as Kemi Afolabi, Mercy Aigbe, Femi Adebayo, and Adebayo Salami, among others.
Olayinka's Movies and TV Shows
The State
Omodara
Omo Alhaji
Salewa Sagbare
Ile Opo
Ogo Mushin
Omo Baba Olowo (O.B.O) produced
Ida Ife
Itelorun
She is also a Producer and Writer
Apart from interpreting roles, Ogo Mushin is also a producer whose roles include being responsible for finding and launching films and arranging the finances of movies. She is most famous for producing films under Olayinka Film Productions and Marhab Films Production.
Among her known works is Ogo Mushin (2021). She also featured in the movie as Rugged/Monalisa, and it featured other actors such as Mercy Aigbe, Femi Adebayo, Yinka Quadri, Ebun Oloyode, and Remi Surutu.
For her participation in the film, she was nicknamed after the movie title, "Ogo Mushin." More to this, Olayinka also explores the aspect of movie writing and is known for her writing credit and production of Salewas Sagbere (2018).
Olayinka Solomon Has Other Businesses
The actress is a businesswoman who travels to countries to buy different goods for sale within Nigeria. According to her, she enjoys investing her money in order to make more profits rather than living lavishly.
Still, in relation to this, the Lagos State-born actress is the CEO of Olayinka Mart, a mini supermarket that deals with the sales of products such as gold, cosmetics, dresses, bags, and Ankara.
Who is Olayinka Solomon's Husband?
On 17 September 2021, Yinka Solomon became married to Olasunkanmi Mabinuori – a US-based Yoruba Muslim Nigerian. Judging based on his Instagram bio and some posts, he may have served in the American army as his bio describes him as a US veteran while his pictures of 2015 showed him in the US army uniform.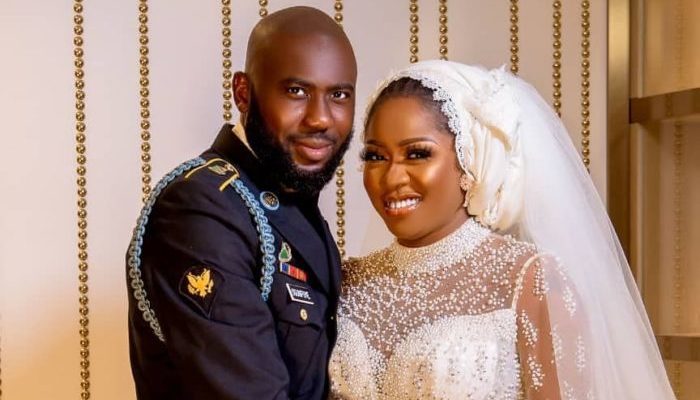 Focusing on the wedding, the ceremony was attended by some famous people such as Bakare Zainab Opeyemi, Oyinade Adegbenro, Adebowale Adebola Seilat, and Ayoola Kikelomo.
The couple has not given details as regards how they met, but on September 15, 2021, Olasunkanmi uploaded a video of himself and Yinka while boasting about how she was his. Later on the same day, he uploaded another video that revealed when he asked the actress to marry him. Prior to his revealing the video, Yinka had already uploaded it on TikTok.
On 16 September 2021, Sunkanmi further revealed images of himself and his celebrity wife with the caption – "first of all introduction." The image was followed by several others, including wedding pictures.
On her own part, Yinka was able to keep the marriage more private and rarely shared any glimpse of it.
She was Allegedly Previously Married to Ibrahim Chatta
It has been revealed that Olayinka met actor Ibrahim Chatta in 2007, and in 2008, they became married. However, the marriage supposedly failed due to cheating and abuse. While this news may have juggled the internet, Olayinka came out to reveal that she was never married to the actor, but they share mutual respect as colleagues.
However, there are revelations that the Yoruba actors had stayed in the same house. The relationship has always been a controversial one, with both of them pointing accusing fingers. From her end, Olayinka had claimed that Chatta was a womanizer who also treated her as a slave.
Chatta debunked this claim and attested that she would leave the home they shared together and could spend months away. This would lead to his taking care of their child on his own.
Whatever the truth of the story, the relationship ended, and Chatta headed to become married to Salamatu Mohammed Lafiaji, the daughter of the former governor of Kwara State, Shaaba Lafiaji, before they divorced and he went to marry Olaide Aishat.
Yinka, on the other hand, kept her other relationships away from the media.
She Has Been Involved in a Romantic Relationship Controversy with MC Oluomo
So the story goes, MC Oluomo was allegedly having an affair with Olayinka. Yet, the actress introduced him to another actress, Mariam Muftaudeen, who became his baby mama.
According to Kemi Filani News, the 2 women started to drag each other, and Mariam had even claimed that Yinka was sleeping with Oluomo even after she became married to her current husband, Olasunkanmi.
The same report went on to claim that Yinka was also sleeping with other men despite her marital status. Despite the attention that the news brought to the actress, none of the claims was backed up with evidence. Her husband, however, took to social media to pray for a successful marriage.
Does Olayinka Have Children?
The Lagos-born actress is a mother of 2 boys. Her first child, a son named Abdul Malik Iretomilola Chatta, was born on 18 February 2008 from her relationship with Ibrahim Chatta.
The second child, Olajide, is younger, and his paternity has been kept private. From the snippet of the children that the actress gives on social media, she has been a huge part of the lives of the children, and Chatta has, over time, been present.
In addition, Olayinka's husband, Olasunkanmi, is a present father figure in the lives of the children. Their close relationship is evident in their social media posts as he tags them as sons and family while Malik also dubs him as a parent.