Located in Kaduna State, Nigerian Defence Academy (NDA) is a military institution with the fundamental role of training individuals with adequate knowledge, values, and skills that are paramount to meet the requirements of a military officer through character, military, and academic development. It has provisions for both men and women who are able-bodied. The institution produces graduates commissioned into the Nigerian Armed Offices, including the Army, the Air Force, and the Navy.
NDA is one of the first two military universities in Nigeria founded on 5th February 1964. Before then, it was known as Royal Military Forces Training College (RMFTC), and in 1960, after Nigeria's independence was renamed Nigerian Military Training College. However, four years after the independence, the institution was renamed the Nigerian Defence Academy (NDA), which still bears to date.
From the outset, the institution was solely run by the British government, where trainers were mostly Indian army officers. But, Nigerians were able to take over the institution eighteen years after independence, in 1978, and today, it has grown to have only Nigerian training staff. Furthermore, in 1985, it began offering post-graduate studies both for Msc and Ph.D. to military officers and civilian students.
Provisional Courses in the Nigerian Defence Academy
It is essential for candidates who wish to apply for a course in any institution to carefully verify if the particular course is being offered in the same institution even before registering for JAMB. The Nigerian Defence Academy (NDA) has five faculties and offers 19 courses. The faculties and courses include:
Faculty of Science
BSc Biological Sciences
BSc Chemistry
BSc Mathematics
BSc Physics
Faculty of Military Science
BSc Computer Science
BSc Intelligence and Cyber Security Studies
Faculty of Engineering
BEng Civil Engineering
BEng Electrical and Electronics Engineering
BEng Mechanical Engineering
BEng Mechatronics Engineering
Faculty of Management Science
BSc Accounting
BSc Logistics and Supply Chain Management
Faculty of Arts and Social Science
BA Arabic
BSc Geography
BA History and War Studies
BSc Political Science and Defence Studies
BSc Psychology
BA French
BSc Economics
Generally, candidates admitted into NDA to study any of the above courses must undergo military and academic training as officer recruit for five years (four years Academic + 1-year Military). As a result, the Navy and Air Force cadets spend four years in the institution. Afterward, they move to 301 Flying Training School (301FTS) in Kaduna and Nigerian Naval College in Onne, Port-Harcourt, for another one-year training. Then, upon successful completion of the program, graduates will be awarded an honorary degree in a specific discipline (BSc, BEng, BA). Most significantly, they will earn a presidential commission into Nigerian Armed Forces.
Requirements for Getting Admission into NDA
First and foremost, all prospective candidates who are directly applying for admission into Nigerian Defence Academy are required to sit for the Unified Tertiary Matriculations Examination of the Joint Admission and Matriculation Board (JAMB) and reach the school's general cut off mark. It is pertinent to note that admission into the Nigerian Defence Academy is strictly on merit, as there is no one in a position to ask for money to influence admission. Now, candidates who are willing to study at NDA must meet the following requirements.
The candidate must be physically and medically fit with a good moral character.
Must be up to 17 years but not older than 21 as of the month of admission, which is September.
Should not be less than 1.65 meters for females and 1.68 meters tall for males.
The candidate must be a single male or female that is not under any legal obligation of child support.
Must present a certificate of origin from their state or local government.
Must obtain a minimum of 5 O'level credits in GCE, WAEC, NECO, or NABTEB in not more than two sittings (English, Maths, and three other subjects related to the intending course of study)
Only candidates who meet the cut-off mark of 180 for art courses and 210 for engineering courses can sit for the screening exercise.
The candidate's choice of course in Jamb must be the same as the one applied for on the NDA portal.
Work experience in French, Mandarin, and Arabic language is an added advantage.
Candidates should also note the following:
Nigeria Defence Academy does not accept awaiting results. Hence, an application submitted without an O'level result will automatically be disqualified.
The O'level result must not be more than five years old from the date obtained to the date of application.
Admission into the institution is strictly for Nigerians only (both male and female).
How to Apply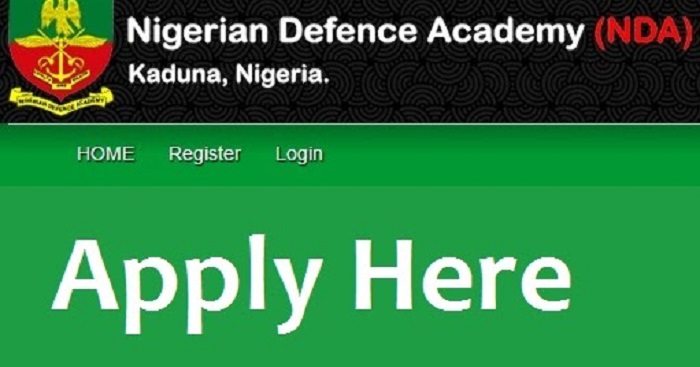 Follow the steps below to apply for admission into the NDA online.
On your web browser, visit the school website to register
On the first page, candidates are required to fill in their personal details (names, date of birth, nationality, marital status, etc.), contact address, and educational qualifications.
Candidates are required to recheck and verify all the details they have entered and then click Continue to go to the next page.
Now the system generates a personal registration ID and sends it to the candidate's registered email.
This is the time to pay application and exam center fees, which you can do through cash credit or online banking. Candidates should note that the fees are nonrefundable. (carefully follow the instructions for payment)
After payment, you can now select your preferred exam center, and it is required that you choose only three exam centers.
Finally, you are to upload a scanned photo of yourself, which file must not exceed 300 kb and not less than 20 kb.
Click on Submit and ensure to print your completed application form, which you will present on the screening day.
Documents Required for Admission into the Nigerian Defence Academy
Before applying for NDA admission, you should keep the following documents ready:
Scanned images of photograph and signature
Bank account details for online transaction
Passport in PDF format or any other photo ID issued by the state or central government
Birth certificate/ certificate of origin
Proof of residence
What's more, Nigerian Defence Academy remains the only tri-service academy that has the toughest entrance. Nevertheless, studying in NDA comes along with several benefits for both military and civil students. Some of which include:
You learn many co-curricular activities like Swimming, horse riding, and many other types of sports activities.
They provide free top-class sports facilities such as a gym, football grounds, swimming pools, hockey fields, squash courts, golf, basketball volleyball, tennis, boxing ring, etc.
Their graduates have access to a world-class institute and an astounding alumni network.
They also have scholarship schemes in which the details are revealed only to the students during their course of study.