Ngozi Okonjo-Iweala is married to Ikemba Iweala, a physician and specialist in the field of neurosurgery. Together, they are blessed with four children; daughter Onyinye Iweala and sons Uzodinma, Okechukwu, and Uchechi.
The Nigerian-American economist is an overachiever. Having served in various capacities in the Nigerian government over the years, she has since March 2021 served as the Director-General of the World Trade Organization, becoming the first woman and African to take the position. Despite all of this, she and her husband have been able to raise four children who are doing equally great in their various fields.
Ngozi Okonjo-Iweala Has Been Married for 52 Years
We may not have the official date Ngozi Okonjo Iweala got married to her husband Ikemba Iweala but various reports on the internet show that this famous economist has lived her life as a married woman for several decades and still counting. It is widely reported that Ngozi got married to her spouse in 1971, at the young age of 25.
The media came up with this estimated date after one of her sons made a post in 2016 in celebration of his parent's wedding anniversary and in his post, he noted that it was their 37th wedding anniversary.
Despite being globally popular, neither Ngozi nor her husband has been fair enough to share details of their marital journey. However, we could not but conclude that the pair first met and got married in their 20s, and at that time they had not yet risen to fame.
Ngozi may, however, be a little popular in her locality as she is said to have hailed from a royal family back in her hometown in Delta State. Ikemba may not be as popular as his wife, but following their years together as a couple, there is no doubt that the couple is very much supportive of each other.
Who Is Ngozi Okonjo-Iweala's Husband?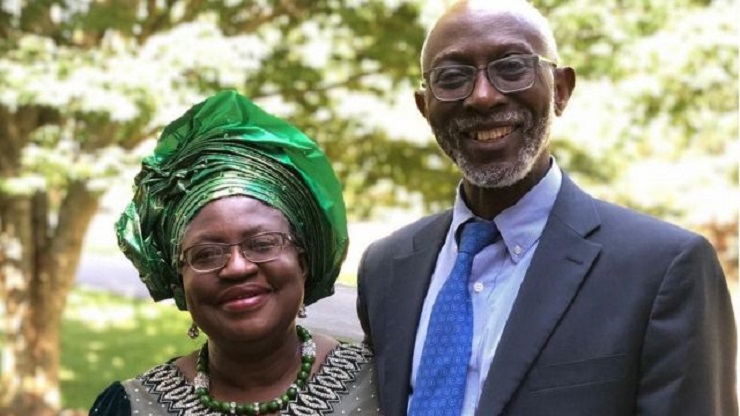 Ngozi Okonjo Iweala's husband is Ikemba Iweala, a 71year-old neurosurgeon who hails from Umuahia, the capital of Abia State. Like his wife, he holds American citizenship. Not much has been revealed about Ikemba's biological parents and siblings but considering his level of education one could easily conclude that he also hails from a wealthy family.
Ikemba received his medical training at the prestigious University of Ibadan after which he served his compulsory one-year National Youth Service Corps (NYSC) at a hospital in Igbaja village in Kwara state. Upon completing his service, Ikemba traveled to England to further his education.
Later on, he moved to the United States of America where he worked at the University of Maryland Medical Systems in Baltimore, and George Washington University Hospital in Washington DC. respectively. Dr. Ikemba Iweala is said to have practiced for more than 20 years. He is the founder and chairman of the Ike Foundation for Autism.
Meet Ngozi Okonjo-Iweala's Children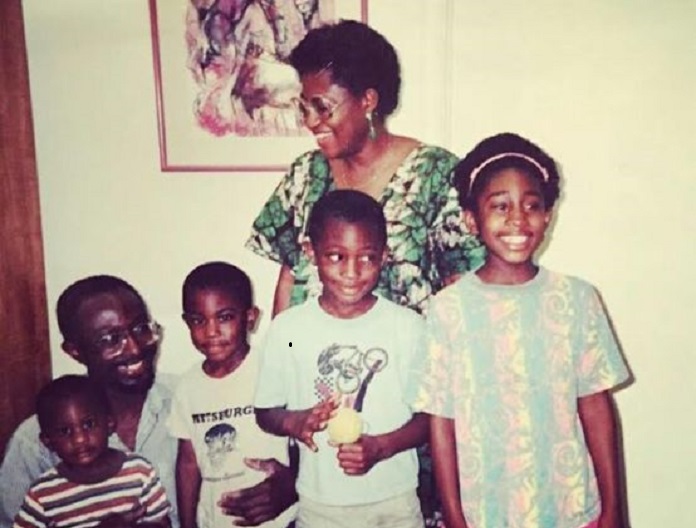 Ngozi Okonjo-Iweala's family is a blessed one. The former finance minister and her husband are blessed with four children who have all gone to do big things in their various fields. The names of her children are Onyinye, Uzodinma, Okechukwu, and Uchechi. Here are more facts you should know about the Iweala kids.
1. Onyinye Iweala
Onyinyechi Iweala is the eldest child and only daughter of Ngozi Okonjo-Iweala's family. She is an Assistant Professor of Medicine in the division of Rheumatology, Allergy, and Immunology. Onyinye's exact date of birth is not known but she is believed to be in her 40s. She received her Ph.D. in Experimental Pathology from Harvard University in 2008 and graduated from Harvard Medical School in 2010.
Onyinye is a successful woman like her parents. She recently said during an interview that she loves mentoring people because it brings her joy and she's looking for ways to mentor young Nigerians. While not much is known about her career achievements, Onyi is a married woman and a mother of three children. She is married to Dr. Andrew Spector with three kids, namely Adaora, Kelechi, and Emeka.
2. Uzodinma Iweala
Uzodinma Iweala is the first son and second child of Okonjo-Iweala and her husband. Though his exact date of birth is not known, he is said to be born in 1982 and he is a Nigerian-American citizen. He is an author and an award-winning writer, a filmmaker, and a medical doctor. As an author, he has published Beast of No Nation and Speak No Evil.
The Iweala first son attended St. Albans School in Washington D.C. and later Harvard College where he bagged A.B., magna cum laude, in English and American Literature and Language, in 2004. While at Harvard, Uzodinma earned the Hoopes Prize and Dorothy Hicks Lee Prize for Outstanding Undergraduate Thesis, 2004; Eager Prize for Best Undergraduate Short Story, 2003; and the Horman Prize for Excellence in Creative Writing, 2003.
Uzodinma also bagged a degree from the Columbia University College of Physicians and Surgeons in 2011 and was a fellow at the Radcliffe Institute for Advanced Study at Harvard University. He is the co-founder, CEO, and Editor-In-Chief of Ventures Africa Magazine, a publication that covers the evolving business, policy, culture, and innovation spaces across Africa, the UK, the USA, Singapore and UAE.
Uzo is known to air his views on some critical issues in Africa, especially Nigeria's political issues. For instance, in June 2022, he reportedly called for the special need for Nigeria to be dissolved and given another independence. He made this declaration in his article, 'Nigeria's Second Independence: Why the Giant of Africa Needs to Start Over', published in Foreign Affairs.  There, he insists on dissolution as one of the solutions to the political troubles of the country.
Not much is known about his private life but he was once rumoured to have proposed to famous Nollywood actress Genevieve Nnaji. However, neither of them has addressed the rumor.
3. Okechukwu Iweala
Okechukwu Iweala is their third child and second son of Ngozi Okonjo Iweala. Though the less popular member of the Ngozi Okonjo-Iweala family, Okechukwu is no less successful than the rest members of the house. He is a graduate of Havard University where he studied Social Studies and like his elder brother Uzo, he is more Art inclined and is into music, poetry, and writing.
4. Uchechi Iweala

Uchechi is the last child and third son of Ngozi Okonjo-Iweala. He is also a Harvard graduate, works in Washington, DC, and specializes in Orthopaedic Surgery. In October 2021, the WTO boss announced that her son Uchechi was one of the first spinal surgeons in Maryland to perform a successful navigated lumbar spinal fusion using a robot.
Uchechi Iweala is married to Chioma Achebe, the daughter of Ikechukwu Achebe and granddaughter of the late famous Nigerian Novelist, Poet, and Critic, Chinua Achebe. Chioma is also a medical doctor by profession, she is a graduate of Harvard Law and Business school and works as a consultant at Boston Consulting Group (BSG), Washington D.C.
Controversies Surrounding Ngozi Okonjo-Iweala's Family
Obviously, Ngozi Okonjo-Iweala's family has stood the test of time having weathered several storms of controversies that have seemingly brought many families to their knees. One of such scandals that would have ended their years of marriage happened in November 2007 when Ikemba admitted to having an affair with a 28-year-old Nigerian nurse identified as Queen Nwoye.
Queen and her estranged boyfriend then decided to follow him up with a series of blackmails and threatened to expose the affair to his wife if he did not pay her some money. Ikemba, in his bid to keep his affairs secret reportedly paid them about $180,000 but the whole story later went public and messier with the nurse being charged with extortion. With lots of support from his family, especially his wife, Ikemba scaled through the scandal and his marriage was safe.
Ngozi is not free from a similar scandal that would have seen her marriage to its knees. This happened while she was serving her country under the then Nigerian President Olusegun Obasanjo. Her ministerial appointment required her to leave her family behind in Potomac for Abuja. This was largely frowned at by her relatives who were not comfortable with the idea of her leaving to work with the president who they considered to be notorious for adultery.
Shortly after she moved to Abuja, rumors began to spread of a possible affair between her and Obasanjo with photographs of her and the President in a suggestive position. Although the content of the photograph was a simple gesture of the president adjusting her headgear, many read meaning to it especially as Mrs. Iweala smiled approvingly at the president's gestures.
Reports also had it that her husband sent close friends and family to talk to her after the news got to him and like their previous scandals, the matter waned with time. The Iwealas have since tried to keep away from any scandals detrimental to their family image.