To check your NECO results, simply Select year Examination Type, Select year of examination, Enter your card PIN number, Enter your Examination Number, Click on "Check My Result" button. Note: NECO Result Card is N300 only.
Neco results are released every year, and candidates who partake in the National examination are mostly burdened with how to go about the procedures involving getting their Neco results. Checking your Neco Examination result could be very tasking, especially if you do not know where and how to begin your search, but with the proper guidelines, you can get your result in minutes.
So if you sat for your NECO exam and want to know how you performed, then here are things you should know and the various steps to check your NECO Examination result.
What Is NECO result Checker?
The NECO result checker is a platform that allows you to verify your NECO results after they have been made available to the public. You can visit their portal at: https://result.neco.gov.ng/, to see the result checker.
How To Check NECO Result
To make result checking easier for its candidates, the national examination council (NECO) has made three basic ways candidates can follow to check their results. Hence, you can now check your result via:
SMS
Online, using the NECO portal
using the result checker
However, before you begin any of these processes, the candidates will first be required to purchase an electronic token at the NECO website. The examination council introduced the Token in 2019 to replace scratch cards that candidates are known to use.
NECO Result Checker PIN 
The NECO result checker is a secured 12-digit PIN that can be used to verify your NECO Results. This has, however, been changed by the examination council to a token that can be purchased online. It is easier to view NECO results online with the NECO Result token.
How to Buy NECO Token
This guideline will help you get your NECO result token easily and faster:
STEP 1: Register on NECO Results Online System

Provide the required data in the appropriate columns and click on register
You will receive an Activation Email to your registered email address
Once you receive the activation email, open it and click verify

STEP 2: Purchase Token

Enter your email address/phone number and password in the required columns. Click on the Login button.
Locate and click on Purchase Token
Enter the number of tokens you need and click on the Pay Now button
Now click on Proceed to pay button to pay for the token on the REMITA platform using a bank or card.
How Much Is NECO Token?
The price of a NECO Result Token remains at ₦ 1,000.00. The token is a product of the National Examinations Council (NECO) and is used to check Neco Results. You can purchase this token online using your ATM card. After selecting your desired quantity of Tokens, proceed to the checkout page, provide all the required information and proceed with the payment.
Note: The Neco result token can only be used to check, view, or print a candidate's result for only five times. After the preset limit has been reached, further result checking will require a purchase of a new token.
How to Check NECO Result Online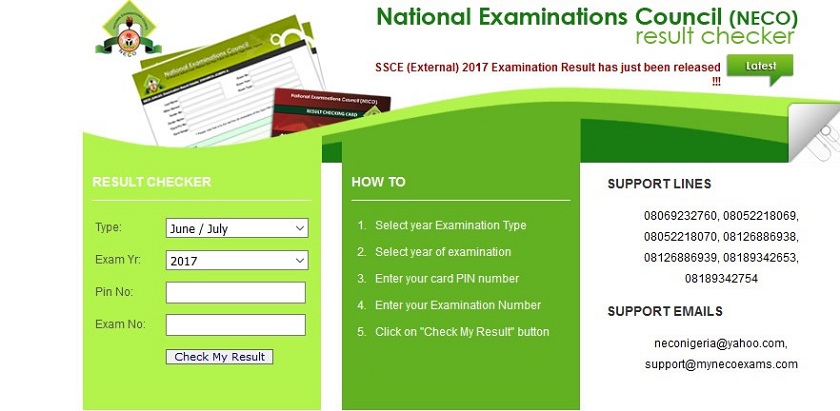 This is one of the most-used methods of NECO result checking. Here, candidates are   required to first visit the NECO portal to begin the result-checking procedures using the result checker pin, also known as the
How to use the NECO Result Checking Portal
Candidates will find it easy to use the new result checking portal using the following steps to check your results:
First, log on to www.neco.gov.ng and enter your examination registration number

Click on "NECO Results" and then click "Check Result!" You will be taken to the NECO results checking system (www.result.neco.gov.ng) to fill in the required details 

Select your exam year. E.g., 2022

Select the exam type. E.g., SSCE Internal (JUN/JUL).

In the right columns, enter your Token Number and Registration Number

Click the button "CHECK RESULT" to view your grades.
How to Check your NECO Result Using SMS
Candidates who do not have internet access or a cybercafe can check their NECO results using a mobile device. Here is how it works:
Send SMS using the following format:

NECO:ExamNo:ExamYear:ExamType: PIN
To short-code 32327 (MTN, Airtel & Glo subscribers)

For example:
NECO:12345678AB:2009:JUN/JUL:12345678
NECO:12345678AB:2009:NOV/DEC:12345678
NECO:12345678AB:2009:NCE:12345678
Note:
 The above format should be followed correctly; otherwise, your NECO results will not be sent.
The message has no spacing. The entire message should look like one word–take note of that.
Check if the entire message contains all five fragments: NECO, Exam No, Exam Year, Exam Type, and Pin.
This message will cost you N30 regardless of the network you use.
When does NECO Result usually come out?
NECO results come out 43 days after the last paper is written. However, you can extend the number of days to 45 in case of any delays. So, if you have written the NECO exam for the year, you can start counting the days from the day you last wrote your exams.
Can You Check NECO Result Without Token?
You cannot check the NECO Result of any year without your NECO Result token. Like the scratch card, which was in use until 2019, candidates cannot access their results without prior purchase of the token. So, for you to be able to successfully check your NECO result, you will need to obtain NECO result checker TOKEN CODE or PIN.
How to Check NECO Result without Exam Number
You cannot check the NECO result without providing your NECO exam number. The Neco examination number is a set of digits and alphabets given to candidates who registered for the NECO examination. The unique number looks like 12345678AB.
It is peculiar to each NECO registered candidate, and no two candidates sitting to write NECO exams have the same NECO exam number. Hence, without it, there would be no reference for your result. However, you can make an effort to retrieve your examination number if you have lost or lost it.
How to Retrieve your NECO Examination Number
To retrieve your NECO exam number, follow the steps below:
Visit the NECO office in your state
You will be asked to provide your full name, type of examination, year of examination, exam center, etc.
Contacting the NECO office through their helplines is another way to retrieve your NECO exam number.
NECO SUPPORT LINES
08052218070
08069232760
08052218069
08052218070
08126886938
08126886939
08189342653
08189342754
SUPPORT EMAILS
Note: If you don't find the above support lines and email addresses very helpful, you can still visit NECO offices to file your complaint. But as logic would demand, try to be polite while addressing your issue. Also, note that NECO support lines are only open from 8.00 am to 7.00 pm from Monday to Friday (Nigerian time).